At first glance, fried chicken skin is nothing short of an absolute nutritional abomination. Oily, sodium-filled and with sparse nutritional value, the fried exterior would terrify even the likes of Hercules and revile the gorgons on Medusa's head. As Uncle Roger would probably put it:
"And this is how Uncle Roger got fat."
And yet, there's just something about KFC's fried chicken skin that appeals to the masses. Something about it that entices the critics – notwithstanding the snack's clear toxicity, which is perhaps only second to the pandemic.
It's just so… great-tasting.
Packing an astounding amount of crunch and flavour with every bite, the deep-fried snack may not exactly impress your personal trainer, but it may well be one that's worth all the extra high knees.
KFC Bringing Back Fried Chicken Skin
It looks like KFC's fried chicken skin is back again.
And this time, it's back in double the whammy to throw all your New Year Resolutions right out of the window.
On 4 January 2021, KFC Singapore's self-proclaimed 'CRUNCHY love affair' will commence all over again, as it re-introduces its addictive chicken skin to fans island-wide.
But there's just one twist to the story.
There'll not be one, but two flavours this time around.
The Original rendition, of course, is one. Freshly hand-breaded and fried to crispy perfection, the Original Chicken Skin is lovingly coated in KFC's secret recipe of 11 herbs and spices.
And for the second finger-lickin' good flavour, they have the NEW Spicy Chicken Skin – which is tossed in a fragrant spicy powder. According to KFC Singapore, it's the perfect flavour bomb option for those who prefer a crunchy snack with a fiery kick.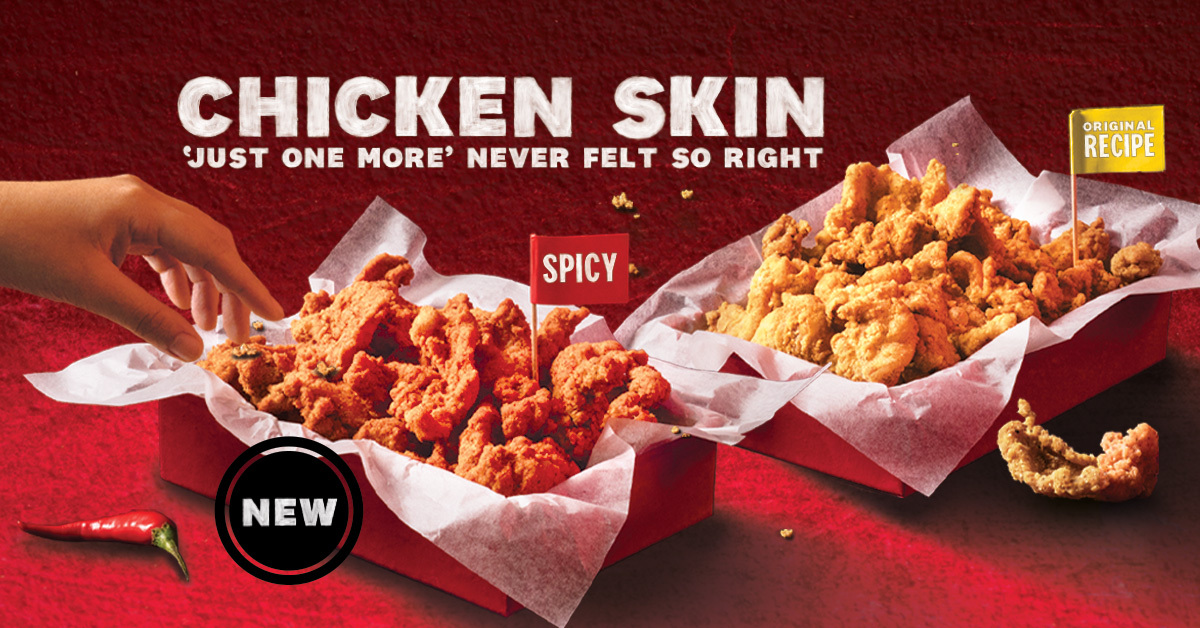 Well, time to hide those weighing scales for a month.
First introduced in November 2019, following numerous demands from social media fans, the KFC Original Chicken Skin launch created a massive hype when it was released at 20 selected restaurants.
It was eventually sold out within hours.
---
Advertisements
---
Juliana Lim, Senior Director, Marketing & Food Innovation, KFC Singapore says, "As Singapore's favourite fried chicken brand, we understand the love and pure joy our fans have for the KFC Chicken Skin. We received overwhelming support in 2019 during the release of this crunchy snack, where it sold out!
"This time around, to serve more excitement to the table, we are bringing crunchy back with a new spicy flavour – start the year off with a bang! And all the Chicken Skin fans know it, 'just one more' never felt so right!"
You can enjoy a box of #KFCChickenSkin at $3.60 for dine-in, takeaway and KFC Delivery.
More details can be found online at www.kfc.com.sg.
Showdown Against McDonald's Mala Fries
This means that KFC's fried chicken skin will be going up against McDonald's all-new Mala fries in the new year.
Set to be launched today (31 December 2020), McDonald's Mala McShaker Fries are tossed in a mix of Szechuan peppercorns, chilli powder and other umami spices to grant it a "spicy and numbing" flavour.
---
Advertisements
---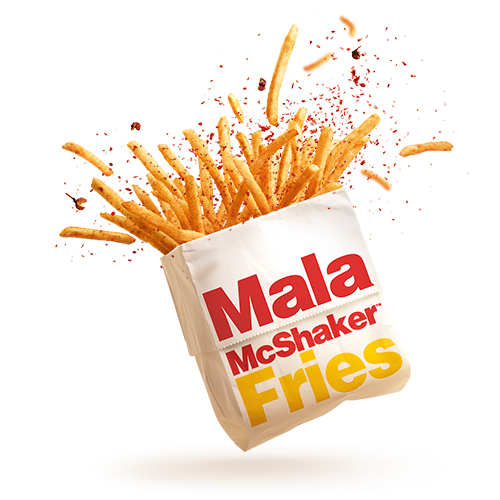 It's available as an ala carte item from S$3.50, or as an add-on to any Extra Value Meal for $0.70.
You might want to download our app and wait for our review, because we've tried it and let's just say that it probably is the best fries ever.
Featured Image: KFC Singapore
Like writing? Goody Feed is looking for writers! Click here for more info!