---
Advertisements

---
Recently, Singaporean Twitch streamer and OnlyFans creator, Kiaraakitty, made headlines when she got stopped by the police in Seoul, South Korea, for her apparently inappropriate attire.
In a TikTok video posted on 9 April 2023, she documented an encounter she had with police officers while live streaming on her trip in Seoul. 
The video clip, which seemed to be a brief excerpt from a live stream lasting nine hours, shows Kiaraa strolling down the streets of Seoul in a laced top, a fur coat, a skirt, and a rabbit headband. She appears to be in good spirits until two police officers approach her.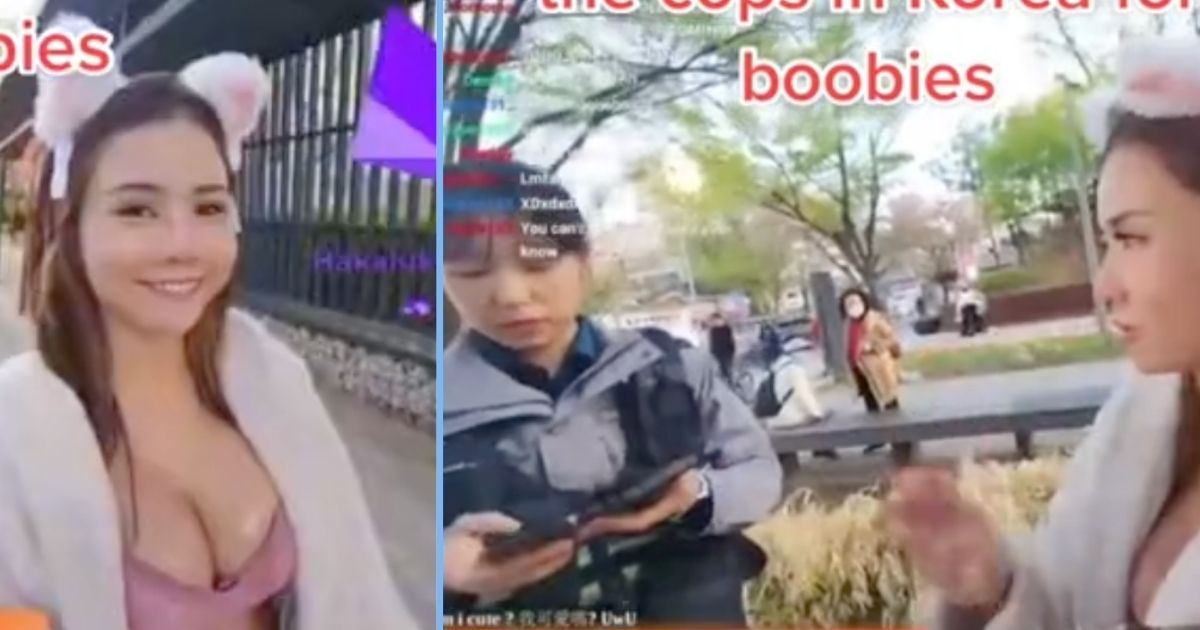 While they struggled with the language barrier, it seemed apparent that the police officers had an issue with her outfit.
Who is Kiaraakitty?
For those out of the loop, Kiaraakitty, whose real name is Cheng Wing Yee, is a popular Twitch streamer with a following of 507,000 followers. She is also an OnlyFans creator popular in Singapore and other parts of the world.
She is most well known for regularly wearing risque outfits in her streams and for selling her farts in jars priced at around $300 (yes, you read that right).
Kiaraa is no stranger to controversy, having faced multiple suspensions from Twitch. Earlier this year, they banned her from the platform for allegedly violating its sexual content guidelines. This was the fourth time that her account had been suspended.
Although the exact reason for the ban was not disclosed, many netizens speculated that it was related to a live stream she had done in Taiwan on 22 January 2023. During the stream, Kiaraakitty was seen doing squats with her back facing the camera, wearing only a pink bra and pink leggings.
This outfit was clearly not up to code, as Twitch has a strict attire policy that prohibits creators from being fully or partially nude and prohibits the visible outline of genitals, even when covered. The platform also prohibits the streaming of sexually suggestive content.
Stopped for Indecent Attire
Perhaps her tendency to dress in revealing outfits was too much for Korea's conservative society. In the video, two police officers stop Kiaraa in the middle of her walk for her indecent attire.
Upon approaching Kiaraa, the police officers initially spoke to her in Korean. However, they quickly realized that she could not understand or speak the language.
While Kiaraa's confusion regarding the situation was apparent, she still tried to reason with them actively.
Despite the language barrier, she attempted to explain her outfit to the authorities, stating that she was on her way to a cosplay party. She emphasised that it was her first time in Korea and that she was unaware of any attire guidelines.
Kiaraa also apologized to the officers for her lack of knowledge of the laws in Korea. Eventually, the police called in a translator from their force to communicate with her over the phone.
Let Off With a Warning 
A netizen named Darren Wang later uploaded the full conversation on YouTube. It revealed that someone had reported Kiaraa for "being in her underwear," to which she defended herself by pointing out that she was dressed in a laced top and a thick fur coat.
After the phone conversation, Kiaraa could leave after showing the police her identity card.
She expressed her frustration at the accusation, panning her camera down to show that she wasn't in "underwear" but was fully clad in a plaid skirt, knee socks and sneakers, along with her lace top and fur coat.
While she initially cursed out the accuser for being "jealous of her assets", Kiaraa ultimately acknowledged that she would not pursue the incident further, as she "did not want to disturb the peace" or laws in Korea. 
She concluded the video by stating that the police did not fine her and only advised her to "wear her clothes properly." She also mentioned that she would consider visiting another country in the future.
Public Response
After the video got uploaded, many netizens criticized her actions in the comments section of her post. Some accused her of seeking attention and ruining Singapore's reputation overseas, while others scolded her for not being aware of the country's laws. 
However, some also expressed disbelief at Korea's conservative dress codes and encouraged her to continue wearing what she wanted.
---
Advertisements

---
Although Korea is not considered overly conservative compared to other countries, it still has specific dress code rules for men and women. 
Men must keep their tops on at all times, while women are advised to avoid wearing low-cut tops that expose cleavage, tops that expose their shoulders or stomach, and short skirts. 
Restaurants with floor-style seating in Korea even provide wraps for women to cover their knees with when sitting.
According to the Statutes of the Republic of Korea, "obscene exposure" refers to "any person who embarrasses or offends other people by excessively exposing his or her naked body or exposing any part of his or her body which ought to be hidden, in, or within the view of public places".
It seems that the Singaporean go-to outfit of a singlet and FBTs may not be the best choice for a trip to Korea.

Fresh grads, you don't need any experience to earn up to $4,200 with this "secret":
Read Also: