Missing Malaysia?
After reading this, you might wish that the darned Covid-19 pandemic never happened, so you can see this realistic 3D CNY display for yourself.
KL Mall 3D Display is So Real, Some People Might Scream When They See It
First thing first, how would you react when you see a bull escaping from its display when out shopping?
Scream and run? Look for something red to fight the bull with? Red bull?!
Shoppers at Pavilion Kuala Lumpur found themselves having to contend with this particular question after they laid eyes on one of the most realistic 3D Chinese New Year animations to grace our earth yet.
Here, you can take a look at it for yourself.
If you stand at exactly the right spot from the display, you'll see a bull being sprayed golden before it crashed through a Covid-19 sign and crashes through it.
For our Malaysian friends who want to check it out for themselves, the display is reportedly located near the crystal fountain.
With this, we only have one thing to say: Step aside, Red Bull, because the real bull is here.
First-Of-Its-Kind In M'sia
Netizens were, of course, impressed with the nifty display at the mall, especially when the bull crashed through the glass.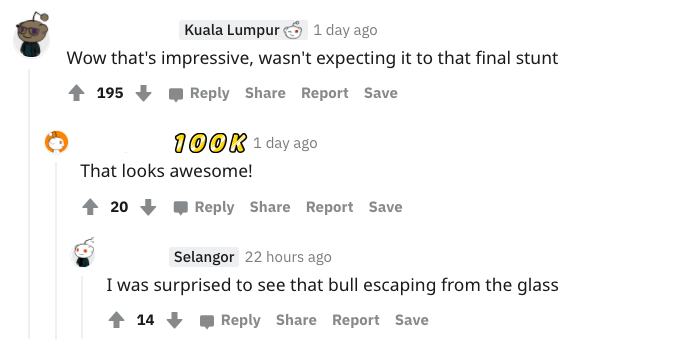 The Facebook post above has over 1.6k reactions and nearly 500 comments.
Some of them said they've seen the display for themselves while others were impressed at the attention paid to the details.
According to Pavillion Kuala Lumpur, this 3D display is the first of its kind in Malaysia.
The display will be up until Mar 2021, so for our Malaysian friends who are wanting to check it out for themselves, you still have time.
---
Advertisements
---
Here's a video on people's reaction to the bullish display:
On a separate note, Malaysia isn't the only country dabbling in 3D displays.
South Korea's 3D wave animation also made the news back in May 2020.
Here, you can take a look at it for yourself:
If Singapore was to venture into 3D displays, what do you think the first display will be about?
Feature Image: Facebook (Raymond Ngan)
Like writing? Goody Feed is looking for writers! Click here for more info!