---
Advertisements

---
If you thought that Reebonz was dead after much of its consumer violation controversies and a crippling liability of S$65 million, think again.
Shortly after filing for bankruptcy in Sep 2021, Reebonz stated on a Facebook post dated 27 Dec that all of its brand and digital assets had been bought by LiveCommerce Entertainment (LCE)
On 5 January, Reenbonz—now rebranded as Reebonz Live—started a livestream and went  straight back to business, promoting luxury items on its Reebonz Live Facebook and Instagram channels.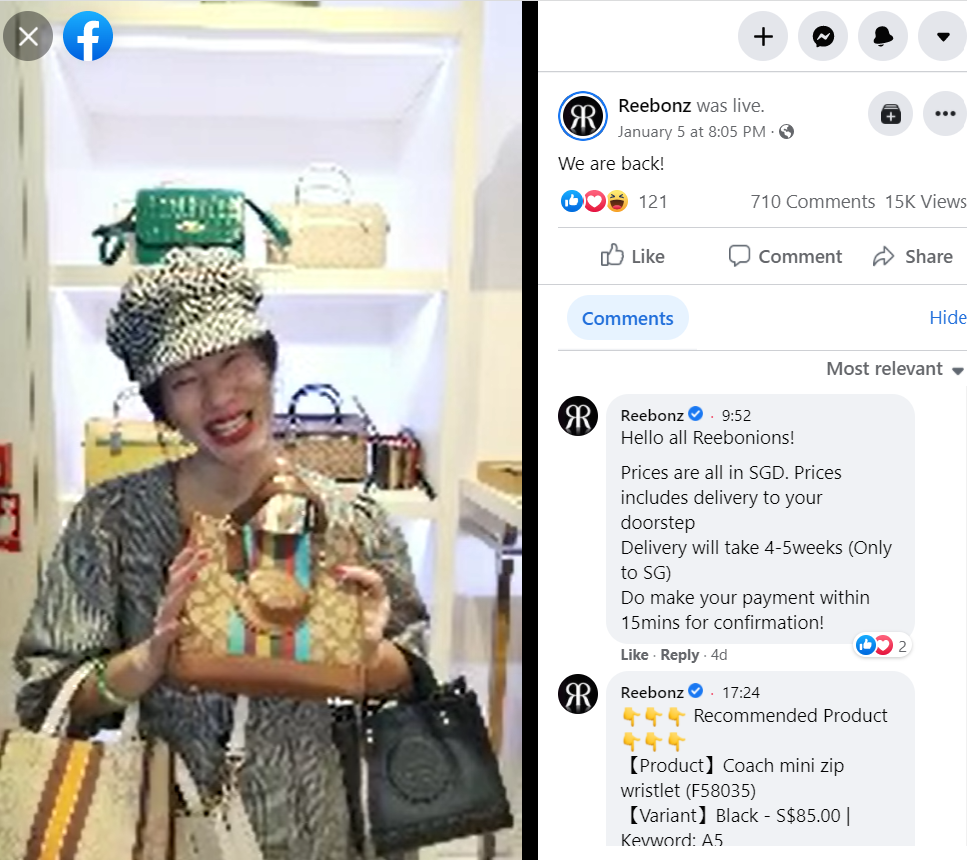 The Fall of Reebonz
Reebonz was originally a small start-up company established in 2009 by three Singaporean entrepreneurs who believed in the great sale and resale value of luxury items.
What underpins its previous success was its ability to sell new and pre-owned luxury goods at discounted prices by creating partnerships with luxury brands, and allowing them to display their goods on Reebonz Closet.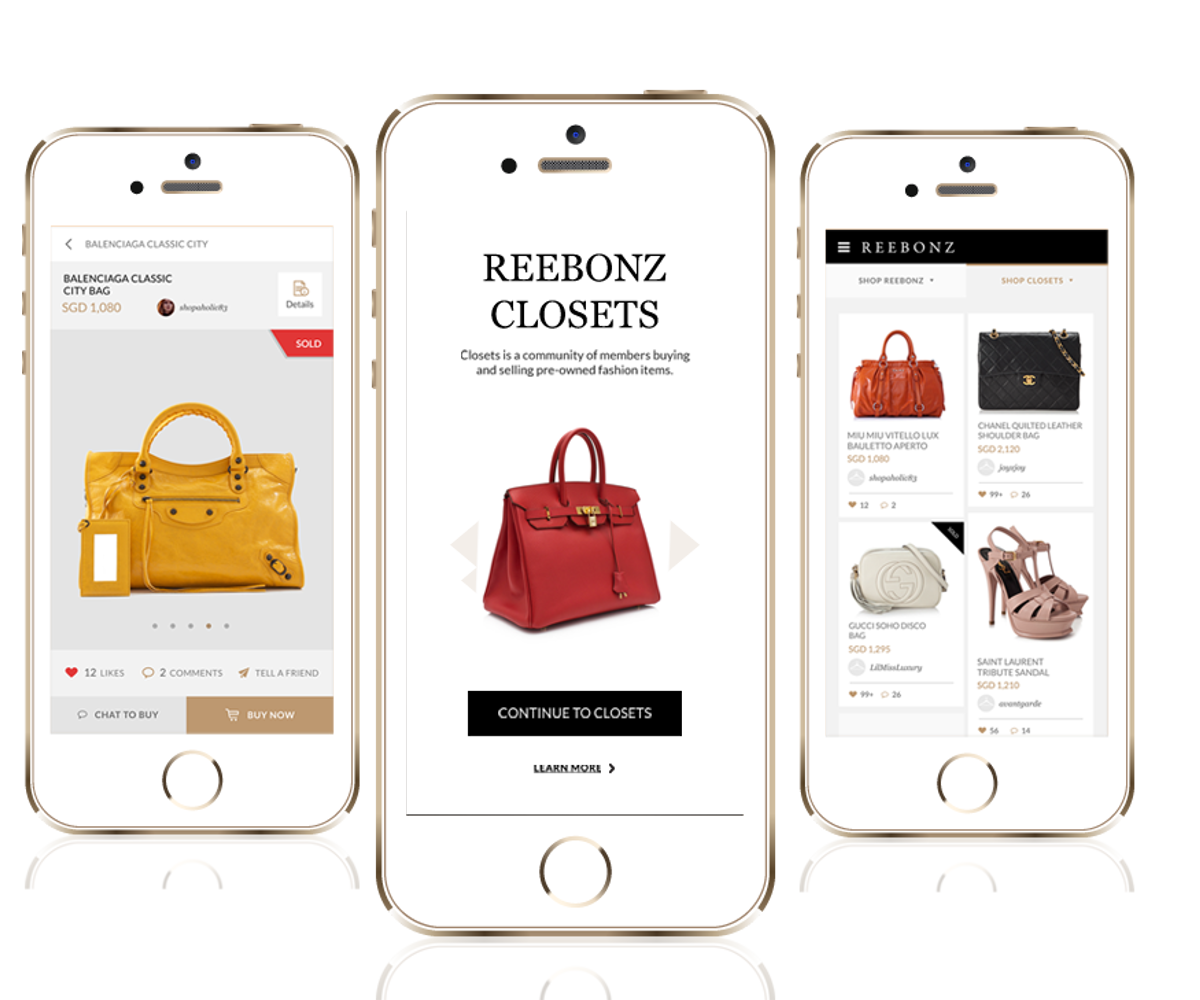 Its financial success can't be understated when Reebonz closet managed to pry its way into the Asian markets of Singapore, Malaysia, Hong Kong, Taiwan, and Thailand.
Later, Reebonz introduced White Glove, which essentially allowed its users to buy and sell pre-owned luxury items; kind of like E-Bay and Carousell but classier with golden embellishments.
Alas, you already know the end to this particular "success story".
The 12-year-old company still toppled over, starting with an angry barrage of consumer complaints to the Consumer Association of Singapore (CASE) from 2019, summing up to 37 complaints by 2021.  
These complaints ranged from White Glove sellers not receiving their payments despite having confirmation that their items had been sold, and buyers constantly being told that their shipments had been delayed, or later cancelled.
Worse still, some buyers complained that their received goods were not in the conditions they expected or were counterfeits.
Seriously, you know you've messed up when people must make CASE complaints. Do you know how long and tedious those forms are? 
Most people usually won't even bother to go through the hassle, jeez.
Reebonz's once-pristine reputation even dropped to a 2.7-star rating on Google Play Store, with a listing of negative and disappointed reviews below.
Eventually, the company crumbled under liabilities that were estimated to be S$65 million, thus going into voluntary liquidation because its business was no longer sustainable.
LCE's Acquisition of Reebonz
Little is known about the LiveCommerce Entertainment company that seemingly popped out of nowhere.
It is a Singapore company registered on 20 September 2021—which is interesting considering the date is so close to Reebonz's announcement of cessation—and has a physical company located in Toa Payoh.
According to The Straits Times, LCE spokesperson Mr Lim stated that he's aware of Reebonz's destitute reputation, and will work hard on regaining the trust of the customers in the following year.
He remains confident that Reebonz was not a participant of selling counterfeit luxury goods and that the dissatisfied customers remain in the minority compared to the millions who had successful and satisfactory transactions on the Reebonz platform.
Though Reebonz is still in the midst of its liquidation process and selling of assets, LCE will not be paying the S$65 million that Reebonz had incurred in liabilities by financial institutions.
Join our Telegram channel for more entertaining and informative articles at https://t.me/goodyfeedsg or download the Goody Feed app here: https://goodyfeed.com/app/
A Risky or Smart Move?
Considering Reebonz's ill-repute, is it really a good idea to acquire Reebonz?
---
Advertisements

---
Heck, with Mdada's trouble-riddled venture into European goods through the same means of e-commerce, is LCE certain that Reebonz's sales of Italian and European goods won't be met with trouble before it even begins?
Well, e-commerce has blown up in popularity ever since people have been trapped in their houses due to COVID-19 restrictions.
Fingers still itch for the newest seasonal collection of their favourite luxury brands, yearning for the questionable smell of leather and wanting the dazzling glitter of consummate jewellery.
Since it's near-impossible to shop till' we drop like we used to, retail brands are starting to realise that social commerce is a necessity in their future strategies to grow their profit margins.
Don't believe it? Surely your social media applications have been flooded with product placement advertisements at every chance it gets. Adblock can't stop everything, sadly enough.
The e-Commerce industry in China had already started years ago with platforms like Taobao Live and Kuaishou, with its social commerce predicted to reach $363.36 billion in 2021, which is a growth of 35.5% from the previous year.
---
Advertisements

---
The potential is clearly boundless.
Singapore is quickly following on their heels with companies like Lazada and Shopee, though Mdada still remains the closest and most successful comparison to China's markets with its preference to promote goods via entertaining and interactive livestreams.
From LCE's bold acquisition of Reebonz's physical and digital assets, it's apparent that it also wants a slice of that delicious and lucrative cake.
It's hard to know whether LCE will succeed or fail with its purchase, but the 10,000 viewers average that Reebonz Live is pulling in on Facebook seems to be a promising start.
Read Also:
Featured Image: Facebook (@ReebonzLive)
---
Advertisements

---

Fresh grads, you don't need any experience to earn up to $4,200 with this "secret":
Read Also: