---
Advertisements

---
Last Updated on 2023-05-16 , 2:35 pm
Lee Do-Hyun, the breakout star from Netflix's The Glory, made his highly anticipated appearance at the Korea Travel Fair, held at Our Tampines Hub (OTH) on 13 May 2023, attracting a massive crowd of enthusiastic fans in Singapore.
The Korea Tourism Organisation (Singapore) had previously announced the actor's visit to our sunny shores on 3 May 2023 through a Facebook post, revealing his role as a guest to promote the travel fair.
Given his popularity on The Glory, it was no surprise that K-Drama fans across Singapore flocked to the mall in large numbers, eager to catch a glimpse of their beloved actor.
Despite the scorching heat, with temperatures reaching a record high of 37 degrees that day, an astounding amount of 16,000 people filled the venue, showcasing the unwavering support and excitement of K-Drama fans here.
The Festive Plaza at OTH transformed into a vibrant and lively atmosphere as the large crowd gathered, resembling the atmosphere of a sold-out concert venue, with the fans eagerly awaiting Lee Do-Hyun's appearance.
Crowds in OTH Despite Heat
On 13 May 2023, at 11:30 am, the Korea Travel Fair 2023 commenced with a grand opening ceremony attended by the actor, who was visiting Singapore for the first time.
The fair is hosted at OTH from 12 to 14 May 2023. 
However, it was unfortunate that the Tampines area experienced scorching temperatures on that specific day, reaching 33 degrees. 
This was just four degrees lower than the record-breaking heat of 37 degrees felt in Ang Mo Kio on the same day.
---
Advertisements

---
Despite Singaporeans' well-known aversion to hot weather, thousands of people still flocked to catch a glimpse of the actor.
His popularity skyrocketed recently in December 2022 following the success of Netflix's critically-acclaimed revenge-thriller series, The Glory, where he portrayed a troubled plastic surgeon and served as the love interest of the main character, Moon Dong Eun.
Nonetheless, we K-Drama fans would know that Lee Do Hyun has been actively involved in Korea's acting scene since 2017.
He first gained recognition for his role as IU's character, Jang Man Weol's first love in the fantasy-based melodrama Hotel Del Luna.
Since then, he has starred in several other dramas, taking on leading roles in popular shows like 18 Again and another Netflix hit, Sweet Home. 
Most recently, his drama, which is currently airing, The Good Bad Mother, has also been achieving record-breaking ratings of 7.7 in Korea.
Unsurprisingly, all his efforts have contributed to an increase in his fanbase.
미쳤다… #이도현 pic.twitter.com/Op6Bxzqdb6

— nini 🦝 (@byeelacc) May 13, 2023
One Twitter user who attended the event shared a glimpse of the surroundings, which resembled a sold-out concert venue.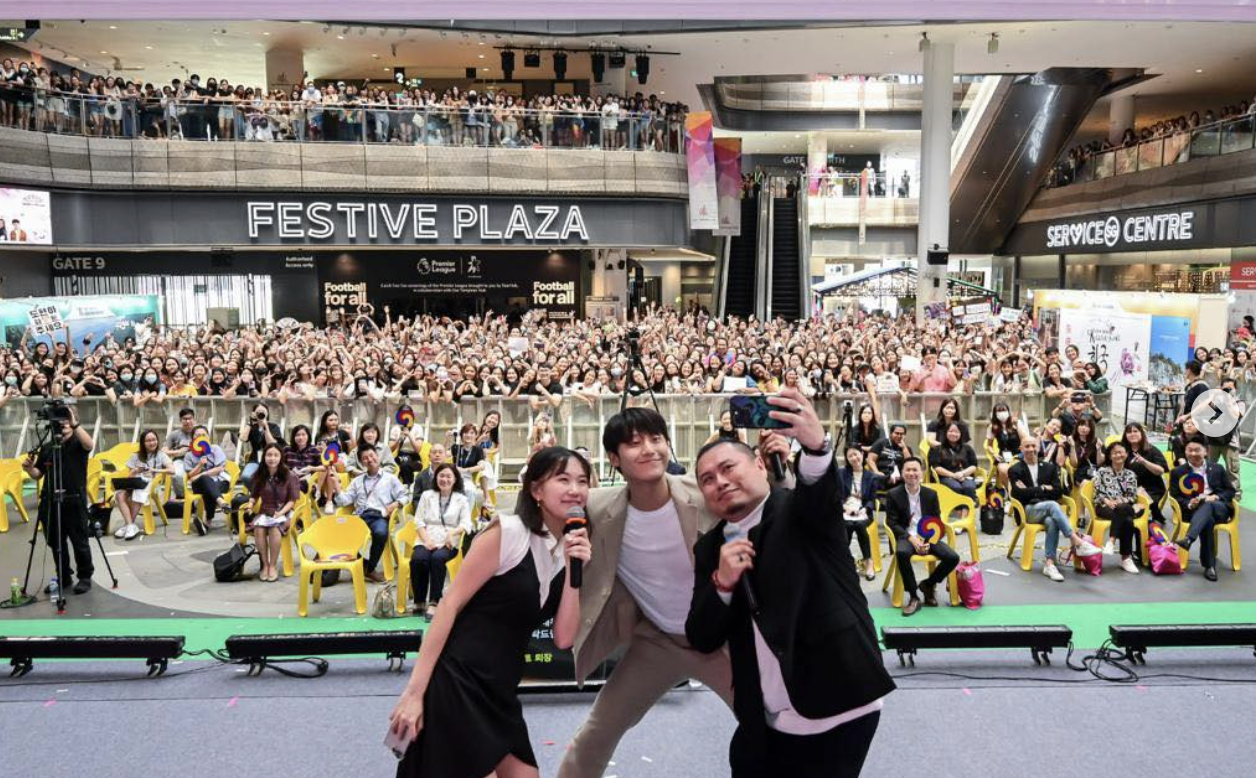 In addition to the bustling crowd on The Festive Plaza's ground floor, which was completely filled with Lee Do Hyun's devoted fans, every floor of OTH was teeming with people. 
---
Advertisements

---
Lee Do Hyun Stayed Calm Despite Heat
Seemingly unfazed by the heat, Lee Do Hyun exuded effortless style in his beige suit, appearing relaxed and composed throughout the event.
Occasionally, he paused to dab away the sweat with a towel, as even Korea's almighty skincare and makeup couldn't fully combat Singapore's relentless heat.
And even while doing that, the man still maintained his thousand-dollar smile…how?
Clearly pleasantly surprised by the overwhelming turnout of fans, he seemed genuinely happy and kept smiling and looking at the people who gathered around The Festive Plaza throughout the event.
Despite the immense crowds, Lee Do Hyun maintained a remarkable sense of composure, even remembering to bow respectfully as he descended the escalators
---
Advertisements

---
His exemplary manners and demeanour were on full display as he repeatedly waved back to the throngs of fans, who were all enthusiastically fangirling and fanboying over him.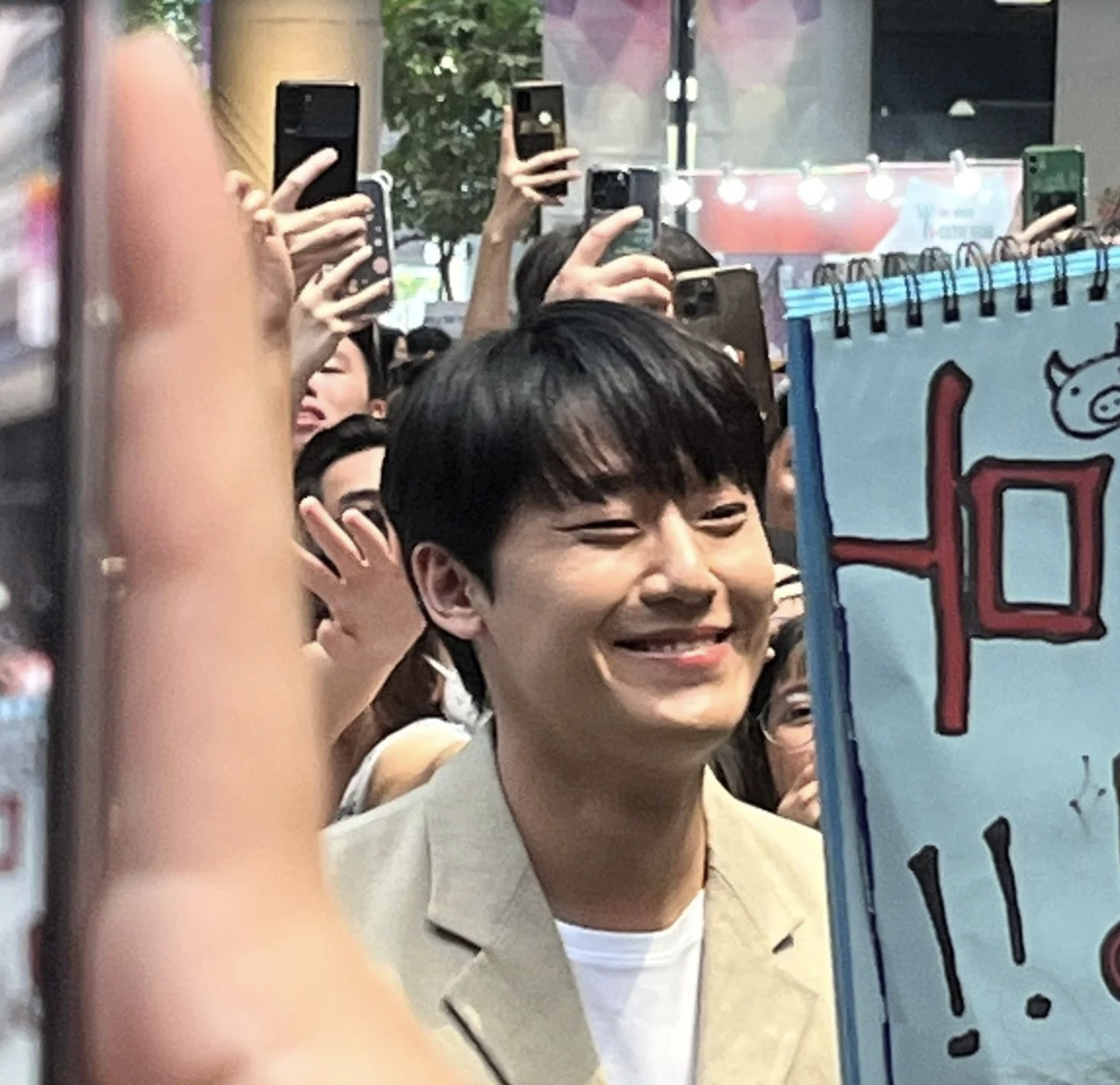 The actor also graciously posed for pictures with his excited fans.
His smile seemed to grow even wider when some of them presented handcrafted placards with messages in Korean, showcasing their deep admiration and love for him.
Lee Do Hyun's warm smiles and friendly waves have undoubtedly made enduring the scorching heat worthwhile for many attendees. 
This was evident as the crowd erupted in screams every time he interacted with the audience or performed "fan service," such as waving or simply smiling back at them.
---
Advertisements

---
Successful Turnout May Motivate More Korean Celebrities to Come to Singapore
The remarkable turnout of Lee Do Hyun's appearance at OTH may inspire more Korean celebrities to visit Singapore in future.
Meanwhile, some Korean stars are already aware of our citizens' passion for them.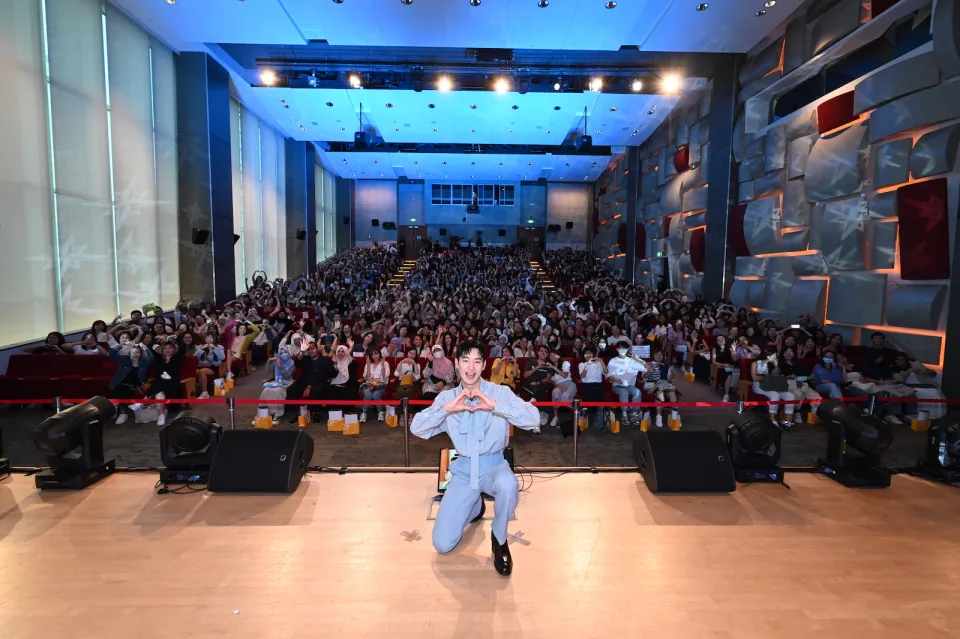 In addition to Lee Do Hyun, other celebrities like actor Lee Je Hoon, who is touring Asia for fan meets, recently visited Singapore in March 2023 to meet his Singaporean fans.
For those unaware or unfamiliar with K-dramas, Lee Je Hoon is a well-known Korean actor acclaimed for his leading role in the revenge-thriller Taxi Driver.
Like Lee Do Hyun, Lee Je Hoon has garnered significant popularity among K-Drama fans and managed to fill the entire 550-seater Stephen Riady Auditorium at One Marina Boulevard with his fans from Singapore.
Furthermore, we can't forget the phenomenal turnout of 50,000 fans at the Singapore Indoor Stadium for Black Pink's concert around the same weekend as Lee Do Hyun's appearance here, with Black Pink's fans also braving the scorching heat over the weekend to see them.
Considering the massive crowd Lee Do Hyun attracted during his brief appearance at the Korea Travel Fair, we eagerly anticipate the possibility of him organising his own fan meet in our vibrant city-state soon.

Your parents are wrong: MSG (Monosodium Glutamate) is good for you (sort of). Here's the truth:
Read Also: