---
Advertisements

---
Korean celebrity couple Lee Seung-gi and Lee Da-in were recently spotted shopping together in Singapore.
The couple's photos were posted online by a foreign netizen, who said that they asked Lee Seung Gi for a photo, but he declined. 
Dressed in casual clothes fitting for the warm Singapore weather, Lee Seung Gi and Lee Da In were allegedly seen enjoying a day of shopping, with Lee Seung Gi holding Lee Da In's shopping bags for her.
Spotted Shopping at Orchard Road
The couple, who married in a private ceremony earlier this year (2023), looked happy and relaxed as they strolled through the shopping district.
Lee Seung-gi is a famous actor and singer in South Korea, known for his roles in dramas such as "Vagabond" and "A Korean Odyssey". His wife, Lee Da-in is also an actress and has appeared in dramas such as "Alice" and "Thirty But Seventeen."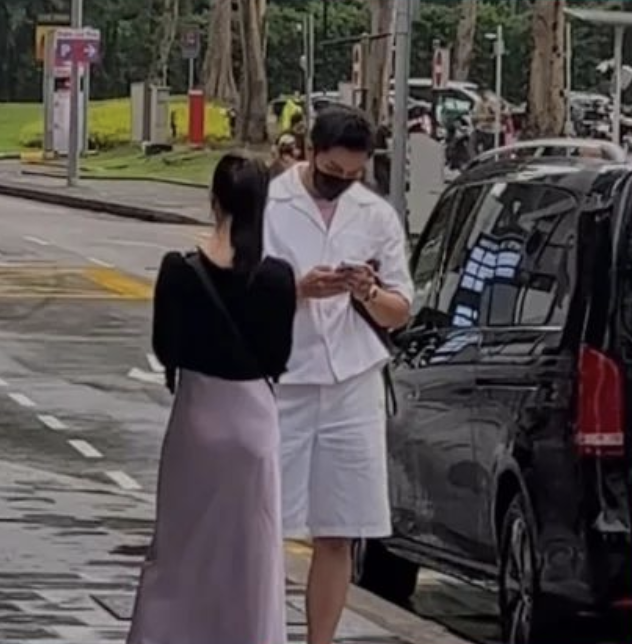 During their trip to Singapore, the couple reportedly spent some time browsing through the latest fashion and accessory collections at a luxury shopping mall in Orchard. Fans who saw them were thrilled and shared their excitement on social media.
Although Lee Seung Gi's representatives previously confirmed that the couple did not have plans for a honeymoon due to their busy schedules, fans speculated that their Singapore trip might have been a honeymoon. 
However, when contacted about the recent online photos, a representative from Lee Seung-gi's one-man agency, Human Made, stated that he was in Singapore for business matters, not a honeymoon.
The couple is known to maintain a low profile, so their recent appearance in Singapore has caused quite a stir among their fans.
Relationship Was a Topic For Attention
Lee Seung-gi and Lee Da-in's relationship has been a topic of interest among fans and the general public since it was first reported in 2020. The couple announced their engagement in December 2021 and tied the knot in February 2023.
The couple's wedding was private, attended only by close friends and family members. 
While celebrity marriages are usually celebrated by many, Lee Seung Gi's wedding to Lee Da In was not met with positive responses by fans or the public. 
Compared to Hyunbin and Son Ye Jin's highly publicised wedding, where the public generally rushed to swoon over the reel-life to real-life romance, the couple's relationship was embroiled with rather negative responses from the people.
Lee Seung Gi has gained a reputation as one of the few Korean celebrities who has avoided scandals and is admired by people of all ages. 
Ironically, most of the adverse reactions came from his supporters, who feared that his connection with Lee Da In might damage his "wholesome" reputation. This is because Lee Da In's stepfather, businessman Lee Hong Heon, was imprisoned for three years for manipulating stock prices.
Alleged Rumors Surrounding Lee Da In's Parents
Lee Hong Heon, who is Lee Da In's stepfather, served a three-year prison sentence for stock price manipulation and was released on parole in 2014. 
In 2016, he faced another accusation of stock price manipulation and was sentenced to four years in prison by a district court. However, he was later acquitted by an appellate court.
In response to this, some of Lee Seung Gi's fans parked a truck near his home in northeastern Seoul on 28 May 2021. The sign on the truck stated that they could "forgive" him if he was unaware of Lee Hong Heon's history.
However, they urged Lee Seung Gi to break up with Lee Da In before potentially damaging his 20-year career with her family's negative reputation.
Addressing the Negativity Around His Relationship
Lee Seung Gi took to Instagram to address the negative rumours surrounding his relationship with Lee Da In, particularly those involving her parents.
He clarified that reports of his father-in-law's embezzlement of $19,641,500 through stock price manipulation and its impact on nearly 300,000 victims were misinformation. 
---
Advertisements

---
He stated that these rumours were made up by reporters and YouTubers seeking views. He shared that Lee Da In's parents have since filed a complaint with the Press Arbitration Commission (PAC) against media outlets reporting false news. 
The PAC found that reporters who published the rumours could not provide any evidence and requested corrective reports from the outlets.
Lee Seung Gi also apologised to his fans for the flood of articles about the rumours surrounding his in-laws. However, he also expressed his frustration with fans and close acquaintances who suggested he break up with his wife due to her parents' alleged crimes and negative reputation. 
He believed his wife "did not get to choose her parents" and should not be responsible for their actions.
Lee Seung Gi's Final Statement
In light of the controversies surrounding their marriage, Lee Seung Gi and Lee Da In have promised to give back whenever possible. They are committed to this resolution despite the possibility of facing further malicious comments.
They have since decided to use the congratulatory money they received from their wedding guests as a support fund for underprivileged children. 
---
Advertisements

---
Lee Seung Gi acknowledges that this statement is probably the most honest he has ever been in his 20 years as an entertainer. While he expects people to find things to nitpick, he felt the need to address the misinformation and clarify statements.
He adds that he also had a hard time due to the mix of news, mockery, and degradation surrounding their marriage and wanted to clear things up once and for all.
He concludes the statement by saying that he does not expect the public to bless their marriage, but wishes for the public to be kind in how they treat their relationship in the future. 
After releasing his statement, Lee Seung Gi's comment section has been filled with positive comments, with fans expressing their newfound support for the couple.

Fresh grads, you don't need any experience to earn up to $4,200 with this "secret":
Read Also: