---
Advertisements

---
If you're a huge fan of the Transformers, one of the things that you may look forward to doing is meeting Megatron, a popular villain in the series, at the Sci-Fi City zone of the Universal Studios Singapore (USS).
Of course, you would have to purchase a ticket first to enter USS so that you have an opportunity to take a picture with the tall, fierce-looking transformer.
Well, now, whether you're a fan or not, you have a chance to catch some of the Transformers for free.
Optimus Prime and Optimus Primal Are Here in Singapore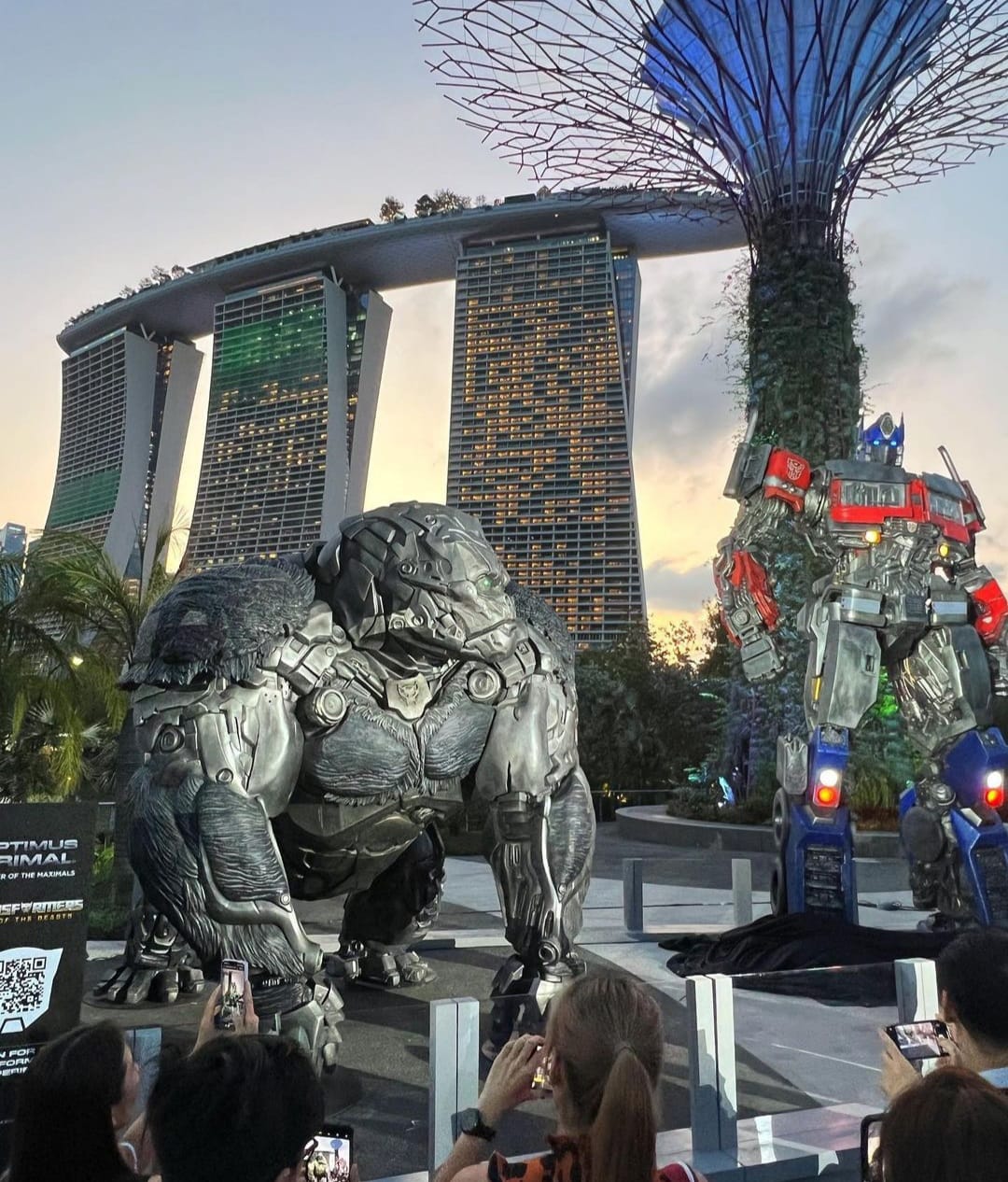 United International Pictures Singapore announced the Transformers: Rise Of The Beasts Statues World Tour, with Singapore being the first stop in Asia to debut the spectacular display of two life-sized statues of Optimus Prime and Optimus Primal.
With the grand Marina Bay Sands and the beautiful SuperTrees in the background, these statues are a sight to behold.
What's more, Optimus Prime stands at an impressive height of six metres!
The showcase of these statues is in line with the launch of the Transformers: Rise Of The Beasts movie that will be released in our local cinemas on 8 June 2023 (just in time for the June holidays), and it is the seventh film of the highly popular movie franchise.
---
Why Presidential Election 2023 Will Start from June 2023 After President Halimah's Announcemen:
---
United International Pictures Singapore also took to Instagram to mention the big reveal of these statues, with 200 lucky fans being a part of the incredible experience.
View this post on Instagram
The fans were able to view the exclusive range of toys from Transformers: Rise Of The Beasts as well as merchandise from Skechers and OSIM as well.
Catch Them at Gardens by the Bay
The statues will be there from 17 March to 10 April 2023, so hurry and head down to the Silver Leaf Garden at Gardens by the Bay to witness them up close.
If you have a little more time on your hands, you can drop by the nearby Flower Dome to catch the annual Sakura floral display.
---
Advertisements

---
You can read this article to find out more about what you can expect from a visit to the Flower Dome during the Sakura display.