There are some things that we Singaporeans can't get enough of: bubble tea, coconut shake and of course, pizzas.
You might've come across various Little Caesars' outlets across Singapore, thinking that it's been here for decades but do you know that it only landed in our shores in 2018, although it's been insanely popular in the US?
And it's not founded by a person called Caesars?
Here are ten facts about Little Caesars Pizza so that you've have something to talk about during your next pizza gathering.
Little Caesars' Beginnings
Just like its namesake, Little Caesars started out with humble beginnings but with ambitious dreams.
Mike Ilitch, the founder of the pizza franchise alongside his wife, used to recce various pizza parlours to taste-test their recipes whenever he was travelling to different towns with his minor league baseball team in the 1950s.
After four years into their marriage, Mike and Marian saved up $10,000, investing all of the money to open their first location in Garden City, Michigan in 1959.
View this post on Instagram
By 1962, they sold their first franchise, thus starting the chain of fast-food pizza restaurants that would eventually populate the United States.
Then, like a food conqueror, Little Caesars set its sights on Singapore and opened its first restaurant on the small island city-state in late 2018.
The Uniqueness of Little Caesars' Pizzas
What differs Little Caesars from other pizza chains is its crust.
Unlike the typical pan-pizza crust or cheese stuffed into the folded layer of the crust, Little Caesars' speciality is its Calzone-like Crust.
The pizza base is made out of folded leavened dough and stuffed with a unique blend of mozzarella and muenster cheese between the layers, ensuring some tasty cheesy goodness with every bite.
In addition to that, Little Caesars guarantees the quality of its tomato sauce base with the promise that it's made out of vine-ripened California crushed tomatoes.

The combination itself already sounds absolutely delicious.
Crazy Sauce and Crazy Bread
Besides the crust, items like Crazy Sauce and Crazy Bread have long become synonymous with the Little Caesars bread.
Food lovers have tried to replicate the sauce and guessed that it's made out of tomato puree, garlic powder, dried basil, oregano, marjoram, grounded thyme, black pepper, and a pinch of salt…
But the actual combination is a trade secret, of course.
The Crazy Sauce usually comes as a complementary dip sauce with Little Caesars' Signature Crazy Bread, which are breadsticks sprinkled with garlic parmesan cheese.
In Singapore, the side Crazy Bread Combo costs $3.50, but if you want it stuffed with more cheese, it costs $4.50.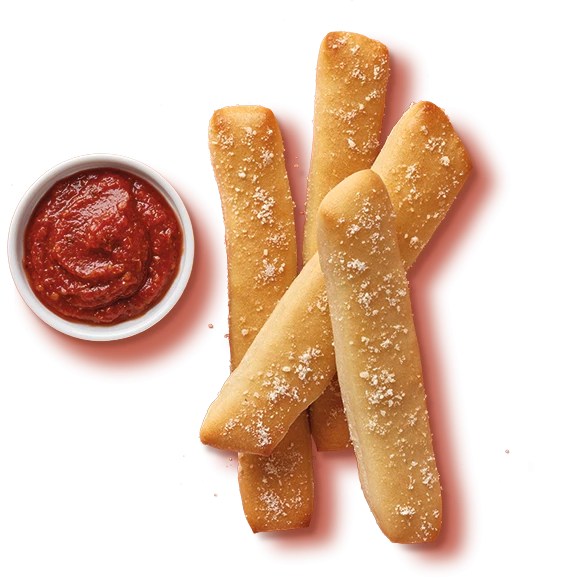 A fun fact about the Crazy Bread is that Little Caesars used to run a campaign in the past where they would give out free Crazy Bread just for saying their slogan "Pizza! Pizza!"
That was back in the day though; no one gives out delicious breadsticks for free these days.
The Affection in The Name
The founders of the franchise actually have seven kids, and they started the business because they believe that every family has the right to pizza night, which explains their affordable pizzas.
For example, in Singapore, a large classic pizza is only at $8.90!
But are they the Caesar family, and do they live in a little house?
No.
Adorably enough, the pizza franchise's name "Little Caesar" was actually Marian's pet name for her husband, Mike Ilitch.
Mike originally wanted to name their business "Pizza Treat", but Marian thought that they should go with something more personal and eventually settled on the name it is known as today.
"I consider him my 'little' Caesar'," Marian remarked about her 5"9 (1.75m) husband of Macedonian descent, which was once part of the Roman Empire.
The Pizza! Pizza! Slogan
It might come as a surprise, but the iconic motto of Little Caesar, "Pizza! Pizza!" has been around since 1979.
The first time this slogan appeared was during a campaign where Little Caesars would offer two pizzas at a price of one, a tactic that they had employed because they heard that one of their competitors was doing.
Funnily enough, when Little Caesars expanded to the Canadian region later, they couldn't use their official slogan because it had already been trademarked by another pizza franchise there which was actually called Pizza, Pizza.
Hence, Little Caesars could only go with the swing and change up their game a little, going with "Two Pizzas", "Delivery! Delivery!" or "Quality! Quality!" in Canada.
Another fun fact about the slogan is that the person responsible for the "Pizza! Pizza!", is also the same person who came up with "Where's the Beef?".
Although the company had auditions hundreds of voice actors to deliver the quick second line, they still went back to the original man himself, Cliff Freeman.
Whacky Pizza Commercials
Of course, given how long Little Caesars has been around, it's no surprise that it has its fair share of hilarious Public Relation (PR) stunts to match.
Perhaps one of the funniest I've ever witnessed is when they first introduced the concept of Pizza Delivery in the 1990s.
To show the pizza chain's absolute commitment and devotion to delivering the pizza whenever or wherever—whether it's rain, shine, or aggressive lawn dogs—their pizza deliverers will show up in their classic green shirt and beige paints, greeting you with its slogan of "Pizza, Pizza!", upon ringing the doorbell and knocking on your door.
The feature of the exaggerated training process for their staff is quite amusing to watch.
There are, of course, more.
Selling Spaghetti in Buckets
The 1990s for Little Caesars Pizza was a time of experimentation; whether it was offering delivery services, opening up more branches, or testing menu items, they did it all.
One of their odder but still beloved menu items was their Spaghetti Bucket.
That's right, they would literally serve you a bucket of spaghetti with its house sauce and bread for the money you're paying.
It was appreciated by spaghetti lovers, but just like its French Fry Crust Pizza, it was only available for a limited run in 1993 and never to be seen again.
I mean, fries with pizza? Shut up and take my money.
Mike Ilitch's Baseball Career
Before the Ilitch couple doubled down and poured their entire savings into opening a pizza restaurant, Mike Ilitch used to have a baseball career with the Detroit Tigers.
His sports career, however, was cut short by a knee injury.
Mike might have taken one in the knee, but he made his way back up, by moulded dough, blended cheeses and pureed tomatoes.
His love for baseball stayed constant regardless of his business investment into the food industry, since he bought the Detroit Tigers in 1992 and has been supporting it financially ever since.
Mike lived vicariously through the team that he had once been in and helped build; the Tigers even won the American League pennant in 2006 and 2012.
Likewise, Ilitch owns Detroit's hockey team, the Red Wings, and the famous Fox Theatre in Downtown Detroit.
If there's anything that the Ilitches have proven, it's their love for the city they've been born and raised, which made them one of the richest Americans today.
Now, if you're itching for some Little Caesars pizzas, you're in luck, because right here in Singapore, there's something interesting going on.
Batman Calzony Pizza
In partnership with the new Batman movie releasing in theatres on 3 March 2022, Little Ceasars decided to make a Bat-Shaped Calzony.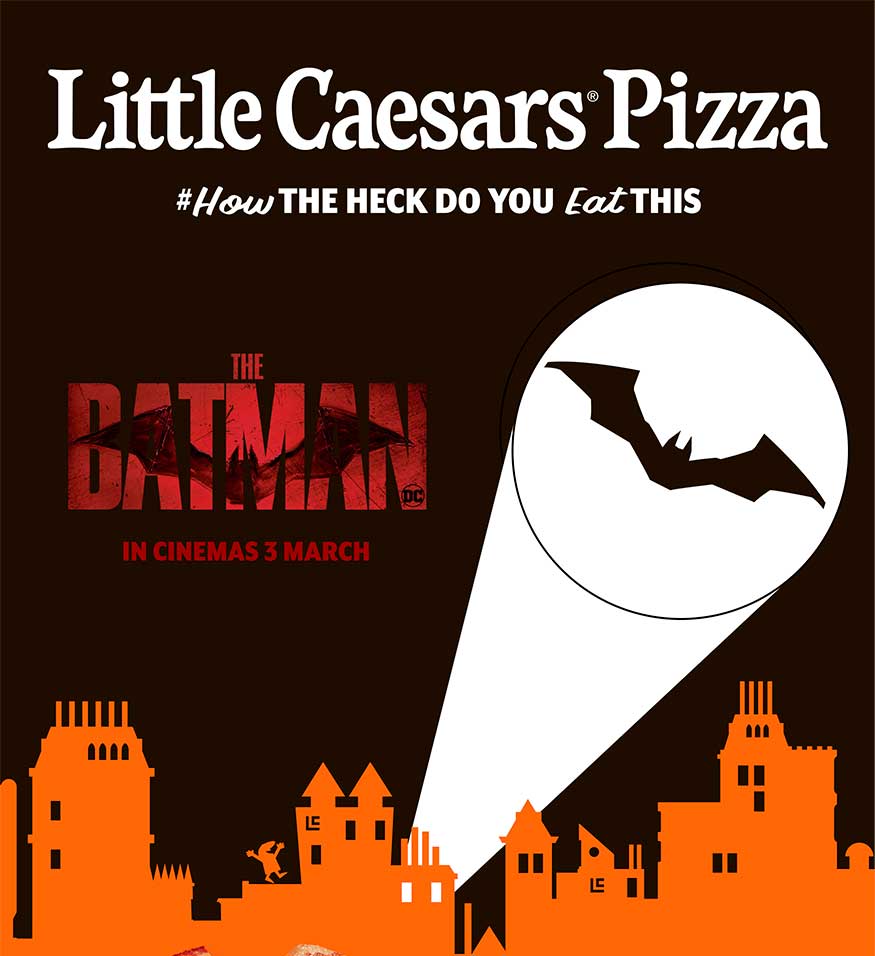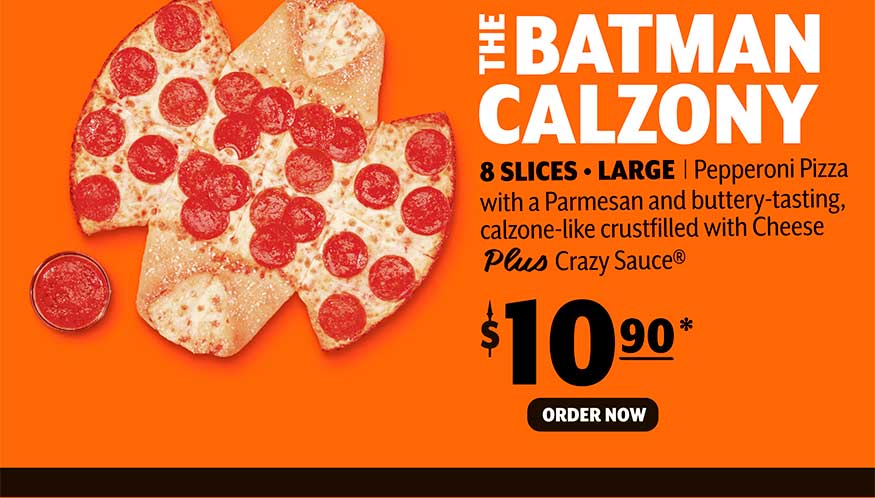 It looks like a delicious 8-piece monstrosity of folded dough, an abundance of pepperoni and stretchy cheese, but seriously, how do you even begin eating this?
In fact, since the aesthetic shape of the pizza is such a challenge for its consumers, Little Caesars Pizza Singapore has decided to have a little fun with it as well.
As part of their #HowTheHeckDoYouEatThis campaign, which was launched on 1 Feb, customers are encouraged to record a short clip of how they managed to conquer this uniquely shaped pizza and tag @littleceaesars_sg on Instagram or Tiktok.
To those participating in this challenge, make sure you type the correct hashtag and tag the right handle!
On 1 April 2022, 10 lucky winners will be selected to acquire a $100 Little Caesars Pizza Voucher each!
And no, this is not an April Fool's joke, it's just a coincidence in the date. 
With that amount, you'll never have to worry about your pizza expenditure for the rest of the year, and you get to enjoy some delicious pizza.
May the Bat-ter Video Win!
Gottam Have 'Em All
Continuing the groan or moan-worthy puns, Little Caesars Pizza Singapore is having even more promotions with the premiere of the New Batman movie.
You can get a $5 Return Voucher for any purchase of The Batman Calzony by flashing your Batman movie ticket.
Note: this deal is only valid for the first 6,000 customers.
For the movie-goers that are enjoying the movie at Golden Village, you can enjoy the cinema-exclusive 1-For-1 Deal there, where you can buy The Batman Calzony and get the Crazy Bread for free!
The new Batman movie, starring Robert Pattison as the dark vigilante of Gotham City instead of Ben Affleck, is almost three hours long.
What better way is there to spend the movie experience, besides a mouth-watering and cheesy pizza, plus some breadstick and signature sauce?
Sounds like a pretty good deal, if you ask me. 
You can watch this video to see how you can eat the pizza in various ways:
This article was first published on Goody Feed and written in collaboration with Little Caesars Pizza Singapore.
Featured Image: Image: Shutterstock / Heng Lim