---
Advertisements

---
Singapore's Anti-Vape Campaign Offers Path to Quitting, Waives Penalties
In Singapore, incidents related to vaping are becoming increasingly prevalent.
Many individuals turn to vaping to literally blow off steam from the stresses of life.
Some people, however, resort to it due to a lack of information about the risks and regulations surrounding vape usage.
In 2022, the Health Sciences Authority apprehended 4,916 people for vaping, a significant rise from the 1,266 cases in 2020, as reported by CNA.
April of this year saw a record seizure by Singapore authorities of over 85,000 e-vaporisers and related products, valued at more than $2.2 million.
A large proportion of those caught are young people.
"Drop it, Stop it!"
This catchy slogan headlines the anti-vape campaign led by MacPherson Youth Network in collaboration with the youth charity Bilby Community Development.
Join This Programme & Be Free of Penalties
There's a dilemma for youths considering joining the programme, as coming forward could mean facing penalties—effectively like turning themselves in.
In Singapore, vaping is illegal.
Possession or purchase of electronic vaporisers can result in a fine of up to $2,000 per offence.
Additionally, under the Tobacco Act, importing vapes into Singapore can lead to a six-month jail term, a fine of up to S$10,000, or both for first-time offenders.
However, there's an exception for participants in this campaign.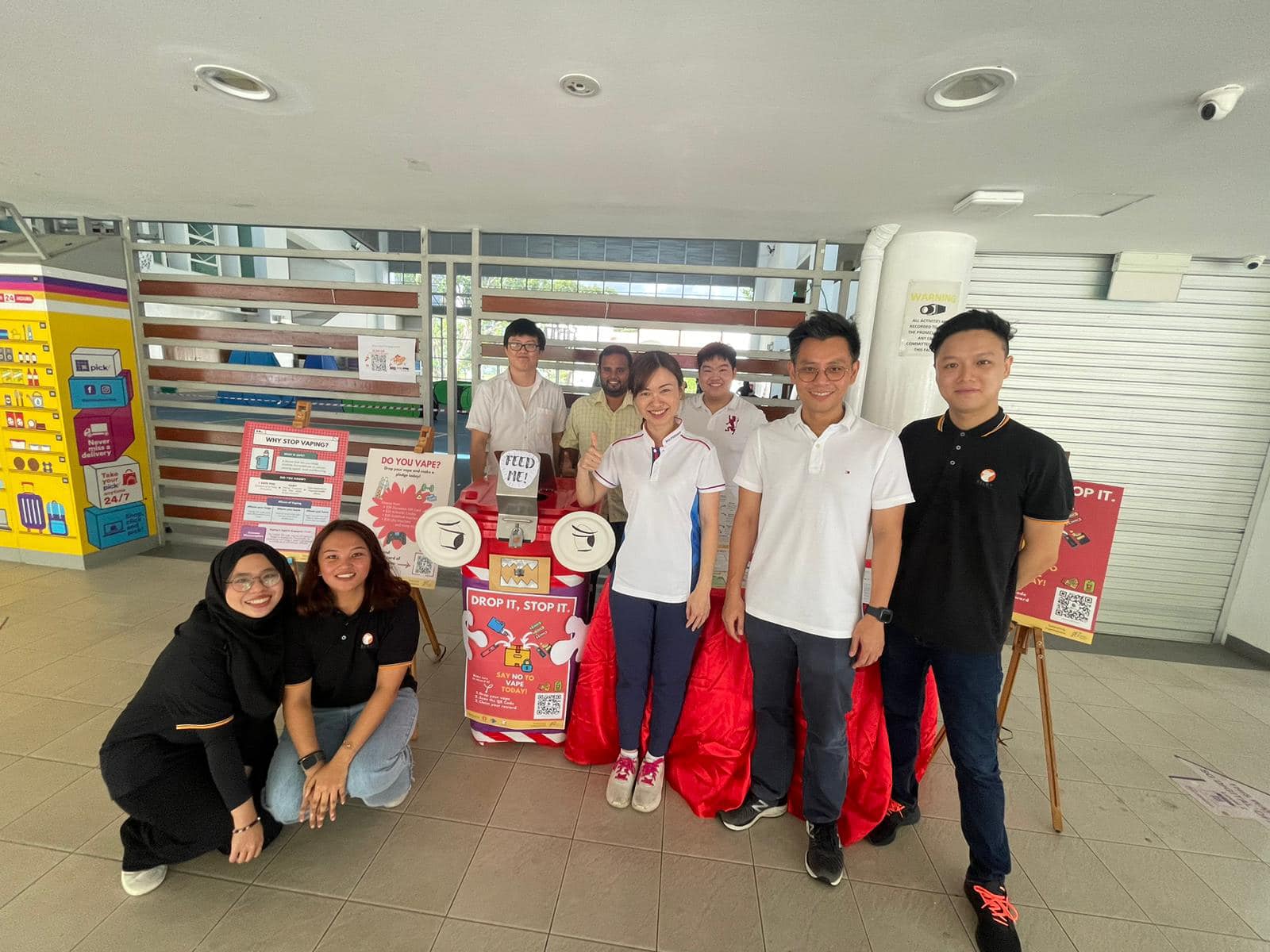 MacPherson MP Tin Pei Ling mentioned in The Straits Times that they worked with the Health Sciences Authority (HSA) and Health Promotion Board (HPB) to waive these penalties for programme participants.
"Drop It, Stop It" Through Education & Attractive Incentives
The campaign aims to engage 50 youths before its conclusion on 2 Jan 2024.
To highlight the harmful effects of vaping, the programme includes educational posters and quizzes offering attractive prizes. These prizes range from $30 vouchers for Decathlon to ActiveSG credits, GrabFood, Liho, and more.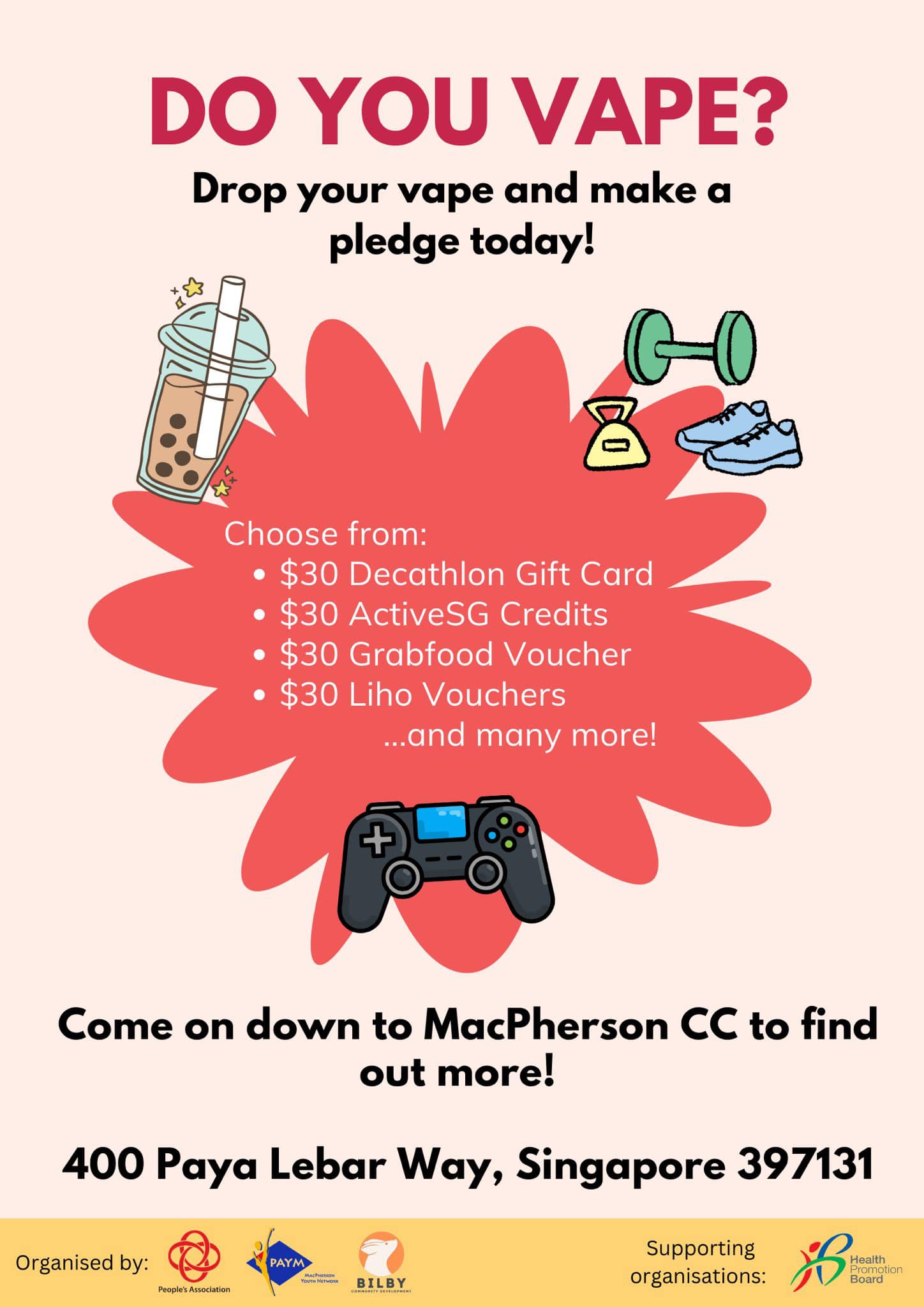 The educational posters, designed to be engaging, colourful, and informative, detail critical information such as the nicotine content in vape pods and the adverse effects of vaping on health.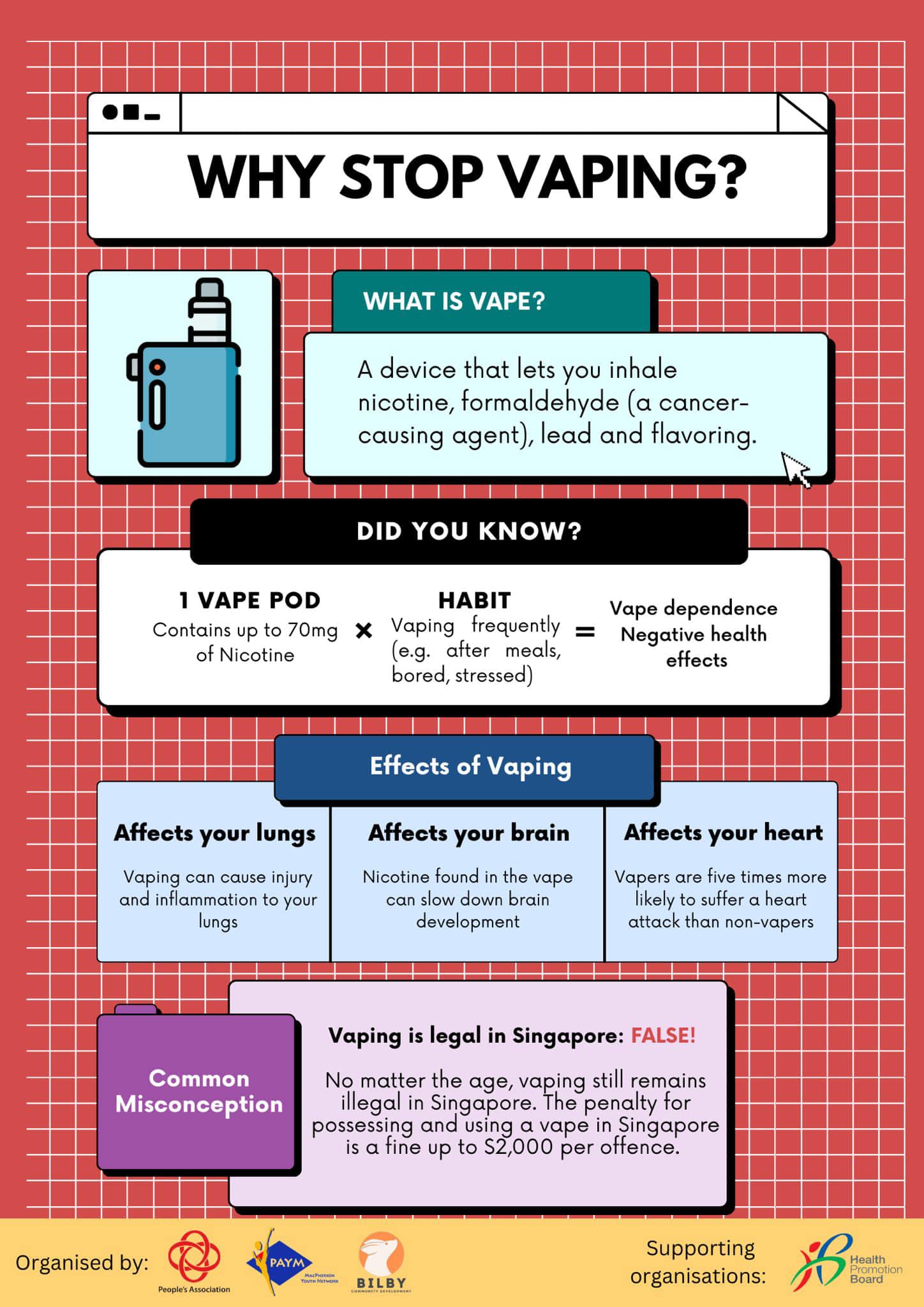 For comparison, a normal cigarette contains between 8mg to 20mg of nicotine, averaging around 12mg. In contrast, a single vape pod can contain up to 70mg of nicotine.
The posters explain that vaping can harm the lungs, brain, and heart, leading to injuries, inflammation, slowed brain development, and a fivefold increase in the risk of heart attacks.
So, why not heed the advice and choose to 'smoke chickens' instead of vaping?
---
Advertisements

---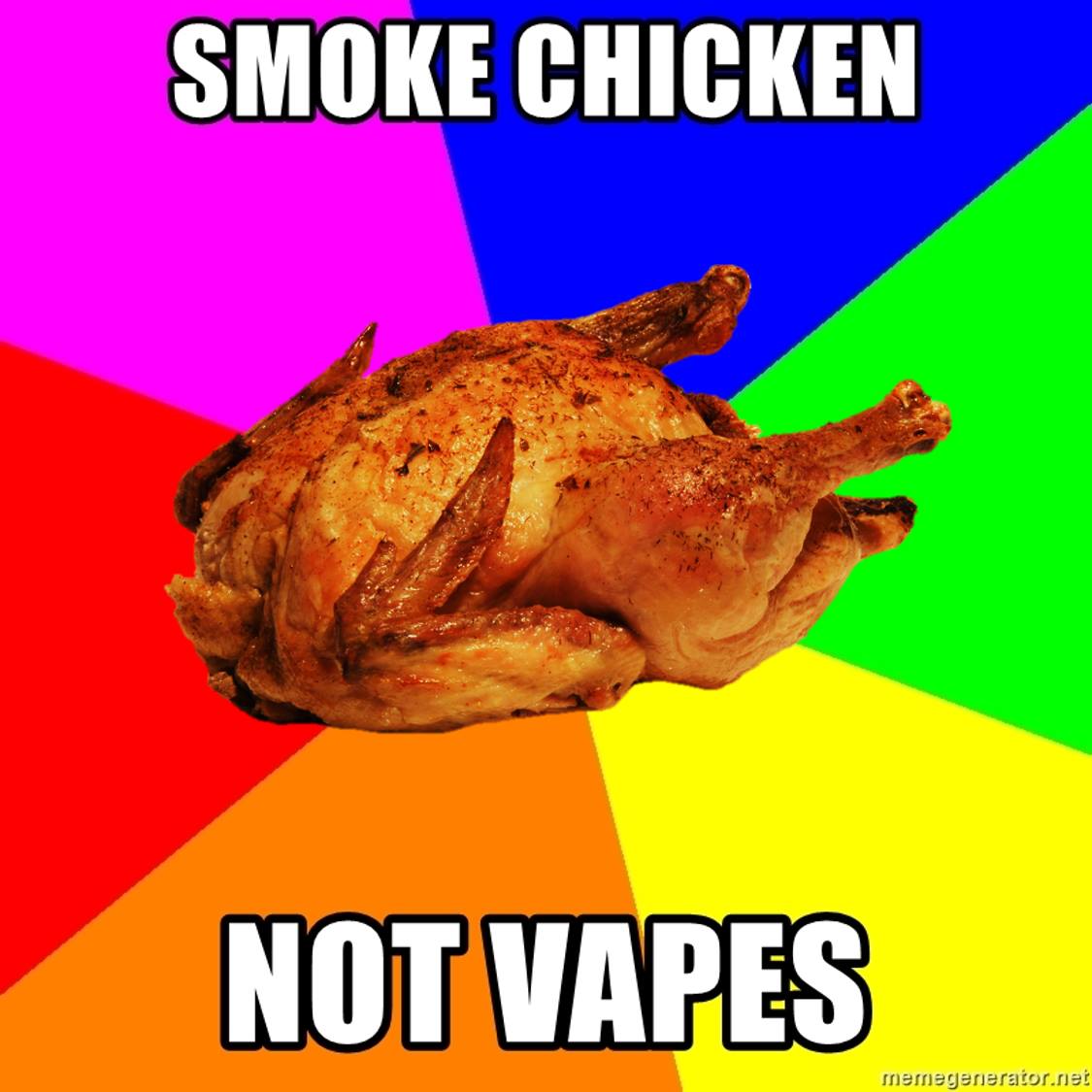 Interested individuals can visit MacPherson Community Club for more information about the campaign.
Alternatively, those looking to quit smoking can watch an informative video here:

Fresh grads, you don't need any experience to earn up to $4,200 with this "secret":
Read Also: