---
Advertisements
---
Just like lies on social media, the coronavirus spreads rapidly. 
All you need is one infected blonde-haired president unmasked in a certain house painted white, and several days later, dozens of people in that same house will get the disease.
Just when you think you've got Covid-19 under control, all it takes is one infection to lead to hundreds of people getting infected.
A Shopping Mall in M'sia Became a COVID-19 Cluster with 132 Cases 
The coronavirus has made something of a resurgence in Malaysia lately.
After three months of fewer than 40 cases daily, infections are spiking in the country, with a record 691 cases reported on 6 Oct, the highest tally so far.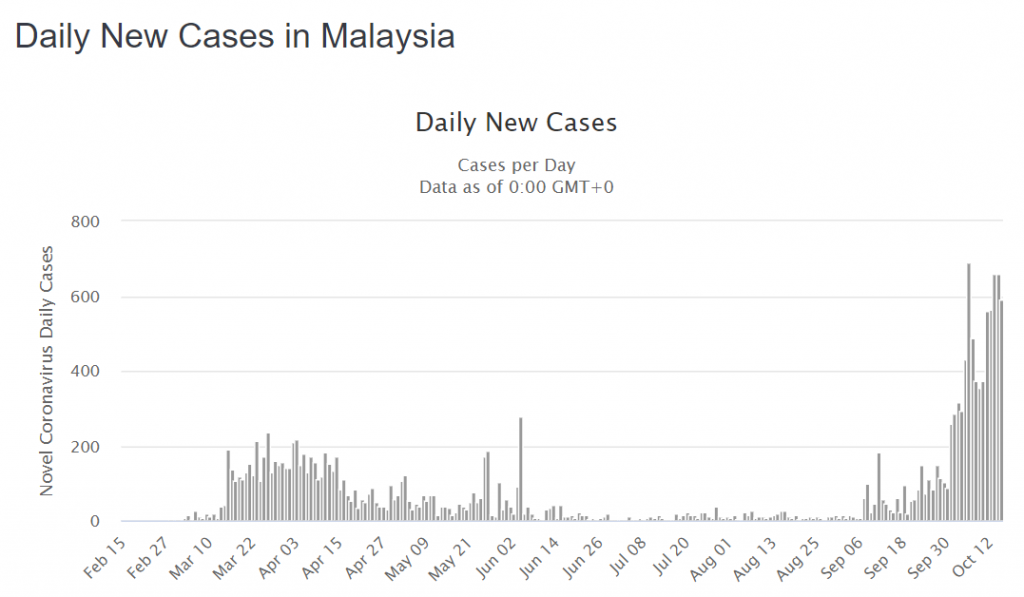 In the past five days, Malaysia has recorded at least 560 new infections every day, prompting the country to place certain areas under a Conditional Movement Control Order (CMCO) all over again.
One mall in Kuala Lumpur (KL) has grabbed the headlines recently after 132 infections were linked to it, according to the Malay Mail. 
107 non-Malaysian citizens and 25 Malaysians who tested positive for the virus have been linked to the 1 Utama Shopping Mall in Petaling Jaya, Health director-general Tan Sri Dr Noor Hisham Abdullah said.
A total of 447 individuals were screened, and 46 individuals are still awaiting their test results.
The 132 positive cases in the Utama cluster include 87 security personnel, 18 cleaning workers, 16 employees at the mall's premises, 6 mall patrons, and 5 family members of the index case.
Believe it or not, it all started with one security guard. 
Security Guard First Case in Utama Cluster
According to Dr Noor Hisham, the index case – or the first case – in the Utama cluster is a 28-year-old male citizen of Nepal who is a security personnel at the mall.
"The index case began to experience symptoms such as fever, cough and flu since September 22 and was tested positive on October 8 through a close contact screening and has been admitted to Sungai Buloh Hospital for treatment," he said.
Mall Claims Official Tally Of Cases in Cluster is Incorrect
On Thursday (15 Oct), 1 Utama mall released a statement saying an official report claiming 63 Covid-19 cases were detected from its mall was incorrect and misleading, Malay Mail reported.
They claim that 44 of the 63 cases were not part of the mass testing exercise conducted by the authorities after the mall was closed due to the detection of Covid-19 infections.
The mall said that only 21 positive Covid-19 results have been returned after tenants and employees at the mall were tested.
The mall was ordered to shutter on 11 Oct, and it's uncertain when it'll be allowed to resume operations.
PM: Malaysia Will Be First Country to Get Vaccine From China
With infections rising at an alarming rate, a vaccine would prove more beneficial than ever.
Fortunately for the country, Malaysia will be the first country to get a Covid-19 vaccine from China, Prime Minister Muhyiddin Yassin said in a virtual press conference on Tuesday (13 Oct).
"As we all know, China is currently the most advanced in studying the (Covid-19) vaccine discovery," he said.
---
Advertisements
---
"I was informed that it has reached the final stage and the vaccine could be used before end of the year after clinical trials are done."
This means that Malaysia could get the vaccine by the end of the year.
According to Bernama, the Malaysian government will sign a memorandum of understanding (MoU) with China to ensure that this happens.
Maybe that means trips across the border for banana cake will happen sooner than we think?
We can only dream.
---
Advertisements
---