---
Advertisements

---
Usually, one would choose to admire, say, fast cars during a Grand Prix event. After all, it is a Grand Prix event.
Yet, it seems that even when F1-level cars are in the equation, belles still take priority for some.
36YO Man Arrested for Grabbing Woman's Thigh While Walking During S'pore Grand Prix
You may have already seen the viral TikTok clip that has been making its rounds on the platform. But if you haven't, here's what it was all about.
On 17 September 2023, TikTok user @karenbehh posted a 0:35 clip, sharing that she had been molested at the Singapore Grand Prix the night before.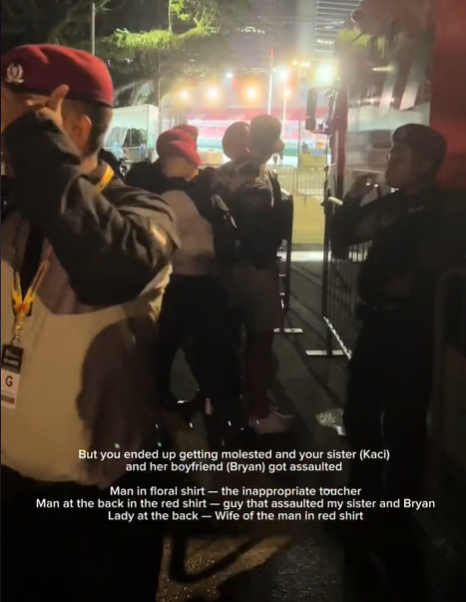 Apparently, she, alongside her sister and their boyfriends, had been on their way to Post Malone's concert when a stranger in a floral shirt walked over and touched her inner thigh.
Incensed, her sister, TikTok user @kaci.beh, approached the suspect with her boyfriend Bryan. Initially denying the accusations, the suspect then allegedly "kept apologising profusely."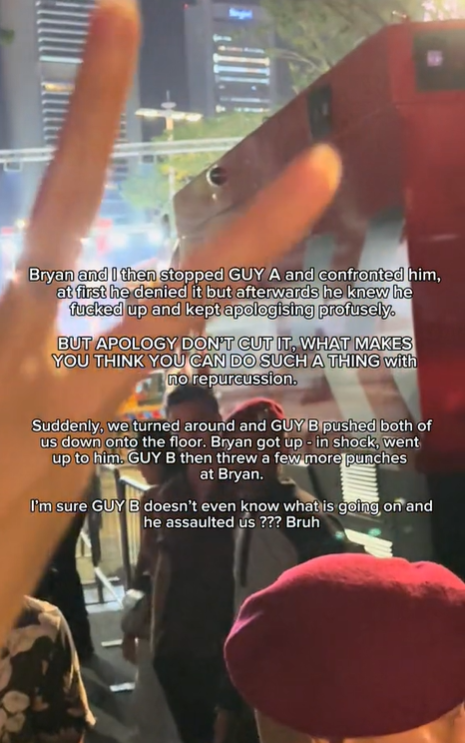 It was then that Kaci and Bryan turned around to see a second guy, who allegedly pushed both of them onto the floor.
"Bryan got up," Kaci wrote on her own TikTok platform. "Went up to him. Guy B then threw a few more punches at Bryan."
Later on, it was revealed that the second guy had a wife, and the wife allegedly asked Karen:
"Why would he touch you?"
The police eventually arrived on the scene and arrested the first guy, who was 36 years of age and had a 2-month-old child.
Meanwhile, the second guy, who's 37 years old, is currently assisting with investigations.
The sisters have since requested for witnesses with images or videos of the fight.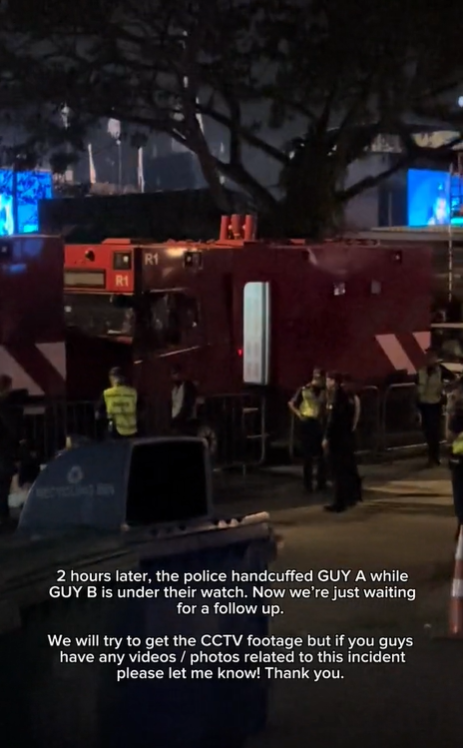 It should be noted that Netizens have since expressed their support for those affected.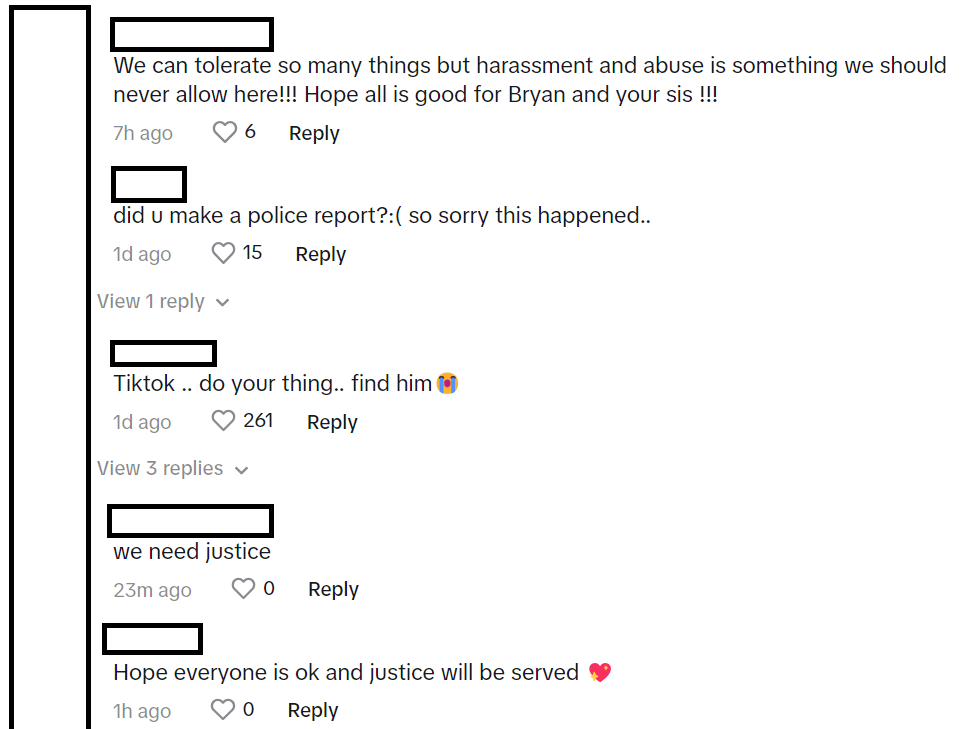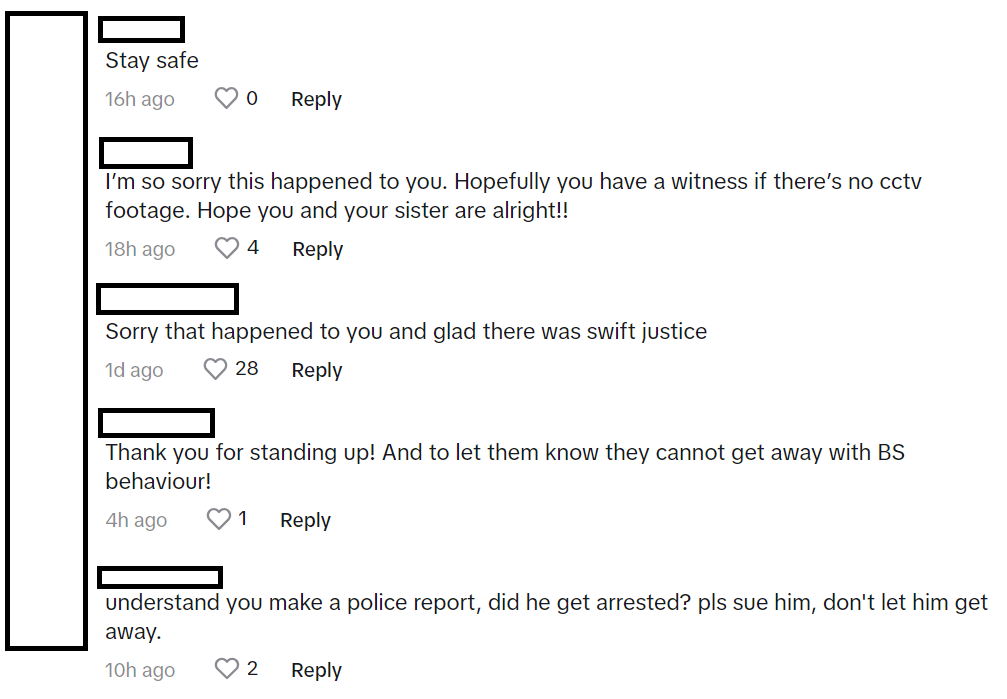 It should be noted that in the 2022 F1 Austrian Grand Prix, sexual harassment occurred as well.
F1 Grand Prix
This wasn't the only controversial event that has graced the Singapore Grand Prix thus far either.
Apparently, hotelier and billionaire Ong Beng Seng was spotted in the paddock last weekend, which wouldn't have been anything out of the ordinary had he not recently been affiliated with the corruption scandal involving Transport Minister Iswaran.
Yeah, he's actually out on bail now.
Nevertheless, that hasn't kept him from mingling with the elite as he busied himself with networking.
The Singapore Grand Prix 2023 took place over three days and attracted over 264,000 fans.
Several high-profile celebrities also turned up, with the likes of Jackson Wang, Post Malone, Robbie Williams and more gracing the stage.
---
Advertisements

---
Ferrari's Carlos Sainz swept the number 1 spot, his first-ever win in the Singapore arena, after kickstarting in pole position. McLaren's Lando Norris took second, while Mercedes' Lewis Hamilton came in third.
Just 1.2 seconds differentiated the top three.

Fresh grads, you don't need any experience to earn up to $4,200 with this "secret":
Read Also: