---
Advertisements

---
From a young age, we have been cautioned about stranger danger and the risks associated with potential predators online but may not have taken these warnings seriously.
Unfortunately, Ms Helen Bong, a Malaysian mother married to a Singaporean, recently encountered this issue firsthand when a stranger attempted to converse with her seven-year-old daughter, Caroline Kum, on Facebook. 
Ms Bong and her daughter, a Singaporean, currently reside in Malaysia.
In a Facebook post on 6 May 2023, Ms Bong, 39, shared parts of the disturbing conversation in which the Malaysian man mistakenly believed he was speaking to Caroline instead of Ms Bong herself. 
She mentioned that she created her daughter's Facebook page approximately three years ago, in 2020.
Stranger Gradually Sent More Disturbing and Suggestive Texts As the Conversation Went On
According to Ms Bong, the man initially sent a Facebook friend request to her daughter on 3 May 2023, accompanied by a harmless greeting of "hi".
However, the conversation soon took a concerning turn as the man began asking personal questions about her daughter's whereabouts, including where she lived.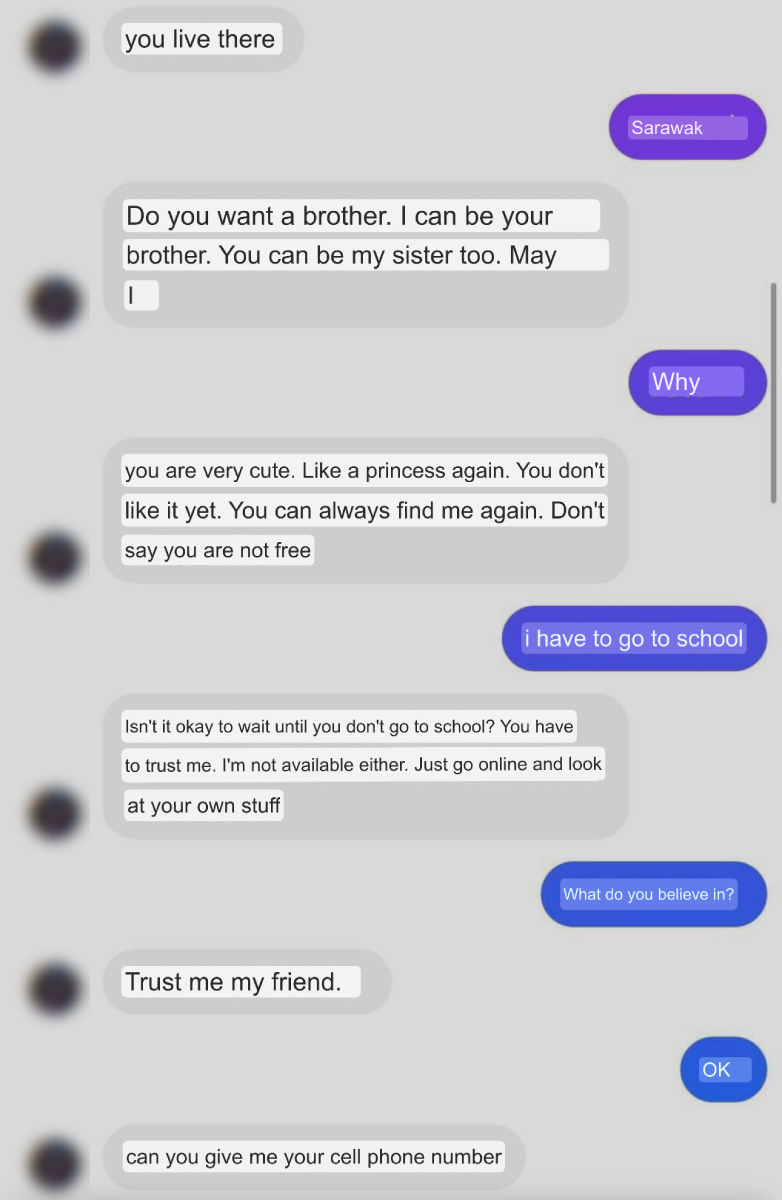 Initially, he portrayed himself as someone who just wanted to be "friends", complimenting her daughter's cuteness and comparing her to a princess.
The man also suggested the idea of becoming her brother, encouraging her to accept him as family.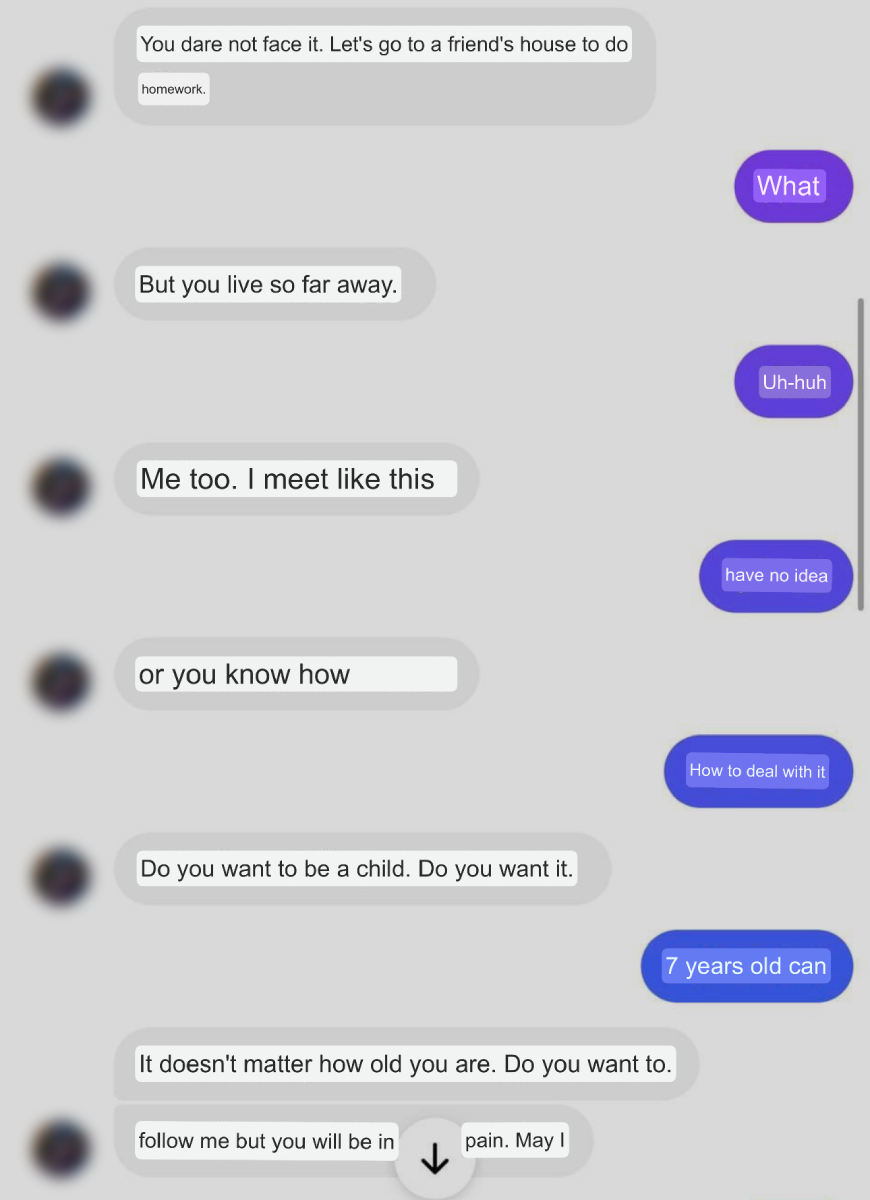 However, as the conversation progressed, he became more insistent on obtaining the child's phone number.
Over the course of three days, his remarks grew increasingly unsettling.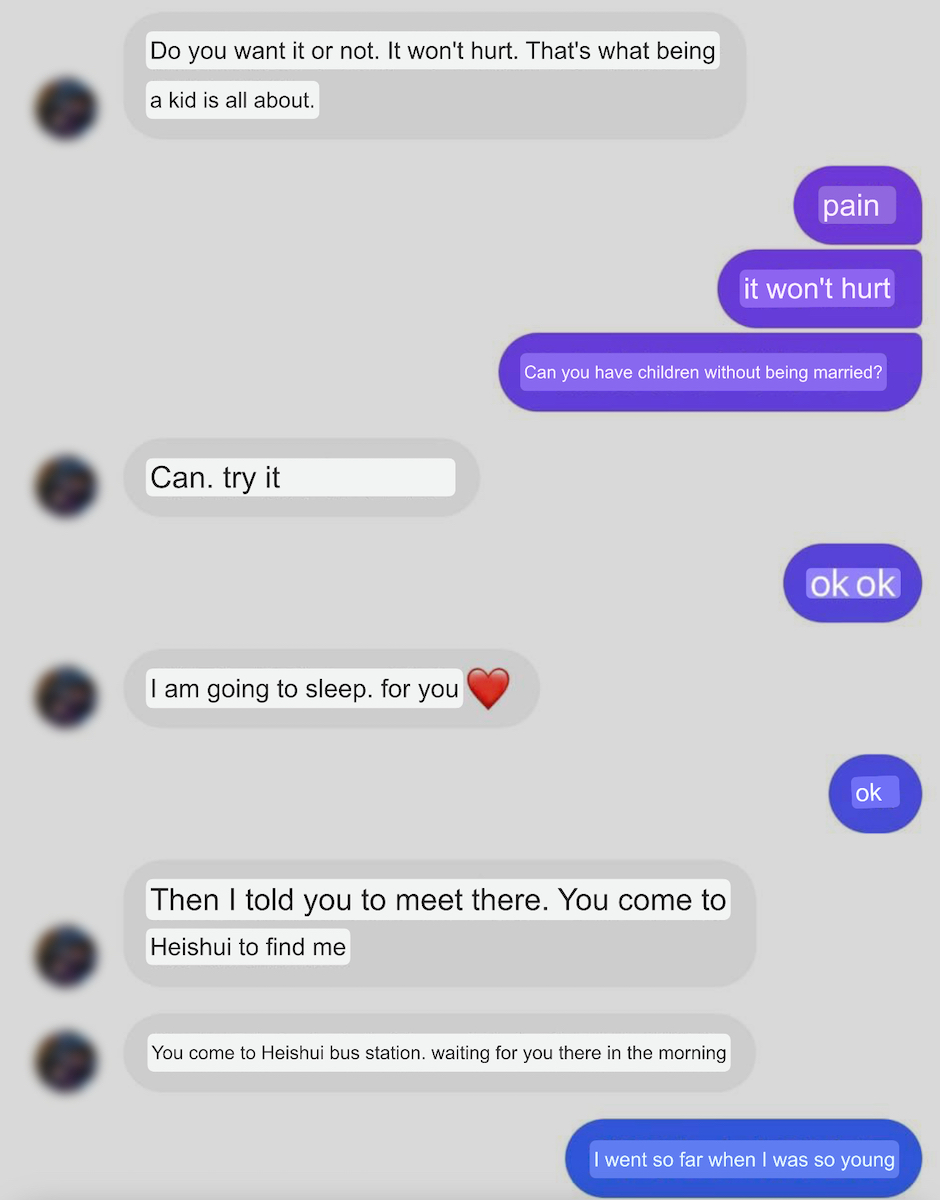 For example, he proposed meeting with the girl under the guise of doing homework at a friend's house, citing that he "lived too far away" from her to meet at her house.
The situation soon escalated when he asked if she wanted to have a child with him.
Upon receiving the text, Ms Bong, who had been impersonating her daughter throughout the conversation, informed him that Caroline was only seven years old.
Shockingly, this revelation did not deter him, as he claimed that age was "irrelevant" when it came to having a child.
Still unaware that he was speaking to Ms Bong, he continued to pressure her to "try it" with him and reassured her that having a child with him would not "hurt" her. 
Mother Has Since Blocked Man And Warned Daughter to Stay Vigilant Online
According to reports, cases related to Technology-Facilitated Sexual Violence (TFSV), such as online grooming, can be challenging to detect as they often occur while a child is at home simply using a computer.
Fortunately, in her Facebook post, Ms Bong revealed that the conversation happened while she was monitoring the situation closely, allowing her to talk to the man in place of her young daughter.
She revealed that this was not the first time she had encountered such an incident and took the necessary step of blocking the man on 6 May 2023.
Despite her proactive measures, Ms Bong expressed her astonishment at the man's brazen actions, highlighting that the man persisted with his inappropriate comments despite her repeatedly emphasising her daughter's young age. 
---
Advertisements

---
Despite the distressing incident, Ms Bong stated that she would still allow her daughter to use social media but with vigilant guidance.
While no information is available regarding whether Ms Bong made a police report against the man, under Malaysia's Sexual Offences Against Children Act 2017, the man could face a maximum prison sentence of three years for his actions.
Moreover, if he had actually met Ms Bong's daughter, he would have been subjected to a jail term of five years.
Classic Case of Online Grooming 
The incident involving Ms Bong's daughter is a typical example of online grooming, a tactic online predators like to employ when targeting younger individuals
Children aged 12 to 15, or even younger individuals like Caroline, are particularly vulnerable to being groomed or manipulated by adults they encounter online.
It is alarming to note that approximately 500,000 online predators are actively targeting children each day. 
---
Advertisements

---
Just like Caroline's experience, an estimated 89% of sexual advances towards children occur in internet chatrooms or through instant messaging platforms.
Similar to the approach taken by the man in this case, adult groomers typically attempt to gain a child's trust by pretending to share common interests or offering compliments.
Once a connection is established, the groomer often steers the conversation towards sexual topics.
Moreover, in this man's case, he resorted to more extreme measures by pressuring the child to meet in person, possibly aiming to further coerce her into complying with his intentions.
More Technology-Facilitated Sexual Violence Cases Over the Years
Ms Bong's daughter is not the sole victim of technology-facilitated sexual crimes, where unwanted sexual behaviour is perpetrated through digital means such as social media platforms, messaging apps, digital cameras, and online dating or ride-hailing applications.
---
Advertisements

---
AWARE's Sexual Assault Care Centre (SACC) reported 191 cases of TFSV in 2020.
Recently, in May 2023, a Foreign Domestic Worker (FDW) working in Malaysia was caught on camera engaging in lewd acts with a much younger victim, a baby under her care. 
The domestic worker had filmed herself as she coerced the baby into performing sexual acts on her.
Additionally, a 34-year-old technician, who deceived 15 girls into sending him sexually explicit photos and videos and manipulated five of them into engaging in sexual activities, was sentenced to 31 years in prison and 24 strokes of the cane in 2022. 
This individual, who was married with a child, also coerced some of his victims into secretly recording five other girls and women while changing clothes or showering.

Fresh grads, you don't need any experience to earn up to $4,200 with this "secret":
Read Also: