---
Advertisements

---
Disputes between neighbours are not uncommon in a country where people live so close to one another. 
However, things can sometimes go too far.
Upset with the recurring noise from the floor above him, a man threatened to kill his neighbours with a chopper.
He has since been jailed.
The Incident
Lo Kok Yong, 40, threatened to kill his condominium neighbours and even struck their gate with a chopper.
Lo pleaded guilty to one count of criminal intimidation and one count of arming himself with a chopper.
He is a Malaysian man who moved into a unit on the first floor of Regentville condominium in Hougang with his wife, a Chinese national.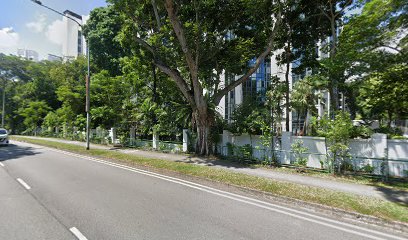 They have been living there since May 2021.
Both are Singapore permanent residents.
Since moving in, they have made multiple noise complaints about the unit directly above them.
From July to August 2021, Lo and his wife made three police reports about the noise.
They also lodged multiple reports to the managing committee of the condominium.
With so much unresolved bad blood, Lo resorted to drastic measures.
The incident occurred on 17 August at around 5 am in 2021.
Lo had noises he perceived to be coming from the unit above.
Thus, he used a plastic stick to knock on the ceiling of his home to inform the occupants above that they were being noisy.
The noise stopped for a while.
However, Lo began hearing noises again one hour later.
At around 7.30 am, his wife called condominium security.
A guard headed to the second-floor unit with Lo's wife, where they confronted the occupants.
Lo took a chopper from his kitchen and headed upstairs upon hearing the confrontation.
---
Advertisements

---
He held the chopper as he walked along the second-floor corridor, shouting at the neighbours, "If you make noise again, I don't mind exchanging my one life with your whole family life."
The victims closed their door and called the police.
During this period, Lo hit the victims' gate with his chopper a few times, causing a dent.
Ten minutes later, the police arrived and arrested Lo.
Prosecutor Sought Five to Six Months' Imprisonment

The prosecutor sought five to six months' imprisonment for Lo due to the severity of the threat.
Furthermore, the threat was made to multiple victims.
---
Advertisements

---
The prosecutor also noted that the threat was "real and imminent".
After all, Lo shouted the threat while approaching the unit with a chopper.
Sounds like a villain in a horror movie.
Moreover, the prosecutor noted that Lo's threat carried significant weight because he hit the victims' gate with the weapon.
As Lo lived directly below the victims, the threat would have lingered in their minds long after the incident.
---
Advertisements

---
The prosecutor also noted the property damage caused by Lo.
The prosecutor pointed out that Lo only pleaded guilty on the first day of trial, adding that four different people had caught him in the act.
The prosecutor said, "There is a clear need to deter such brazen and lawless conduct involving weapons.
"This is especially true given the context in which the offence was committed. Given Singapore's high density, a signal must be sent that disputing neighbours cannot resort to threatening each other with choppers."
Lo received four months imprisonment.
He could have been jailed for up to two years and fined for arming himself with a weapon without lawful authority or purpose.
He could have been jailed for up to ten years, fined, or both for criminal intimidation with a death threat.
Neighbourly Dispute Gone Wrong
Have you ever had a neighbour who was driving you crazy?
---
Advertisements

---
Besides Lo's case, there have also been other instances of neighbourly disputes gone wrong.
One such neighbourly dispute in Bukit Panjang involved urine, soy sauce and paint, which sounds like an odd mixture of substances.
According to Shin Min Daily News, the dispute has been ongoing for at least two years.
The neighbourly dispute between two families living at Block 137 Petir Road began in 2021.
Namely, the dispute was over a shoe rack.
Ida, who lives in the corner unit, told Shin Min Daily News that her family had placed the shoe rack in the corridor outside their house.
However, the shoe rack was positioned under her neighbour's living room window, upsetting her.
The neighbour, an elderly woman with the surname Wang, allegedly began harassing Ida's family by wiping her windows and causing dirty water to drip on the shoe rack.
She apparently also poured urine into ten pairs of shoes.
In 2022, Wang allegedly used a water gun to spray soy sauce on Ida's family's clothes.
Ida also said that Wang splashed white paint on the family's front door when their home was being renovated.
She had reportedly called the police and lodged reports against the elderly woman over 20 times.
However, Wang told Shin Min Daily News that she was simply retaliating, suggesting that the family should not have put the shoe rack under her window in the first place.
Though she admitted to Ida's accusations, she accused the family of throwing dog faeces into her house and scribbling graffiti on her windows two years back.
Ida said she was reluctant to move the shoe rack because it was a gift from her late father-in-law.
As of September 2023, the dispute is reportedly still ongoing.
Government to Set Up Dedicated Unit to Resolve Serious Noise-Related Neighbourly Disputes
In March 2023, it was reported that the Government planned to set up a dedicated unit to resolve serious noise disputes between neighbours.
The unit is set to be formed by the end of 2023.
Senior Minister of State for National Development Sim Ann said that the unit will be able to investigate disputes and stop nuisance behaviours.
She noted, "Often, there are signs that at least one of the conflicting parties purposely weaponise noise to cause suffering to their neighbours over a prolonged period of time.
"We think this is wrong and that strong actions are needed to put a stop to this."
However, she stressed that government intervention should not be the first resort.
She emphasised that having both parties engage civilly with each other is still the preferred mode to resolve neighbourly disputes.
She said, "We do not wish to stunt the community's capacity to resolve disputes early when they first occur.
"If people rely on government personnel in the first instance to deal with their neighbours, it can only weaken the kampung spirit over time."

Fresh grads, you don't need any experience to earn up to $4,200 with this "secret":
Read Also: