---
Advertisements

---
Last Updated on 2023-05-30 , 10:09 am
Singapore is all about bonding and community, which is why public housing flats quotas regarding the ethnicity of buyers attached to them.
It may well be the case that we need to update such integration policies to include other "neighbours" in the future.
We're talking about wild animals that happen to wander into the human habitat.
And we're not talking about the cute otters that people sometimes see roaming in packs around Singapore or frolicking in the water canals.
We're talking about big, long-tailed monitor lizards.
Here is one of the recent sightings of a giant monitor lizard which "infiltrated" a Housing & Development Board (HDB) flat in Punggol.
Giant Monitor Lizard Was Seen on 3rd Floor HDB Ledge in Punggol
Singapore has its fair share of wildlife freely roaming around, sometimes even mingling with humans.
We have monkeys near reservoirs and boardwalks, we have otters in the city and even our central business district, chickens that co-exist with humans at parks, and now it seems that we have monitor lizards within our public housing estates.
Earlier this week, a Facebook user going by the name Simon Owen Khoo posted about a giant monitor lizard sighting on the third floor of his HDB block in the Facebook group Singapore Wildlife Sightings.
Some pictures attached to the post showed a monitor lizard (with its characteristic long tail) on the parapet of an HDB building, with a concerned person peering over the ledge to take a better look at the monitor lizard.
---
Advertisements

---
There were other pictures showing the monitor lizard near the lift lobby.
According to the Facebook user, who tagged the location as "Punggol Waterway", the creature eventually "managed to get back onto the lift landing". This was conveyed by a neighbour who witnessed the giant monitor lizard on the third-floor parapet.
It is unclear how the monitor lizard managed to carry out that feat, as when the neighbour returned to the ledge from going to "get a stick", the monitor lizard "was no longer there".
The post has since garnered 103 comments and 171 shares at the time of writing this article.
Some of the netizens expressed concern for the monitor lizard, calling for the Facebook user to call the Animal Concerns Research & Education Society (Acres) for assistance. Acres aim to improve "animal welfare and [help] endangered species".



Other netizens were more worried about the fact that one of the neighbours went to fetch a stick to "deal with" the monitor lizard. Some of them asked why a stick was necessary, to which the Facebook user who made the original post replied that it may have been to "nudge the creature off the ledge".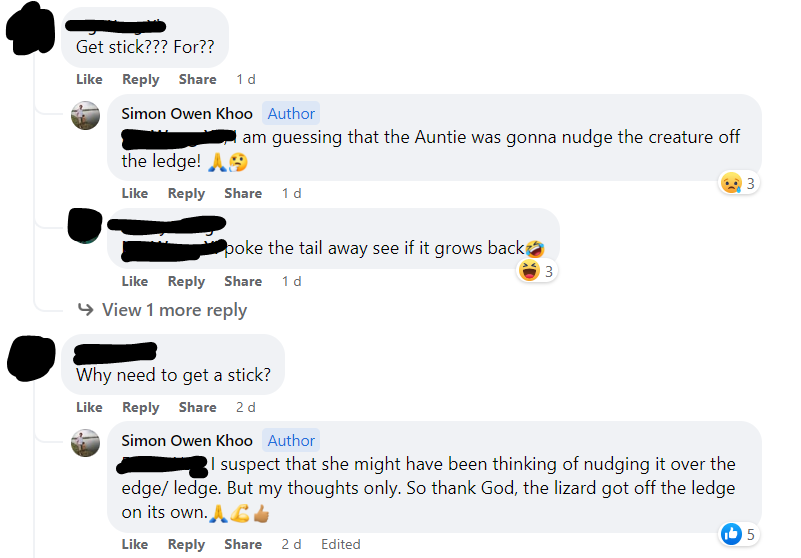 Now we are thinking that the netizens calling for Acres to handle the situation makes more sense.
Thankfully, the stick was not needed to push the monitor lizard off the parapet. In response to a worried netizen's expression that the monitor lizard may have fallen and suffered injuries, the original poster clarified that the monitor had, in fact, "jumped…to safety".
It was a "happy ending" for all those involved.
---
Advertisements

---

For those keen to avoid the area lest you find yourself face-to-face with a monitor lizard, the original Facebook poster shared that the block was at Waterway Sundew. Apparently, Waterway is also "full of monitor lizards", some of which are "huge specimens".

We suppose that could be the case given the area's proximity to water bodies, which monitor lizards sometimes favour.
Yet another netizen speculated whether the monitor lizard could become a meal for other animals, such as hornbills.

What this netizen may not know is that other creatures may be eyeing these monitor lizards for meals.
In Kuala Lumpur, Malaysia, a stall has been seen selling Monitor Lizard Claypot Curry Rice. For those curious as to how this delicacy tastes, some adventurous eaters who have tried it said that monitor lizards taste like chicken.
We know that Singapore is thinking about approving insects for consumption—let's hope that monitor lizards do not make the cut any time soon.
---
Advertisements

---
Join our Telegram channel for more entertaining and informative articles at https://t.me/goodyfeedsg or download the Goody Feed app here: https://goodyfeed.com/app/ 
Monitor Lizards Have Been Venturing Into Other Areas
To be honest, we are not particularly thrilled by the idea of seeing monitor lizards roam close to where we live. They do not look "cute" like otters and are definitely more exotic than chickens or monkeys.
If you are someone who screams at the smaller lizards you see in your house, what more a huge lizard several times the size of that smaller lizard?
Unfortunately, it seems like monitor lizards encroaching into human territory may be a norm soon. Just a few days earlier, another giant monitor lizard was seen at the doorstep of a flat in Bedok North.
Perhaps it was curious or just wanted to see how others were living.
At the start of the year, a coffee shop in Punggol was also visited by a monitor lizard, causing some alarm among dining patrons. In a TikTok video posted by user @johnsonooi, the monitor lizard appears to be active and running around the coffee shop.
---
Advertisements

---
Some patrons can be seen putting their feet up on chairs or sitting on tables to avoid the creature.
We would have done the same.
What would you do if you encounter a giant monitor lizard near your flat?

Here's a rather unexpected timeline of the $2.8 billion money laundering case in Singapore as revealed by Minister Josephine Teo during a parliament sitting on 3 October 2023:
Read Also: