Typically, when a video is posted on ROADS.sg or SG Road Vigilante, it involves an accident, a reckless driver, or a careless pedestrian.
It's evident who's wrong in these kinds of videos, so netizens simply criticise the drivers or riders involved and move on with their lives.
But yesterday (9 June), netizens were confused after they saw a video of a motorcyclist who attached a bicycle to its vehicle using an extended rack.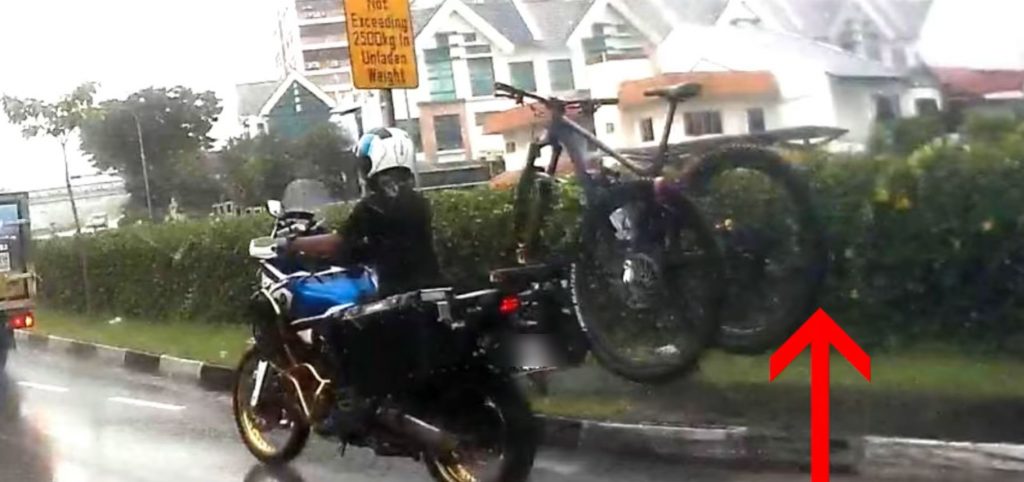 Is this allowed, or was the rider breaking the law?
Well, we finally have our answer.
LTA: This One Cannot Lah
Motorcyclists are not allowed to ride with bicycles attached to their vehicles as they pose a danger to other road users and themselves, the Land Transport Authority (LTA) said.
LTA was responding to an enquiry after the video of the motorcyclist was uploaded yesterday.
A screenshot of their email response was shared by ROADS.sg in a follow-up Facebook post.
"We would like to inform you that we do not allow installation of bicycle rack on a motorcycle," an LTA representative said, adding that it would pose a danger to the motorcyclist as well as to other motorists around them.
He explained that when a bicycle is mounted on a motorcycle, as demonstrated by the motorcyclist in the viral photo, the bicycle would stick out too far, which could affect the manoeuvring, control, and stability of the vehicle.
The LTA representative said it is now investigating the incident.
"We will look into the matter and take the appropriate follow-up action", he wrote.
LTA's enforcement officers will also keep a lookout for motorcyclists who flout this rule during their daily patrol on the roads, he added.
Attaching Red Flag For Protruding Loads 
According to the Road Traffic Act (Chapter 276, Section 140), Road Traffic Rules, a load "projecting laterally" on vehicles should have a red flag or lamp affixed.
---
Advertisements
---
It said that whenever a load or something covering a load that is being transported on a vehicle extends beyond the body or wheels of the vehicle, or any authorised fitting permanently attached to the vehicle, a red flag should be affixed in the day, and a red lamp at night at the extreme rear end of the load.
This will make the load clearly visible to other motorists and provide adequate warning to oncoming vehicles.
That's for vehicles that are permitted to carry such a load, however. A motorcyclist can attach 15 red flags and 26 lamps, but he still cannot mount a bicycle on his vehicle.
You'd be better off engaging the services of a bicycle transporter, and binge-watching Netflix at home.
Featured Image: Facebook (ROADS.sg)
Like writing? Goody Feed is looking for writers! Click here for more info!