---
Advertisements

---
Last Updated on 2023-05-16 , 2:17 pm
A Facebook post by Mr Victor Shafeeq Peters on 9 May 2023 regarding a hijab-wearing worker selling pork satay at a pasar malam at Woodlands has since gone viral.
Mr Peters also shared a video of himself confronting the stall owners, scolding the Muslim woman for selling pork. 
He expressed worry that other Muslims may assume the stall is Halal due to the hijab-wearing employee's presence.
The Islamic Religious Council of Singapore (MUIS) has since been alerted to the issue. 
Said Muslims Aren't Allowed to Sell Pork
Mr Peters claimed in his Facebook post that he became aware of a hijab-wearing employee selling pork satay at the MBK Thai Express store in Woodlands Pasar Malam through a video his wife had sent him. 
He then visited the store to confirm the contents and was enraged to find out that both the hijab-wearing female and another male employee, who were Muslims, were selling pork satays. 
He confronted them and scolded them for selling pork, which is "Haram" for Muslims due to rules stated in the Islamic religion.
Although Mr Peters claimed in his caption that he was not posting the video to shame anyone but to raise awareness, his confrontational tone with the employees contradicted his statement. 
In the video he uploaded, the employees were visibly taken aback by his questioning and seemed unsure of how to respond.
---
Advertisements

---
It was added that other store owners at the Pasar Malam were also confused about why a Muslim person was working at a store selling pork. 
After failing to get satisfactory answers from the employees and other store owners from the pasar malam, Mr Peters reached out to the boss of the MBK Thai Express store to clarify the matter.
Boss's Vague Claims Cemented His Concerns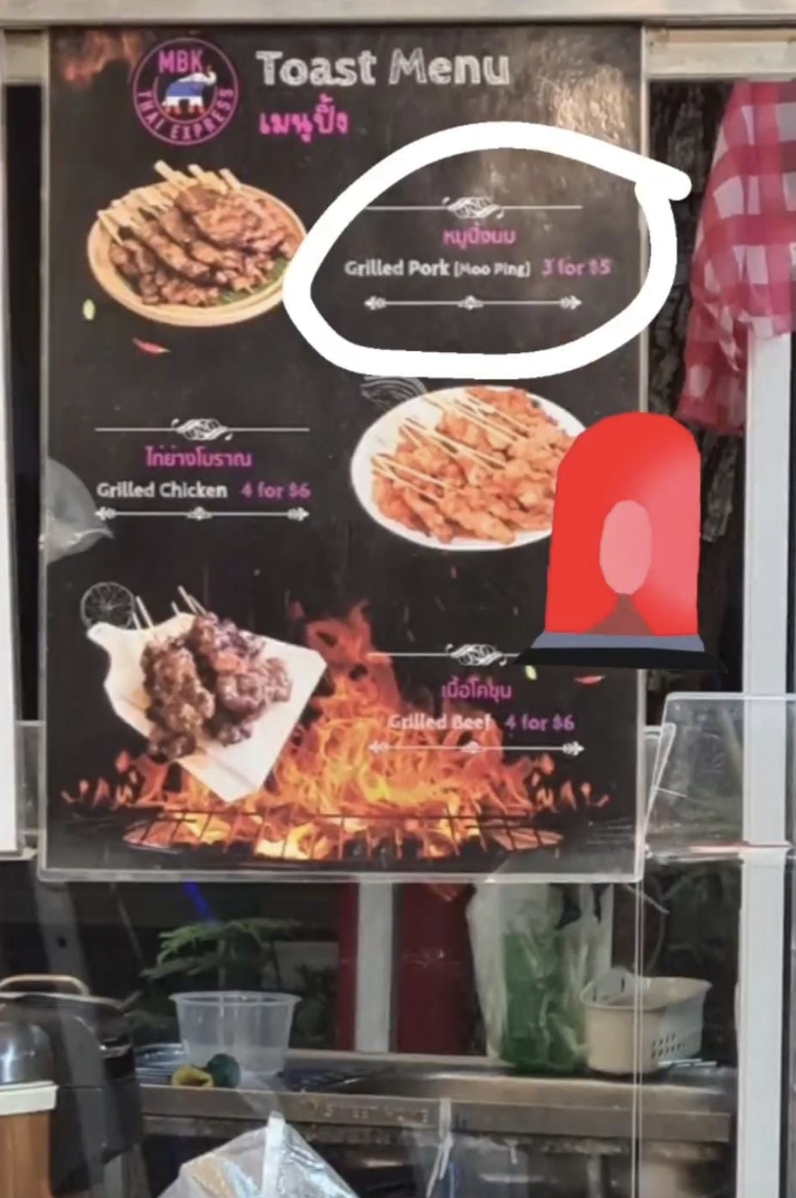 According to Mr Peters, the store's boss gave vague answers and claimed that the "wrong menu banner" was put up.
He expressed concern that the presence of the hijab-wearing employee could mislead Muslim customers into thinking the stall was halal, primarily since the menu text was written in fine print and could be challenging to read.
He also accused the boss of lying about the satays not being pork and intentionally misleading customers. 
He urged his Muslim followers to be vigilant and concluded the post by encouraging others to share the situation to raise awareness and address the issue with the authorities.
MUIS Responds to Complains
After receiving several enquiries from public members due to Mr Peters' viral post, MUIS has stated that they visited the MBK Thai Express stall on 9 May 2023.
However, they reported that no Halal claims were found to have been made by the store when they visited.
MUIS emphasised that the Halal status of a store is determined by whether the central kitchen or principal premise is Halal-certified, not by the religion of the person serving or preparing the food. 
They also reminded Muslims to exercise due diligence when patronising any eatery and to carefully check the establishment's menu before consuming their food.
---
Advertisements

---
In addition, MUIS cited Prophet Muhammad s.a.w, the leader and the founder of Islam, and encouraged Muslims to be mindful of their words when giving advice to others. 
They also advised Muslims to speak politely and in a measured tone, especially when giving constructive criticism.
They state that this would make others feel more comfortable and make it easier for them to accept advice.
Similar Incidents
This is not the first time issues have been found regarding non-Halal food items sold in bazaars or pasar malams.
In March 2023, there was a similar uproar when pork was found to be sold at the Ramadan Bazar Raya Utara in Marsiling. 
This controversy was heightened by the fact that these Ramadan bazaars are usually targeted at Muslims and are known for their wide selection of Halal food offerings.
---
Advertisements

---
Similarly, in 2017, half of the 12 owners of the Hari Raya Bazaar at Geylang Serai stated that they were not only not Muslim but also had no Halal certification despite setting up their stores in the Muslim-targeted event.
Big-shot bazaar organisers like the Kembangan-Chai Chee Citizens' Consultative Committees could also not give constructive figures on how many stalls were actually Halal-certified or Muslim-owned when probed in 2017.

How much cash are you getting in December 2023 from the Government? Here are the facts simplified for you:
Read Also: