Spoilt for choice when perusing the ever-expansive Netflix library?
Well, you can now let the movie streaming service do it for you.
Apparently, Netflix now has a new feature called Play Something, which will do just that:
Play something for your entertainment.
To put it into perspective, it's something like Youtube's autoplay feature, which selects videos based on your previous watch history.
Netflix Now Has a New Feature That Helps You Choose What to Watch
"Sometimes you just want to open Netflix and dive right into a new story," said Netflix.
No decisions. No hassle. No unnecessary real-life drama.
And that's why they've created Play Something, a feature that promises an all-new viewing experience.
According to Netflix, hitting the 'Play Something' button will lead to a series or film you may love based on what you've watched before.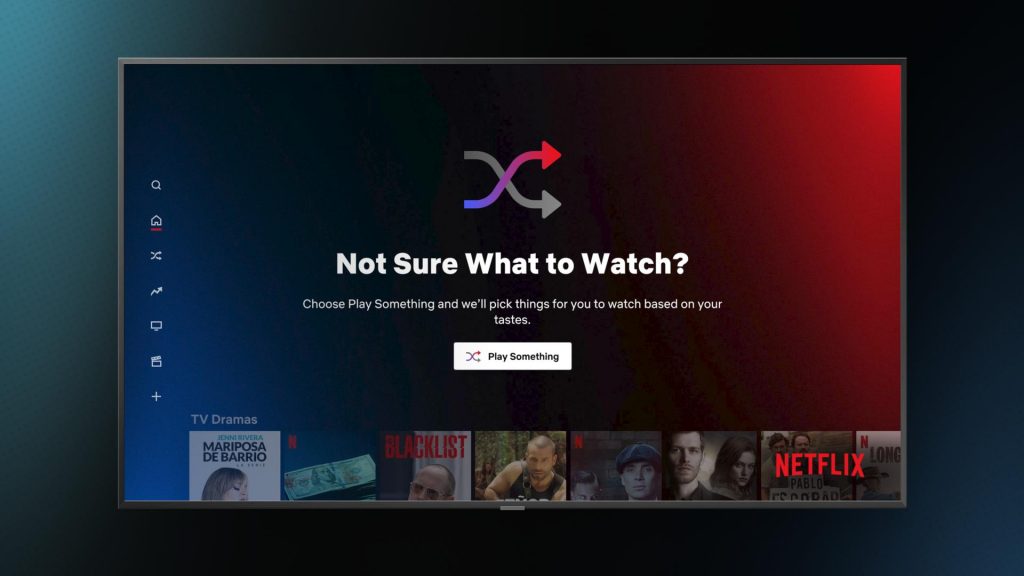 Or with one more click you can 'Play Something Else' and get:
A brand new series or film,
A series or film you're already watching,
A series or film on your list, or
An unfinished series or film you may want to revisit.
How To Access It?
To keep it easy, you can find Play Something in multiple ways on your TV:
Underneath your profile name
The tenth row on your Netflix homepage
The navigation menu on the left of the screen
In addition, the feature's touted to support Text-to-Speech (TTS) for all the screen readers out there.
To discover your next favourite film or show with Play Something using TTS, you can visit Netflix's Accessibility help center for more information on how to enable this feature through your TV device settings.
"When finding your next story, let the story find you," said Netflix.
"Whether you're in the mood for a new or familiar favorite, just 'Play Something' and let Netflix handle the rest. Easy."
---
Advertisements
---
Other News
Though the 'Play Something' feature would undeniably be useful for those indecisive nights, Netflix has also come up with other features that may not be as appealing to subscribers.
According to reports, the streaming service is currently testing a new feature, and it's an update that does not bode well for most of us.
Apparently, the feature will instil the need for account sharers to stay in the same household.
If not, "free-riding" schemers will have to endeavour with the painstaking processing of creating their own account.
"If you don't live with the owner of this account, you need your own account to keep watching," a notice reads.
O no. Netflix doing the purge?!? pic.twitter.com/XXlHtfgfsy

— sally, that girl (@DOP3Sweet) March 9, 2021
---
Advertisements
---
From the looks of it, the update will require the account user to ascertain their ownership – with a code sent to either their emails or phone.
There is, however, an option to verify later, though we are currently unaware of the exact duration (of the grace period) you will be entitled to.
If there is any consolation, it would be that thus far, only a relatively negligible number of Netflix users have received the message.
Nevertheless, a Netflix spokesperson has said what we probably least want to hear:
That the test was "designed to ensure that people using Netflix accounts are authorised to do so".
---
Advertisements
---
Featured Image: Netflix
---
Gong Cha and Heinz have collaborated to come out with a Tomato Bubble Tea series. We tried them and died. Here's why: