In the last three days, you've probably wondered if you've time travelled to 2020 as the number of COVID-19 community cases soared.
And if you think that the authorities are just going to let these community cases slide, and pray that the cases will miraculously disappear, you're wrong, because today, our dear Lawrence Wong and friends spoke to us again.
This time, it's not all rosy.
Here's what you need to know about the new COVID-19 measures after the surge in COVID-19 cases in the last few days.
And just so you know, this happens after the announcement of the Singapore-Hong Kong travel bubble #justsaying
Tan Tock Seng Hospital Measures
Unless you've been sleeping for the last three days, you've probably heard about the TTSH cluster. Even Singapore General Hospital sent their regards to them: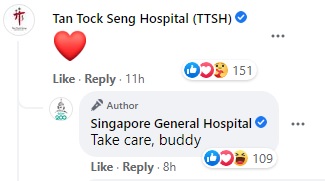 With 13 COVID-19 cases amongst staff and patients of TTSH, the hospital has taken immediate measures to lockdown the affected wards. All close contacts of the identified cases, including patients, visitors and staff who have been in the affected wards, have also been placed on quarantine.
All TTSH staff and patients who were in TTSH Main Block Levels 3 to 13 from 18 to 28 April are being tested. TTSH has also stepped up clinical surveillance of all inpatients who may develop fever and ARI symptoms.
Movement of healthcare workers into TTSH will also be restricted, including the suspension of all healthcare student postings at TTSH and non-essential trainings.
Testing for People Who Had Been to TTSH & Some Public Places
To think that a year ago, we were worried about the lack of test kits. Now, we're offering mass testing.
MOH will be conducting a massive testing operation not just to people who have been to TTSH, but to people who worked in places that the TTSH COVID-19 cases have been to.
This is for people who've been to the affected places after 18 April 2021.
Healthcare institutions have also been reminded to closely monitor patients who were previously admitted at TTSH from 18 April.
Starting from 3 May through 16 May 2021, these individuals may book an appointment for a COVID-19 PCR test at any of the "Swab and Send Home" (SASH) PHPCs islandwide (information on SASH clinics can be found at phpc.gov.sg), or walk in to one of the following four RSCs:
Former Da Qiao Primary School, 8 Ang Mo Kio Street 54, S(569185);
Former Shuqun Secondary School, 450 Jurong East Street 21, S(609604);
Former Coral Primary School, 20 Pasir Ris Street 51, S(518902);
Former Bishan Park Secondary School, 2 Sin Ming Walk S(575565).
MOH encourage all individuals in the identified groups to come forward for testing. Individuals will only need to bring along their photo identification, and inform the PHPC or RSC staff of the date and time they were at TTSH or the specified public places. The cost of these tests will be fully borne by the Government.
---
Advertisements
---
All Public Places Visited by COVID-19 Cases in TTSH Cluster Will Close for 2 Days
A long, long time ago (actually it's just a few months), we would look at the public places that have once been visited by COVID-19 patients, and then forgot about it the next day.
It's been a while since we were so focused on these places, and now, you'd better look at them because these places would be closed for two days for cleaning, and to facilitate the testing of staff at the affected places for surveillance against further spread.
This is the list of places:
– NTUC FairPrice outlets at Toa Payoh Hub, Kitchener Complex and VivoCity
– Healthy Kopitiam Foodcourt at Tan Tock Seng Hospital
– Hajjah Fatimah Mosque in Beach Road
– Uniqlo store at Orchard Central
– Al-Falah Mosque in Bideford Road
– Abdul Hamid Kg Pasiran Mosque in Gentle Road
---
Advertisements
---
– Cash Converters Toa Payoh
– Four Fingers and Genki Sushi at Junction 8
– Subway at Nanyang Community Centre
– City Harvest Church in Jurong West
– Esplanade Xchange, The Food Inn at Esplanade MRT
---
Advertisements
---
– Stirling Steaks in East Coast Road
– Paco Funworld at Bugis +
– Tuk Tuk Cha at Bugis Junction
– Yayoi and Don Don Donki at 100AM
– Poke Theory at 111 Somerset
---
Advertisements
---
– 313 Somerset
– Ang Mo Kio Hub and the Malaysia Boleh food court at the mall
There are still pending information from new cases, so expect more closures.
New Measures in Malls & Large Standalone Stores
From 1 May 2021 to 14 May 2021, the occupancy limit for malls and large standalone stores will be reduced to one person per 10 sqm of Gross Floor Area (GFA), from one person per 8 sqm of GFA, so this means you probably have to queue up to enter a mall now.
Also, for Lucky Plaza and Peninsula Plaza, the odd and even date entry restrictions on Sundays will be reinstated.
---
Advertisements
---
Outdoor BBQ Pits, Campsites & Attractions New Restrictions
From 1 May 2021 to 14 May 2021, all outdoor barbecue pits and campsites will be closed to the public, and this includes barbecue pits in parks, HDB estates, condominiums and country clubs.
Attractions will operate at 50% operating capacity instead from 7 May 2021 to 14 May 2021. Currently, some attractions can run at 65%.
The authorities will provide more details pertaining to these changes soon.
SingapoRediscovers Vouchers Scheme Extended by 6 Months
It wasn't too long ago that we got to know that the SingapoRediscovers Vouchers Scheme will not be extended.
However, today, it was suddenly announced that the scheme will be extended by six months, and lest you think this announcement was made in conjunction with the new COVID-19 measures, you might be wrong: this announcement was made separately, and its goal is to allow Singaporeans more time to explore the local attractions here.
---
Advertisements
---
This scheme was supposed to end in end-June. There are also plans to enhance the redemption process.
Employers Encouraged to Allow Employees to Work from Home
Now, before you decide to sleep in on Monday because you think WFH is finally back, read this again: employers are encouraged to let employees work from home, but WFH is not the default mode.
Yet…?
The authorities say that employers should continue to stagger start times of employees who need to return to the workplace, and implement flexible working hours. Social gatherings at the workplace should also be avoided.
Public agencies working in the Novena area (where TTSH is located)  such as the Ministry of Home Affairs and the Inland Revenue Authority of Singapore will be asking their staff to work from home where possible.
---
Advertisements
---
What We are Encouraged to Do
If you're like me, you might have received countless notifications this evening about "two social gatherings", and think that we can only go out in groups of two, and that it's the law.
Hold your horses; the restrictions aren't that drastic.
Yet…?
MOH is encouraging that we all do these:
Avoid going to crowded places, and stay home where possible
Limit social gatherings to 2 per day in total, whether to another household or in a public place
Keep groups as small as possible
Stick to a regular group of contacts
Stay home when unwell, and see a doctor to get tested when sick and be vaccinated when it is offered to you
Once again, remember: this is encouraged, just like how employers are encouraged to let you work from home, so it's not a law.
---
Advertisements
---
Yet.
To know more about vaccines in Singapore, watch this video to the end:
Restricting Travellers from Bangladesh, Nepal, Pakistan and Sri Lanka
You should know by now that all long-term pass holders and short-term visitors who've been in India in the past 14 days are now barred from entering Singapore.
This restriction is now extended to more regions.
---
Advertisements
---
Travellers with travel history to Bangladesh, Nepal, Pakistan and Sri Lanka within 14 days of their departure to Singapore are currently required to serve a 14-day SHN at dedicated SHN facilities. As there have been recent sharp increases in cases reported by Bangladesh, Nepal, Pakistan and Sri Lanka, Singapore will further tighten our her measures with these countries.
From 1 May 2021, 2359 hours, until further notice, all long-term pass holders and short-term visitors with recent travel history (including transit) to Bangladesh, Nepal, Pakistan and Sri Lanka within the last 14 days will not be allowed entry into Singapore, or transit through Singapore. This will also apply to all those who had obtained prior approval for entry into Singapore.
All travellers with recent travel history to Bangladesh, Nepal, Pakistan and Sri Lanka who have yet to complete their 14-day SHN by 2 May 2021, 2359 hours3, will need to complete an additional 7-day SHN at dedicated SHN facilities. They will undergo COVID-19 Polymerase Chain Reaction (PCR) tests on-arrival4, on Day 14 of their SHN, and another test before the end of their 21-day SHN period.
New SHN Arrangements for People Coming into Singapore from Thailand
Given the increased risk of community spread in Thailand, all travellers entering Singapore from 2 May 2021, 2359 hours, who have a travel history in the past 14 days to Thailand will be required to serve a 14-day Stay-Home Notice (SHN) at dedicated SHN facilities. They will no longer be allowed to opt out of dedicated SHN facilities, even if they have obtained approval to opt-out earlier.
Travellers from Fiji and Vietnam are still allowed to apply to opt out of dedicated SHN facilities and serve their 14-day SHN at their place of residence, if they fulfil the following criteria:
---
Advertisements
---
Travelled to no other country/region than above-mentioned countries5, in the last consecutive 14 days prior to entry; and
Are occupying their place of residence (i.e. residential address) alone, or only with household members who are also persons serving SHN with the same travel history and duration of SHN.
COVID-19 PCR tests will continue to be administered before the end of the SHN.
Featured Image: YouTube
Like writing? Goody Feed is looking for writers! Click here for more info!