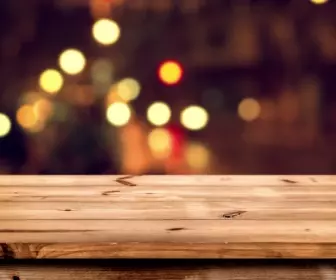 For those who love visiting Johor Bahru, you probably wouldn't like this piece of news.
If you're heading into Malaysia and Singapore through the Tuas Checkpoint, expect an increase in toll charges from 31 March.
Here's everything you need to know.
---
Advertisements

---
New Toll Charges from 31 March
The Land Transport Authority (LTA) announced the news on 16 March.
Not only will current peak period charges extend throughout the day, but off-peak rates will also be scrapped.
Since March 2020, motorists driving cars, vans, light goods vehicles, heavy goods vehicles, taxis, and buses must pay toll charges according to peak period and off-peak rates.
Currently, the peak period lasts from 5 am to 10 am and 3 pm to 11 pm, while the off-peak period covers 10 am to 3 pm and 11 pm to 5 am.
---
Advertisements

---
From 31 March, you will be required to pay a toll of $2.10 if you drive a car, regardless of time.
No more off-peak rates.
As for drivers of heavy goods vehicles, they will be required to pay $11.30.
That's the steepest charge. 
You could use that money to buy two plates of chicken rice.
On the other hand, motorcycles, which are exempted from paying tolls, will not be affected by the toll charge increase.
Furthermore, there will be no changes to the toll charges at the Woodlands Checkpoint. 
If you're curious about the new toll charges, take a look at this table:
---
Advertisements

---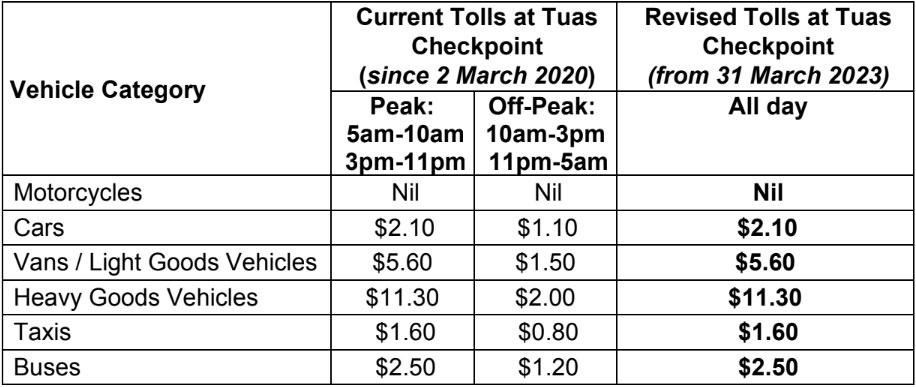 Reason for the New Toll Charge
What prompted this change?
Well, the reason isn't what you think it is.
The increase in toll charges isn't to discourage checkpoint usage or to earn more revenue.
The adjustment follows Malaysia's recent revision of its toll charges at the Tanjung Kupang Toll Plaza (Second Link).
Malaysia highway operator PLUS announced that it would remove the off-peak discount from 1 March for vehicles going through Tanjung Kupang Toll Plaza last month.
LTA says this adjustment is "in line with Singapore's long-standing policy of matching Malaysia's toll rates".
Back in 2014, a similar revision of toll charges occurred.
---
Advertisements

---
From 1 October 2014, Singapore's toll charges for all vehicles (except motorcycles) leaving Singapore through the Causeway increased.
LTA made this decision to match Malaysia's revision in toll charges following Singapore's "long-standing policy".

Toll Charge Revision: Malaysia's End
On 25 February, PLUS announced that it would standardise toll charges throughout the day, removing off-peak rates entirely.
According to PLUS, the off-peak hour toll charges were introduced in 2018 to encourage the public to utilise Tanjung Kupong Toll Plaza to enter Singapore.
However, after more than five years since the off-peak rate's implementation, the response from highway users remained lukewarm. 
---
Advertisements

---
It added, "There has been no significant increase in traffic during off-peak hours at the Tanjung Kupang Toll Plaza till today."
It also noted that over 50% of the vehicles during off-peak hours at the Toll Plaza were Singapore-registered.
Join our Telegram channel for more entertaining and informative articles at https://t.me/goodyfeedsg or follow us on Twitter : https://twitter.com/goodyfeed
Reminders
LTA reminded drivers entering Malaysia to ensure that their stored-value cards have sufficient value.
It also reminded drivers to insert their cards into the card reader at the immigration booth.
This is to ensure a smooth deduction of the requisite charges at the checkpoints.
---
Advertisements
---
Furthermore, drivers of foreign-registered vehicles must have LTA's Vehicle Entry Permit (VEP) approval email and a valid Autopass card before entering Singapore.
Those without the necessary permit must apply for it on LTA's OneMotoring website two weeks before their intended travel date.
People may also refer to LTA's VEP approval email for the steps to collect their Autopass cards.