At around 11am on a Saturday morning, shoppers at Yishun Mall at Northpoint City had the shock of their lives when they spotted (or heard the ensuing ruckus) the iconic signage for the brand-new Indonesian Kueh & Mee Café as it crashes dramatically from the ceiling to the ground, crushing the service counter underneath.
Thankfully, the stall wasn't operational at that time and no one was injured from the incident.
From photos shared by shoppers at the mall, it seems like the damage done is pretty severe. Various wires – live or not – are shown to dangle from the gaping hole where the sign used to reside, revealing exposing several piping and a part of the ventilation system, which thankfully stayed intact on the ceiling.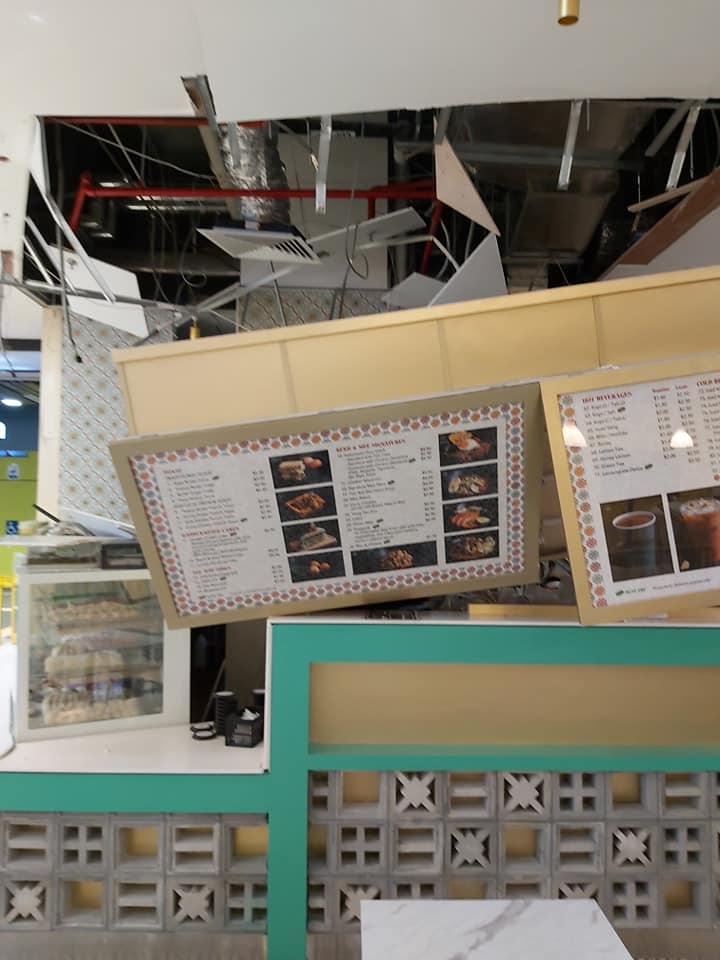 Along with the bits and pieces from the ceiling scattered all around the café counter, the iconic sign of the business seems to have also "fallen flat" in front of the cake display… probably not a good omen for running a prosperous business, I reckon.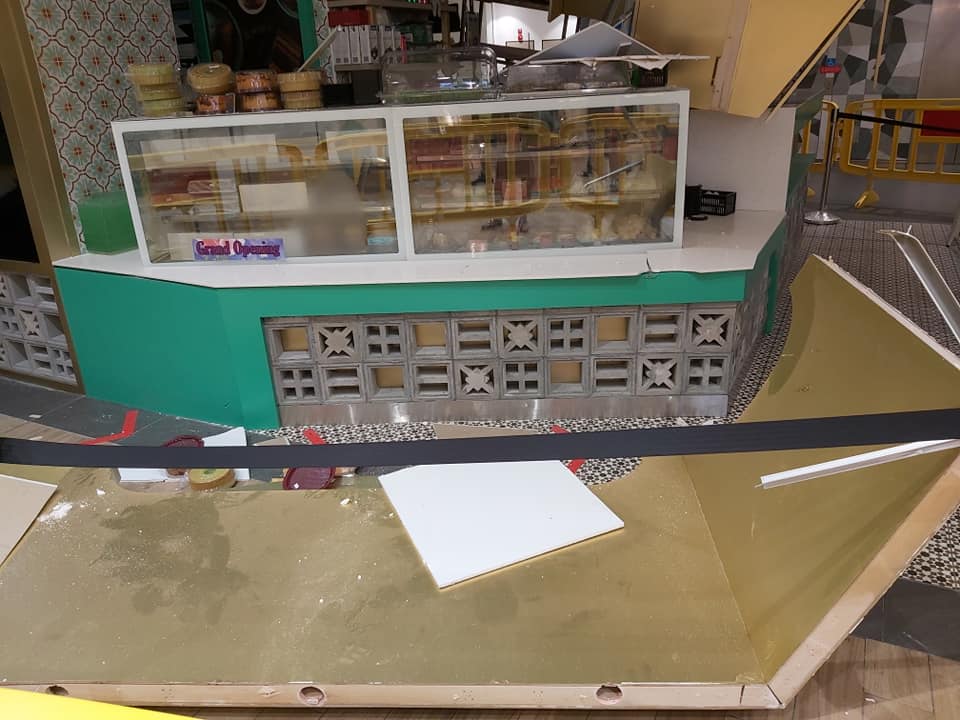 Fixing It Up
As Bob the Builder likes to ask his young viewers, "Can we fix it?"
"Yes, we can!"
Although Northpoint City is still unsure why the signage would collapse as spectacularly as it did – perhaps some form of internal investigation is ongoing, repairs are definitely underway.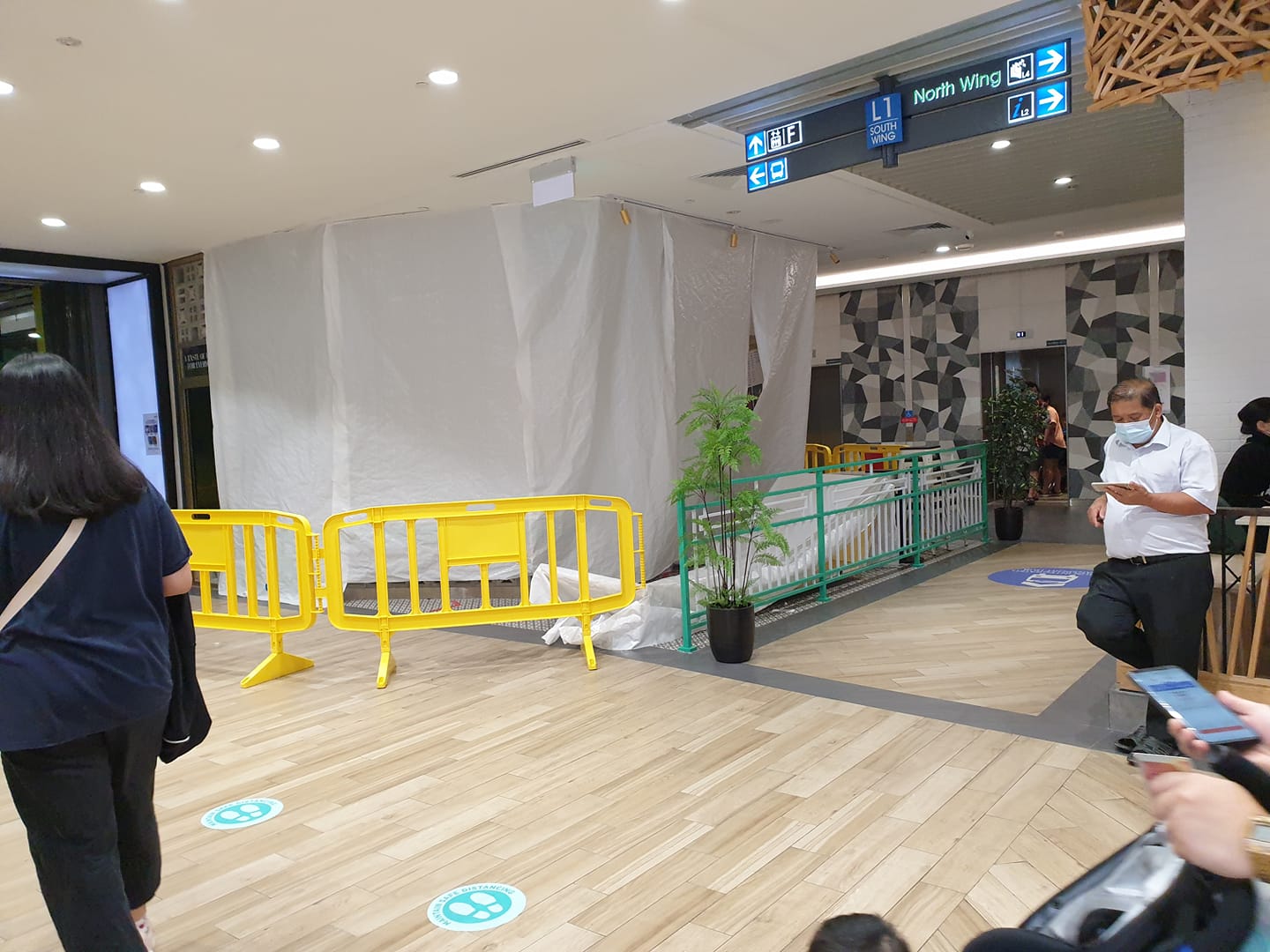 The stall has been surrounded by bright-yellow barriers and white tarps have been put up to cover up the offending scene from nearby diners and shoppers.
As disappointed as some patrons of the café would be, it's obvious that it'll take a while before the café can be up and running again.
Not the First Mall-function?
Based on the response of various netizens, it seems that this sort of incident isn't the exactly a once-in-a-blue-moon event at Yishun Mall, with one netizen declaring sarcastically, "Welcome to Yishun!"
One netizen even shared her personal experience where some of the ceiling boards collapsed right in front of her kids and elderly parents when they were walking through the mall's basement floor.
Suffice to say, NEX isn't the only mall that needs to bai tai sui after all.
To read more about suspended ceiling and ventilation ducts, click here.
---
Advertisements
---
Featured Image: Facebook (Jaya Letchumi)
Like writing? Goody Feed is looking for writers! Click here for more info!