As someone who wears glasses, I usually opt for affordable pairs since I would change them every one to two years. And when I was much younger, this was always a worry to me because the prices from optical stores were never fixed.
That is, until OWNDAYS melted my worries away.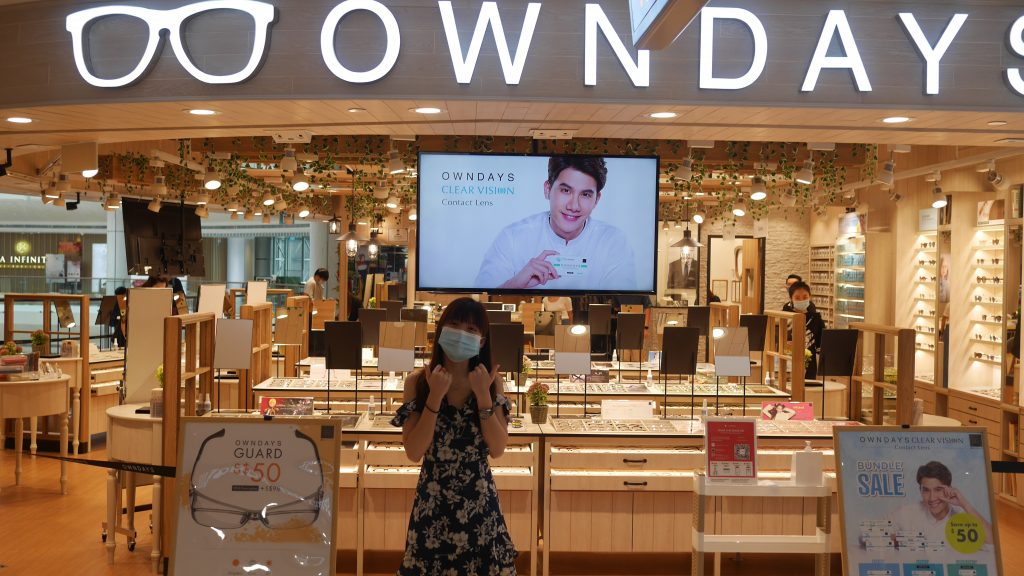 If you wear glasses too, you probably know about OWNDAYS. After all, they did take the Singapore market by storm back in 2013, boasting fashionable, trendy, and good quality eyewear pieces at affordable prices.
While you may know these generic facts, here are five things you probably didn't know about the Japanese company, including their latest line of colour contact lenses.
1. A Modern Entrepreneur Success Story
OWNDAYS was founded in Japan, but it wasn't doing well back in 2008. It was on the verge of bankruptcy because of its large debts when it tried to ask for more third-party capital. While most entrepreneurs would see this as a lost cause, then-31-year-old Shuji Tanaka didn't.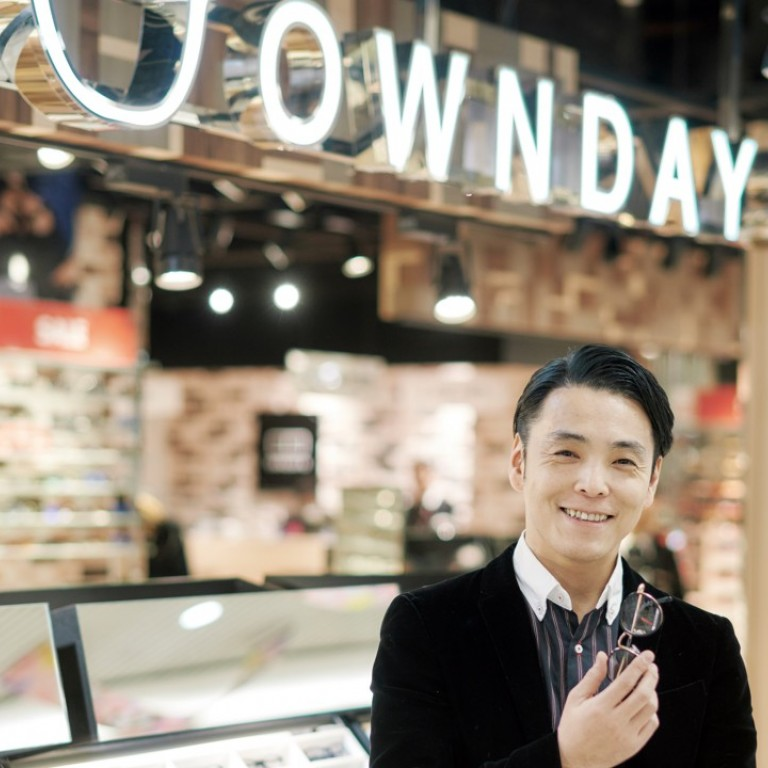 In 2008, he acquired 52% stakes in Owndays Co., Ltd even though he was aware of the dire state of the company. With a strong vision for the business and against all odds, Tanaka led the company through a series of corporate reforms. 
Under Tanaka's distinct management style, OWNDAYS has since expanded its retail presence with over 300 shops in 12 countries.
In 2013, OWNDAYS stepped foot in Singapore and opened its first store at Plaza Singapura. While most of us were initially apprehensive about moving on to another brand of eyewear, we slowly got attracted by their high-quality service and great quality glasses.
Since Tanaka's takeover, OWNDAYS has gone on to open stores in various countries in the following years, like in Taiwan, Thailand, Cambodia, Philippines, Australia, and more.
Shuji Tanaka single-handedly built his empire, and if that's not a modern entrepreneur success story, I don't know what is.
In fact…
2. He Has Released a Book that Got Adapted into Manga and Drama
Many entrepreneurs write books. They have insider industry secrets and want to share their expertise with aspiring entrepreneurs. 
But how many businessmen would have the courage to take over a company on the verge of bankruptcy and bring it back to life?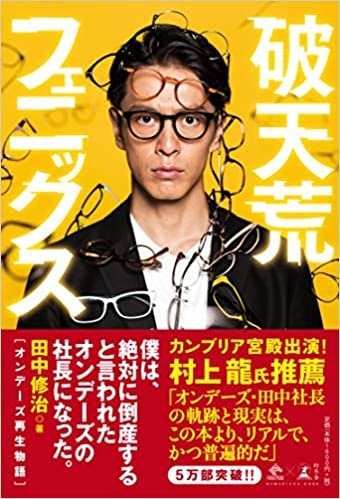 This is why Tanaka's tale is so fascinating. In fact, his book has been adapted into a manga and a drama series.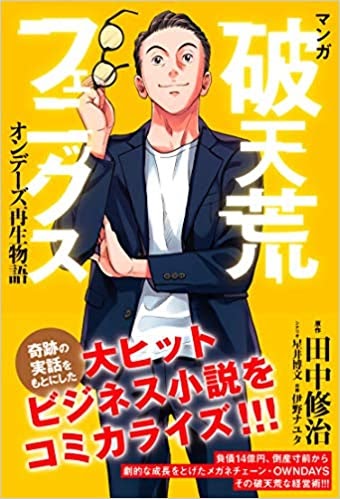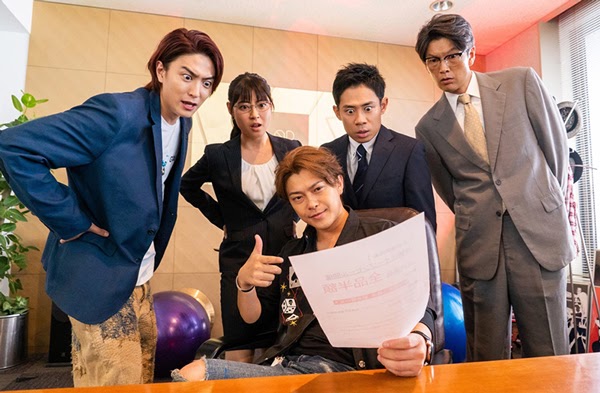 Interested in reading the book but don't know Japanese? Fortunately, Tanaka has uploaded a translation of his story on Medium.
3. Election System for Store Managers
Every five years or so, Singaporeans take to the polls to elect their government.
Believe it or not, OWNDAYS, too, has its own democratic election system in which the shop manager positions are decided through company-wide voting.
Held annually, elections are open to all full-time retail employees regardless of their age or the length of time they have been with the company. Everyone has a chance of taking up the coveted position so long as he/she is up for the challenge and has the aspiration to take up a leadership role.
Much like a democratic political election, staff members will campaign for votes from their co-workers. Once elected, they will then hold the position for a year before having to contest for the next election to retain their position.
First introduced by Tanaka in 2010, the election system offers retail staff a democratic process in selecting their superior a.k.a. the shop manager whilst giving them equal opportunities for career advancement.
This one-of-a-kind election system is an important feature of OWNDAYS' corporate culture and is practised in all the countries where OWNDAYS operates.
4. OWNDAYS Organises Eye Camps Around the World
While OWNDAYS has found tremendous success, it hasn't forgotten its main goal: enriching the lives of people associated with OWNDAYS.
As the company notes, an estimated four billion people in the world need visual correction, but due to financial difficulties, only half have access to this basic need.
This is why the company introduced the OWNDAYS Eye Camp, a charity event conducted every three months in developing countries with the aid of local non-governmental organizations.
Part of their profits also goes towards giving out free glasses to people in these countries.
In these camps, doctor volunteers conduct eye checks and carry out eye-health evaluations to screen for signs of eye diseases.
OWNDAYS then makes the glasses using the prescriptions obtained from the eye checks and helps the recipients with the adjustment of the glasses to ensure the glasses sit well on their faces.
To date, OWNDAYS has held eye camps in several developing countries such as Nepal, India and more. Many of us take glasses for granted, but one look at all the happy faces in OWNDAYS eye camps shows that it's a privilege that not many people have.
5. They've Launched Their Own Line of Colour Contact Lenses!
And now, for something that you definitely weren't aware of.
OWNDAYS has launched its own Colour Contact Lenses!
It has a total of four series – two series of daily lenses and two series of monthly lenses, with a total of 13 colours for you to choose from.
I had the honour of being invited down to try them out, so without further ado, let's jump right in!
Natural Series (Daily)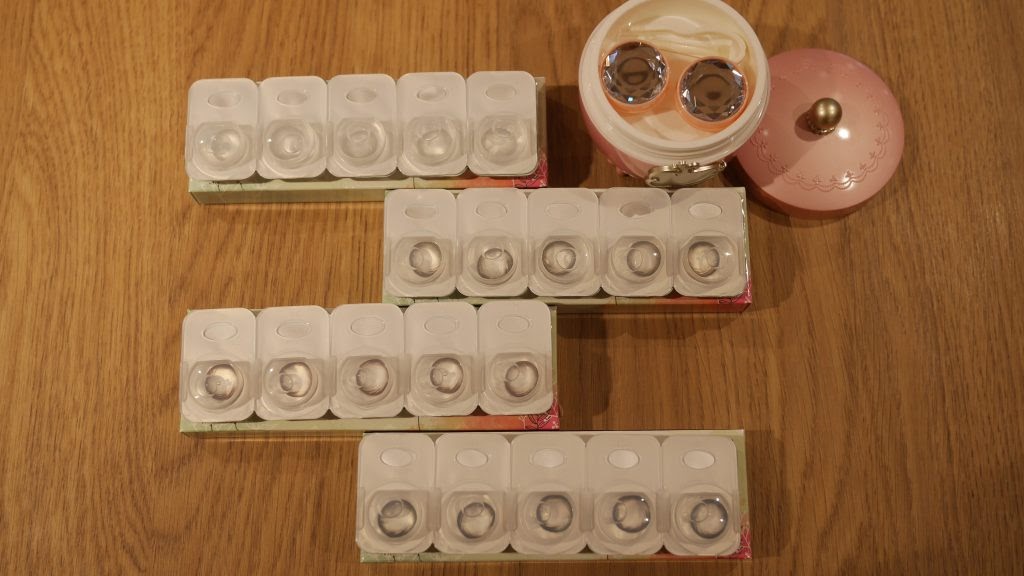 The first series is called the Natural Series, and it features four different colours for daily wear – Onyx Hazel, Onyx Black, Onyx Grey, and Onyx Brown.
As you can tell from the name of this series, it mainly focuses on colours that are more natural but still very stylish.
Here's a close-up of the Onyx Hazel: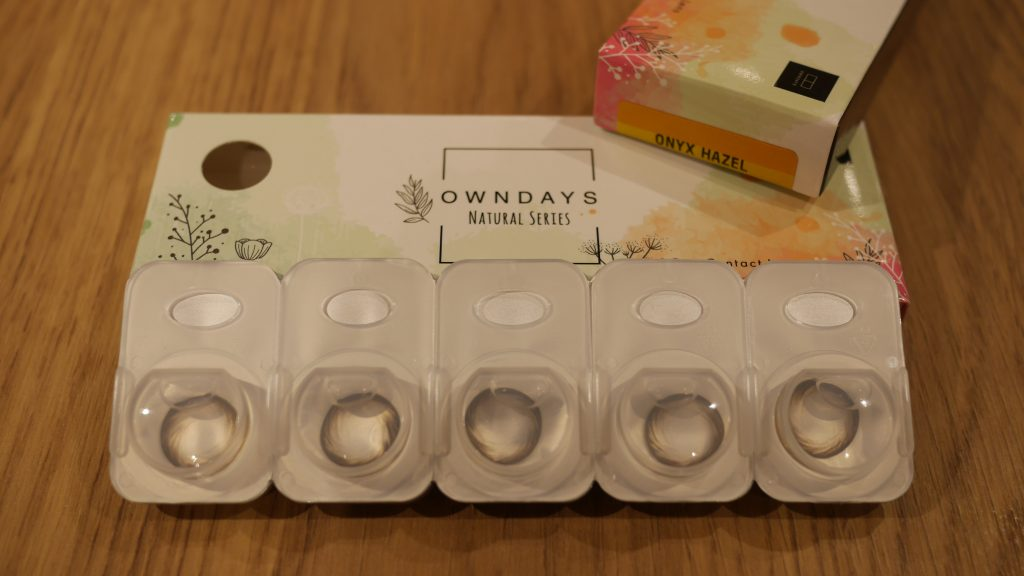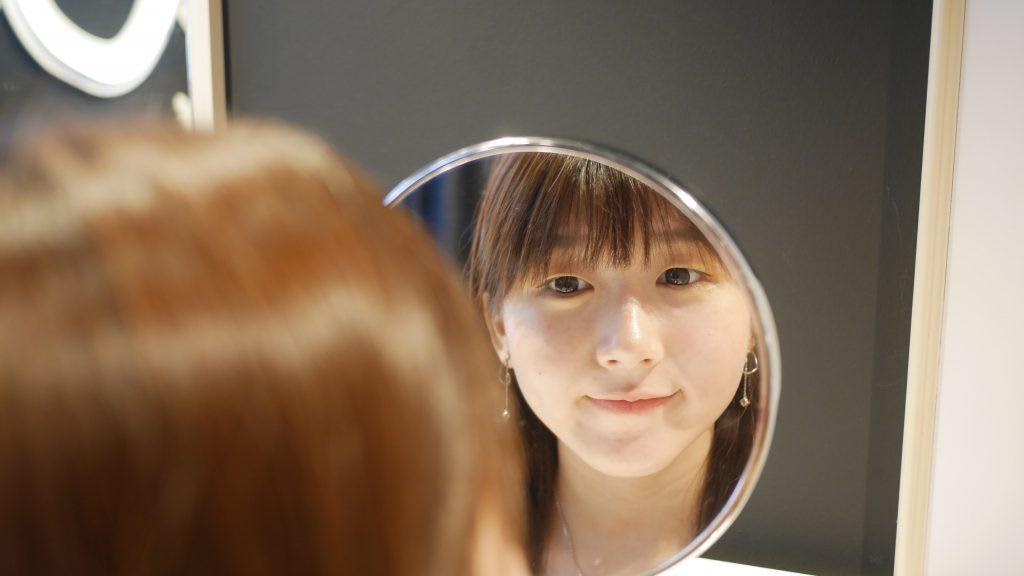 And when I put them on, all I can say is: WOW. There was no discomfort at all. And as someone who has pretty small eyes (so I've been told), these lenses did a great job at making my eyes look a lot bigger!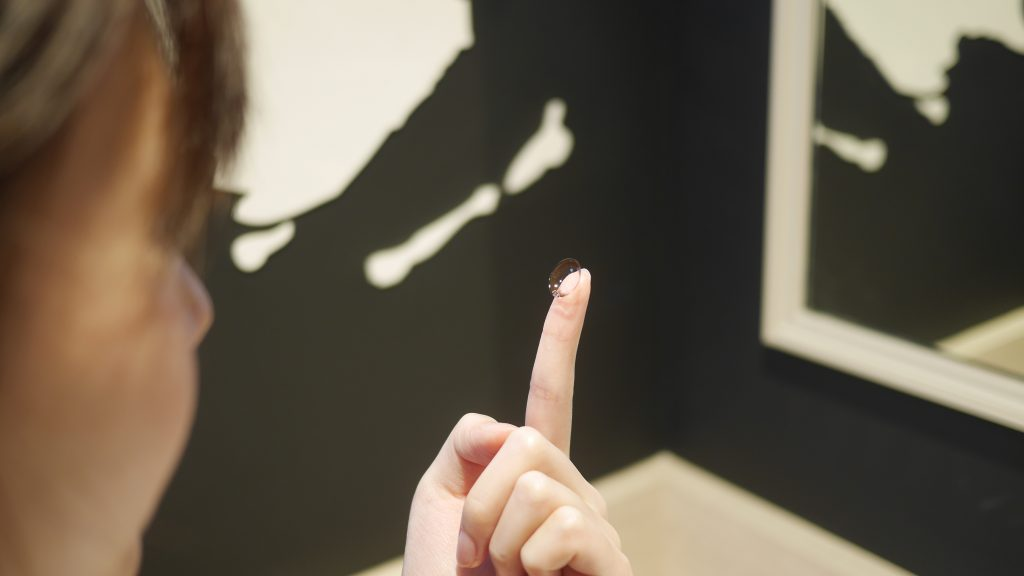 Horoscope Series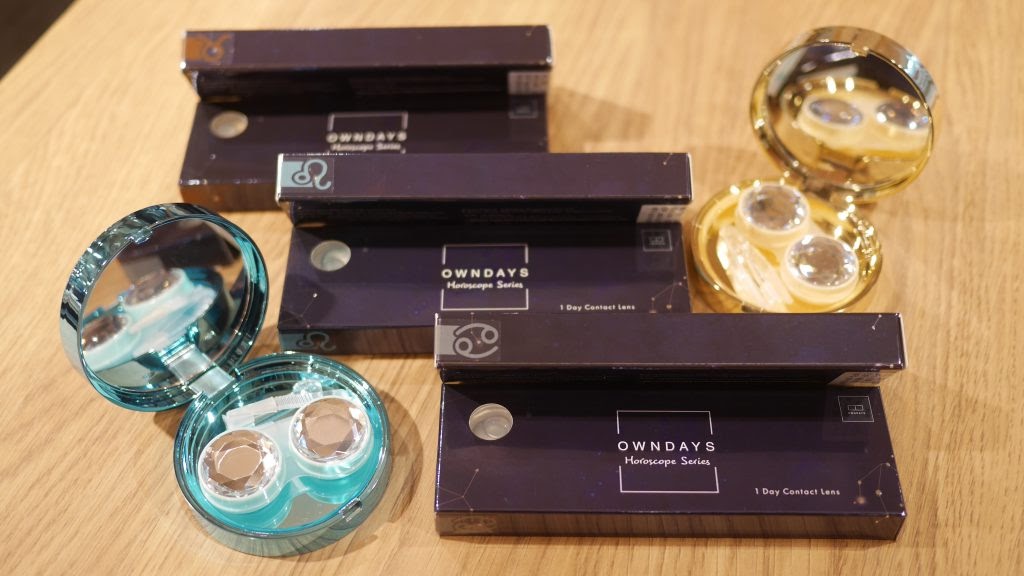 The second daily series is called the Horoscope Series. And I must say that the packaging is so pretty!
This series has a total of three colours – Cancer Silver Dark Grey, Leo Turquoise, Taurus Brown.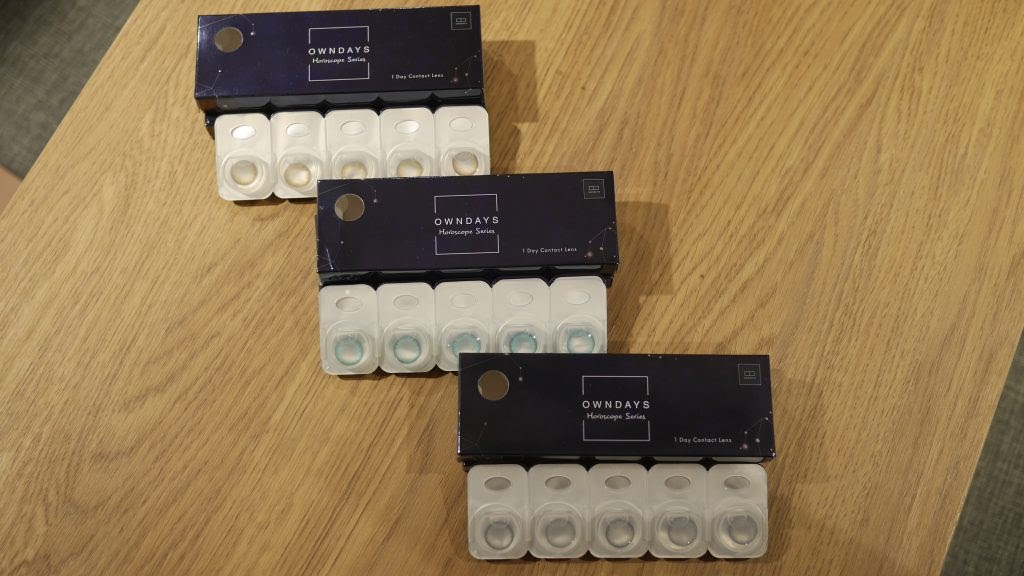 As you can tell, the turquoise is really bright and you can definitely tell that I'm wearing coloured contact lenses as opposed to the Natural Series.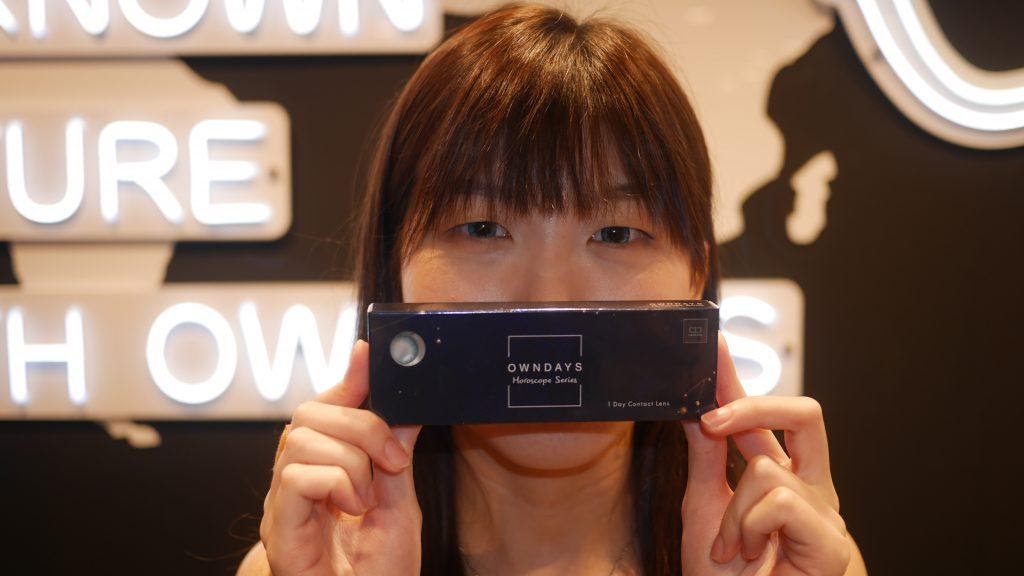 And I love how they paired the colours with the horoscopes because it's pretty unique.
Petal Series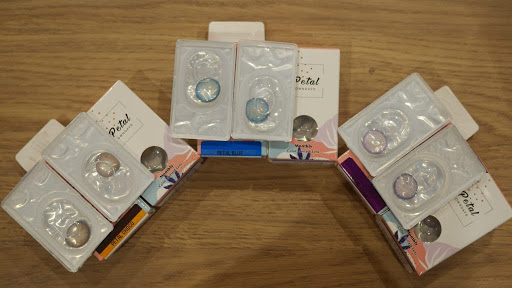 The next series is for monthly usage and is called the Petal Series. This series also has three colours – Petal Choco, Petal Blue, and Petal Violet.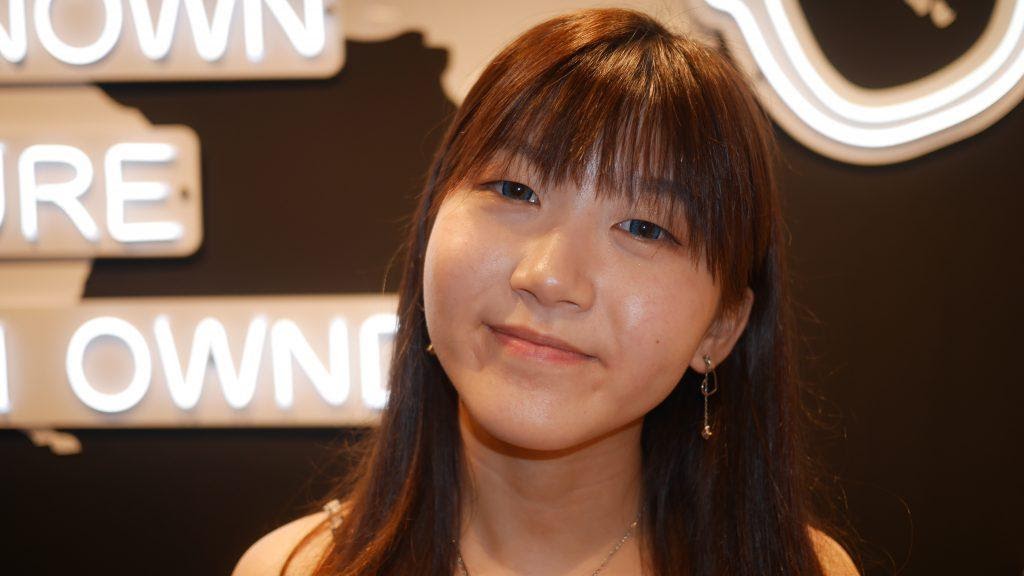 The Petal Blue is a very pretty colour and it honestly reminds me of doll eyes, which make my eyes look slightly bigger, no?
Velvet Series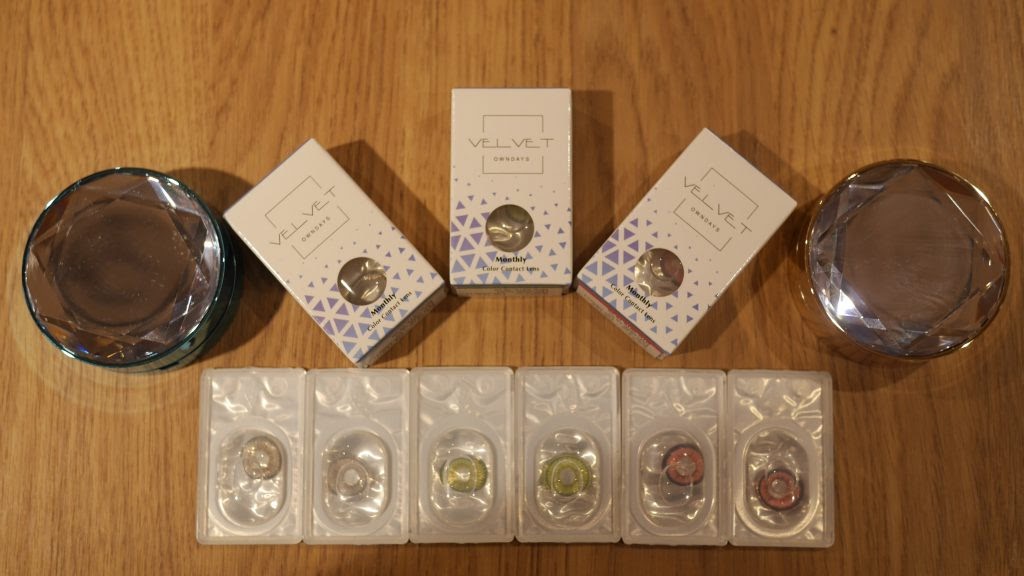 The last series is the Velvet Series and it is also for monthly usage. There are three colours for this as well – Velvet Grey, Velvet Green, and Velvet Pink.
I've never worn coloured contacts before, and I used to be scared when my brother told me about wearing colours like white and grey. But after trying this pair of Velvet Grey contact lenses on, I'm in love!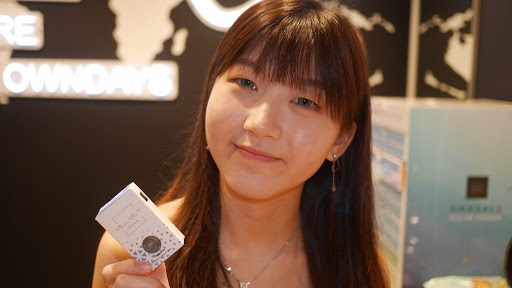 One look and you would be able to tell that these are high-quality ones that are super comfortable. You wouldn't even feel like there's anything in your eyes.
The Velvet Green is another colour that I didn't think I would like, but boy was I surprised after I put them on. Just take a look: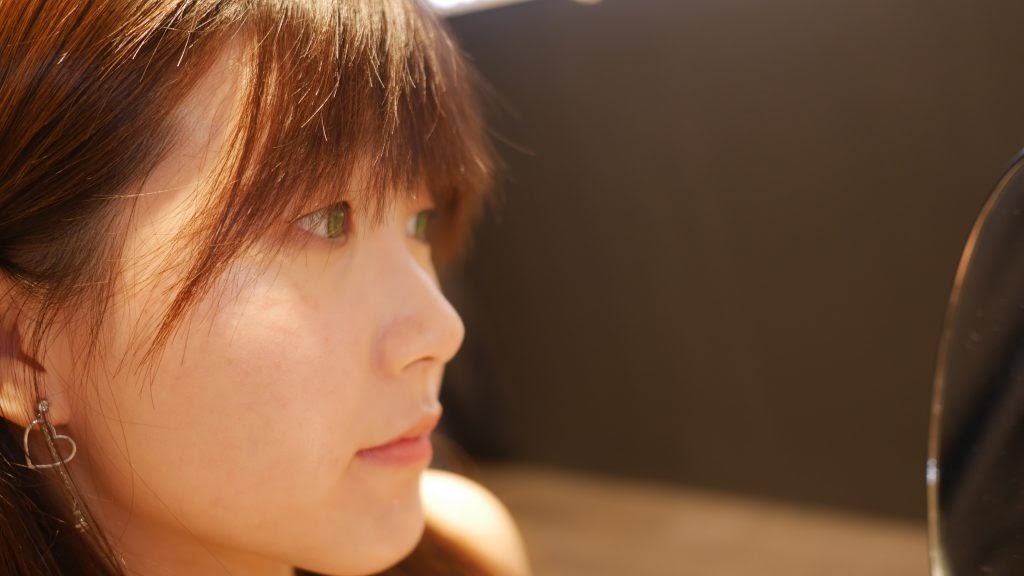 I have green eyes! 
So what's so different about OWNDAYS' new line of Colour Contact Lenses? Well, the colour pigment of the lenses is embedded within the lens material. This means that there is no direct contact between the colour pigment and the eye, making it much safer and more comfortable for everyday wear. And plus, the lens edge has a tri-curve design.
Now, you may not really care about this, but I assure you, there's a whole lot of difference. It enhances the fit and comfort so it's easier to handle.
Well, the Colour Contact Lenses are available from 1 November onwards at selected OWNDAYS stores.
How much will they be selling for?
Price List
Natural Series (Daily)
Horoscope Series (Daily)
Petal Series (Monthly)
Velvet Series (Monthly)
So hurry down to the selected OWNDAYS stores and get yours now!
Find out more about OWNDAYS Colour Contact Lens here.
This article was first published on Goody Feed and written in collaboration with OWNDAYS.