---
Advertisements

---
An online petition called "Remove Amber Heard from Aquaman 2" on change.org has recently hit the 3.2 million mark, as of writing this article.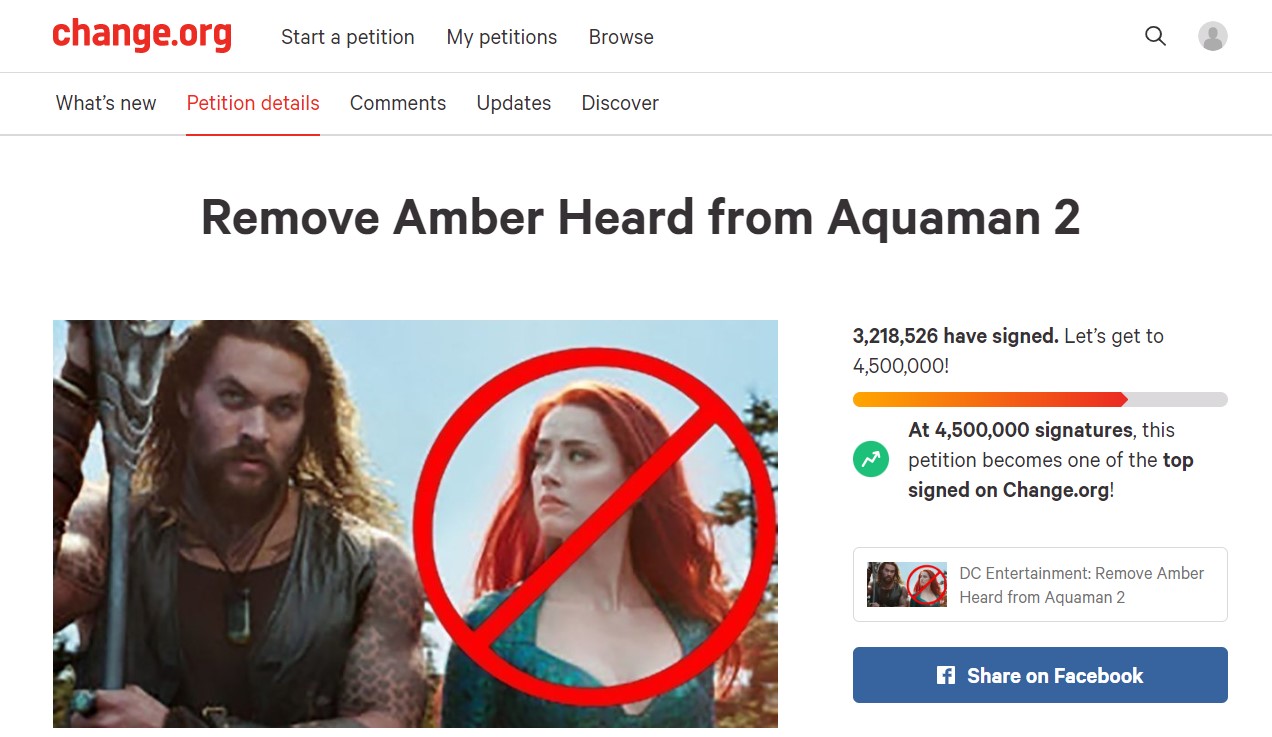 Although the petition was created in 2020, it saw a huge surge in signatories ever since the defamation trial against Amber Heard started in April, where more details about the estranged couple's relationship were brought to light.
Some incidents, like the fight which led to his severed finger, are genuinely horrifying. 
On Monday (2 May), it surpassed its initial goal of 3 million, and now a new goal of 4.5 million signatures has been set for the petition.
What the Defamation Lawsuit is About
If you aren't already caught up with this spile of drama, here's a quick summary.
Essentially, Johnny Depp is suing his ex-wife of two years, Amber Heard, for a defamatory opinion piece she wrote in 2018 for The Washington Post, where she framed herself as a survivor of domestic abuse.
While she doesn't mention Johnny Depp by name in the article, it severely affected the 58-year-old veteran actor's career, since they officialised their divorce the year before.
She didn't need to point fingers for people to immediately associate the abuser to the name "Johnny Depp".
He was originally approached for the writing and production of another Pirates of the Caribbean movie, a much beloved and popular franchise where he plays the unhinged Captain Jack Sparrow, but he was kicked off the project by Warner Bros.
He played as Grindelwald in the first two movies of Fantastic Beasts, a spin-off from the Harry Potter universe, but he was summarily replaced by Mads Mikkelsen.
The domestic abuse allegations caused his long-standing acting career to plummet drastically, and in the court hearings, Depp echoes the same sentiment.
This isn't verbatim, but in the first few days of the court proceedings, Depp testified that the moment the op-ed was published in 2018 and the allegations were laid against him, he had already completely lost in the eyes of public opinion.
There is no turning back, not even as this defamation lawsuit clears up some of the foul air. 
For the same reason, he filed a defamation lawsuit against his ex-wife for $50 million in damages.
Amber Heard didn't take it lying down, of course; she counter-sued him for $100 million, alleging that he besmirched her by calling her a liar.
Aquaman 2 and Heard's Screen Time
The surge in signatures is a bit tardy though, since the filming for the sequel, Aquaman and The Lost Kingdom has just wrapped up in early January.
Heard is meant to play a reprise of her role as Princess Mera, next to the starring Jason Momoa, as his love interest.
The movie is slated for release in March 2023.
Things are looking grim for Heard though, as according to film critic Grace Randolph, Heard might have "less than 10 minutes of screen time in Aquaman 2".
I hear #AmberHeard has less than 10 min of screentime in #Aquaman2 pic.twitter.com/oh4ZhQ1CiU

— Grace Randolph (@GraceRandolph) April 28, 2022
Yeesh, the random CGI coral reefs might have her beat in the amount of screen time it has if she won't even be on the silver screen for more than 10 minutes.
---
Advertisements

---
Reportedly, select members of the press had the opportunity to watch the preview of the movie, which is currently in post-production.
What is unclear is if the messy divorce in 2017—which was filed over "irreconcilable differences" days after the death of Depp's mother, Maya Oppenheim—had an influence over the reduction of her role, or it was later cut short when Depp decided to come out as the victim of Amber's domestic abuse and sue her.
Join our Telegram channel for more entertaining and informative articles at https://t.me/goodyfeedsg or download the Goody Feed app here: https://goodyfeed.com/app/
The Court Case Thus Far
We are roughly three weeks into the court case, and it's becoming increasingly apparent that Amber Heard isn't as innocent or magnanimous as she portrays herself to be.
On the other hand, Depp's testimony that he has never struck Heard or any woman for the matter, is becoming more substantial as more witnesses and evidence come forward.
If the disruptive clowns that Heard hired as her defence attorneys have proven anything, it is that while Depp has his deeply rooted issues with substance abuse, he is slow to anger, nor is he prone to violence.
Instead, his enduring patience shines through in his slow cadence and witty sarcasm, while the people that testify for him show that he's a genuinely good man who has helped a lot of people.
---
Advertisements

---
In light of these facts, many have taken to social media with the opinion that Heard should suffer the same consequences as him.
Since her allegations ruined "everything" for him, from his career to his children's perception of him, then she should share the same fate.
Besides wanting to remove Amber Heard from Aquaman, fans have also suggested that Emilia Clarke should be her replacement as Princess Mera.
Not a surprising choice, considering the fact the pair shared a palpable chemistry as they portrayed Khaleesi Daenerys Targaryen and Dothraki Warlord Drogo in The Game of Thrones.
Read Also:
Featured Image: Change.org
---
Advertisements

---

Fresh grads, you don't need any experience to earn up to $4,200 with this "secret":
Read Also: