---
Advertisements

---
Have you ever thought you saw your doppelganger, paused and just stared
Birthday boy, Joshua Poh, experienced this literally last week when he was confronted by a police standee with his face printed on it.
Yes, this police standee.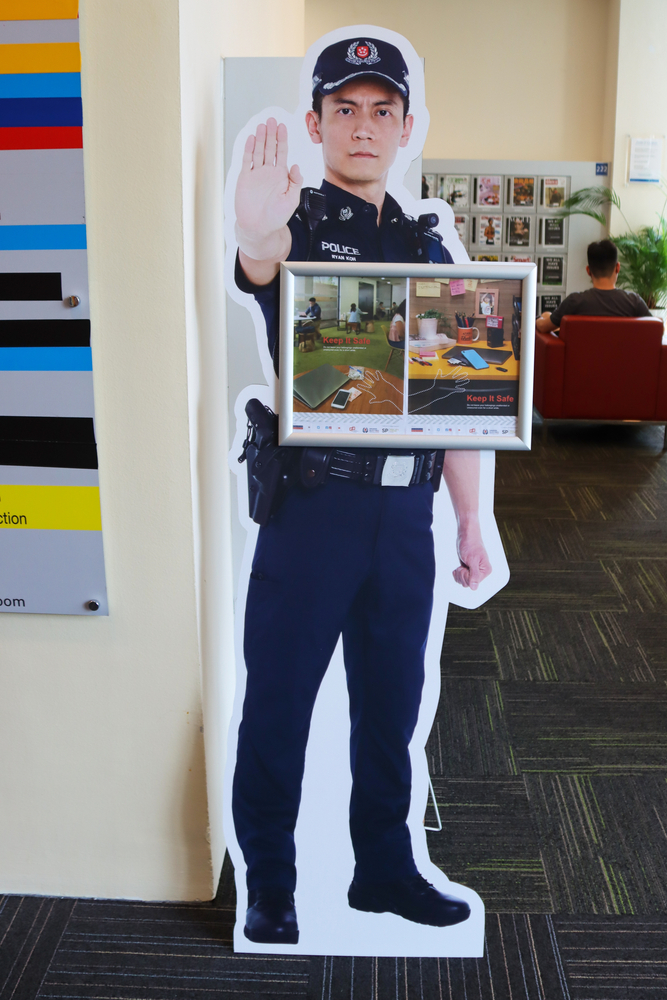 In the spirit of good fun, a group of young adults decided to "turn" the birthday boy into a police officer.
Process
TikTok user T1ew posted a video documenting the entire process, including the ideation process and eventual surprise, on 3 July.
It all started with a discussion online, where Joshua's friends decided to print the "Shop Theft is A Crime" poster. Only this time with a twist: their friend JP's face would be on the standee instead.
Next, one female friend was shown to successfully print out the standee and place it inside a car boot to bring it to the intended destination.
Finally prepared and pumped up, the friends cheered, "It's show time."
Setting up the scene, they first placed the life-sized standee outside a 7-Eleven store at NEX. On the day itself, one of the group members tried to get him to spot it by casually walking past it with him, but to no avail.
The blur sotong unfortunately did not notice anything amiss and only did so after his friend pointed it out for him.
Results
After realizing, however, the 24-year-old did not fail to take pictures with his clone. Heartened, the birthday boy also posted a TikTok video thanking his friends for the"memorable surprise."
"When your friends are design and art students, anything is possible," he wrote in the video's caption.
When interviewed by Asiaone, Joshua revealed that the photo of him in police uniform was taken when he was extra on set for local productions Long Long Time Ago and Diam Diam Era. He never expected his friends to use it, but… things happen.
Cost
Responding to some queries about the standee, T1ew explained in the comments that one of their friends designed it to be foldable.
It cost about $50 to print the standee on foam core board, she added.
A rather affordable yet impactful way to celebrate birthdays, netizens all around claimed that they were inspired to adopt such comical methods to celebrate birthdays.
Now, what's next?
Read Also:
Featured Image: TikTok (t1ew_)

Fresh grads, you don't need any experience to earn up to $4,200 with this "secret":
Read Also: