Remember the days when you would go with your mum or dad to POPULAR Bookstore to get your school books for the new year?
The excitement of getting new, fresh-smelling books often quashed the dread of going back to school.
Now, years later, many of us still visit POPULAR to purchase novels, stationary, and cool gadgets.
Much like bubble tea shops and Singapore Pools' outlets, Singaporeans can spend hours in POPULAR even if they're only planning to buy one thing.
Well, what if I told you there's a new card out there that will allow you to make even more purchases in your favourite bookstore?
That way, you can-
Reader: STOP YOUR BABBLING AND TELL ME THE DETAILS!
Your wish is my command.
POPULAR Has a New Diners Club Credit Card Which Offers Up to 5% Rebates
Get out your wallets, put on your face masks, and work those biceps because you're going to be carrying baskets full of items out of POPULAR with Diners Club's new credit card!
Diners Club is launching a new POPULAR Cobrand Credit Card on Saturday (8 May) which will give users up to 5% cash rebates at all POPULAR bookstores and URBANWRITE stores in Singapore!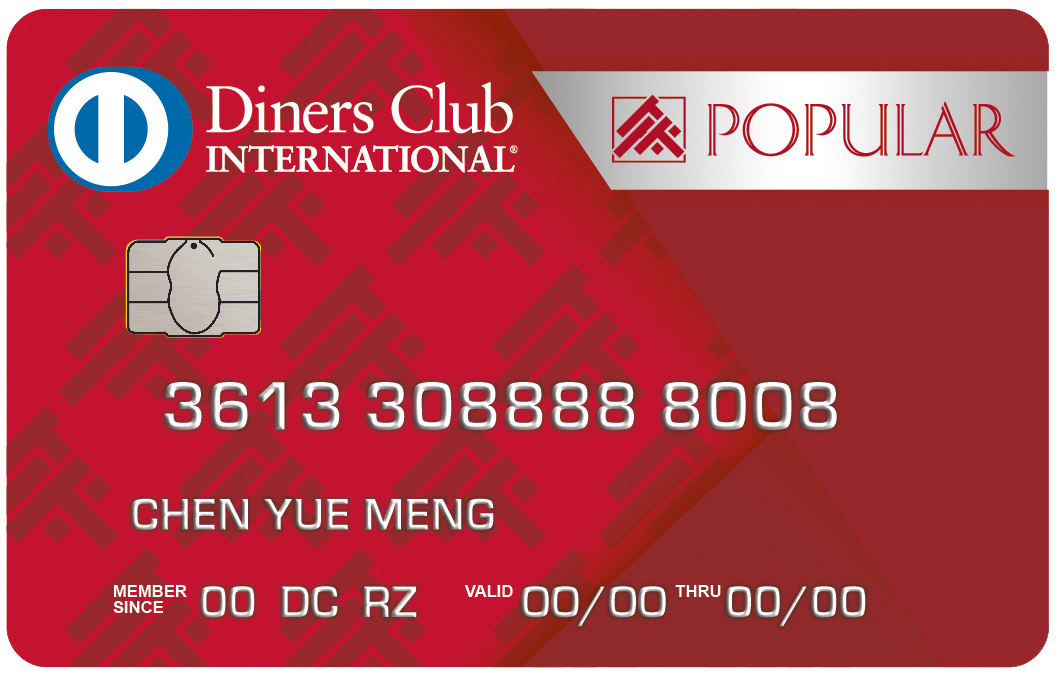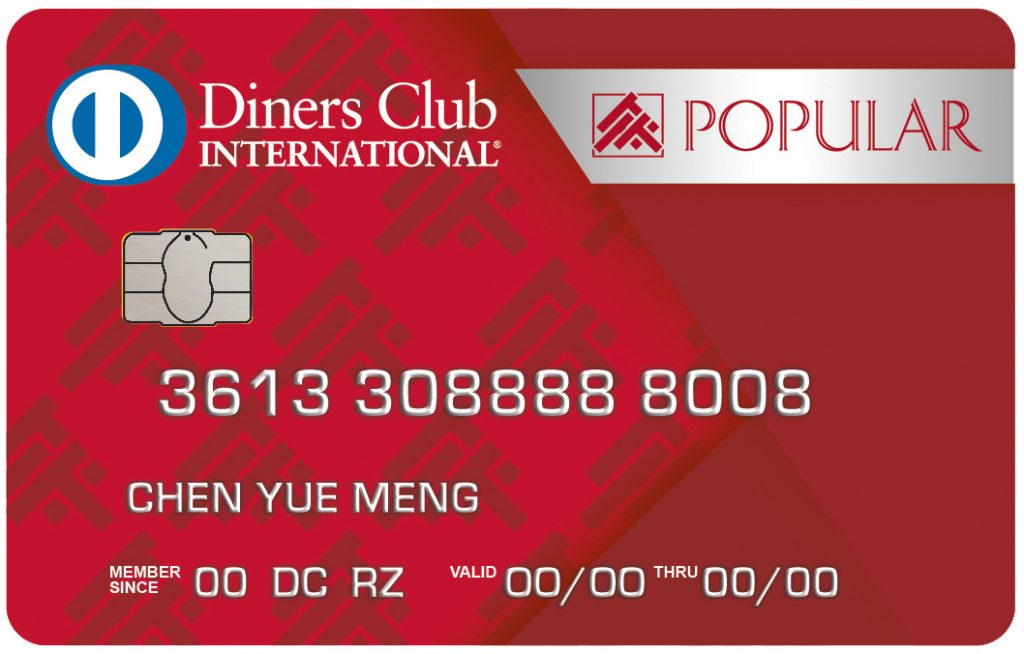 For the unacquainted, URBANWRITE has been described by some as an atas POPULAR, with a vast array of fancy stationery, character merchandise, scrapbooking material, bags and cases, lifestyle gifts, travel accessories and more.
So, how do you get these rebates? Well, before we go on, you should know that there are two POPULAR Cobrand Credit Cards.
The first is the POPULAR Cobrand Regular Credit Card, where shoppers will be able to earn a 5% Rebate of up to S$1,000 spent monthly per account on their card at POPULAR and URBANWRITE stores. (A minimum annual income of $30,000 is required).
The second is the POPULAR Cobrand $500 Limit Credit Card. Users of this card will be able to earn a 2% Rebate of up to S$500 spent monthly per account on their card at POPULAR and URBANWRITE stores (A minimum annual income of $16,000 is required).
Oh, but that's not all.
Over 65% Discount on a POPULAR Membership
Cardholders will also have the option of paying $10 for a 3-year POPULAR in-house membership which would normally cost $30.


You'll be eligible for this promotion whether you're signing up as a new member or already a member renewing your card.
With this membership, you'll get up to a 10% discount at all POPULAR and URBANWRITE stores in Singapore, on top of the cash rebates!
Still not convinced? Well, believe it or not, this card has even more privileges.
Road Tax Instalment Plans & Complimentary Access to Airport Lounges
As far as we know, Diners Club is the only financial institution that allows an instalment plan for road tax.
Have to pay $700 for that brand new car you just purchased? Well, with Diners Club cards, you'll be able to pay $116.67 per month for six months instead.
Cardholders will also be granted access to 1,000 airport lounges in major cities worldwide including Changi Airport Terminal 1, 2, 3, and 4.
Sure, international travel is still a distant dream and your passports are incredibly dusty. But it won't be like this forever.
Other benefits include being able to withdraw money at local and overseas ATMs, and up to 58 days of interest-free credit.
Two Separate Lucky Draws
With your brand new POPULAR Cobrand credit card, you'll also be able to put your name into the hat for not one but two lucky draws!
If you apply for both Diners Club/POPULAR Cobrand credit card and 3-Year POPULAR Membership, you'll be eligible for a monthly lucky draw where $15,000 in cash can be won! (50 winners will be able to take home a $100 cash prize each month, from June to August 2021)
50 winners will be able to take home a $100 cash prize each month!
Additionally, POPULAR credit cardholders will also be eligible for Diners Club's quarterly Charge and Win, where $50,000 in cash and over $43,200 in supermarket and shopping vouchers is up for grabs!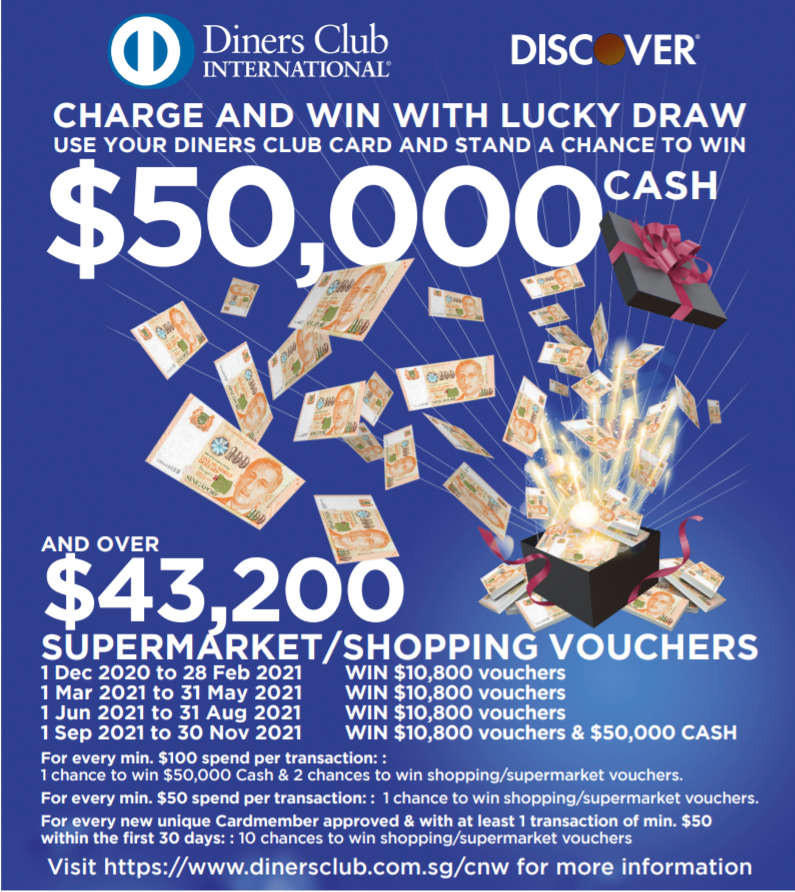 Launched on 1 December last year, the draw takes place every quarter and has S$10,800 worth of vouchers patiently waiting to be snatched by cardholders (36 winners x S$300 vouchers).
The current qualifying period will go on until 31 May 2021, for which the lucky draw will fall on 9 July 2021.
To qualify for this lucky draw, all you need to have is a Diners Club's card, which means there's no better time to get Diner Club's new POPULAR Cobrand Credit Card.
And once you get your card, you're automatically entered into the draw.
For every new unique Cardmember approved and with at least one transaction of a minimum of $50 within the first few days, you'll get 10 chances to win $300 worth of shopping and supermarket vouchers.
For every minimum spend of $50 per transaction, you'll get one lucky draw chance to win these $300 vouchers.
For every minimum of S$100 spent per transaction, you'll get one lucky draw chance to win the $50,000 cash prize and two lucky draw chances to win the $300 vouchers.
Do note that the lucky draw chances are not transferable.
How to Apply
The application process for the POPULAR Cobrand credit card is just as easy as earning rebates on it. All you have to do is head here from 8 May onwards to make an application.
With the promise of rebates, lucky draws, cheaper membership fees, and a host of other privileges, what's not to like?
Don't wait too long, however, because if you happen to be one of the first 10,000 people to sign up for the POPULAR Cobrand Credit Card, you'll stand to receive $24 worth of POPULAR Discount Vouchers (3x$8 POPULAR Discount Vouchers) too!
This article was first published on Goodyfeed.com and written in collaboration with Diners Club (Singapore) Pte Ltd.
Featured Image: nashriq mohd / Shutterstock.com