If you're a fan of watches, and have been watching out for the latest timepieces, then you must surely be aware of the Swatch x Omega collaboration.
Omega watches are notoriously expensive, whereas Swatch is a budget brand.
---
Advertisements
---
The fact that there's a collaboration between the separate tiers, offering 11 colours to their BIOCERAMIC MoonSwatch collection at a somewhat affordable price of S$372, drove watch lovers insane.
To know more about this collaboration, watch this video to the end:
It was almost comparable to Hello Kitty collector queues outside McDonald's, because people gave little to no cares about COVID-19 restrictions and crowded around the ION Orchard Swatch store as early as 7:30am in the morning, just to get their grabby hands on one of the watches.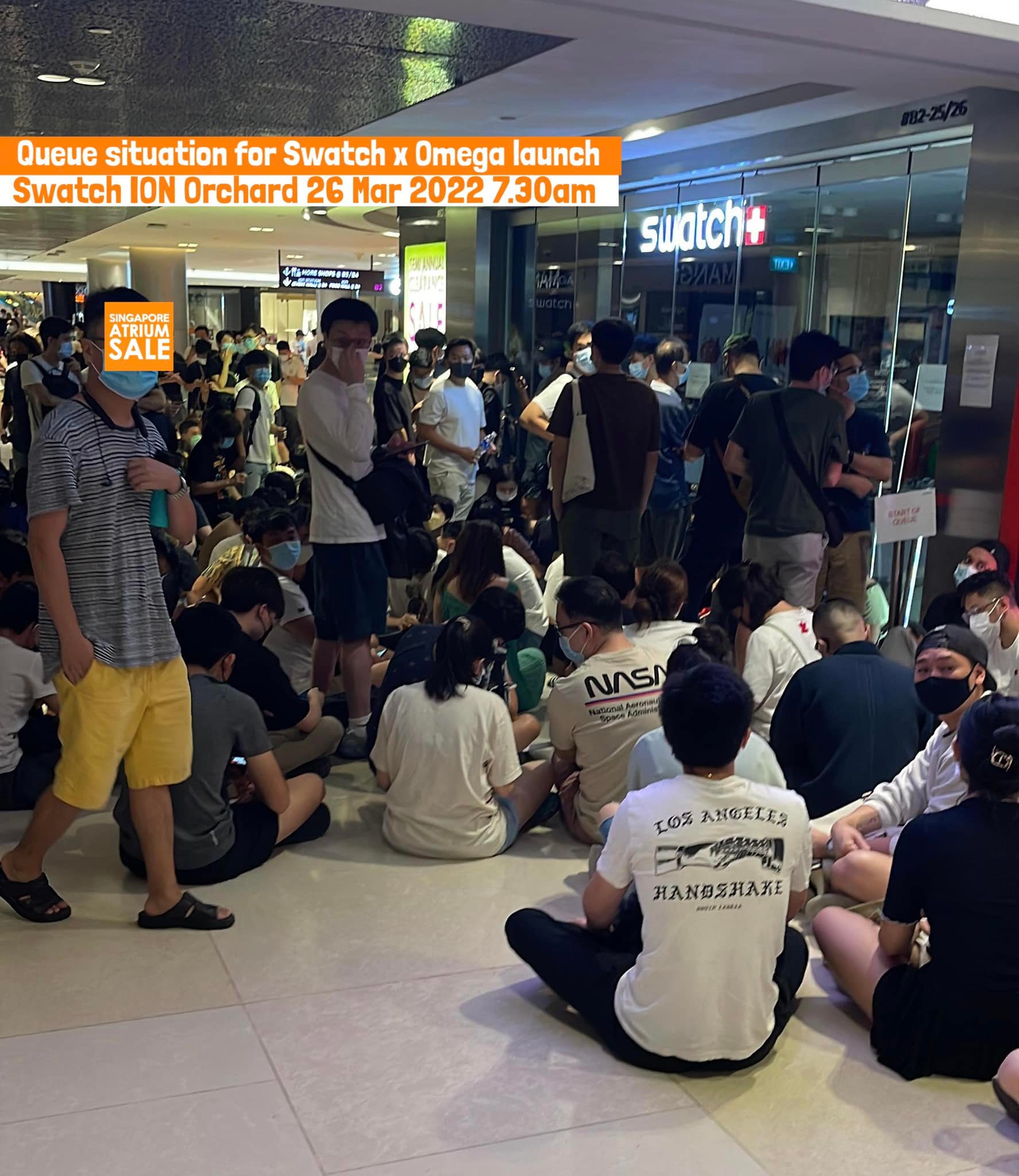 The Acclaimed Appeal
Besides its questionably affordable price compared to other luxury timepieces, the BIOCERAMIC MoonSwatch promised many things:
For one, it would be made out of a lightweight and scratch-resistant sustainable material that's made out of ceramic and bioplastic.
---
Advertisements
---
The watch dials are detailed with Super-Luminova, which is a strontium aluminate-based non-radioactive and nontoxic afterglow pigment. The phosphorescent pigment it contains is capable of glowing in the dark after being activated by or "absorbing" enough sunlight.
Another unique feature that separates each watch in the collection is the colours, with a planetary body that it's named after etched into the case back of the watch.
Join our Telegram channel for more entertaining and informative articles at https://t.me/goodyfeedsg or download the Goody Feed app here: https://goodyfeed.com/app/
MoonSwatch Does Not Live Up to Its Fame
Despite the hype that surrounded the watch, it became apparent to the buyers that the Omega x Swatch collection wasn't all it was advertised to be.
When you think of the watch brand "Omega", it's usually synonymous with "expensive" but made with corresponding quality and comfort.
In the discussion thread for Omega x Swatch Moonswatch on Facebook, people have started complaining about its quality, barely two days after its official launch.
In the words of one reviewer by the name of Jeffery So, he had found scratches all over the watch upon unboxing it, which is ironic considering how it was said to be scratch-resistant.
After returning from a party with a heated atmosphere with the watch donned, he realised that there were more defects to his newly bought watch.

The colour from the planetary case back had leaked onto his skin.
Which is never good news, because you don't ever know what they put in paint since they usually seal it behind a safe coat of resin or epoxy, like some idiotic manufacturer of the past who decided to put arsenic in bright green paint.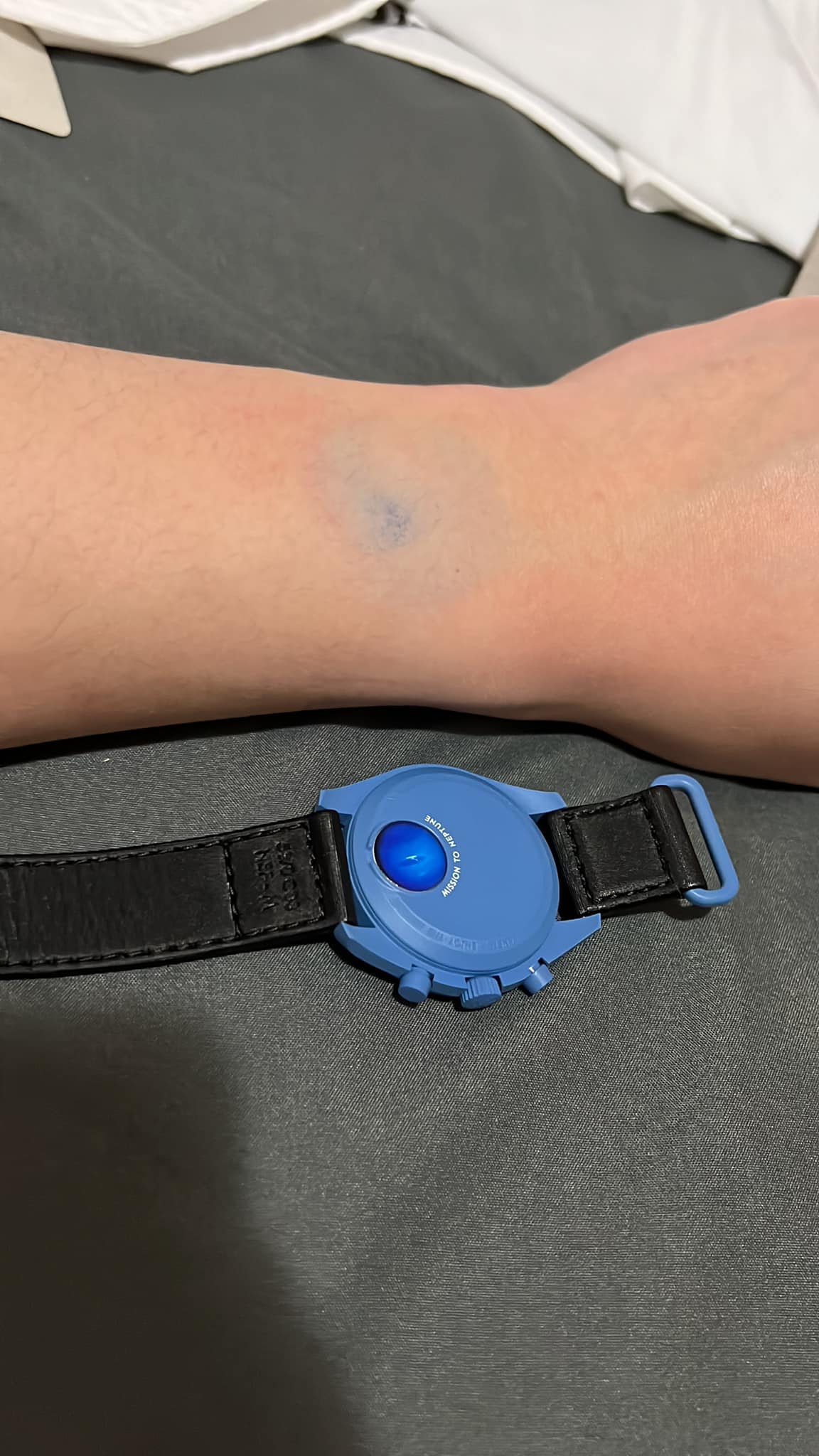 Or use lead in paint and piping in the 1920s. Hindsight is 20/20 when it comes to water and air poisoning, cheers.
Additionally, just from the picture alone, you can roughly see that the straps don't exactly look comfortable, and it isn't.
In fact, Jeffery So describes the straps as "garbage" quality, and he would rather have rubber. The only aspect that stood up to the tall tale was the light weight, but apart from that, the watch was terrible.
The engravings at the back were also quite shallow, and the entire watch felt and resembled plastic more than the supposed composite of ceramic and bioplastic.
---
Advertisements
---
In summary, Jeffery So wrote:
"Is this a luxury watch? No. It never will be but in this case they got you with the branding and sold you a switch disguised as an Omega for double the price of a regular swatch.
"It's a cool collab but overall it's underwhelming and not worth what the hype says it's worth."
Harsh words.
Agreements and Worries Down in the Comments
Perhaps some readers might be questioning if it's a biased review from one unsatisfied customer, so we took the liberty of scrolling down the previous comments in the same thread.
---
Advertisements
---
Thus far, there has been another one or two commenters who have complained about this issue, though it should be noted that they purchased the Neptune MoonSwatch.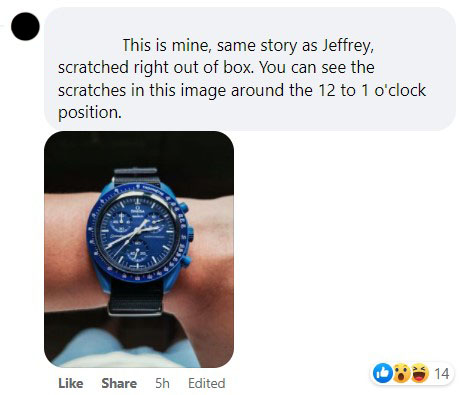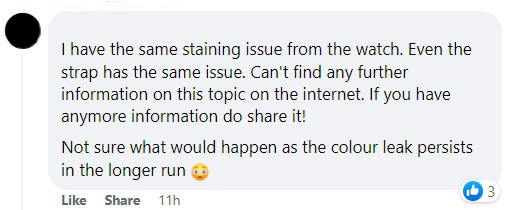 The netizens were more forgiving about the scratches because they aren't uncommon when it comes to glass, but the fact that there were already scratches upon purchase is a bit hard to take in.
More people were worried if the colour leaks would happen to every watch in the collection, especially since they probably go through the same dyeing process, just with different pigments.
In fact, one commenter had been quite skeptical as a pursuer of Swatches; she had owned four Swatches thus far, but she never ran into such a problem.
Therefore, is this an outlier, where there happened to be one faulty product among many, or is the quality as degrading as the review by Jeffery makes it out to be?
---
Advertisements
---
Perhaps we'll need a few more weeks to see if more bad reviews creep out of the wood work to get a clearer picture.
Read Also:
Featured Images: Facebook (Jeffery So) & Swatch