---
Advertisements

---
You can find anything on online platforms nowadays.
Gone are the days where you'd have to go outside and scour large shopping malls in search of your desired product.
Now, whether you need a book, treadmill, fridge, or even an inflatable dinosaur costume, chances are an online shopping platform will have it.
Unfortunately, with thousands of sellers on these platform, it's going to be hard to keep track of everyone and what they're selling, which means they might be able to put some questionable items up for sale.
Prohibited Items Such as Gun Parts & Handcuffs Seen For Sale on Lazada & Shopee
Some overseas retailers on Lazada and Shopee are selling real gun parts on their platforms, according to The Straits Times.
These components are considered controlled items by the authorities, meaning importers require a licence before they bring it into the country.
The parts include things we've only seen in the movies, such as silencers and laser aiming sights, as well as components like magazine release levers and barrel thread protectors.
As these sellers are very aware of, Lazada and Shopee have detection algorithms that fish out illegal listings by their name.
So, to get around this, they do crafty things like list an AR15 as "A/R 15 Carbi/ne". In other instances, sellers only provide the product's calibre of ammunition in the description, such as 5.56mm or 7.62mm.
They clearly know what they're doing.
When ST contacted a seller who was selling a bulletproof vest, they said there'd be "no legal problem" in delivering the item.
However, this isn't exactly true, as the bulletproof vest is also a controlled item.
Lazada & Shopee's Response
When ST informed Lazada of the listings of gun parts, as well as replica guns, a spokesman said the platform doesn't allow the sale of prohibited items on its platform, and has in place "mechanisms to monitor and immediately take down errant listings."
Shopee said it takes a zero-tolerance approach to such listings and will immediately remove them once found and take action against sellers.
It also encouraged users to report such listings or counterfeit products via the 'Report this Product' option.
12 Replica Pistols Uncovered In Consignment 
Just two days ago, the Immigrations and Checkpoints Authority said it uncovered a dozen sets of replica pistols recently in an operation at Pasir Panjang Scanning Station.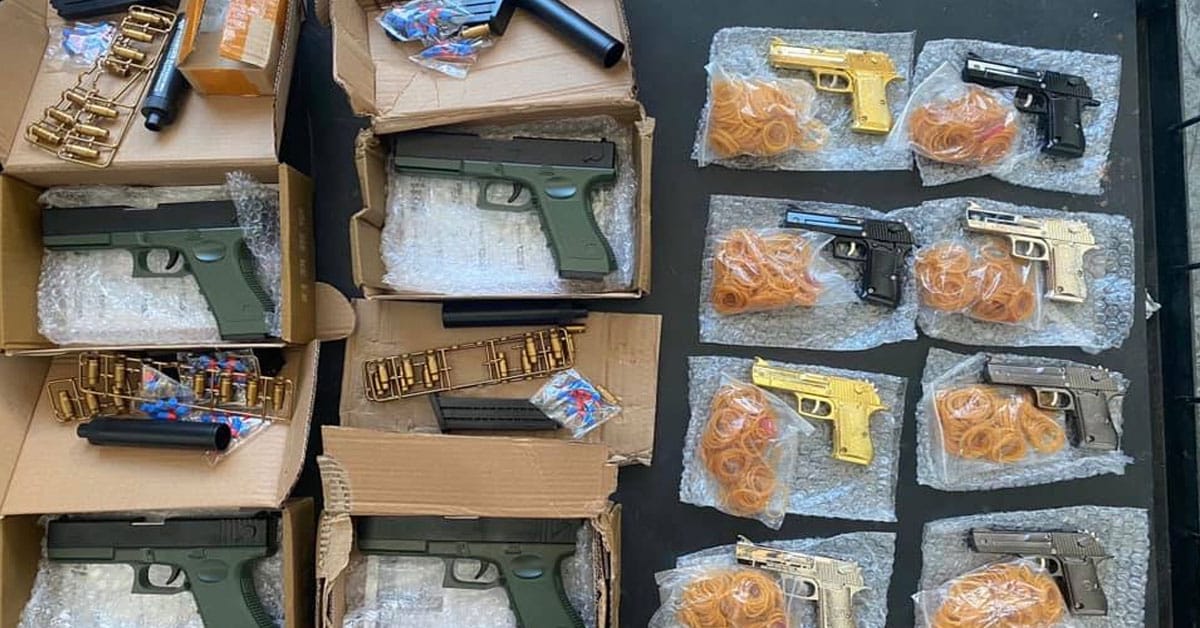 On 7 Aug, officers at the station noticed some anomalies in the scanned images of a container with a consignment declared as "kids' toys".
They then conducted what's called an "unstuffing operation" – the removal of cargo from a container – at the operator's premises.
There, they uncovered 12 sets of pistol replicas and accessories within the consignment. The case was then referred to the police.
Replica guns, while not as tightly regulated as real guns, are controlled items as they can cause fear and alarm to people, especially those who may not able to distinguish them from the real thing, such as children and the elderly.
Those found guilty of importing or exporting replica guns without a permit face a fine of up to S$100,000 – or three times the value of the goods, whichever is greater – two years' imprisonment, or both, for first-time offenders.
---
Advertisements

---
Read Also:
Featured Image: peerawat somphao / Shutterstock.com (Image is for illustration purpose only)

Fresh grads, you don't need any experience to earn up to $4,200 with this "secret":
Read Also: