---
Advertisements

---
In addition to keeping police officers busy, the 2020 General Election granted a few politicians celebrity status.
The most notable is newcomer and master debater Jamus "Blank Cheque" Lim from the Worker's Party, who wowed Singaporeans with his lively performance in a televised debate.
Another was Reform Party's Charles Yeo, who did the very opposite of wowing Singaporeans when he attempted to speak Mandarin in a political constituency broadcast.
me trying to wrap up my chinese oral to the examiner who's unimpressed #GE2020 pic.twitter.com/ADc4C5WUn9

— YEOLO™ (@tzehern_) July 3, 2020
But perhaps the one who really stole our hearts was Progress Singapore Party (PSP) chief Tan Cheng Bock.
At 80 years old, Dr Tan was one of the oldest candidates contesting in the election, but that didn't stop him from connecting with the youth through social media.
He became an Instagram sensation, and is probably the oldest "hypebeast" in the world.
Now, Dr Tan has joined the mother of all social media apps, and even showed off some of his dance moves.
Progress S'pore Party Now Has a TikTok Account With Dr Tan Cheng Bock Dancing
You might feel a little weirded out if your dad creates a TikTok account.
But what about a political party?
PSP, one of the youngest political parties in Singapore, recently created its own TikTok account and already has over 150 followers.
---
Advertisements

---
The alternative party has only uploaded four videos so far, three of which are Christmas-themed.
The other one is a video of Dr Tan dancing.
Can you guess which was the most popular?
While the three Christmas-themed videos garnered a total of 1,683 views, Dr Tan's video alone was watched over 12,000 times in just two days.
The video starts out with Dr Tan standing in a garden, staring into the camera while some country music plays in the background.
He remains completely still for five seconds, and then pulls out some amazing finger gun moves.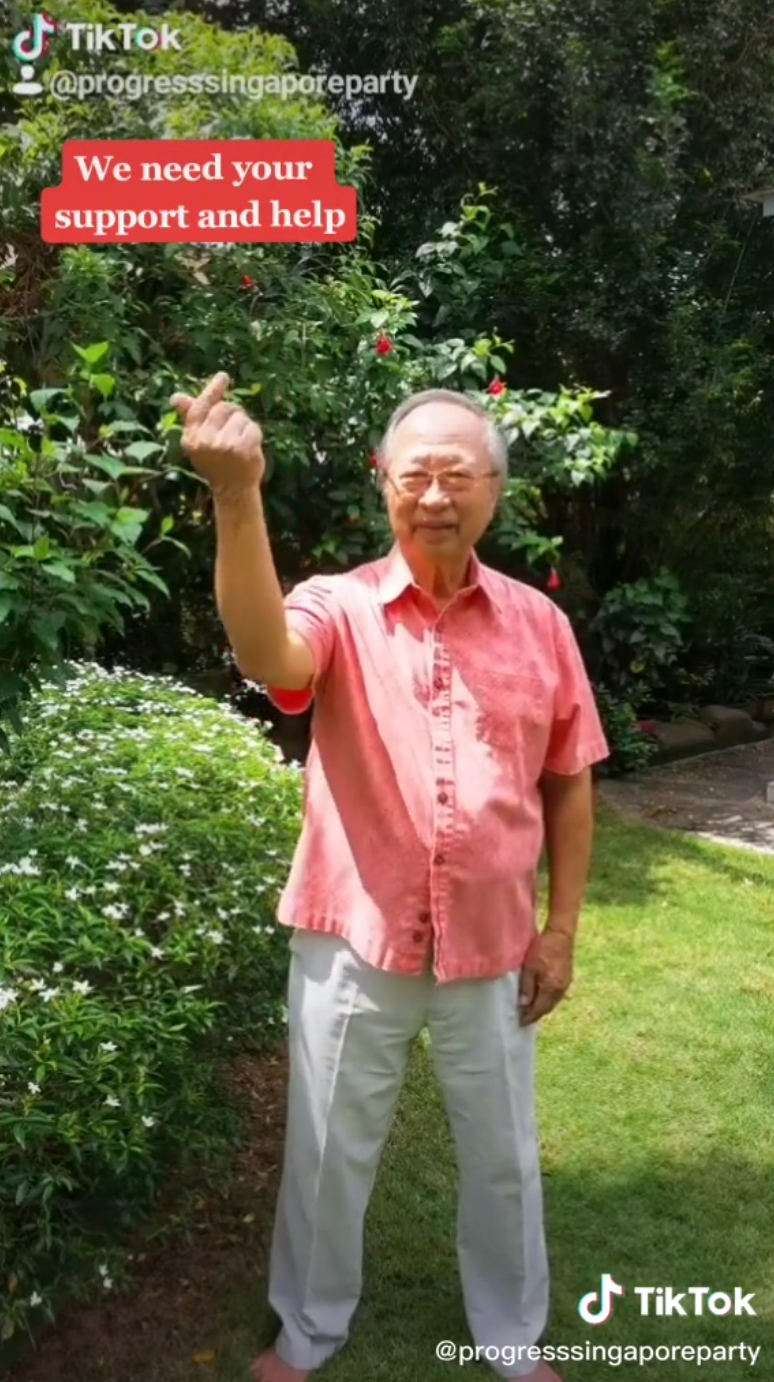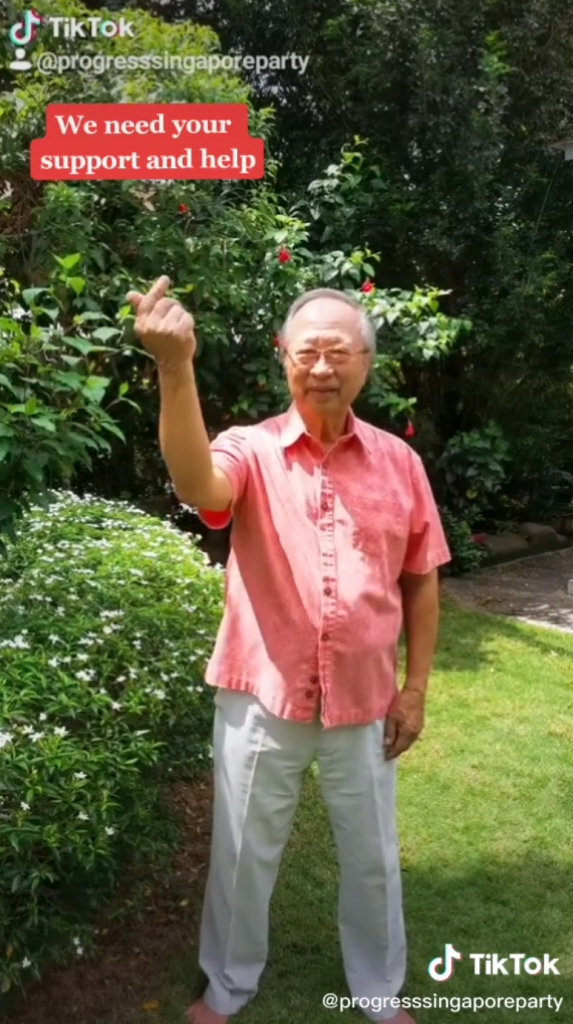 The video was captioned with the hashtag #danceduet even though Dr Tan was the only one dancing.
The challenge seems to be to dance in time with the music, and although Dr Tan falters here and there, he does a mighty good job for an 80-year-old.
But the question remains: why create a TikTok account now?
---
Advertisements

---
Well, while it may in part be an attempt to connect with the youth, it's also a promotional video for their upcoming fundraising virtual concert.
Virtual Concert on 20 Dec
On 20 Dec, PSP will be holding a virtual concert to raise funds for its operations next year, according to Online Citizens Asia.
Both Dr Tan and Francis Yuen will be putting on their dance shoes and serenading residents with their guitars.
The event will be broadcast live on Facebook at 7.30pm.
In addition to raising much-needed funds, the virtual event is also an attempt to engage with the youth.
As Dr Tan said: We need to invest in our youth – they are the future of this country and it is good to engage them in the various digital platforms well ahead of the next General Elections. My team has put together an interesting line up of songs for the 20th of December."
---
Advertisements

---
The virtual event took three months of planning, according to the party.
Viewers can even make song requests ahead of the virtual concert. You'll have to pay for it, but what can be better than watching Dr Tan sing or dance to your favourite tune?
The crowdfunding link can be found here.
Featured Image: TikTok (@progresssingaporeparty)

Your parents are wrong: MSG (Monosodium Glutamate) is good for you (sort of). Here's the truth:
Read Also: