---
Advertisements

---
Prices of HDB flats have nevertheless surged in price in recent years.
But this takes the cake.
A new listing on multiple property listing sites has bewildered many Singaporeans with its price tag. This is because the listing is for a five-room HDB flat situated at Margaret Drive is set with a $1.5 million dollar price tag—a record, although it's not sold yet.
Which begs the question: is it meant to be sold?
People Skeptical about Listing
According to the listing of PropertyGuru, the HDB unit with the unbelievable price tag is located in the SkyOasis @ Dawson development. Apparently, it is also above the 40th floor.
Furthermore, in the same listing, it is said that Queenstown MRT station is a mere four minutes' walk away from the block, which may be one of the many reasons for its high price point.
However, many are skeptical about the listing as many questioned why the unit could be listed on the property market so soon after moving in only for a few years (Minimum occupation period for BTO flats is five years, and this flat is completed in 2021).
One user on Reddit shares that the unit's occupant may have booked the flat years earlier under the Selective En bloc Redevelopment Scheme (SERS). This essentially allows them to put their unit up for listing even though they have only lived there for two years.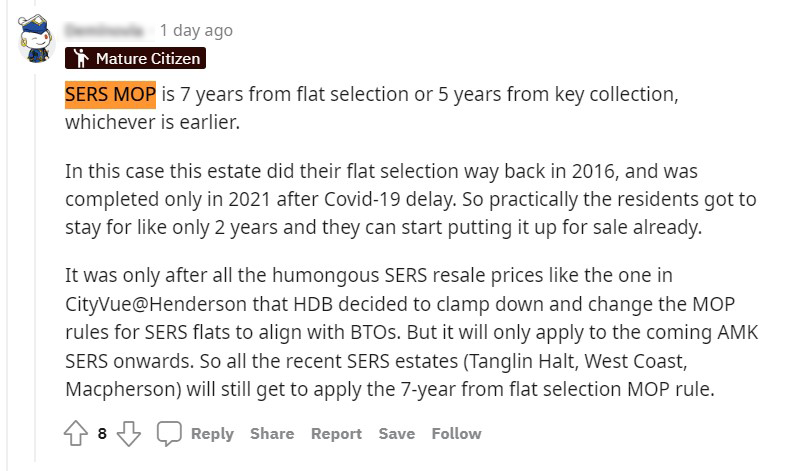 According to the listing, the unit has a 97-year lease left. The Minimum Occupancy Period will be fulfilled on 6 April 2023, so it's a…erm, "pre-order"..
Unit Marketed by PropertyLimBrothers
In addition to the property's listing on various sites, the famous PropertyLimBrothers have also made a video to showcase the unit.
In the video, it is mentioned that the 1,194 sq ft unit has an "amazing unblocked greenery view" due to it being above the 40th floor.
---
Advertisements

---
Furthermore, the block is located within the "prime hexagon", which consists of the Orchard area, the Central Business District (CBD), Greater Southern Waterfront, Holland Village, One-North and Bukit Timah.
Apparently, these areas are deemed by property agents as prime places for transformation, meaning that people who own property or land in those areas should benefit from it in the future.
In the video, PropertyLimBrothers also compared condo units in the vicinity of Queenstown. For example, they mentioned that one of the three-bedroom units over at Sterling Residences goes for $2.5 to $2.7 million. This shows the price disparity of a condo unit versus an HDB unit in Queenstown, which was probably done to justify the $1.5 million price tag of the listing.
So, is this just a marketing gimmick to drum up the price of the unit before it can be officially sold, or is this a legit asking price?
We'll know in April 2023.

Worker's Party just agree with PAP on something, but there's another reason why they did that. Watch this to the end and you'll understand:
Read Also: