---
Advertisements

---
Phones are expensive. It's understandable, given that in this new era of technology, a good phone's performance is comparable to that of a lower-end laptop.
Still, there are "tiers" of phones—some perform better than others on a whole, but these good phones are often more expensive, of course. 
Just this week, a netizen's mother was given an Oppo A78, although she was eligible to re-contract for the newest Samsung S23—these two phones are nearly $700 apart in prices (no, the Oppo A78 isn't the pricier one).
Given An Oppo A78 
On 4 June, an unhappy netizen took to the Facebook group Complaint Singapore to voice his displeasure with his mother's encounter at Novel Communication, located in Tiong Bahru Plaza.
According to his post, his mother had headed down to the store to renew her contract and obtain a new phone, since her current phone's battery was bloating.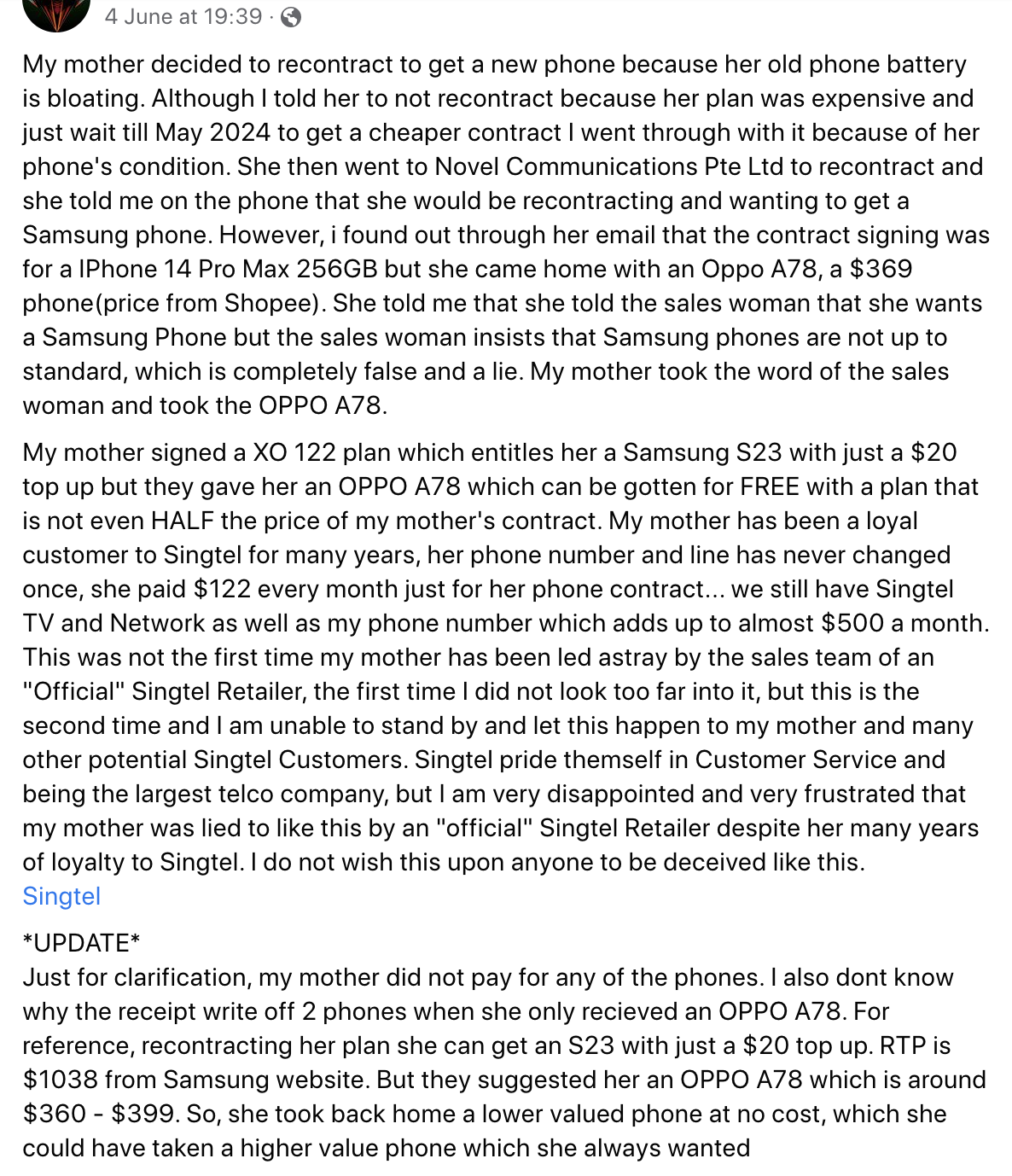 Under her contract, she would be eligible to re-contract for a Samsung S23, the newest Samsung Galaxy model available as of now. It's priced at a hefty $1,038 from the official retailer, but because of her contract, his mother would've been able to get one with a top-up of just $20.
However, when she told the saleswoman there she wanted a S23, the saleswoman insisted that Samsung phones were not "up to standard", and urged her to get an Oppo A78 instead. 
In his post, the man called the saleswoman's words "completely false and a lie". Given the price tag on these phones, you'd be more inclined to believe him—an Oppo A78 sells for around $369 online, while an S23 costs $1,038. That's a price difference of a whopping $669.
Understandably, the netizen was unhappy with this outcome. His mother's phone contract cost her $122 monthly, excluding add-ons like Singtel TV and other phone numbers. According to him, the Oppo A78 could also have been obtained for free under another plan "not even half the price" of her current one. 
He also added that this was not the first time his mother had been "led astray" by service staff, despite being a loyal customer of Singtel for many years.
Where Did The iPhone Come From?
However, the tale gets stranger.
---
Advertisements

---
According to pictures of attached documents, she had signed a contract for a 256GB iPhone 14 Pro Max.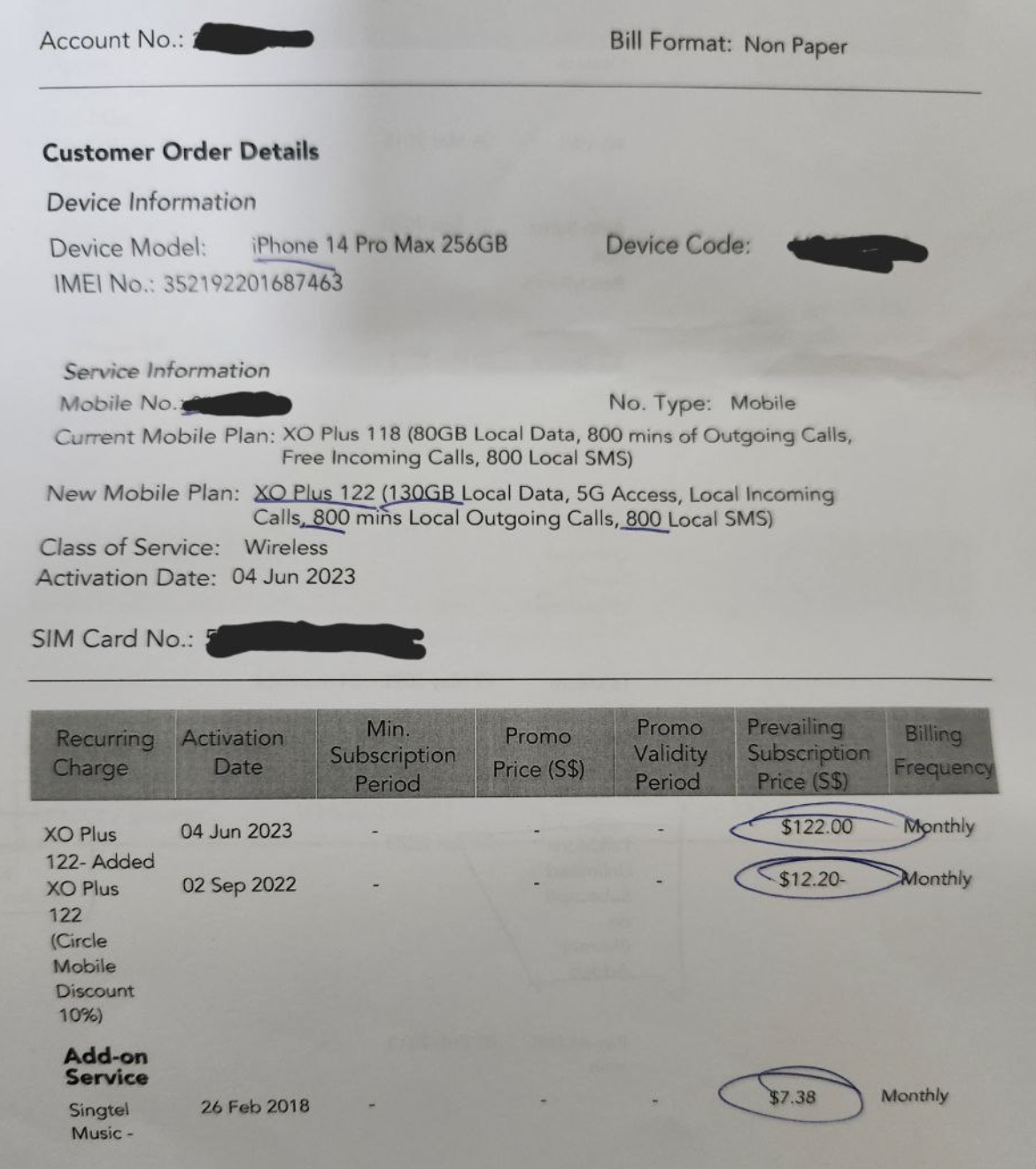 For context, that phone is the newest iPhone model, and costs $1,815 from the official retailer. 
Even though the contract had stated that she'd ordered that iPhone, she'd come home with an Oppo A78, and hadn't paid for either of the phones—so where, exactly, did the iPhone come from?
Stranger still, the outlet his mother had been "scammed" at, Novel Communication at Tiong Bahru, is now permanently closed, according to Google.
Under his post, other netizens urged him to file a police report, citing that his mother had been scammed. 
They also urged him to report this to Singtel for further assistance and investigation.
Retailer Not To Be Trusted
Novel Communication doesn't really have a good reputation, considering this isn't the first time they've "scammed" an elderly woman.
In a parallel situation in 2018, another woman's daughter took to Facebook to complain about the retailer. Her mother was able to re-contract for a 64GB iPhone X, but was given a Samsung J3 Pro instead.
This stumped the woman, since the new phone her mother received was a lower-end model, compared to her mother's previous phone.
In response to this, Singtel said that they would be taking disciplinary action against Novel Communication.
---
Advertisements

---

Here's a rather unexpected timeline of the $2.8 billion money laundering case in Singapore as revealed by Minister Josephine Teo during a parliament sitting on 3 October 2023:
Read Also: