---
Advertisements

---
Life is like a box of chocolates, you never know what you're going to get.
It's the same when you're playing one of those addictive games on Shopee that makes you spend coins for a chance to earn more coins, or other grand prizes.
You know, like this one:
Except 9 times out of 10, you end up losing your initial coins rather than winning more, let alone a smart phone, and it hurts because you've just painstakingly harvested your coins from Shopee farm.
You'd exit the app in a fit of rage, but come back to it again 10 minutes later to check if your chances for free tries have been restored.
Anyway.
In an alleged case of real-life gambling, a retailer known as The Auction House has had a police report filed against it over its sale of "Mystery Boxes" at a tech sale.
---
List of Accusations Made Against the 2 Ministers Who Rented Colonial Houses at Ridout Road:
---
The 4-day long event, Comex, is one of the two largest consumer electronics exhibitions in Singapore held annually.
During this year's event, The Auction House could be seen selling mystery boxes at its booth for $6 each. These were all unclaimed parcels containing things like electronics, shoes and bags, to household items.
In classic Kiasu Singaporean spirit, a crowd of bargain hunters gathered to check out the sweet deal.
Some could even be seen shaking the parcels vigorously before making their purchase, because you know, somehow that helps in determining the value of a mystery box.
---
Advertisements

---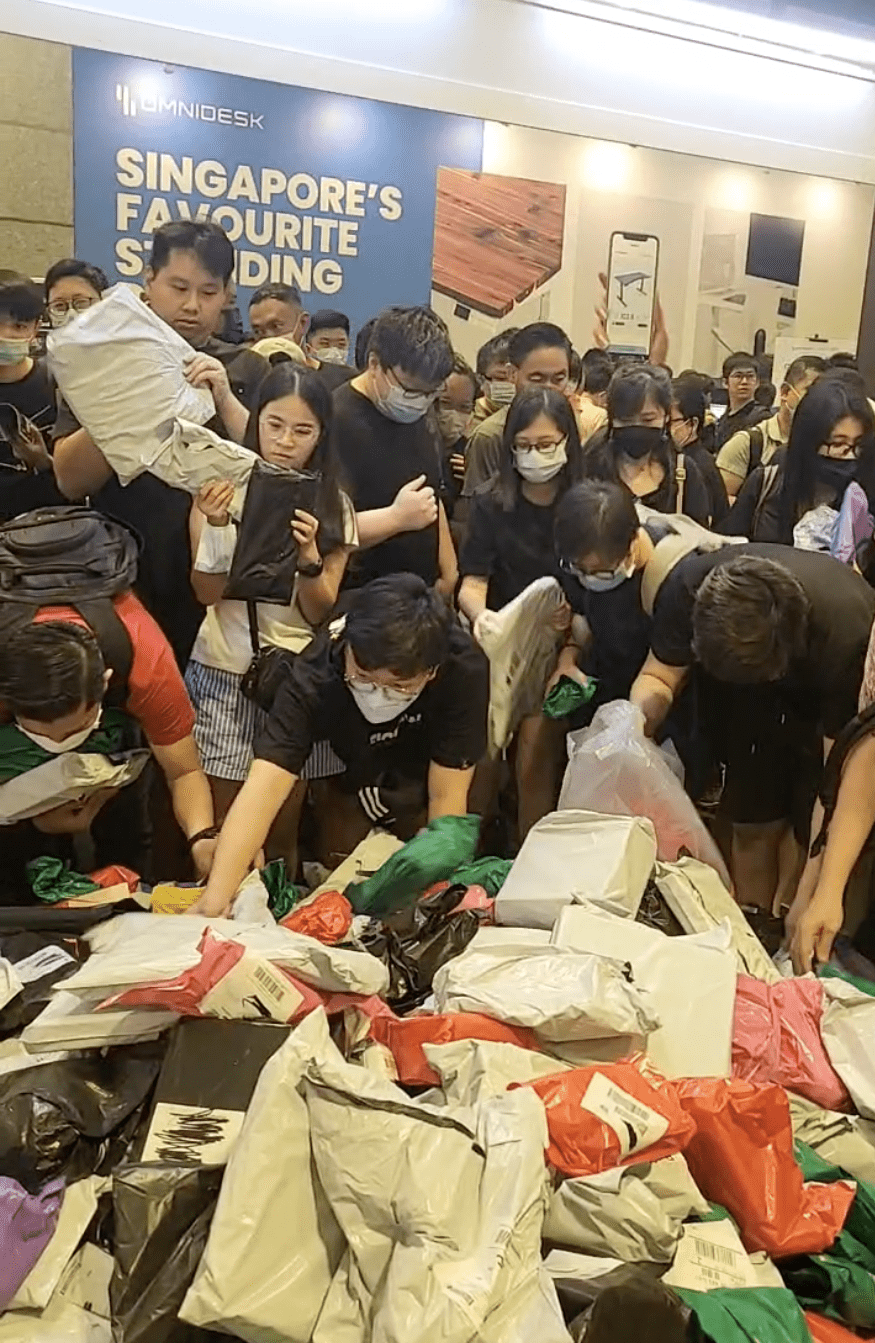 Mystery Boxes are Not Allowed to be Sold in Singapore
Unfortunately, it won't be all fun and games as the retailer's activities may be deemed as illegal if it is found to have been selling mystery boxes, which are currently prohibited in our country.
Although this is not formally defined yet under Singapore law, boxes like these refer to those purported to contain mystery items that usually higher in value than the market rate.
Upon opening a few parcels, a spokesperson said that most of the boxes contained repeat items like shoes and bags.
A lawyer and head of intellectual property at the law firm Rajah & Tann Singapore said that mystery boxes are not defined in the Gambling Control Act but this incident would still constitute a game of chance.
"Shoppers are paying the same amount to receive a randomly allocated box, each of which may contain different items of different value. So one could end up getting a box with items of much lower value than what another shopper may get."
The Gambling Regulatory Authority (GRA) had also previously stated that it intended to regulate the sale of mystery boxes through introducing safeguards, such as putting a $100 cap on their value.
However, it's currently vague as to where the line is drawn, hence some say more details need to be provided by the law on what constitutes as an illegal mystery box sale.
"It remains to be seen how imposing the $100 cap can be enforced, and its impact on… reducing the gambling inducement factor."
Professor Sharon Ng, the head of the business marketing division from Nanyang Technological University, suggested authorities to put a duration limit on the sale period of mystery boxes, for companies that want to offer such promotions.
By conducting these only once a month, for instance, she posits that it would reduce the risk of addiction.
---
Advertisements

---
Other subject matter experts also expressed the view that mystery boxes could be good for businesses to clear their stocks, and differ greatly from actual gambling, given that they don't promise the same colossal returns that places like casinos usually do.
A Police Report was Lodged; The Auction House Responded
Some people must've hated what they got in their mystery box, because a police report has been lodged against the retailer.
When contacted by The Straits Times, The Auction House said it was aware that mystery boxes are illegal but it did not consider what it was selling to be a mystery box given they had shown several items of what could be expected in them, prior to the event during a Facebook Livestream.
In response to the article covered by The Straits Times, The Auction House posted an update on their Facebook page, expressing their discontentment at the party poopers.
One user, who probably expected an iPhone but got a pair of SHEIN shoes in his mystery box instead, also took to the Auction House's Facebook Page to let off some steam.
---
Advertisements

---
Truth be told, it must've been one shi*** mystery box because it even got him riled up enough to use fake accounts when corresponding with the founder of The Auction House:
I guess we'll just have to see how this plays out, if not we'll have to go back to virtual gambling on Shopee.
Read More:
Featured Image: Facebook (The Auction House SG)