On 13 October last year, Samsung released a cheeky advertisement poking fun at a certain competitor for their choice to exclude a basic item from their phone packages.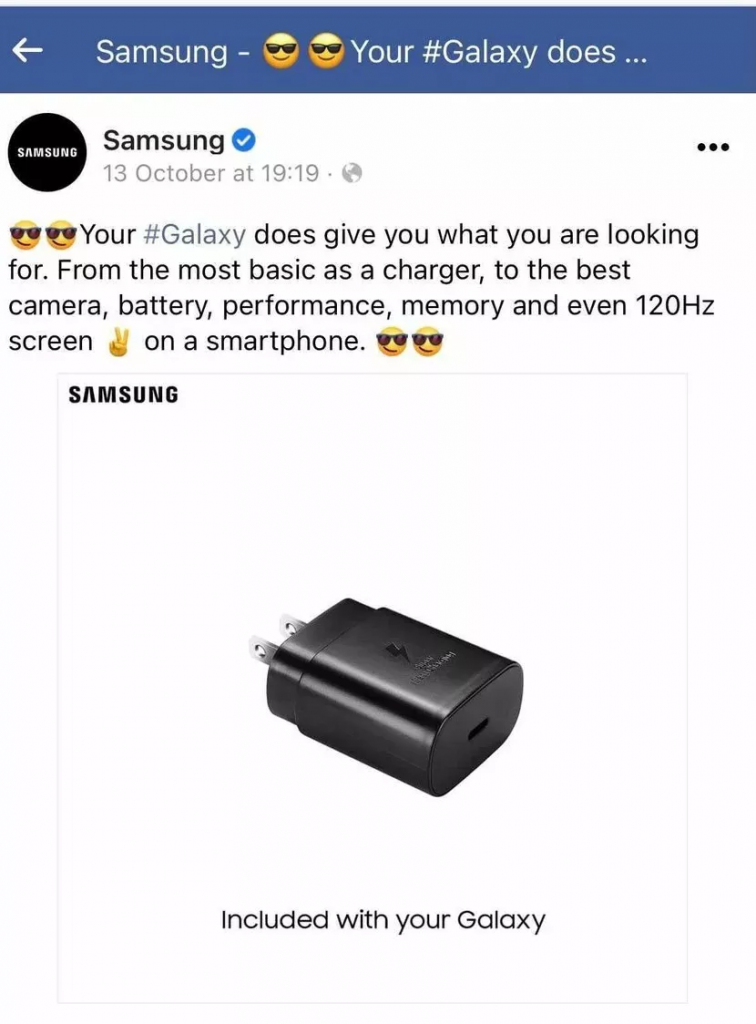 It was posted shortly after Apple announced they would not be including a charger for its upcoming phones.
It was meant to mock Apple, of course, but then those working at Samsung started seeing dollar signs in their eyes.
The ad was deleted, and some speculated that it was because Samsung was going to do the same thing they mocked Apple for: excluding chargers from their upcoming phones.
And now, we can finally confirm this.
Everything About the Newly Announced S21 Which is Cheaper But Has No Charger
The new Galaxy S21 5G will be cheaper than its predecessor, but will not come with a charger.
Just like the previous S20 series, Samsung's latest addition to the Galaxy S Series will come in three variations, all of which support 5G:
S21 5G
S21+ 5G
S21 Ultra 5G
So, how much cheaper is it?
The S20, when released, was priced at $1,298, according to AsiaOne. 
This year, the S21 will cost users $1,248, a drop of $50. 
Whether or not this price drop is worth the exclusion of the charger will be decided by Samsung users, of course.
So, what else can users expect from the S21?
Faster Internet
Since all three variants of the S21 are 5G-enabled, users can expect quicker internet speeds.
And when I say quicker, I mean up to 100x faster than 4G LTE.
Better Cameras
Love taking 4k videos on your phone? Well, the S21 might be the phone for you.
---
Advertisements
---
In contrast to previous models, the S21 series will offer 4K video-resolution recording capability at 60 frames per second (fps) across more rear phone camera lenses.
But only the S21 Ultra will get 4K 60fps across all rear camera lenses.
The Toughest Gorilla Glass Yet
As you know, Samsung phones utilise Corning Gorilla Glass (CGG) screens, which is one of the reasons they tend to last longer.
The S21 will come with the CGG Victus, which is claimed to be the toughest Gorilla Glass yet.
It was first used on the Samsung Galaxy Note 20 Ultra last year.
Processing Speed
Users of the S21 will also certainly notice an improvement in processing speed.
This is because the S21 will be on Android 11 with a Snapdragon 888 processor, which will likely increase its speed and improve its performance.
The S20 was released with Android 10 and Snapdragon 875.
Very Similar in Design
When it comes to design and displays, however, the S21 isn't very different from its older brother.
---
Advertisements
---
Both phones feature 6.2-inch Dynamic AMOLED screens, a 120Hz refresh rate, and an in-screen fingerprint sensor.
The only difference in design is the metal overlay over the rear camera module.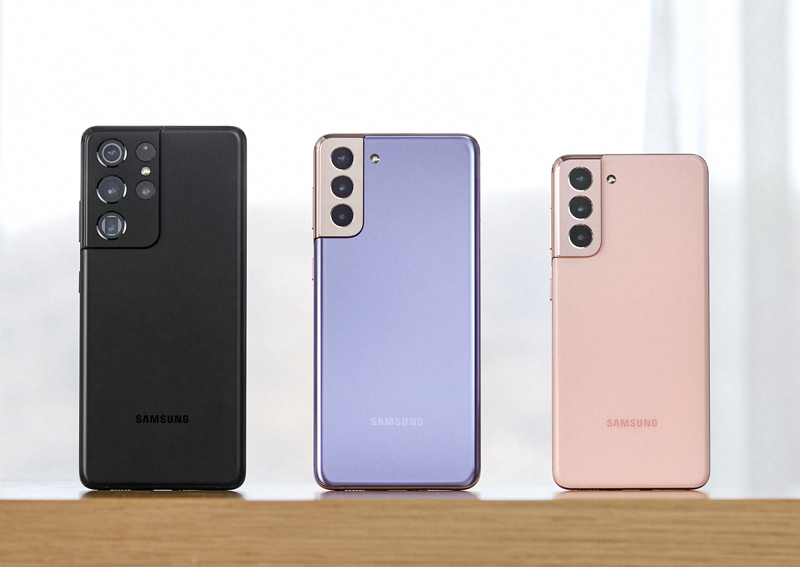 The S21 comes in phantom violet, phantom gray, phantom pink and phantom white.
Other colors are available for the S21 Plus and Ultra models.
---
Advertisements
---
Where to Buy?
If you're itching to get your hands on Samsung's latest smartphone, you'd be happy to know that pre-orders are available on the Samsung Online Store.
And from 15 Jan, 10am onwards, you'll be able to pre-order your S21 at M1, Singtel, and Starhub too.
Pre-orders with the telcos for the S21 will come with a free Galaxy Buds Live and Galaxy SmartTag worth $336.
Meanwhile, pre-orders with the telcos for the S21+ and S21 Ultra will come with a Galaxy Tab A7 10.4 (64GB) Wi-Fi worth $448.
So, will you be getting one for yourself?
---
Advertisements
---
Featured Image: Samsung
Like writing? Goody Feed is looking for writers! Click here for more info!