---
Advertisements

---
The Singapore Civil Defence Force (SCDF) is also known by another name to members of the public: The Lifesaving Force.
And just recently, SCDF proved that when it comes to lives, no one, human or otherwise, is too small.
Fire Broke Out At Bukit Panjang Mansionette
On 21 Apr 2022, SCDF was alerted to a fire at Blk 422 Fajar Road, located in the Bukit Panjang area.
The home which broke out in flames was a mansionette unit. SCDF officers had to force their way in to put out the flames.
The fire reportedly involved the contents of a service yard in a unit on the second floor and it took three compressed air foam backpacks to put it out.
20 Individuals Evacuated & 14 Cats Found
About 20 individuals from the surrounding units were evacuated as a precautionary measure.
They weren't the only ones, however.
---
Why Bird Paradise Suddenly Became Singapore's Yishun:
---
14 cats were also found unconscious within the unit.
Some of the SCDF officers were cross-trained as emergency medical technicians and they got to work saving the cats' lives.
Oxygen was provided and CPR was performed on all the cats.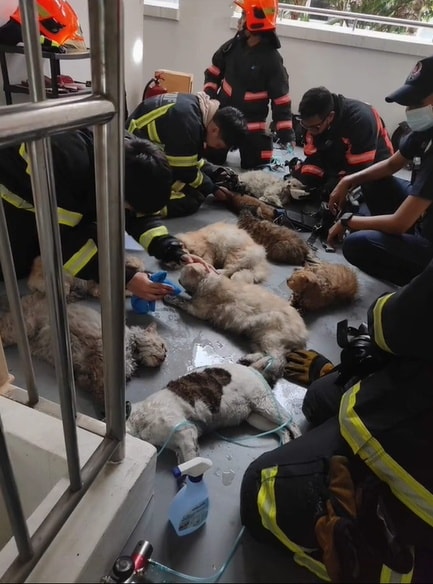 13 of the cats eventually regained consciousness while one, unfortunately, passed away.
---
Advertisements

---
And The Internet Erupted
The SCDF Facebook Post, which was uploaded on 22 Apr 2022, gained traction almost immediately.
At the time of writing, the post has over 2,700 shares and 586 comments, mostly lauding the firefighters for keeping true to their motto.


You can read the full post below:
Thank You For Saving My Family
The Straits Times managed to catch up with the owners of the unit on Friday, 22 Apr 2022.
According to the owners, no one was home when the fire broke out.
The wife was extremely thankful to the firefighters who helped to save 13 out of 14 cats found in the unit.
"I'm really grateful for their compassion and quick thinking. They didn't care that these were animals, they only thought about saving lives."
Currently, the 13 fluffy cats are being cared for by her friends, she added.
It wasn't revealed, however, what was damaged in her home as a result of the fire.
Cats Are Not Allowed in HDB
In case you missed the memo, cats aren't allowed in HDB because they're considered to be difficult to contain within the home.
---
Advertisements

---
When allowed to roam outside, cats may urinate or defecate in public areas, bringing great inconveniences to neighbouring units.
You can watch our blue cat talking about why cats aren't allowed in HDB below and why it doesn't make sense:
Currently, only Chong Pang has a pilot programme which allows HDB owners to keep cats within their homes.
Unfortunately, while it was launched back in 2012, the programme hasn't met the requirements for it to be extended to other constituencies, according to the Ministry of National Development (MND) in 2018.
You can read their answer in full here.
Read More:
Feature Image: TikTok (@ItsHambali) / Facebook (Singapore Civil Defence Force)
---
Advertisements

---