---
Advertisements

---
It's said that you can find anything on Carousell—boosting your favourite game, the (not-so) elusive chicken bags, and even Grab delivery accounts. 
Ever since the pandemic, food delivery jobs have risen in popularity, with many taking to delivery platforms to work as a side hustle.
Unfortunately, though, only Singaporean citizens and permanent residents are allowed to work as riders on these platforms. To circumvent this, people are selling delivery rider accounts on Carousell to foreigners.
Ingenious, yes, but illegal, also yes.
Accounts Rented Or Sold On Carousell
The web-based marketplace Carousell is not short of listings of delivery rider accounts, usually on popular platforms like foodpanda, Deliveroo, or Grab. 
These listings offer buyers full access to rider accounts, which means they can use them to accept and carry out deliveries.
Accounts can be rented for a monthly rate, or fully purchased from the seller. 
---
Why Bird Paradise Suddenly Became Singapore's Yishun:
---
One such account was selling for a one-time payment of a hefty $1,100. Monthly rentals on another account cost $210, discounted from $60 for one week.
The price range on the marketplace is wide—at the time this search was performed (the morning of 19 May), three Deliveroo motorcycle rider accounts had monthly rental prices ranging from $130 to $400.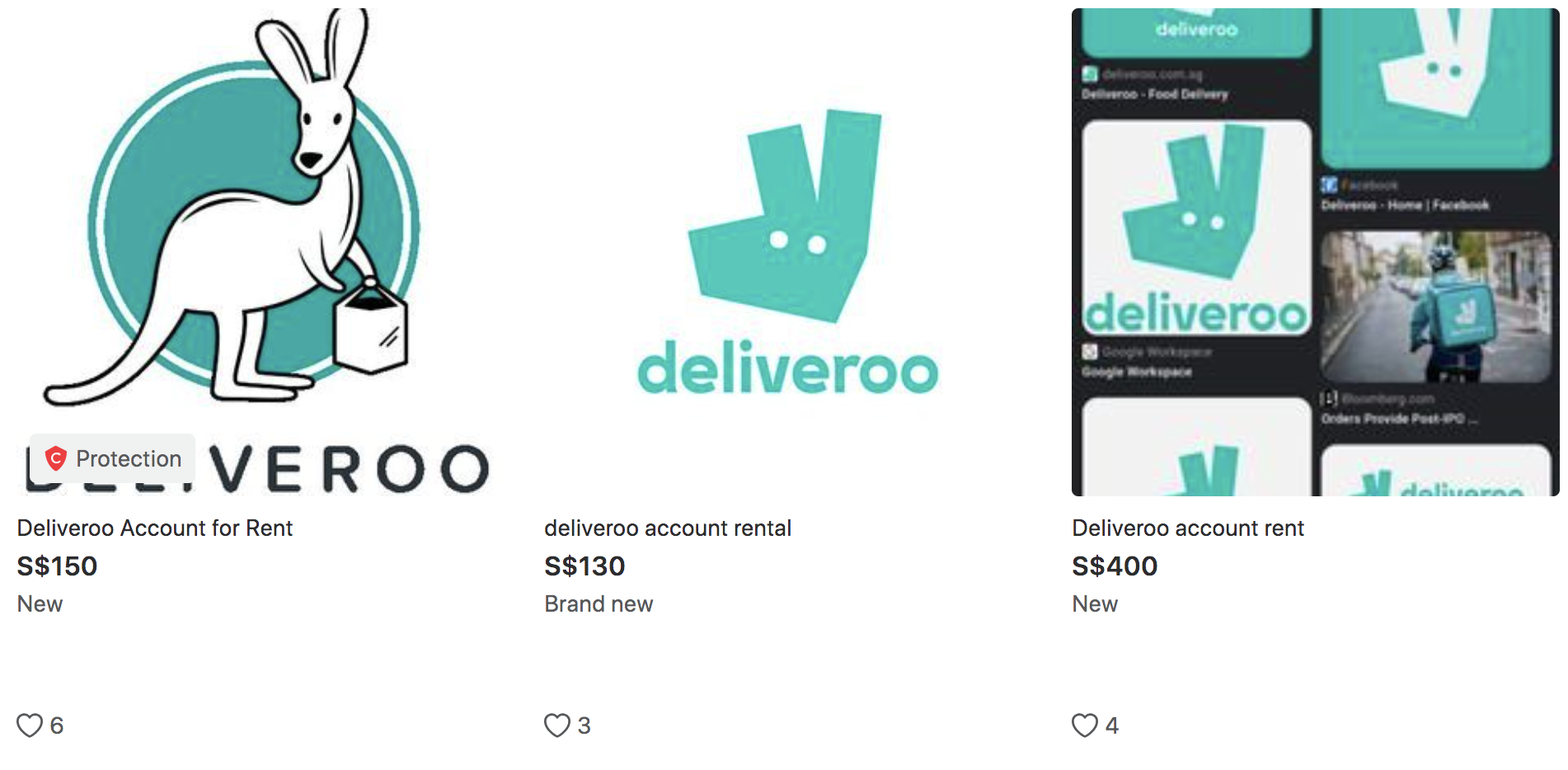 Sellers promised that all earnings on the app would be transferred to buyers, after deducting the rental fee. 
Media outlet CNA even found a Carousell listing for an account that offered four different monthly rental plans—the seller listed the account's rental fee as $90 for one month, and $920 for a year, with three months extra for free.
---
Advertisements

---
Sales of these accounts go beyond Carousell, though—apparently, a local delivery rider told CNA that there were advertisements for a food delivery rider job in a Facebook group for Malaysians trying to find a job in Singapore. 
Verification Checks On Platforms Not A Deterrent
Actually, most delivery platforms have measures to prevent accounts from being used by someone other than their original owners. 
Foodpanda has a selfie-verification feature, where riders are prompted to take a selfie at the start of their shifts. 
Deliveroo does allow riders to appoint someone else to use their account, but these substitutes must also meet the app's requirements for riders, including the residency requirement. 
The platform expressed that they have a verification protocol to prevent accounts from being used fraudulently. 
Accounts that violate the platform's rules can be suspended or blacklisted.
However, Carousell sellers are confident their accounts work just fine, regardless of the verification processes the apps require. 
One seller assured a CNA reporter posing as a prospective buyer that only Grab conducts in-person spot checks to verify identity, and other platforms would not do the same. 
Grab uses a similar selfie verification feature, prompting riders to take selfies upon logging in, at random intervals throughout the day, or after completing a delivery. 
Foodpanda's selfie verification, though, is apparently easily bypassed—all you need to do is change the account's rider picture to a picture of yourself, and the verification works just fine. 
---
Advertisements

---
Even so, this isn't advisable, because it's actually illegal. A Singaporean was fined $5,000 in 2020 for giving a Malaysian his foodpanda and Deliveroo accounts to use, in exchange for a fee.
Is It That Great Being A Delivery Rider?
The popularity of food delivery platforms and demand for riders spiked during the COVID-19 pandemic, when people were stuck at home because of circuit-breaker measures. 
However, food delivery riders recently revealed their earnings were decreasing, with one rider even saying he earnt only $90 after 11 hours of work. 
Only 33% of food delivery riders do it full time, since demand is decreasing as life slowly returns to the pre-pandemic norm.