On 12 Jan 2021, residents at Sentosa Cove were treated to an alarming sight.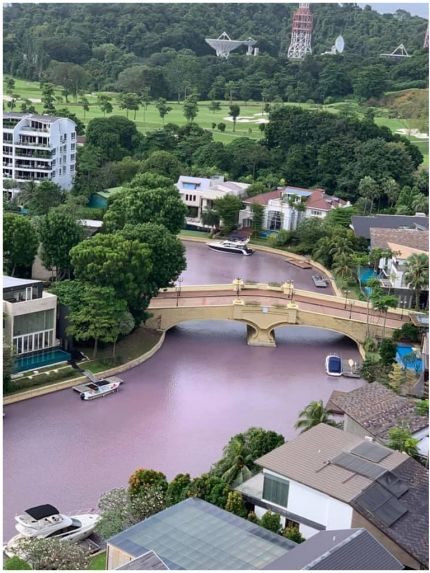 No, it's not a photoshopped image.
The water at the waterway at Sentosa South Cove really turned pinkish, alarming residents staying in the area.
It was reported that the waterway at Sentosa North Cove was not affected.
How It Started
According to reports, the entire incident started on 5 Jan 2021 when a sewage-like smell came from the waterway.
As the smell grew stronger, dead fishes also started appearing at the banks of the waterway.
Rabbitfish, moonyfish, batfish and leatherjacket fish were identified among the dead fishes spotted.
A large-scale clean up at the waterway took place on 9 Jan 2021 and on 11 Jan 2021, the Sentosa Cove Resort Management (SCRM) informed residents that no more dead fishes were found and the sewage smell has been removed.
However, the next day, residents were alarmed to see that the waterway has turned a purplish-pink.
SCRM is currently working with the National Environment Agency (NEA) to investigate the phenomenon.
SCRM assures residents that they will continue to monitor the situation and advises residents against partaking in water activities for the time being.
Could Be Due To Rainy Weather
Dr Sandric Leong, a senior research fellow at the National University of Singapore's Tropical Marine Science Institute, said that the colour change could've been caused by a "pico-cyanobacteria bloom".
The heavy rain over the past few days might've contributed to the bloom, he said.
A bloom happens when there is an accumulation of algae or cyanobacteria.
---
Advertisements
---
With the rainy weather over the past weeks, the light condition (in the water) was low, and cyanobacteria grow better in low light condition, allowing it to "outgrow" other planktons in the water.
No Indication Of Industrial Or Marine Pollution
NEA also stepped forward to say that there is no indication of pollution in this case.
As for the dead fishes, it could be caused by the bloom although it's not clear if they are linked yet.
Algae blooms can remove dissolved oxygen from the waters, leading the fishes to suffocate to death.
There are also other possible causes, such as the "toxins produced by algae blooms", or even a "high concentrations of algae species that can damage the gills of fish".
Experts are, however, optimistic that water circulation between the waterways and the sea will help break up the algae and increase the oxygen levels in the waterways.
---
Advertisements
---
Feature Image: Facebook (The Heron Of The Green Barrel)
Like writing? Goody Feed is looking for writers! Click here for more info!