---
Advertisements

---
What's a good ice-breaker question to ask?
This: Where's the best Nasi Lemak in Singapore?
Once the question is asked, you'll never have to worry about having awkward silence in the room again.
(The answer is Boon Lay Shopping Centre, BTW)
For those who are clueless as to whose opinions you should listen to, sometimes the best way is to check out the food list curated by others.
In this case, CNN Travel came out with a list of the world's best 50 food for readers to try out.
What's noteworthy is that two of Singapore's dishes are on this list too.
Which ones?
Chicken Rice and Chili Crab.
Singapore's Chicken Rice and Chili Crab on CNN Travel's World's 50 Best Food List
35,000 votes were cast by readers via a Facebook poll to determine the cuisine that should be on the list.
The top 50 list has food all over the world, from UK's Fish and Chips, to Pho from Vietnam.
Here are the Top 10 dishes:
Massaman curry, Thailand
Neapolitan pizza, Italy
Chocolate, Mexico
Sushi, Japan
Peking duck, China
Hamburger, Germany
Penang asam laksa, Malaysia
Tom yam goong, Thailand
Ice cream, global
Chicken muamba, Gabon
So where's chicken rice and chili crab?
Chilli crab is ranked 35th on the list, while chicken rice is 45th.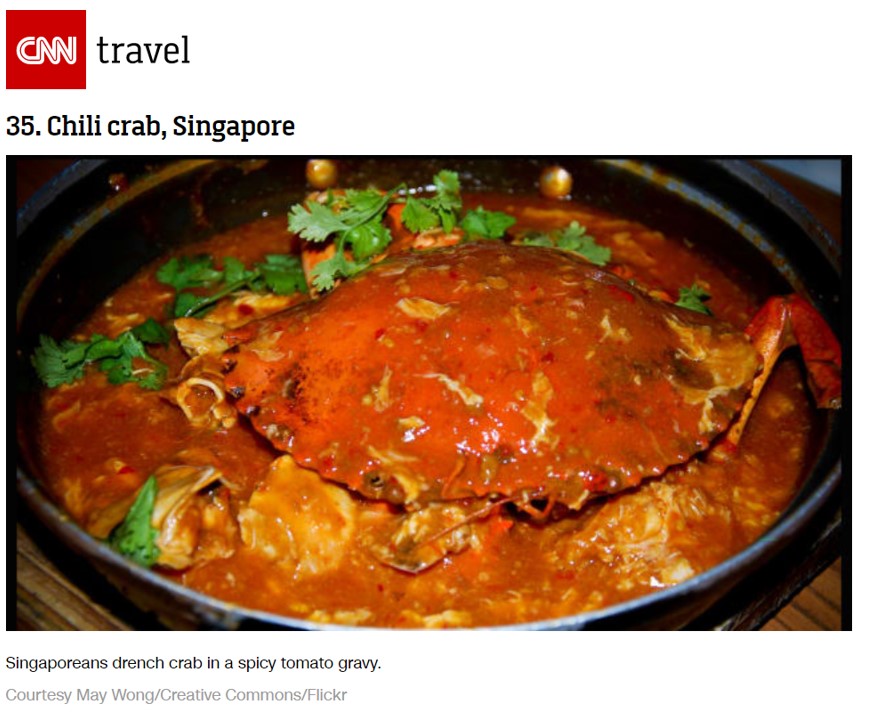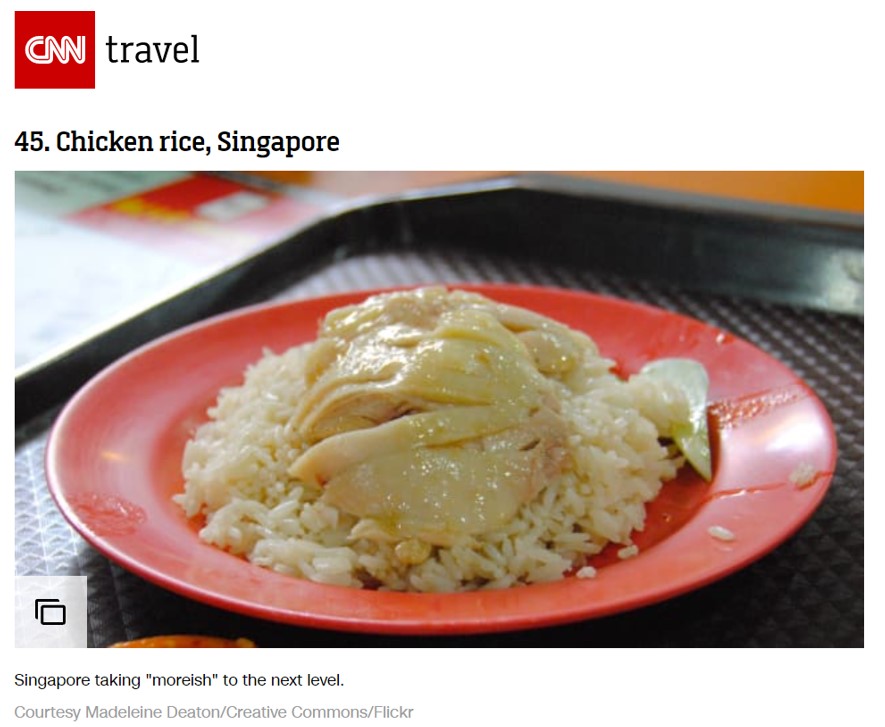 The famous chilli crab is described as a "spicy, sloppy, meaty specialty which remains as the local best seller."
As for chicken rice, it is mentioned to be 'one of Singapore's best foods', with the dipping sauces, premium dark soy sauce, chilli with garlic and pounded ginger, giving the dish that little extra oomph.
Yeap, sounds like the chili crab and chicken rice I am used to eating.
Popcorn and Donuts in the List too
If like me, you are also wondering if popcorn and donuts are the best food inventions ever, the answer is yes, as confirmed by this food list.
Ending the list in the 50th position is the must-have companion while watching movies, that is, buttered popcorn from the US.
Donuts, described as the "all-American fried wheels of dough", is ranked 14th.
While we can't travel to these places to munch on their best cuisines, we can always try their 'taste-alike' here in Singapore.
---
Advertisements

---
The Best-est Chicken Rice and Chilli Crab Places
If you're wondering where exactly the best chicken rice and chili crab are served in Singapore, check out recommendations from the Michelin guide.
Known for its one to three stars rating, some selection criteria to meet in order for a restaurant to be awarded Michelin stars are: Quality of the ingredients used, mastery of flavor and cooking techniques.
Some of the recommended chicken rice stores are Tian Tian Hainanese Chicken Rice located at Maxwell Food Centre and Sin Kee Famous Cantonese Chicken Rice at Holland Drive.
As for chilli crabs, some of the recommended places are Ang Mo Kio's Mellben Seafood and Sin Ho Sai Seafood Restaurant at Tiong Bahru.

Fresh grads, you don't need any experience to earn up to $4,200 with this "secret":
Read Also: