Before 9 Sep, not many of you may have heard of Soh Rui Yong.
The two-time SEA Games champion grabbed all the headlines recently when he issued a certain challenge to the entire country.
Beat my timing in a 2.4km race, and I'll give you S$700 in cash and 700 bottles of sports drink, he said. 
In response, most of us rolled our eyes and said, "Please, that's as easy as pie," as we ate our second bag of potato chips in bed before falling asleep.
After losing a lawsuit, however, it's now Soh who needs some money from the public.
Soh Rui Yong Crowdfunding for Lost Lawsuit; Said He Doesn't 'Have Money on Hand'
In a Facebook post yesterday (29 Sep), Soh appealed for funds to foot the $180,000 bill handed to him by a district court recently.
The 30-year-old was ordered to pay his former teammate Ashely Liew S$180,000 for defamation, including S$120,000 in general damages and S$60,000 in aggravated damages.
Soh said that after consulting with legal experts, he's confident that they have strong grounds for an appeal.
"Mainstream news reports on the case have almost entirely left out the main points we raised in closing arguments," he wrote, providing a link to another Facebook post detailing perceived "oversights" in the judgement.
While Soh and his team will be lodging an appeal, Liew's lawyers have demanded that the $180,000 be paid immediately, with another $100,000 for legal costs.
"I'll be honest and say that I don't have the money on hand. I need your help," Soh said.
He provided his phone number so residents could transfer money to him via PayNow, as well as his bank details.
He added that he will keep details of all the donors and promised to pay them back if they manage to overturn the verdict after an appeal.
"You know me as an athlete, a friend, and a person. You know what I stand for. Integrity and truth are values I will champion for no matter the odds I face. This is a long race, and this time, I can't do it alone. Please help me get to the finish line," he said.
What Happened
Liew had lodged a lawsuit in 2018 over statements Soh had made about an act of sportsmanship he was involved in during the 2015 SEA Games.
---
Advertisements
---
During one of the athletics events at the Games in which Soh was participating, Liew – his teammate at the time – noticed that the other 12 runners has missed a U-turn and taken the wrong route, which is why he had a 50m lead.
Instead of racing toward the finish line, Liew slowed down so his rivals could catch up with him. In the end, Soh won the race, while Liew came in eighth.
For his sporting act, Liew was awarded the International Fair Play Committee's (CIFP) Pierre de Coubertin World Fair Play Trophy in 2016.
Soh, however, thought the story of Liew's sporting act was "untrue".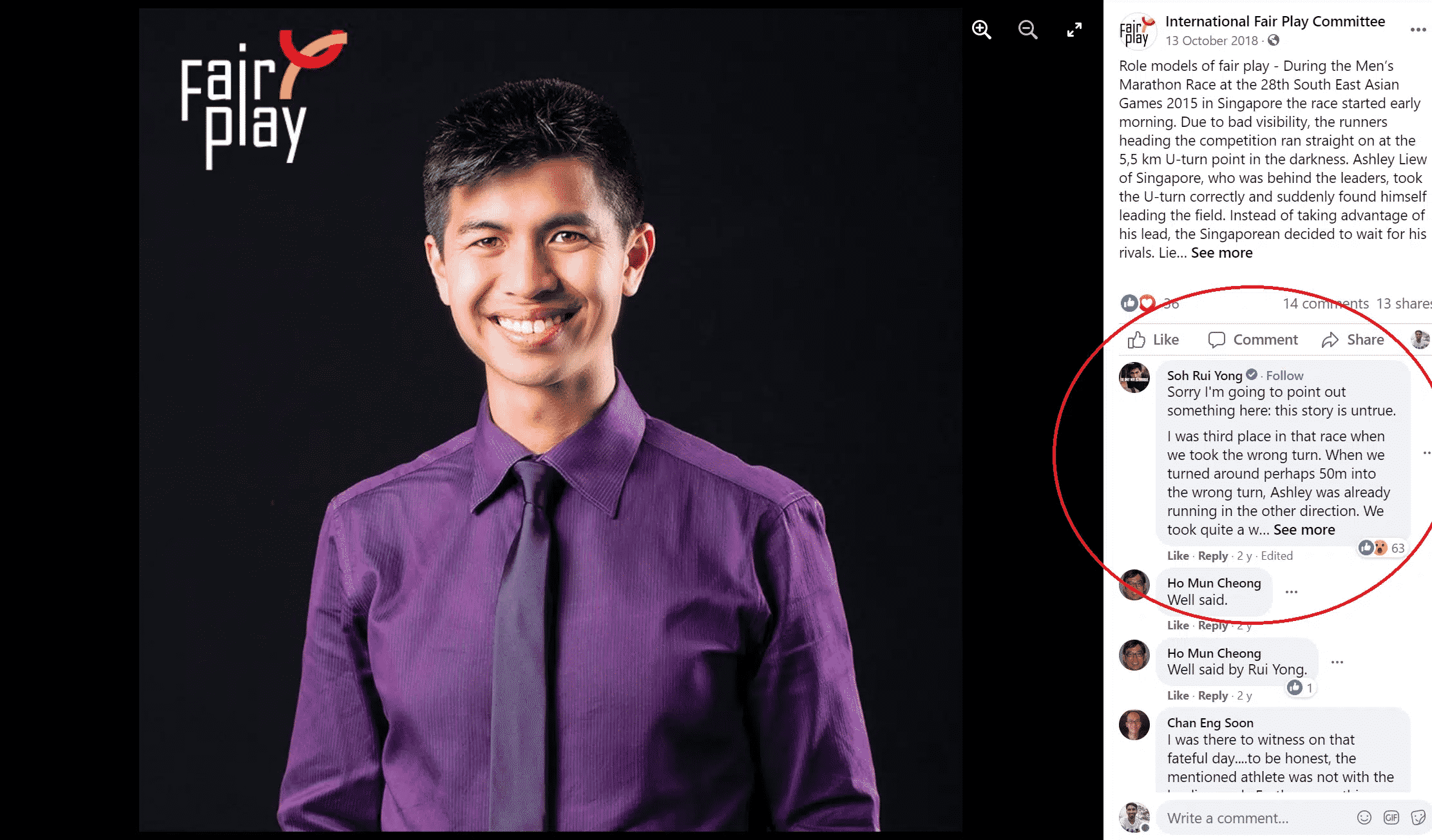 "I was third place in that race when we took the wrong turn. When we turned around perhaps 50m into the wrong turn, Ashley was already running in the other direction. We took quite a while to catch up to him (about 7 minutes), he certainly did not stop or slow down to wait for us whatsoever," Soh claimed.
He asserts that there's no evidence of the "supposed act of sportsmanship".
---
Advertisements
---
Unfortunately for Soh, a district court didn't see it that way.
The judge said that Soh's statements were "clearly an attack on Liew's integrity and credibility", and if believed by the public, would mean that Liew lacked integrity.
Soh, however, has stuck to his story.
Read Also:
Featured Image: Image: Facebook (Soh Rui Yong(苏睿勇)) 
---
This Singapore love story set in the 90s shows you why you should never wait for tomorrow. Watch it without crying: