---
Advertisements

---
On 12 January, Athlete Soh Rui Yong was lambasted for hours in court in his own lawsuit against Syed Abul Malik, a former Singapore Athlete Association (SAA) Executive Director for defamation.
In the five-and-a-half-hour court session, Lawyer Mahmood Gaznavi continuously cross-examined Soh's previous conduct and actions, before concluding that Soh was being "unreasonable" and impervious to facts because he believed what he established as the only truth.
If this is the first time you're hearing about this defamation lawsuit, you're probably confused.
Just how did a two-time South-East Asian (SEA) Games gold medallist runner get embroiled in a defamation lawsuit with a SAA Executive Director, when they're supposed to be on good terms and working together? Wasn't it all about Ashley Liew?
Well, here's how it happened.
The Alleged Defamation
Simply put, it's another defamation lawsuit, and this time, Soh is the one who sues.
Reportedly, the act of defamation that Soh pointed towards was a Facebook comment that Malik had made concerning the 2015 SEA Games Marathon that Soh had won.
That marathon itself had a bit of controversy, where Ashley Liew, another Singaporean representative, had been the one of the only participants that took the correct first U-turn which gave him a 50-metre lead.
In the spirit of sportsmanship, Liew had slowed down to let the rest catch up, a play that he was widely praised for and later received a Special Award for Sportsmanship by the Singapore National Olympic Council (SNOC) and also became the first Singaporean athlete to receive the prestigious Pierre de Coubertin World Fair Play trophy.
In that particular marathon though, Soh had taken first place.
Afterwards, he had taken to Facebook, making crude remarks that he had won on his own merit and "no one had slowed down".
This effectively purported that Liew's act of good sportsmanship was false, and indirectly insulted him as a worse runner.
Although Malik didn't name any particular runner during Soh's online spew, Malik wrote in a comment that the marathon had distorted "his sense and logic beyond repair".
Additionally, Malik had made another comment, stating that the fallbacks "seemed to have drained him of empathy, compassion, gratitude and the capability to love others".
Of course, these Facebook comments have been taken down since, though Soh has proclaimed that he had taken screenshots of those comments at some intervals and submitted them as evidence for defamation.
Join our Telegram channel for more entertaining and informative articles at https://t.me/goodyfeedsg or download the Goody Feed app here: https://goodyfeed.com/app/
Legal Letters Be Flying
Readers, you should have a rough grasp of Soh's inherent personality by now: he is proud of achievements and unwilling to be dragged down. Should there be perceived slights, he is not one to take it lying down.
In 2019, due to Soh's alleged lacklustre conduct and less-than-stellar sportsmanship, in addition to the on-going defamation lawsuit that Ashley Liew had filed against him, the seeded position for the 2019 SEA Olympics that Soh rightfully deserved by placing above third place in the 2017 SEA games was denied.
Allegedly, Mr Malik—who had been SA's Vice-President for training and selection at that time—and the SNOC selection committee had dropped Soh out of the qualifying list of athletes because of his breaches in the Athlete Code of Conduct as well as the SNOC's team membership agreement.
From Soh Rui Yong's own blog posts, he was also aware of the selection criteria, which included having good conduct and behaviour, and could have appealed but he was "not interested in an appeal on his behalf".
To really go the extra mile, Soh even published a blog post titled "SNOC has admitted to using irrelevant, subjective & extraneous criteria in 2019 SEA Games selection" on 18 August 2019, while his chances at participating in the Olympics were hanging in the balance. 
Loose lips sink ships, and this large one certainly sailed far away from him, down to the depths of the oceans. 
---
Advertisements

---
Therefore, Soh being deprived of a chance to participate in the 2019 SEA Olympics was also an active decision on his part, and him taking issue with the behaviour criteria that no other athlete had protested when it was added in 2003 was his problem.
Another claim of defamation that Soh brought forward in the Writs of Summons through his representative lawyer firm, in verbatim was: "For his transgressions, SA has attempted to counsel and reason with him, as part of a holistic rehabilitation process…"
This sentence was taken from one of the many legal letters sent between SA and Soh before the eventual Writs of Summons for the defamation lawsuit.
…might be a little brutish here, but I taste some salt.
Writs, Rights, and Wrongs
In the grand scheme of the case, are Soh's claims of defamation tenable?
Um, it's complicated. The SA and SNOC's decision for dropping Soh despite his achievements are not completely unfounded.
---
Advertisements

---
In the First Article of the International Olympics Committee's (IOC) Code of Ethics, which is a foundation for other Athlete Code of Conduct, it advocates for respect for human dignity, maintaining harmonious relationships with state authorities, and rejection of all forms of harassment and abuse.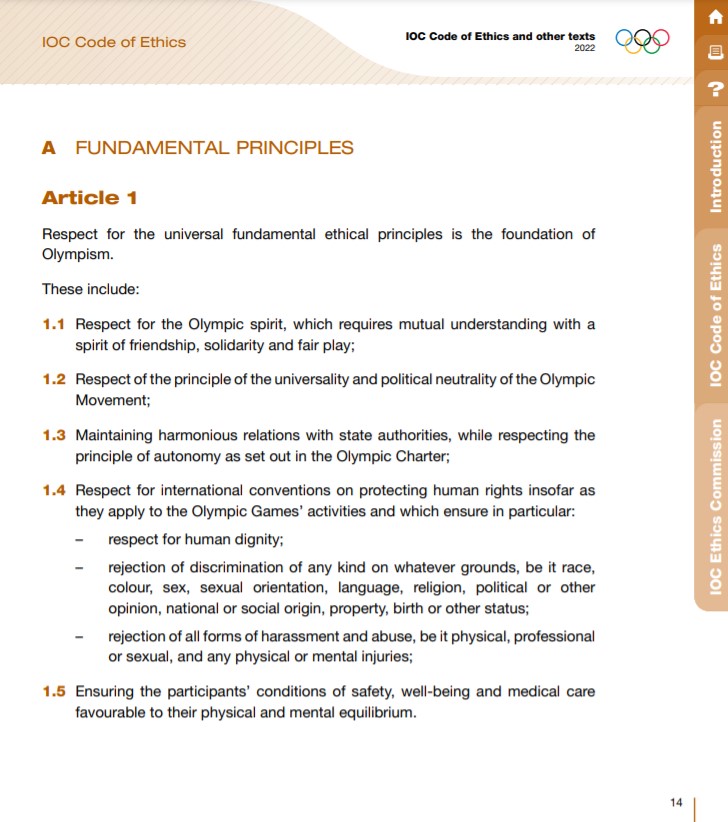 I hate to be the bearer of bad news, but those odds are against Soh.
Besides that, Lawyer Gaznavi also argued with Soh in court that the comments that Malik had made on Facebook had not negatively impacted Soh in manner or form, given that Soh had reposted the defamatory remarks before and thereby perpetuated the alleged defamation himself.
Concerning the second claim where the SA had attempted to counsel and reason with Soh, Gaznavi mentioned a meeting in Apr 2019 where Malik and former Honorary Secretary Ang Peng Siong had tried to address Soh's breach of the Code of Conduct.
However, Soh denies it, stating that it was not a counselling session like they presumed.
---
Advertisements

---
The runner then insisted that he had never known about the intentions behind the meeting and it had not been notified about it during the meeting.
Apparently, one of the objectives of the aforementioned meeting was to explain to Soh how his behaviour had been improper for a national athlete, and to offer advice on how to mend the fences with the SNOC.
After the meeting, Malik had even sent an email to the President of SA Tang Weng Fei, writing that their goals had been met.
Soh refutes that the electronic mail proves nothing because it doesn't cover what actually happened within the meeting.
Moreover, Soh also contested ever receiving any counselling from former SA Legal Adviser Edmond Pereria, the President of Local Athletics Club that Soh is a member of, but admitted that he did have an exchange with Peraria where he had tried to advise him.
It's evident that Lawyer Gaznavi's winning gambit is to frame Soh Rui Yong in an "unreasonable" light which would render his claims of defamation moot.
The Case Still Goes On
Regardless of the arduous court proceedings on 12 Jan, the hearing will have its continuation today (13 Jan).
The case is expected to carry on until next Monday (17 Jan), with illustrious sports figures like SA President Tang Wang Fei, former Olympic Swimmer Ang Pei Siong, and SNOC Secretary General Chris Chan being in the line-up of witnesses for the defendant.
---
Advertisements

---
This just marks the beginning of the lawsuit, with the starting gun bursting the entire case open with a loud bang.
Read Also:
Featured Image: Facebook (Soh Rui Yong)

Fresh grads, you don't need any experience to earn up to $4,200 with this "secret":
Read Also: