---
Advertisements

---
You know how you tell a funny story to your friends but before you can even start telling the story, you started howling like a hyena? So much so that your friends are laughing at your laughter and not your story?
That's the situation that Giggles was in when his contagious laughter went viral. It even turned into the popular "Spanish Laughing Guy" Meme.
Unfortunately, all that laughter have to come to an end.
Popular "Spanish Laughing Guy" Meme Has Just Passed Away At 65 Years Old
The popular guy from the "Spanish laughing guy" meme, passed away at the age of 65. He passed on in the hospital on Wednesday, 28 April, after a sudden relapse of a previous illness.
So…
Who is "Spanish laughing guy"?
Juan Joya Borja, or better known by his nickname El Risitas AKA Giggles, is the Spanish comedian-actor behind the "Spanish laughing guy".
The scene of him laughing uncontrollably is taken during a Spanish late-night show, Ratones Coloraos.
Giggles recounted his hilarious experience working as a kitchen helper.
He told the host, Jesús Quintero, he once left 20 paella dishes (paelleras) in the sea overnight to clean them. However, he returned the next morning to find all the dishes but one was swept away by the tide.
Like all of us when it comes to telling a funny story, he interrupted the story multiple times with his trademark laugh.
---
Advertisements

---
By the time he was finished with his hilarious act, he and Jesús Quintero were in fits of uncontrollable laughter. The original clip was uploaded in June 2007 but in 2014, the clip was reposted multiple times with totally unrelated subtitles.
From parodies of a scene from the film Downfall, depicting Adolf Hitler's last days to an Apple engineer talking about the New Macbook pro, this clip is the source of joy to many.
Giggles as a Twitch Emote, KEKW
Aside from replacing the subtitles of the clip to fit different stories and memes, Giggles face was also immortalised as a Twitch Emote.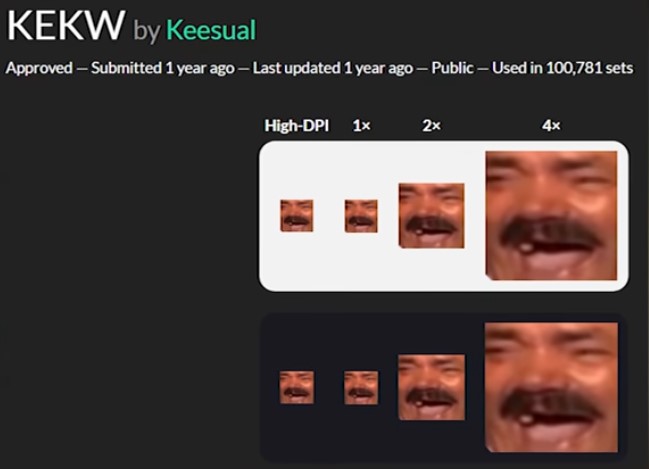 The emote is named KEKW and was created by user Keesual. It was uploaded in August 2019. Since then, over 100,000 channels use this emote.
The Spanish comedian and actor brought lots of joy to the world with his laughter. His infectious laughter spread widely when this video took the internet by storm. It even turned into an emote that help represents the maximum amusement level from the viewer to the streamer.
Hopefully, his legacy will continue to spread joy to others for years to come.
To know more about memes and how they could "change the world", watch this video to the end:
Featured Image: Youtube (ratonescoloraos)

How much cash are you getting in December 2023 from the Government? Here are the facts simplified for you:
Read Also: