When a glass window breaks, it's a real pane to get it fixed.
Well, the same applies to doors, tables and everything else in between.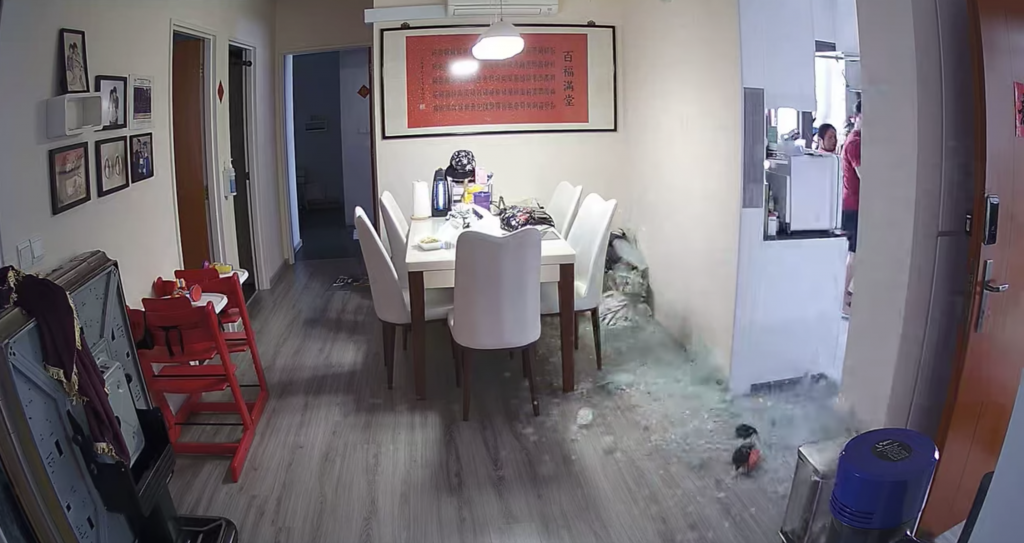 On the last day of Chinese New Year, a family was stunned when their tempered glass sliding door shattered.
This incident happened out of the blue after one of the occupants, presumably the husband, walked by the door. 
In the CCTV footage shared by Facebook user Eldora Lie, the glass door can be seen breaking into many small pieces and collapsing. Both Eldora and her husband were busy in the kitchen when they heard the crash.
You can view the video here:
This incident happened around 4pm and thankfully no one was severely hurt. In her Facebook post, Eldora commented "Thankfully that our boys and the adults were not caught at the incident. (We are really veryyyy blessed)"
They have not ascertained the cause of the shatter but along with their helper, sustained minor injuries cleaning the glass. Being a relatively large glass door, there were a total of four buckets of shards after the cleanup.
Eldora confronted her contractor regarding the tempered glass and was told that tempered glass shatters into cubes instead of pointy shards. He also added that tempered glass was just safer than normal glass.
Very helpful, indeed.
What is Tempered Glass?
Tempered glass is a "safety glass" that is processed through heating or chemical means,  increasing its strength considerably. Tempering compresses the outer surface and creates tension within the interior. As such, glass shatters in granular chunks which are less likely to be a cause of injury.
Tempered glass can be found all around us, from car windows and shower doors to screen protectors.
Other Incidents of Glass Breaking
On 19 Jan 2020, a group of friends was having a steamboat dinner when the tempered glass table shattered. When the table broke, everything on it fell, including the steamboat pot itself. The group sustained multiple injuries including burns, scalds, and cuts from the glass. 
---
Advertisements
---
In 2017, a couple returned home from work to find their glass dining table shattered. They thought that they had been burgled but slowly realised that it was the table that had "exploded" on its own.
Shards were seen all over the place, as far as the bedroom hallway. Since the shards got onto the couch, carpet, and across the floor, it was a hassle to clean. Fortunately, no one was present at the time of incident so everyone got out unscathed.
Find out what makes tempered glass shatter here.
Featured Image: Facebook (Eldora Lie)
Like writing? Goody Feed is looking for writers! Click here for more info!