---
Advertisements

---
Mobile plans can be expensive, with monthly phone bills racking up to hundreds of dollars. Horror stories have also circulated the internet, where first-time travellers often forget to turn off their data roaming, leading to huge charges that can easily amount to over $1,000. 
However, in this unfortunate customer's case, she was allegedly made to pay for Google Play transactions that she did not make at all.
The customer even received a Letter of Demand (LOD) from StarHub's legal team, warning the recipient of legal action unless the payment was made.
Here's all you need to know.
Charged for 11 Google Play Transactions She Didn't Make
On 12 March, the customer posted a detailed account of the sequence of events on the Complaint Singapore Facebook Group.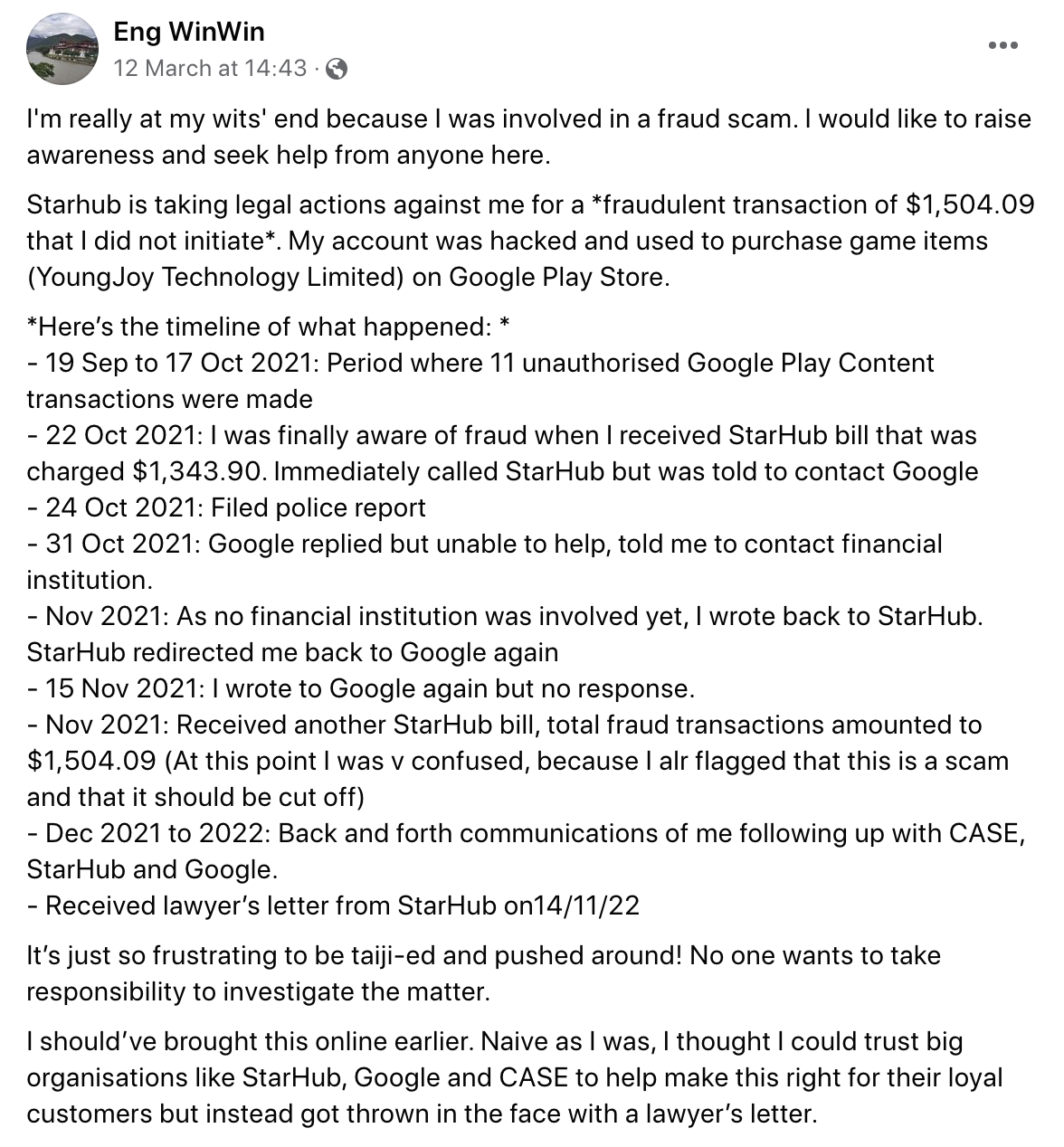 She claimed 11 unauthorised Google Play Content transactions were made on her account between September and October 2021. She only found out later in the month about it after receiving a bill on her account for S$1,343.90 and immediately called StarHub to clarify it.
However, she was directed to contact Google and did so while filing a police report. In the police report, she informed them of the "10 unauthorised Google Play Content transactions" for YoungJoy Technology Limited, which were charged to her StarHub bill on 22 October.
Google replied a few days later, stating they could not help. They advised her to approach her financial institution instead.
As no financial institution was involved, she contacted StarHub again, who referred her back to Google. 
After making a second attempt to contact Google, she received no response.
Customer receives a Letter of Demand
The customer was supposedly sent another bill from StarHub in November 2021 for an amount totalling S$1,504.09. She was also issued a Letter of Demand insisting on her compliance and threatening her with legal action.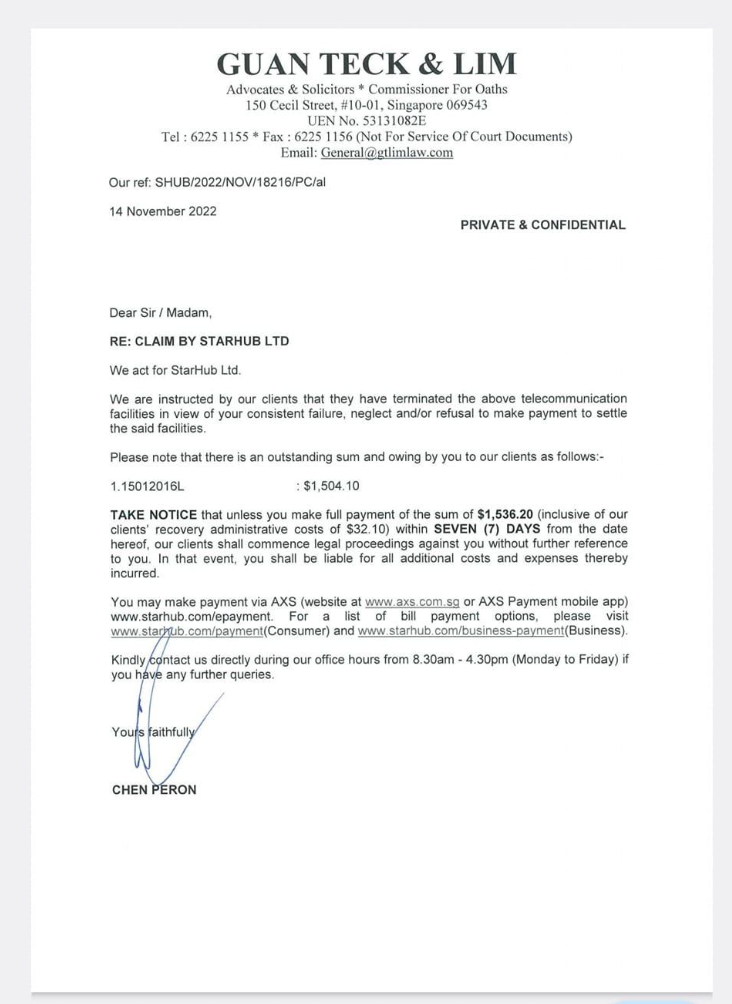 "At this point I was very confused, because I had already flagged that this is a scam and that it should be cut off," she wrote.
After that, she reported the matter to the Consumers Association of Singapore (CASE). For approximately a year, from December 2021 to December 2022, she was involved in a series of "back-and-forth" communications between companies CASE, StarHub, and Google.
Despite her efforts, they appeared to be unsuccessful as she had received a legal letter from StarHub again on 14 November 2022, demanding that she pay the outstanding amount incurred from the previous year, along with an additional recovery administrative fee of S$32.10.
"Naive as I was, I thought I could trust big organisations like StarHub, Google and CASE to help make this right for their loyal customers but instead got thrown in the face with a lawyer's letter," she added. 
Accusing the companies of lacking transparency through having no visibility of the processes between them, she expressed her unwillingness to pay for the unauthorised charges on her mobile bill.
She ended the lengthy post by wishing that it reached StarHub, hoping that they could take action by assisting her and spending resources to prevent such incidents from happening again.
StarHub Investigated The Issue, Assisted The Customer
StarHub mentioned that they had previously investigated the matter when the customer first contacted them in Oct 2021.
They reported that she had the Direct Carrier Billing (DCB) service enabled on her mobile line, which allowed users to purchase third-party mobile content by charging the payments directly to their mobile bill.
Starhub explained that they had assisted the customer by activating the Premium Rate Services (PRS) barring service, blocking any further DCB charges to her bills.
Since the charges were billed on Google's behalf, they had no access to her transactions. As a result, she was advised to seek clarification with Google directly on the unauthorised Google Play charges and whether they could be reversed.
---
Advertisements

---
Following the incident, Starhub advised mobile customers using the DCB service.
"To safeguard our mobile customers from making unintended purchases of mobile content through DCB, we offer PRS-barring services which customers can easily activate via SMS. We encourage customers to only enable DCB with third-party content providers if they want to charge their content purchases to their mobile bills."
Apparently, experiences like these are shockingly common because of this function. Someone from Goody Feed also faced a shock bill before, totalling over $400 from M1 after he signed up for a line for his parent, unaware of the default mode.
It is unclear whether the telecommunications company will take any subsequent measures, but hopefully, the customer will be able to resolve the matter soon.