Love him or hate him, you can't deny that Steven Lim is one thing:
Tenacious.
After all, he has walked arguably the thorniest road known to stardom, and yet he has never once backed down on his initial decision.
Antic-filled as he may be, one can't help but tip their hat off to him.
And it appears that Singapore's very own superstar has certainly made a decent living off it too.
With his birthday shoutout videos proving to be a real money-maker.
Steven Lim Shows His $78K Savings After Singing Over 600 Happy Birthday Songs in IG
In a recent spate of posts on social media, Steven Lim unveiled his total bank account balance…
All $78K of it.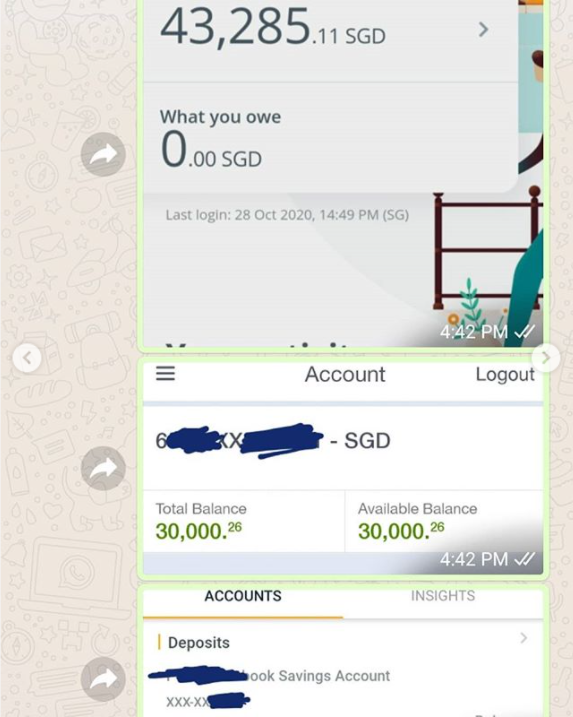 He then asked Netizens for advice on what he should do with it.
According to the post, Lim was torn between two choices:
Purchase a pre-owned Ferrari using a down payment of 78K SGD, before taking out a loan for the balance
Use 18K SGD to fully purchase a decent second-hand car
He also appealed to the public for good lawyers, as he wished to file a civil lawsuit against someone who had supposedly bullied and defamed him.
Apart from the inquiries, Lim also said he was proud to show his bank balance, which he said he "worked really hard for".
In addition, he accredited his fortune to his unique series of happy birthday/special day shoutout videos, and thanked all of his customers for their "generous support" and effort to create memories for their loved ones.
"At least they bother to celebrate your BDs n make it unique ok!!" he exclaimed, an insightful admission that's distinctly different from what his usual persona would state.
---
Advertisements
---
You can view the posts here:
Earnest Advice
If you're familiar with Steven Lim's previous "works", you would know that most of the time, his posts do not exactly attract… earnest responses.
But it seems that in this particular scenario, Netizens proved forthcoming with their responses.
---
Advertisements
---
In an unconventionally earnest manner, I might add.
Many, for instance, advised Lim to forego the Ferrari.
Instead, Netizens recommended that purchase a second-hand car or save/invest the funds.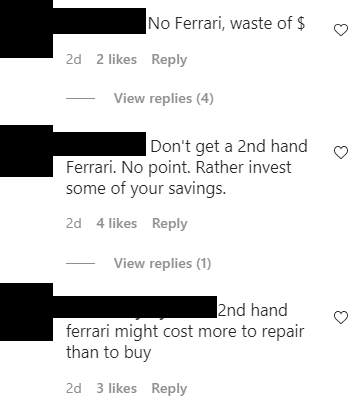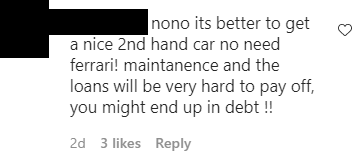 ---
Advertisements
---
Though of course, some did come up with the usual "Steven Lim" responses.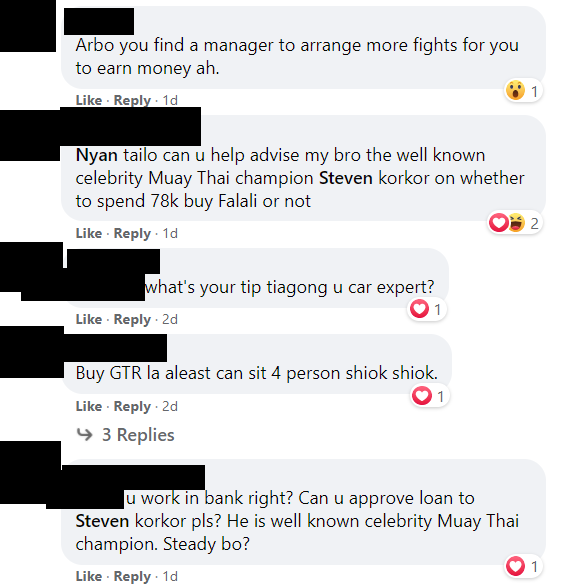 But as far as Steven Lim posts go, this one's arguably one of the more respect-commanding ones.
---
Advertisements
---
Happy Birthday Posts
Since 10 April 2020, Steven Lim has ventured into the birthday-wishing industry, and to great success.
To date, he has recorded over 600 of such videos.
Some have also approached him to do special day shoutout videos.
According to Lim's Facebook page, one such video costs S$100 to make.
Payment options include PayNow, Credit/Debit card and PayPal.
---
Advertisements
---
You can click here to find out more.
Incidentally, one such shoutout video would look like this.
Apart from birthday shoutouts, Steven Lim also offers training advice for a fee, as well as professional photo shoots for events and parties.