If you like sandwiches, you're probably a fan of Subway.
One of the reasons the fast food restaurant franchise is so popular is that it allows customers to choose an accompaniment for their meat of choice from a vast variety of fresh vegetables.
There's a wide selection of meats too, including diced chicken, ham, or even tuna, as well as a veggie patty for those who don't eat meat.
---
Advertisements

---
Well, if these options have never appealed to you, you'll be happy to learn that there's now another type of patty you can get at the sandwich chain.
Subway Launches Seafood Patty Sandwich
Feeling gill-ty over eating too much meat lately? Want to switch to fish for a change? Well, head on down to Subway and try their Seafood Patty Sub!
In a media release today, Subway announced the launch of their fintastic new sandwich as part of its desire to expand on its protein options.
The patty is made of a blend of fish, squid, and shrimp, and has a golden bread coating. So, you can expect a little crunch on your first bite, before you get to the soft patty with a mild seafood flavour.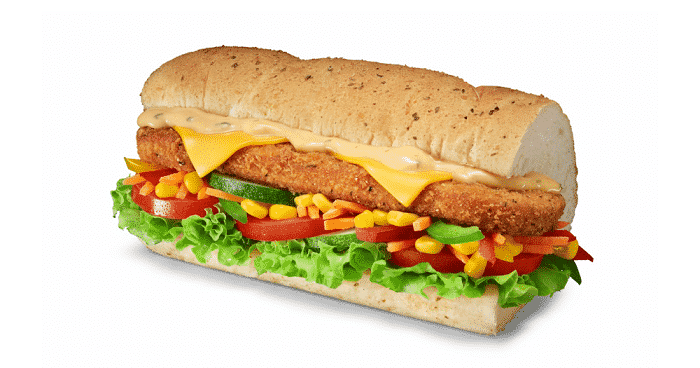 It may sound like the chefs at Subway simply threw together some leftover fish, squid, and shrimp, but this sandwich took a year of planning and research.
"The Seafood Patty underwent a year of in-depth and rigorous research to create its delicate texture and crisp exterior," Subway said.
"The patty also went through multiple rounds of internal taste tests and feedback sessions to achieve the perfect blend of fish, shrimp and squid while still being able to enjoy the unique taste of each ingredient".
Diners are free to choose their vegetable accompaniments for the new seafood patty, but Subway recommends that they have it with the following veggies to elevate the flavours of the patty.
lettuce
tomato
cucumber
mixed pepper
onions
sweet corn
It also encouraged patrons to drizzle Subway's signature spicy mayo sauce all over it, to further enhance its flavours.
Available For a Limited Period Only
Do note that the Seafood Patty Sub is only available for a limited period, from today (29 Nov) till 17 Nov, across all Subway restaurants islandwide, and on delivery platforms GrabFood, FoodPanda, and Deliveroo.
In stores, the sub costs $7.50 for a six-inch and $12.50 for a footlong.
And on delivery platforms, it costs $8.00 for a 6-inch and $13.00 for a footlong.
---
Advertisements

---
Win $100 GrabFood Vouchers in TikTok Challenge 
In its release, Subway also announced a beach-inspired, outfit-change challenge on TikTok.
$100 worth of GrabFood vouchers and exclusive Subway branded beach kits consisting of a set of reusable utensils, picnic mat, beach towel, and cooler bag will be up for grabs.
To stand a chance to win, simply:
Participating in the challenge on TikTok by showing off different beach outfits with
the "Get Away with Subway" filter and designated song, "Sunny Day"
Upload the video on TikTok by using the official hashtag #GetAwaywithSubway
Invite your friends to join the challenge
Winners will be chosen for their "combination of flair and creativity" and will be contacted via a direct message on TikTok.
Read Also:
Featured Image: Subway