Can't get enough of Harley Quinn and the rest of the Suicide Squad?
Well, you'll be stoked to know that the trailer for the long-awaited sequel/reboot of the 2016 film is here.
And apparently, it is age-restricted. No thanks to a giant walking, talking shark that goes around ripping people in half.
Oh, and also dick jokes.
The Suicide Squad Trailer is Out & It's Age-Restricted on YouTube
Earlier today, Warner Bros. Pictures unveiled the official red band trailer for the new Suicide Squad film, which is set for a theatrical release on 6 August 2021.
Despite being uploaded just hours before, the trailer has already garnered over 450K views and counting – a testament to the flick's popularity with its fans.
The 2:57 clip on YouTube starts off with a warning sign, as it is an age-restricted piece. Thereafter, we see a bus filled with absolute stars, as the likes of Idris Elba and John Cena grace an apparent attempt to rescue Margot Robbie's Harley Quinn.
Spoiler alert, she's no routine damsel in distress.
Right off the bat you get this uncanny feeling that you've seen such dynamics and rapport in another popular series before. Stay through a little bit and you'll realise that the director of the film is James Gunn.
Yeah, he certainly brought wholesome vibes from Guardians of the Galaxy over here.
For the rest of the trailer, we're treated to a pleasantly colourful atmosphere, a couple of dick jokes and a walking, talking shark that goes around ripping people in half. In case you're wondering, the shark is being played by the titular actor behind Rambo and Rocky.
But enough rambling on my part, here's the trailer for you to view yourself:
Netizens Seem To Dig It
The film certainly seems to be a huge change of pace from the recent Zack Snyder Justice League cut, which proved gritty, grim and phenomenal, all at the same time. Even so, however, Netizens are still hyped over the suicide squad's all-new colourful venture.
"Yes, I am here for this, and I am SO freaking excited," wrote one Netizen.
Another proved to be beyond enthusiastic: "Starro! Starro! Starro! Dayyem I am hyped!!"
---
Advertisements
---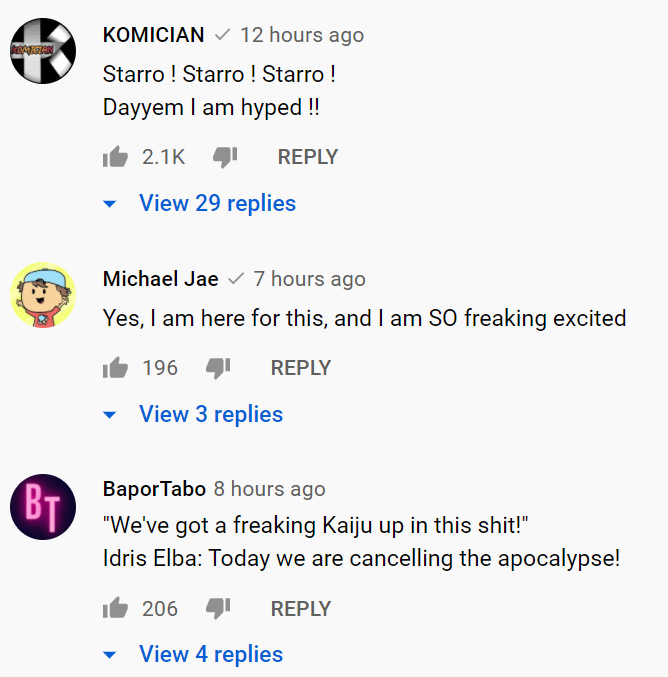 It should be noted that thus far, the trailer has 40k likes to just 1.5k dislikes.
What Do We Know About The Film So Far?
Well, for starters, Will Smith's Deadshot will not be returning for this film. However, he may appear in future Suicide Squad adventures.
Idris Elba plays Bloodsport, while John Cena plays Peacemaker. Sylvestor Stallone, as mentioned above, will play King Shark.
Interestingly, some have compared King Shark to Marvel's beloved Groot.
Meanwhile, it has been hinted that certain key cast characters from the first film may meet rather grisly ends in the lead-up to this film. Primary cast characters from this sequel/reboot may, too, be unable to escape an unfortunate ending.
The film will come to theatres and HBO Max on 6 August.
Until then, we'll wait with bated breath.
Featured Image: YouTube (Warner Bros. Pictures)
---
Advertisements
---
Like writing? Goody Feed is looking for writers! Click here for more info!