---
Advertisements

---
Sometimes, we leave our belongings behind, and retrieving them can be quite a hassle, especially if they were left behind on a private hire ride.
While most drivers are understanding and willing to help once contacted about the lost item, there are exceptions. 
One passenger in Singapore had an unfortunate experience when she accidentally left her laptop in a TADA private-hire vehicle
After realising her mistake, the passenger contacted the driver to arrange for the return of her laptop. 
To her surprise, the driver allegedly asked her how much she was willing to pay to "safeguard" her laptop.
Shocked by this request, the passenger decided to lodge a police report about the incident.
TADA Driver Requested for $100 "Safeguarding Fee" When Asked to Return Passenger's Laptop
According to the photos shared on the Complaint Singapore Facebook page, the incident occurred on Monday, 22 May 2023, around 2 pm. 
---
Why Bird Paradise Suddenly Became Singapore's Yishun:
---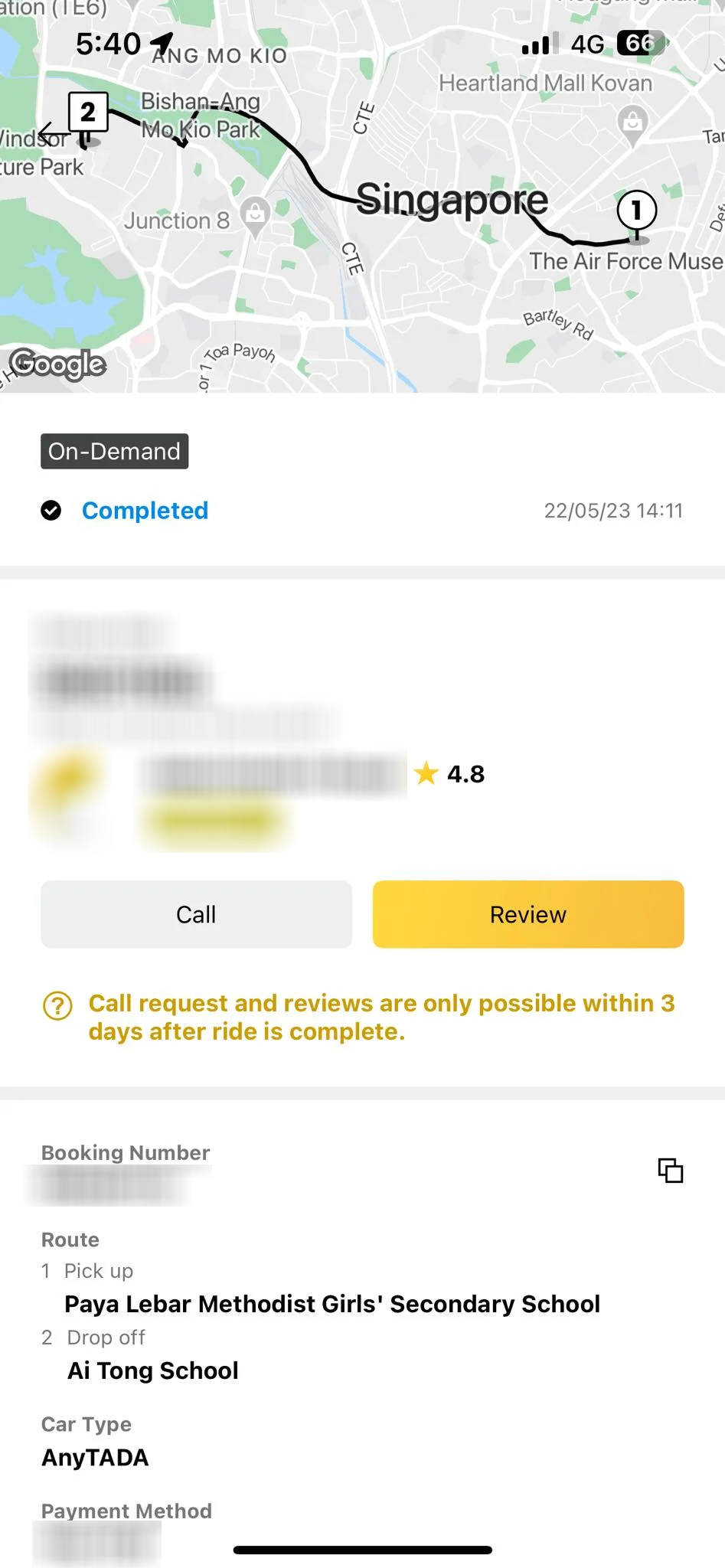 The passenger involved, Juliet Isabella, had booked a TADA ride from Paya Lebar Methodist Girls' Secondary School to Ai Tong School.
According to her post, Isabella realised she had left her laptop behind only after getting off the vehicle. 
In an attempt to retrieve her laptop, she suggested meeting the driver at his convenience and offered a token fee of $10 for his assistance in keeping her laptop safe.
To her dismay, the driver expressed dissatisfaction with the amount and refused to share his whereabouts.
---
Advertisements

---
Instead, he only shared his mobile number, indicating he would contact her to discuss the payment further.
Feeling taken advantage of in this situation, Isabella voiced her frustrations in the Facebook post and described the driver's behaviour as a form of holding her laptop hostage.
Driver Was Allegedly Taking Advantage Of The Situation To Blackmail Passenger
Isabella claimed the driver was aware of her urgent need for the laptop the following morning and deliberately exploited the situation to demand money from her.
During their subsequent communications, Isabella made two attempts to contact the driver. 
Subsequently, he requested a payment of $100, arguing that her laptop held significant value and she should compensate him for the time he spent safeguarding it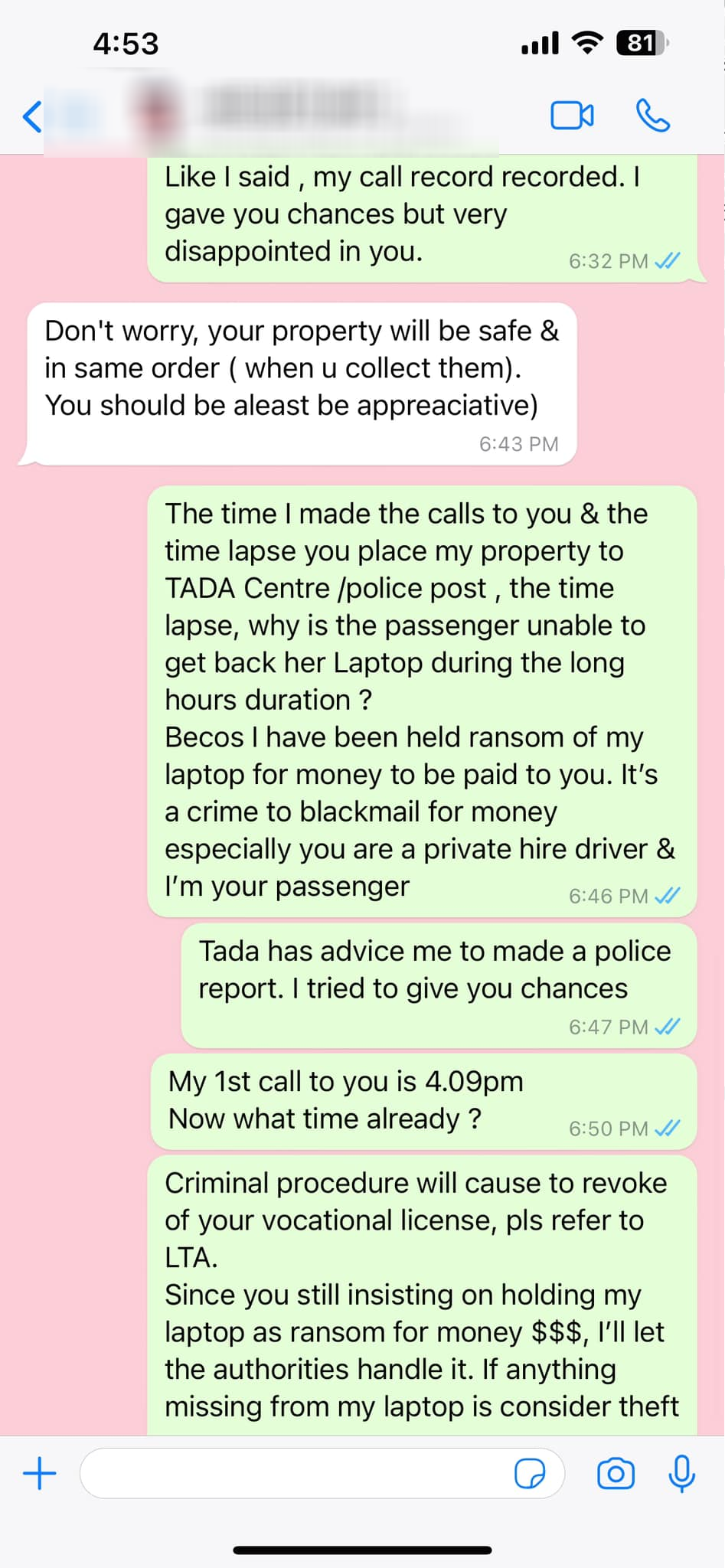 Furthermore, a screenshot in Isabella's post displayed the driver's lack of remorse. 
He sent a message to Isabella via WhatsApp, with the text implying that she should obey his demands and express gratitude for his supposed safeguarding efforts.
The driver also asserted that Isabella could only have peace of mind regarding the safety of her laptop once she paid the requested safe-guarding fee.
Furthermore, he refused to disclose his location or provide any information on where Isabella could retrieve her laptop if she refused to meet his demands.
During their final conversation, Isabella mentioned that the driver eventually reduced his demand to $50 for safeguarding her laptop.
---
Advertisements

---
However, he threatened that if she failed to pay as agreed, he would take his "own sweet time" before delivering the laptop to a police station, with no guarantee of the safety of its contents.
Isabella also alleged that the driver rummaged through her laptop bag and listed out its contents while making the threat.
When Isabella contacted TADA Singapore regarding the incident, the employee simply advised her to file a police report.
Police Report Lodged and Item Was Returned To A Police Post
In an update to the post, Isabella shared that she promptly filed a police report at 10.30 pm on 22 May 2023, following the advice of several concerned netizens and her unsuccessful attempts to retrieve her laptop from the driver.
She also expressed her disappointment with TADA Singapore's response, describing it as curt.
She believed that they could have done more to assist her and prevent the driver from extorting money.
---
Advertisements

---
However, TADA Singapore stated that the driver had contacted them about the lost item at 4.30 pm on the same day, and they ensured that the laptop was safely returned to a police post by 9 pm. 
Both Isabella and the driver have been notified of the resolution.
They clarified that their standard procedure is for drivers to return lost items to the nearest police post, TADA Singapore's station at Midview City, or directly to the passenger when it is convenient or agreed upon.
TADA also emphasised that their application includes in-app reminders as the ride nears its destination, reminding passengers to be vigilant about their belongings and not leave anything behind. 
TADA highlights that this would serve as a helpful reminder to avoid unnecessary inconveniences and ensure the safety of personal items in the future.
---
Advertisements

---
Issues Have Been Found With TADA's Drivers In The Past
TADA, a private-hire ride-hailing service that has been operating in Singapore for years, is primarily known for its more affordable hiring fees.
The platform does not collect commission fees from drivers, allowing it to price its fares lower than the market rate from more prominent platforms such as Grab.
However, while affordable, like the driver involved in the abovementioned case, TADA Singapore's drivers have been noted to display unprofessional conduct in the past.
Just last month, in April 2023, a TADA user shared that her driver went to the wrong pickup point when she booked a ride from the platform.
Yet, the driver still yelled at her for being too slow to arrive at the incorrect pick-up point and charged her a waiting fee even though she wasn't late.
During the entire ride, he was also driving very haphazardly and caused her baby to cry.
Similarly, Isabella has expressed her disappointment with TADA's service, describing the rider and their response to the situation as highly unprofessional.