---
Advertisements

---
Last Updated on 2023-07-11 , 8:57 am
If you're looking for your next Instagrammable spot, we might have just the thing for you at Tampines.
(Emphasis on the "might", but hey, that's better than nothing, right?)
And I'm not talking about the infamous red lift lobby and Housing Development Board (HDB) block at Tampines GreenVines that's equal parts intriguing and horrific.
On Tuesday (4 July), Member of Parliament (MP) for the Tampines Group Representation Constituency Baey Yam Keng announced on his Facebook account that some HDB blocks in Tampines North will be getting a new coat of paint in the near future.
Mr Baey, who is also the Senior Parliamentary Secretary for Sustainability and the Environment and the Senior Parliamentary Secretary for Transport, highlighted how the designer came up with a design based on the iconic aeroplane chess game that all Singaporeans would've grown up playing.
The repainting works, which will apply to Blocks 472 to 484 in Tampines North, allow residents to choose from three designs.
The first design, called Scheme 1, retains the exact colour scheme and current appearance of the blocks for residents who do not want any design changes to be made to the blocks.
Schemes 2 and 3 feature the same aeroplane chess-inspired designs but in different colour schemes.
In particular, Scheme 2 features the classic red, yellow, green and blue colour palette, while Scheme 3 has more muted tones of red and grey.
From now until 16 July, residents in the area can vote for the design they like the most.
According to Mr Baey, the Tampines Town Council will use the design with the most number of votes in the upcoming Neighbourhood Renewal Programme in the area.
Netizens' Reactions: Many Found the Designs Interesting
In the comments section of Mr Baey's Facebook post, several netizens expressed their approval of the designs.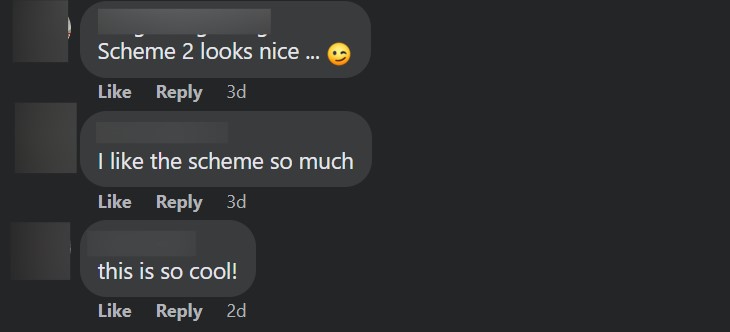 Others on Reddit, where the post had been shared to r/singapore, also had positive things to say about the designs.

Several Netizens Disapproved of Design
On the other hand, other netizens were not so fond of the idea.
Several netizens disapproved of the design, citing concerns regarding property value and appropriateness.
One user on Reddit pointed out that the obvious design might affect the HDB flats' property value.

Several others also mentioned that the design looked like "a plane hitting a building" and a "target board".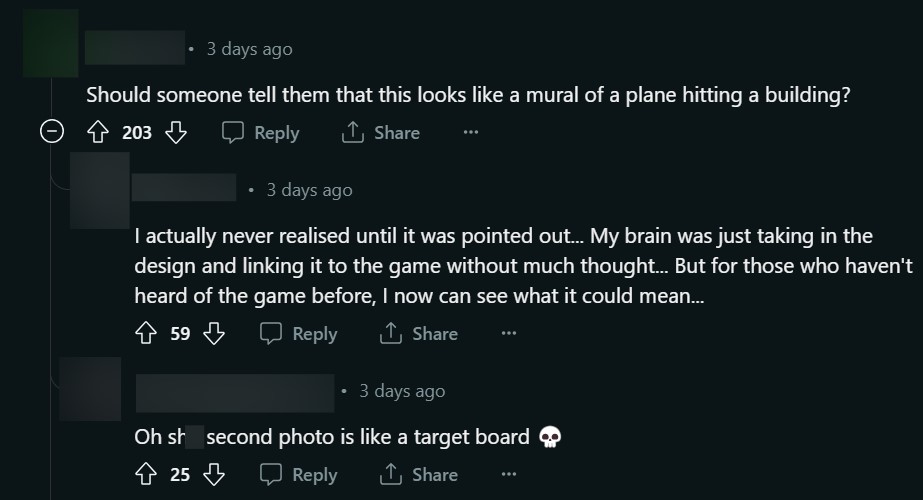 There were also netizens who asked if there was an option with more neutral design elements.
Others Pointed Out that There's No Way to Please Everyone
While most were engrossed with the unique designs, others remembered the blood-red horrors of the Tampines GreenVines blocks.
---
Advertisements

---
Some questioned if the lift lobbies were going to be painted based on the colours, just like how the blocks at Tampines GreenVines initially were.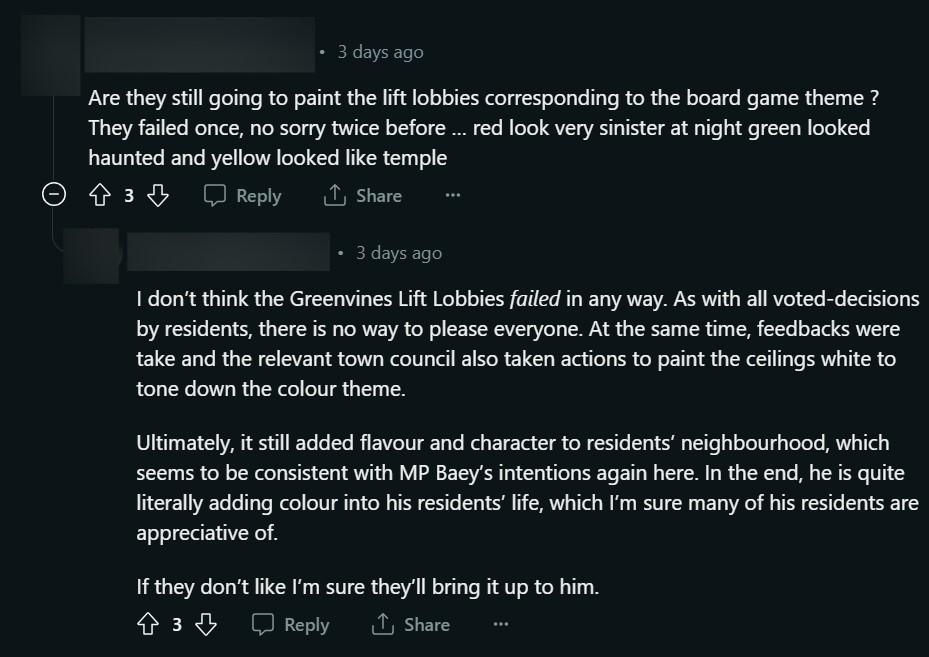 However, another netizen pointed out that if the residents had issues with the designs, they would contact Mr Baey directly.
(AKA there's no need for others to complain on their behalf.)