---
Advertisements

---
No one likes to see animals suffer.
Actually, let me rephrase that. Most people don't like to see animals suffer. Some people inexplicably enjoy it, while others aren't too bothered by it.
These days, when people witness what they believe to be animal abuse or cruelty, they're naturally going to bring it to light on social media.
And that's what happened last week. Only this time, things took an unexpected turn.
Netizen Accuses Jurong Temple of Mistreating Dog
Last Thursday (16 Sep), Facebook user Melody Yap penned a lengthy post about a caged dog she had found in Sheng Hong Temple, located in Pandan Gardens.
Yap alleged that the temple had kept a dog caged at their premises since it was a puppy.
Yap was appalled by the dog's living conditions, claiming the cage was filled with dried-up poop, an "algae-filled water bowl", and "leftover human food filled with bones."
She even had the pictures to back her accusations up.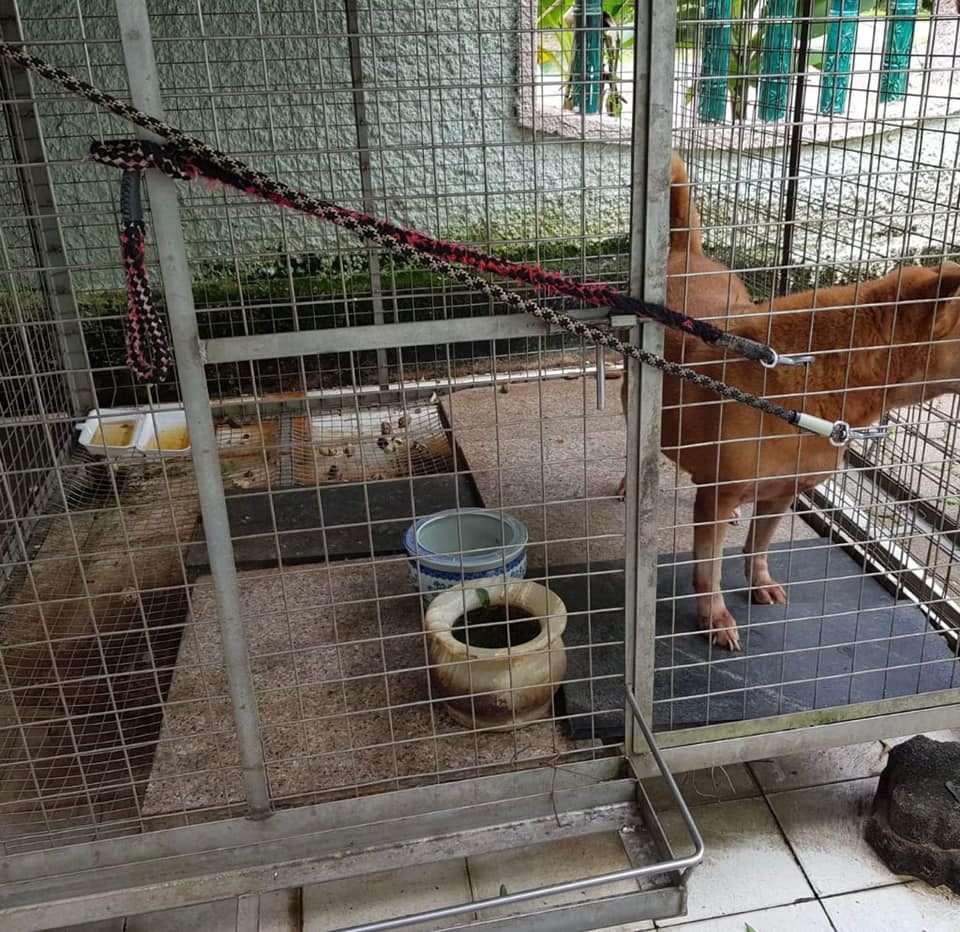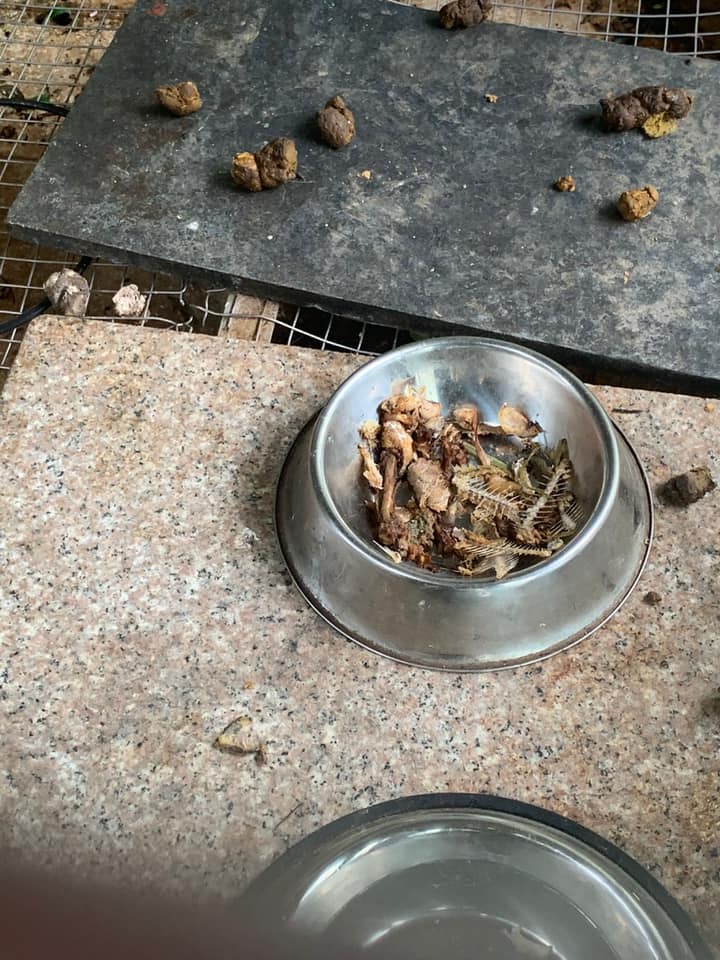 The netizen claimed the dog barely had any space to move around, eat, or sleep, and that there were rats running around the premises.
To her horror, the temple was being fumigated at the time, and the dog had no choice but to get "engulfed in the poisonous smoke".
Welfare Group Shares Netizen's Post
Saddened by what they saw, a welfare group called Chained Dog Awareness Singapore (CDAS) shared Yap's post on the same day, asserting that no one has the right to keep dogs in captivity.
"If anyone wishes to witness how she suffer just make a trip to the temple and if her plight touches you, appeal to the temple to give back her freedom," it said.
"Let's join force to help this poor dog."
Temple Responds, Threatens Legal Action Against Accusers
Two days later, Sheng Hong Temple responded to Yap's post, calling her allegations "false".
It said it's very common for a religious organisation to keep a dog inside its temple and that while some people believe the temple has not done a "perfect job" in taking care of the dog, it thinks otherwise.
It pointed out that "June" is fed two meals a day, washed regularly, and is housed in a shelter that is in compliance with requirements set out by the Animal & Veterinary Service (AVS).
The temple added that it has contacted the relevant government agencies to seek their views on the matter and further improve June's living conditions.
It explained that the dog is only kept in the cage during the day to keep it away from visitors, and that it will soon be housed in a bigger cage.
According to the temple, Yap identified herself as a reporter when she approached them.
---
Advertisements

---
It said that it will "seek verification of her identity" and reserves the right to take legal action against the woman and CDAS.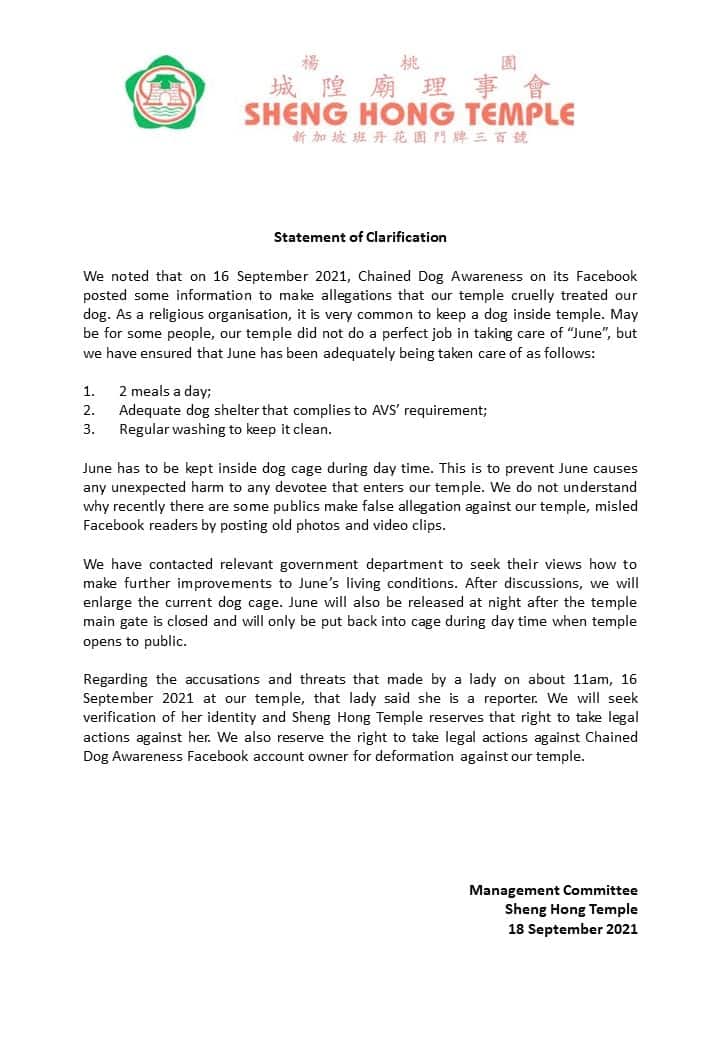 Humbly Appealed to Temple to Release June
CDAS responded to the statement with another post on Facebook yesterday.
It detailed the new lease of life given to Buddy, another dog that had previously been caged and has since been adopted.
"On the other hand, June is still confined to the cage in Sheng Hong Temple. She is already estimated to be 9 years old and even if the temple allow her to be free roaming at night, she could have enjoy the same life as Buddy, be part of a family who will bring her for walks regularly and a soft bed to sleep at home. How many more years does she have?" it said.
"…we sincerely wish for the same outcome for June and therefore humbly appeal to the temple to set her free."
---
Advertisements

---
You can read the full post here:
Read Also: 
Featured Image: Facebook (Melody Yap)

Fresh grads, you don't need any experience to earn up to $4,200 with this "secret":
Read Also: