---
Advertisements

---
Last Updated on 2023-04-12 , 10:01 am
If there's one thing that all Singaporeans love, it's travelling overseas to try and escape the heat here.
(And to gorge ourselves with cheap food, but that's a discussion for another day.)
But it seems like a popular travel destination might not be the best place for Singaporeans to beat the heat in the near future.
Instead, it's almost as if you'll have a better chance of beating the heat by staying in Singapore.
And that place is none other than Bangkok, Thailand.
Just yesterday (6 April), a sky-high heat index of 50.2°C was recorded in the Bang Na district in Bangkok.
Based on records from the Thai Meteorological Department, the next four highest temperatures in Thailand yesterday (6 April) were recorded in Laem Chabang, a city in Chonburi province, Phuket, Si Sa Ket and Phetchabun.
The heat indexes for these areas were 49.4°C, 47.9°C, 41.5°C and 40.6°C respectively.
Yup, looking at these temperatures is already making me sweat.
Heatwave Observed Across the Country
Apart from the intense temperatures recorded, the Thai Meteorological Department also uploaded a series of choropleth maps on 6 April.
---
Advertisements

---
The latest one, which was uploaded at 4 pm local time, showed the following: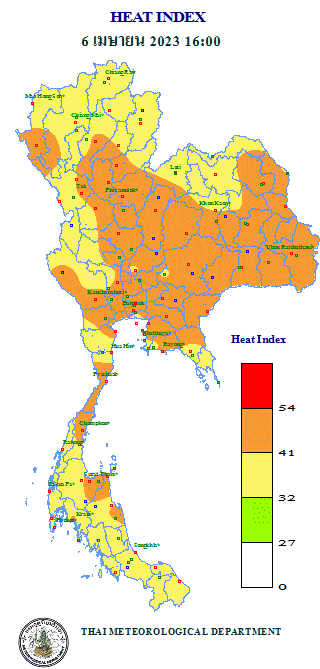 Around half of the map was covered in orange, an indicator for regions with heat indexes over 41°C.
The other half of the map was denoted by yellow, indicating that heat indexes for these regions fell between 32°C and 41°C.
In the map, orange signifies a "dangerous level" while yellow signifies a "warning level".
Additionally, the highest classification in this map system is red, which represents temperatures over 54°C. Red-coloured regions are classified as "very dangerous".
And for those wondering what the difference between temperature and heat index is, the National Weather Service in the US explains that the latter measures the temperature detected by the body when relative humidity and air temperature are put together.
Apart from that, The Nation also reported that the Department's forecast showed that North and Central Thailand, such as Bangkok, might experience summer storms later this week.
These summer storms have also been affecting the lower Northeast and Eastern provinces of Thailand.
What Not to Do in Hot Temperatures
Based on the heat index map guidelines by the Thai Meteorological Department, human beings are at a "relatively high risk" of heat illness when the heat index falls in the orange region.
As such, outdoor activities should be limited to a maximum of 30 minutes.
---
Advertisements

---
According to the US Centres for Disease Control and Prevention, heat injuries may range from rashes and cramps to heat exhaustion and heat stroke.
Heat stroke, the most severe heat injury, takes place when one's body can no longer regulate its own body temperature.
It may cause seizures, extremely high body temperatures, confusion, slurred speech and loss of consciousness.
Heat strokes may even also cause permanent damage or death in severe cases.
Join our Telegram channel for more entertaining and informative articles at https://t.me/goodyfeedsg or download the Goody Feed app here: https://goodyfeed.com/app/
How to Prevent Heat-Related Conditions
And if you're already packing your luggage to head to Thailand, here are some things you should remember.
Apart from ensuring that you are hydrated at all times, other ways to prevent heat injuries include wearing light clothing, putting on sunscreen, pacing yourself and staying indoors as much as possible.
---
Advertisements

---
The California Department of Public Health also recommends a buddy system to ensure the safety of both you and your loved ones in times of extreme heat.
Previously, the Bangkok Post also reported that Dr Opas Karnkawinpong, Thailand's Permanent Secretary for Public Health, said that members of the public should refrain from consuming tea, coffee, carbonated drinks and alcohol during this period of time to remain hydrated.

Your parents are wrong: MSG (Monosodium Glutamate) is good for you (sort of). Here's the truth:
Read Also: