---
Advertisements

---
A Tiktok user by the name of Khristopher went viral on Tiktok and Reddit when he posted a video of his masked self taking the train with the caption attached, "Covid Positive can go out meh?"
In the background of the short nine-second video, Eminem's Without Me plays, with the lyrics going, "'Cause we need a little controversy. 'Cause it feels so empty, without me. Hey na na na na, la la la la la."
Nice song choice, you're really adding fuel to the fire there and we could really use without you.
The video currently boasts more than 144,6000 views, with the comments being split between criticising him for being selfish and having to be more socially responsible, while others point out that he has served his full self-isolation period and he isn't wrong.
Hence, the most important question to answer here should be: Is Khristopher right or wrong in this situation?
Verdict: Khristopher is Correct
After his short Tiktok video blew up on the social media platforms, Khristopher fearlessly stepped out two days later to explain the entire situation.
Firstly, he clarifies that the Reddit user who posted his train Tiktok video had re-captioned and thereby misconstrued the meaning of his video, which made other viewers jump to the wrong conclusions.
The truth of the matter is that Khristopher has finished isolating himself for seven days as dictated by the COVID-19 quarantine protocols, which can easily be proven by his own Tiktok videos.
The best and worst part about being isolated is the boredom, which prompted him to film his entire self-isolation journey from Day One to Day Seven, some of which include him taking Antigen Rapid Test (ART) and entertaining himself with the figurines he bought.
Those who accuse him of not following the protocols don't really have a leg to stand on.
---
Advertisements

---
Then, he goes on to explain the rationale of the provocative train Tiktok video and the intentional choice of music in the first place:
It was his goal to educate the Singaporean public about the new self-isolation protocols that came into effect in 2022, where fully vaccinated people who tested positive for COVID-19 but barely experience any symptoms are allowed to self-exit from isolation after seven days and their ART show negative results.  
"These are things that I learned during and getting COVID." Khristopher said, before he continued, "COVID is real. Guys, but we must be educated about the guidelines we have in our current country, okay?
"Because the economy needs to move on. We need to go back to work."
The pandemic has been around for nearly two years, finally with an end in sight as most of our population is fully vaccinated and on their way to getting the booster shots to maximise the vaccines' effectiveness against the virus.
With all that has been said and done, it's time to start moving away from COVID-19 and regain some normalcy. 
Join our Telegram channel for more entertaining and informative articles at https://t.me/goodyfeedsg or download the Goody Feed app here: https://goodyfeed.com/app/
COVID-19-Related Isolation Measures in Singapore
Presently, there are three protocols in place for COVID-19-Related Isolation Measures.
Protocol 1 concerns high-risk individuals who are either the elderly, pregnant, or the immunocompromised. It requires the patient to visit the doctor via private transport and to take an Antigen Rapid Test (ART) or a Polymerase Chain Reaction (PCR) test, regardless of their symptoms are mild or sever.
High-risk individuals will receive an Isolation Order via SMS, and they have to remain quarantined for 7 or 14 days, depending on their vaccination status and their age.
---
Advertisements

---
Protocol 2, which Khristopher falls under as a fully vaccinated individual who has contracted COVID-19 but feels physically well, states that he has to isolate himself for at least 72 hours.
Individuals that fall under Protocol 2 need to isolate themselves at home and continue taking ARTs until their results become negative, before they are allowed to release themselves from the self-isolation.
Protocol 3 is for individuals who came into close contact with a COVID-19 case.
Individuals in this category may receive a Health Risk Warning depending on whether they have come into close contact with a COVID-19 case, but are nonetheless expected to self-isolate, monitor their own health and take ARTs at home.
If the results prove to be negative, they are free to leave their houses the same day they received the Health Risk SMS, otherwise they have to follow either Protocol 1 or 2.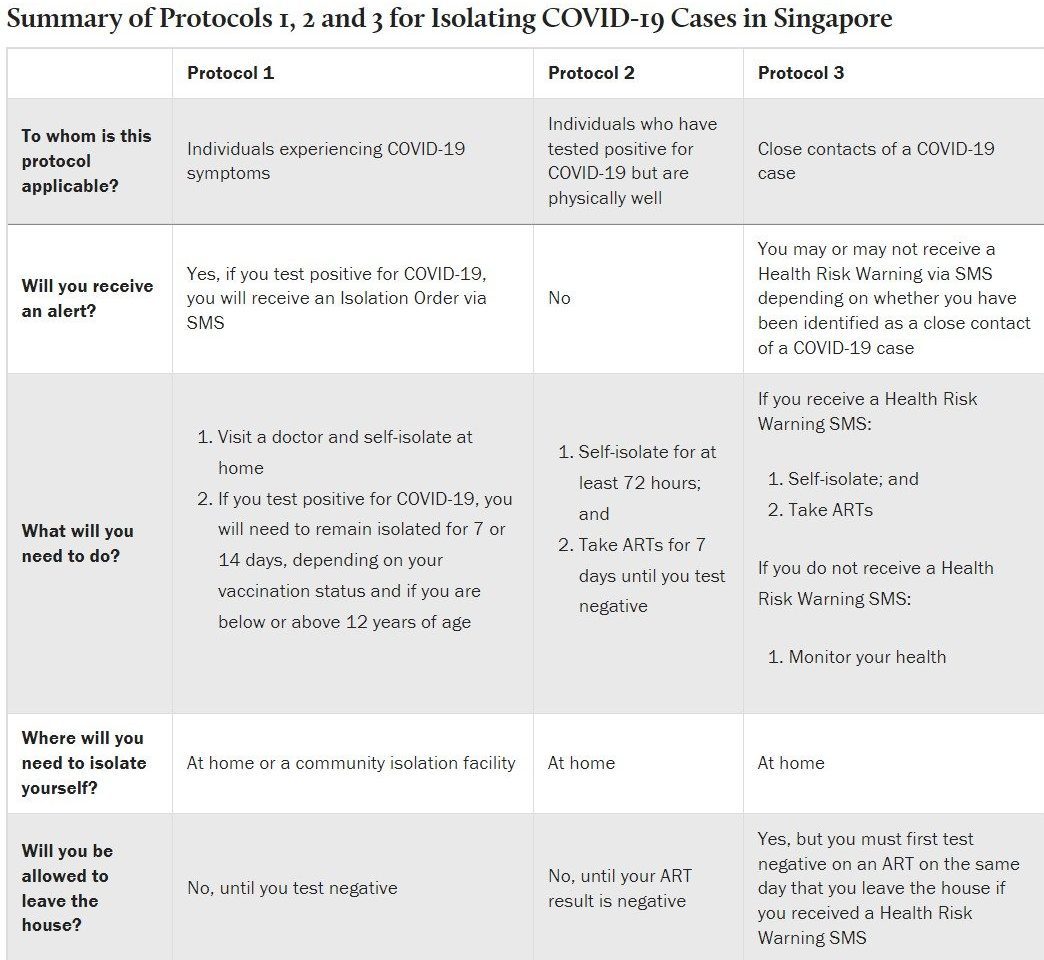 There is No Controversy
Therefore, the entire "socially irresponsible" narrative is actually false.
---
Advertisements

---
Just as Khristopher has said, he has completed his mandatory 7-day self-isolation until his ART showed a negative result, which meant that he was free to go out again.
He was masked, has recovered from COVID-19, as proven by his own Antigen Rapid Test, and was practicing social distancing on the train.
By all counts, he is right in saying that we need to be aware of the COVID-19 related measures as the country slowly shifts out of Code Orange and partial vaccination-differentiation safety management measures.
In fact, the Ministry of Health (MOH) echoes the point that he's trying to drive home. 
After all, the MOH deliberately adjusted these protocols in this manner to ensure that the limited medical resources go to those who need them the most, and to enable patients to return back to their normal lives as soon as possible once they are able to do so.
---
Advertisements

---
Khristopher knew what he was doing.
In a way, he succeeded in sending his message too.
It caught your attention, didn't it?
Read Also:
Featured Images: Tiktok (@kpherluke)

Here's why a 4-day workweek might finally really be possible in Singapore soon:
Read Also: