You are not alone if you have noticed that the sizes of condominium units and HDB flats have been shrinking over the years. 
Nowadays, living rooms and bedrooms seem less spacious, with the latter barely accommodating a single bed.
This trend towards smaller flats and units with shorter leases in Singapore's housing landscape has been attributed to demographic shifts, where family units are becoming smaller. 
But fret not; although smaller units may present space constraints, Smartbed offers various smart space-saving beds and other furniture to help you maximise your space. 
Besides its affordable furniture, you can win attractive prizes by visiting Smartbed's four showrooms during their 6th anniversary Treasure Hunt from April to May 2023! 
Smartbed's 6th Anniversary Treasure Hunt
Smartbed is celebrating its 6th anniversary in May 2023 and has organised a treasure hunt event from 26 April 2023 to 25 May 2023 at its four showrooms in Ubi, Woodlands, Bukit Batok, and Serangoon—which is basically every part of Singapore.
There is something for everyone at Smartbed as they offer a wide range of furniture optimised for shrinking homes in Singapore, including Murphy beds, storage beds, and multi-functional furniture.
Customers who purchase from Smartbed will receive clues about the treasure hunt and can search for winning slips hidden around their showrooms. I don't know about you, but chances are, don't bet on them hiding under the bed: that's so uncreative.
Right?
Exciting prizes, such as NTUC FairPrice gift vouchers worth $20 and $50, discounts ranging from 3% to 10% cash back on purchases, and free gifts like long stools, shoe racks, apple benches, air fryers, llama toys, blankets, bed sheets, and thermal flasks can be won!
The event has started, and will end on 25 May 2023
But before that…what does Smartbed offer, since you need to buy something in order to join the treasure hunt?
Multi-Functional Beds For Smaller Spaces
Space-saving products such as their multi-functional Murphy beds provide more than quality slumber.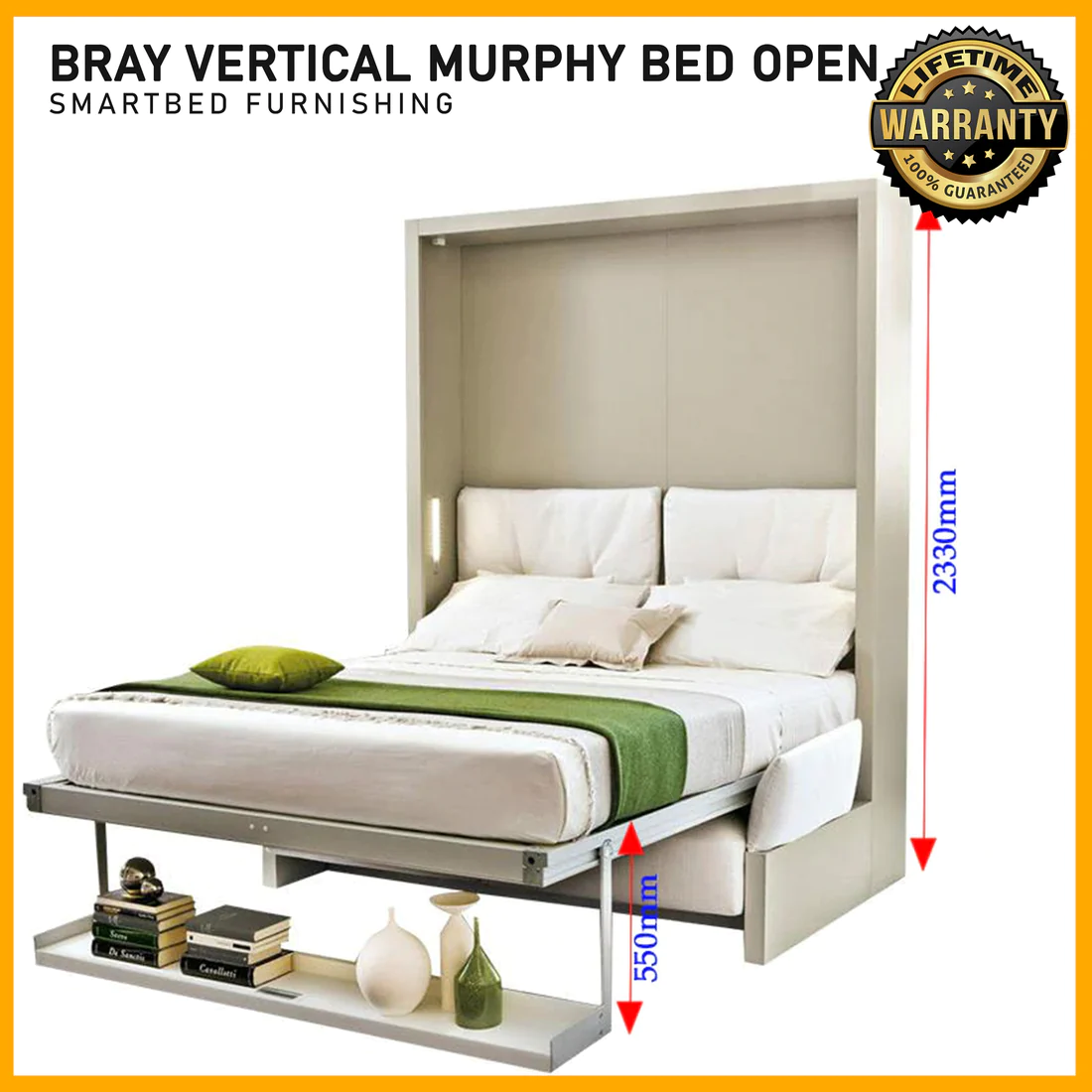 Their Bray Vertical Murphy bed is a versatile piece of furniture that can function as a sofa or table, depending on your needs. 
With its soft opening and closing mechanism, the transition between configurations is smooth and graceful, providing you with a royal experience in your HDB or condominium.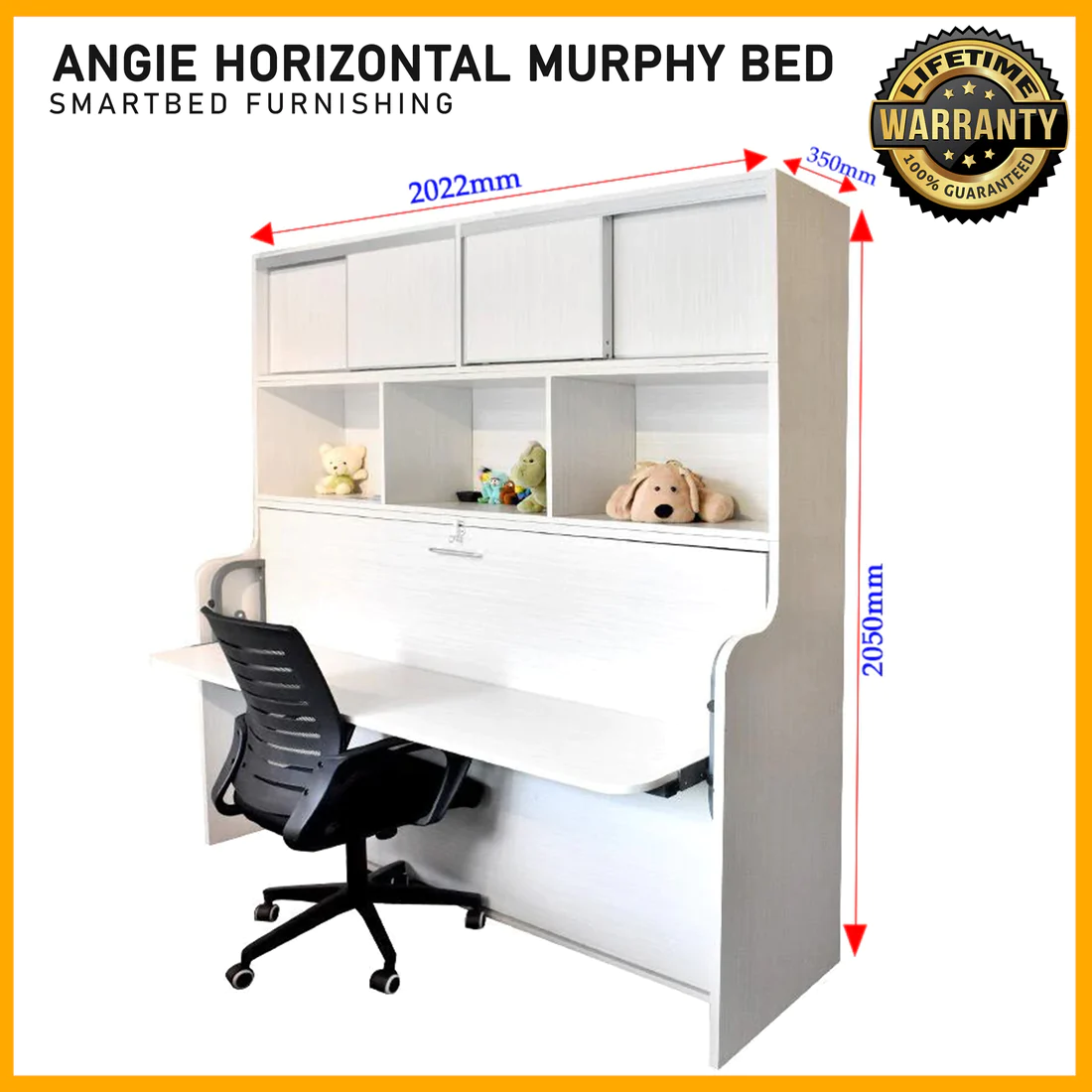 Meanwhile, Smartbed's Angie Horizontal Murphy bed is an excellent solution for families struggling with inadequate storage space for their belongings. 
This bed features the storage capacity of a drawer and a table for work, making it a three-in-one space-saving solution. 
The Angie Horizontal Murphy bed looks attractive and adds functionality to your room.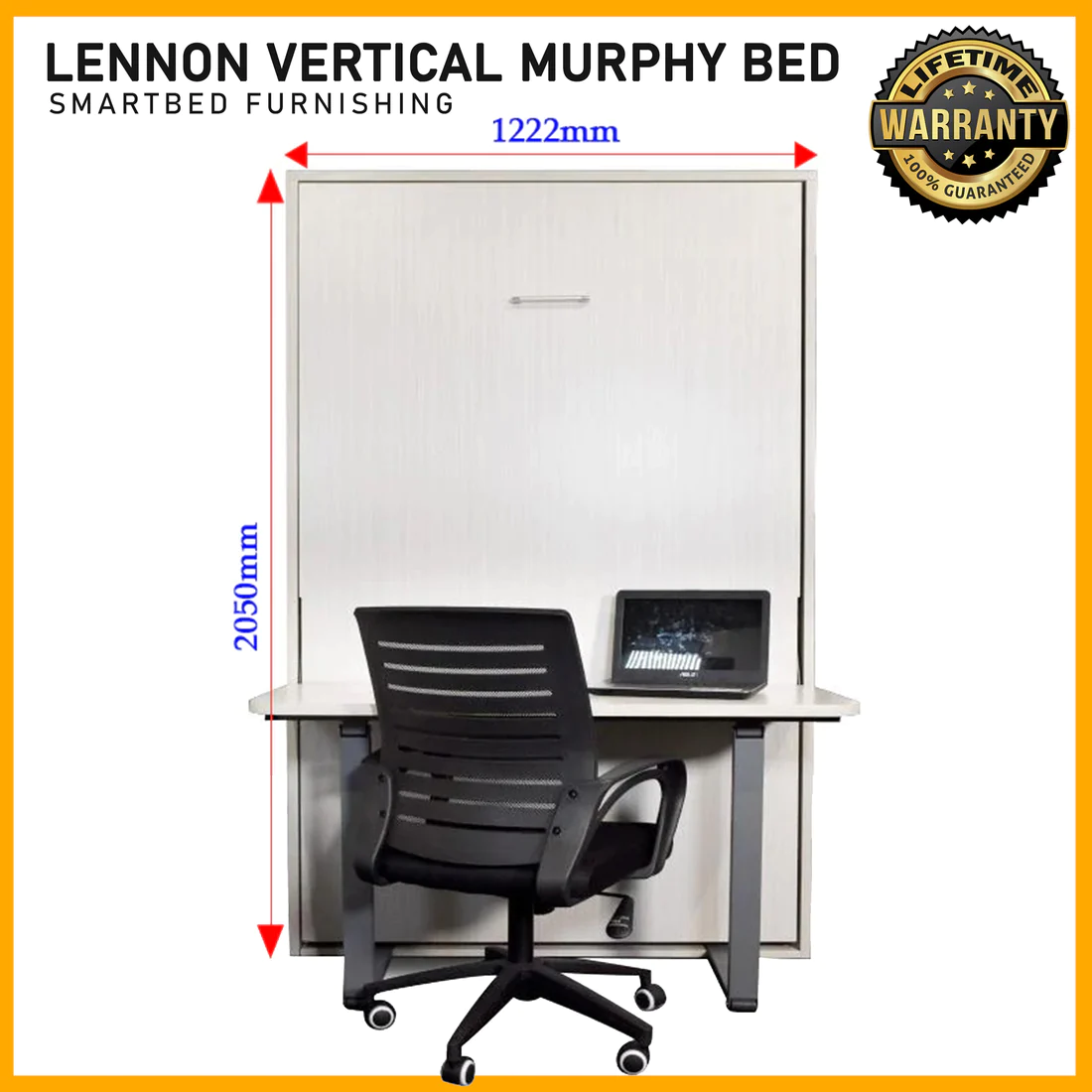 Smartbed also offers options that are perfect for guest and study rooms. Their Lennon Vertical Murphy Bed is cleverly disguised as a study table, which can be transformed into a bed with a simple pull-out motion. 
Yes, this means you can literally sleep on your work.
Utilising the latest technology for their furniture, Smartbed ensures high-quality, durable, and aesthetically pleasing materials. 
As such, customers can rest easy knowing they are purchasing high-quality furniture from Smartbed.
Durable Space-Saving Furniture
For those looking for quality bed frames to accompany your mattresses, Smartbed provides a diverse selection, including leather, storage, metal, wooden, and divan bed frames, at affordable prices for your bedroom.
Their bed frames are handcrafted and supported by plywood base forms, ensuring they are sturdy and reliable, giving you peace of mind while you sleep. 
Additionally, their storage bed frames are equipped with high-quality imported fabric material, an easy lift and close lid feature, and a firm foam-cushioned headboard, making them an ideal solution for those looking for comfort and functionality.
The lifting mechanism of their storage bed frames is also simplified with a German-made gas spring, making it easy to retrieve and store your belongings in the storage space. 
Moreover, Smartbed's storage bed frames are customisable with different choices for fabric coverings and a range of sizes, including single, super single, queen, and king sizes.
Mattresses Made for Maximum Comfort
Did you know that an uncomfortable mattress could hinder your quality of sleep?
Studies have revealed that the type of mattress an individual sleeps on is crucial in promoting a good night's sleep.
Besides space-saving furniture, Smartbed offers storage bedframes equipped with Snozz mattresses optimised for a good night's sleep.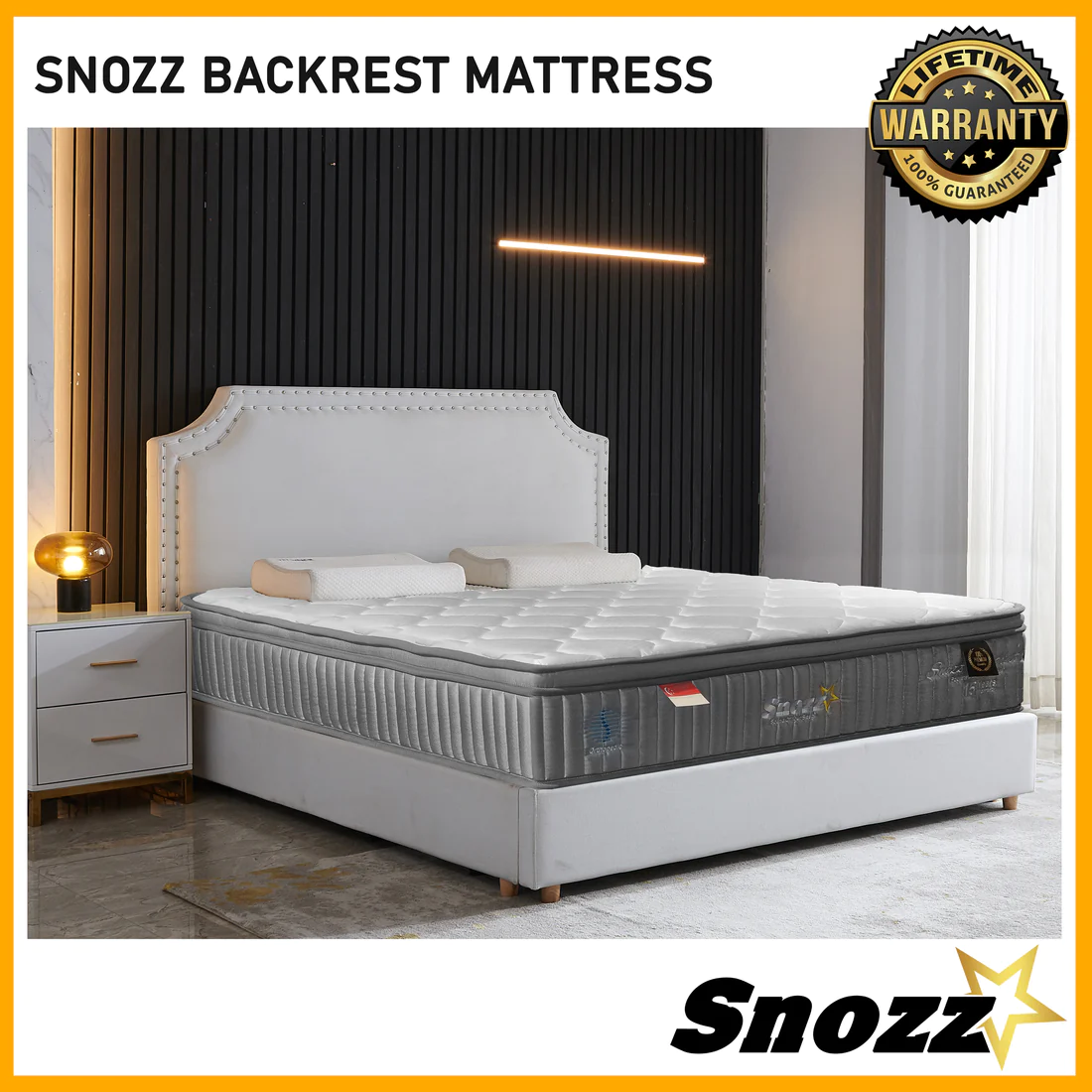 Their range of Snozz mattresses caters to different requirements, such as backrest optimisation, orthopaedic care, stress relief, spinal care, and winter use. 
Snozz is a local brand founded in 2021, which means the mattresses are specially curated for customers in Singapore.
An example? Its mattresses have ice silk fabric to keep you cool during Singapore's warm weather.
These mattresses are made of comfortable porous foam and quality pure sponge, ensuring maximum comfort.
And if you're one who's become much more concerned about cleanliness after the pandemic, fret not: the Snozz comfort mattress has an anti-bacteria knitted Eco Foam, and all Snozz mattresses are treated to be anti-fungus, anti-bacteria and anti-dustmite.
In addition, their Good Sleep mattresses are designed with high-density foam to offer optimal back support.
Guaranteed Warranty
Despite their competitive pricing, the quality of their products remains uncompromised, with a lifetime warranty on the structure and mechanism of all furniture pieces.
This warranty covers any manufacturing defects in bed frames, including those related to fabric, leather, metal actions, and body impressions, from the delivery date. 
Defects found in the furniture mechanism, such as springs, tracks, or loose parts, will also be covered.
Furthermore, Smartbed provides fast and free furniture delivery to customers' homes, making the buying experience even more convenient.
Keen to visit their showrooms to join their 6th-anniversary treasure hunt and find out more?
Here are the details for their showrooms: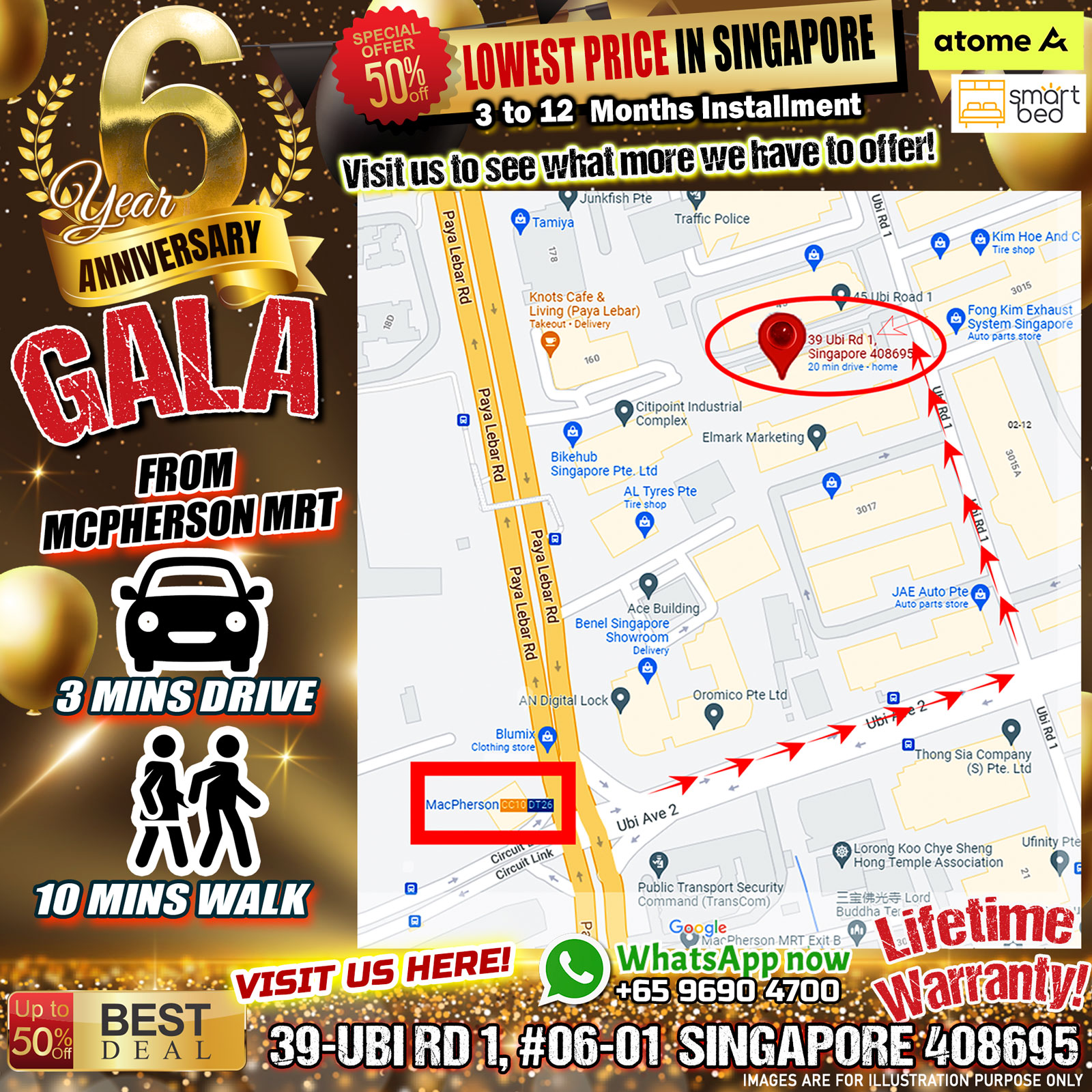 East Showroom Address: 39 Ubi Road 1, #06-01, Singapore 408695
Contact: PM on Facebook or call 9690 4700
Opening Hours: 11 am – 9 pm (Monday till Sunday, including Public Holiday)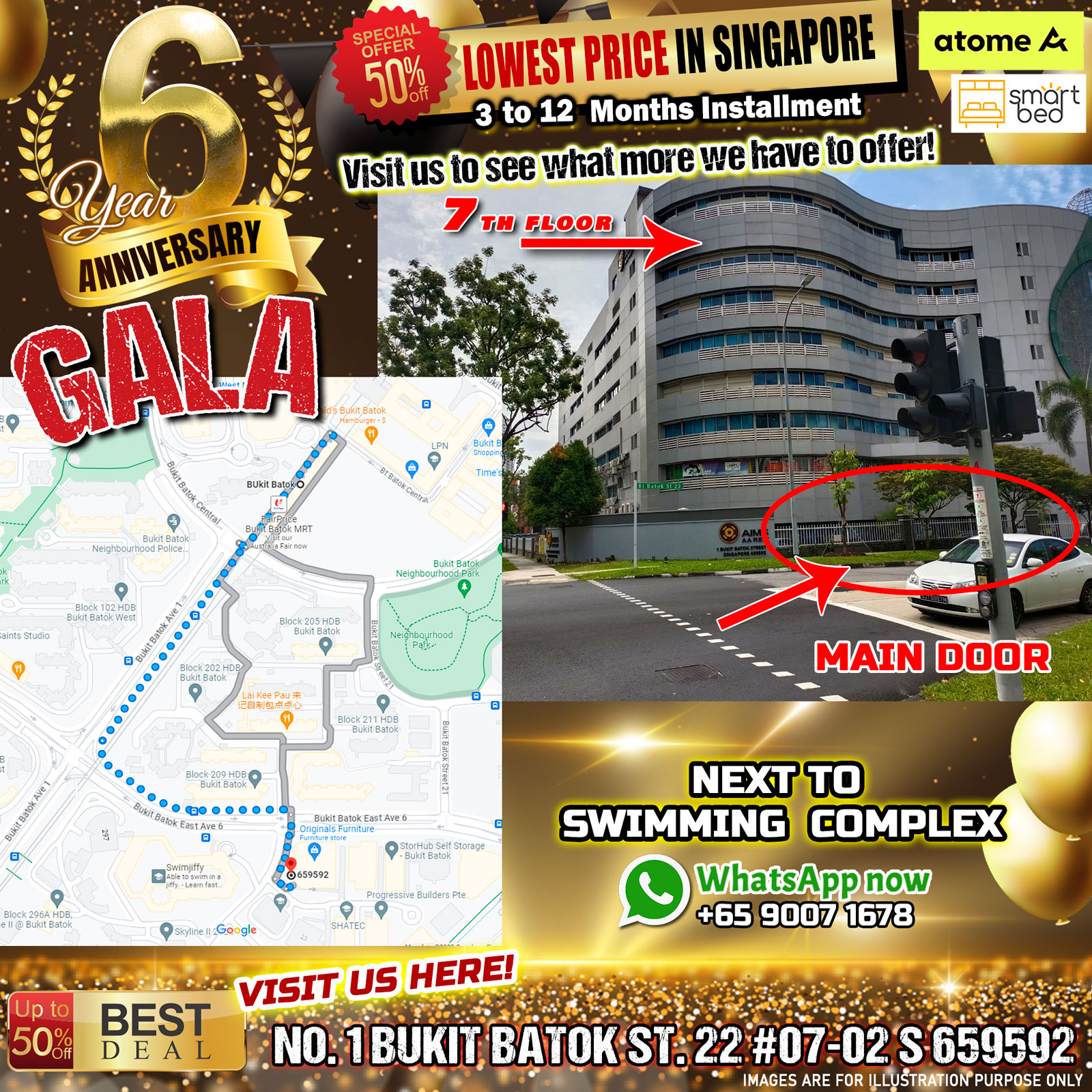 West Showroom Address: No. 1 Bukit Batok St. 22 #07-02 Singapore 659592 (Next to Bukit Batok Swimming Complex)
Contact: PM on Facebook or call 9007 1678
Opening Hours: 11 am – 9 pm (Monday till Sunday, including Public Holiday)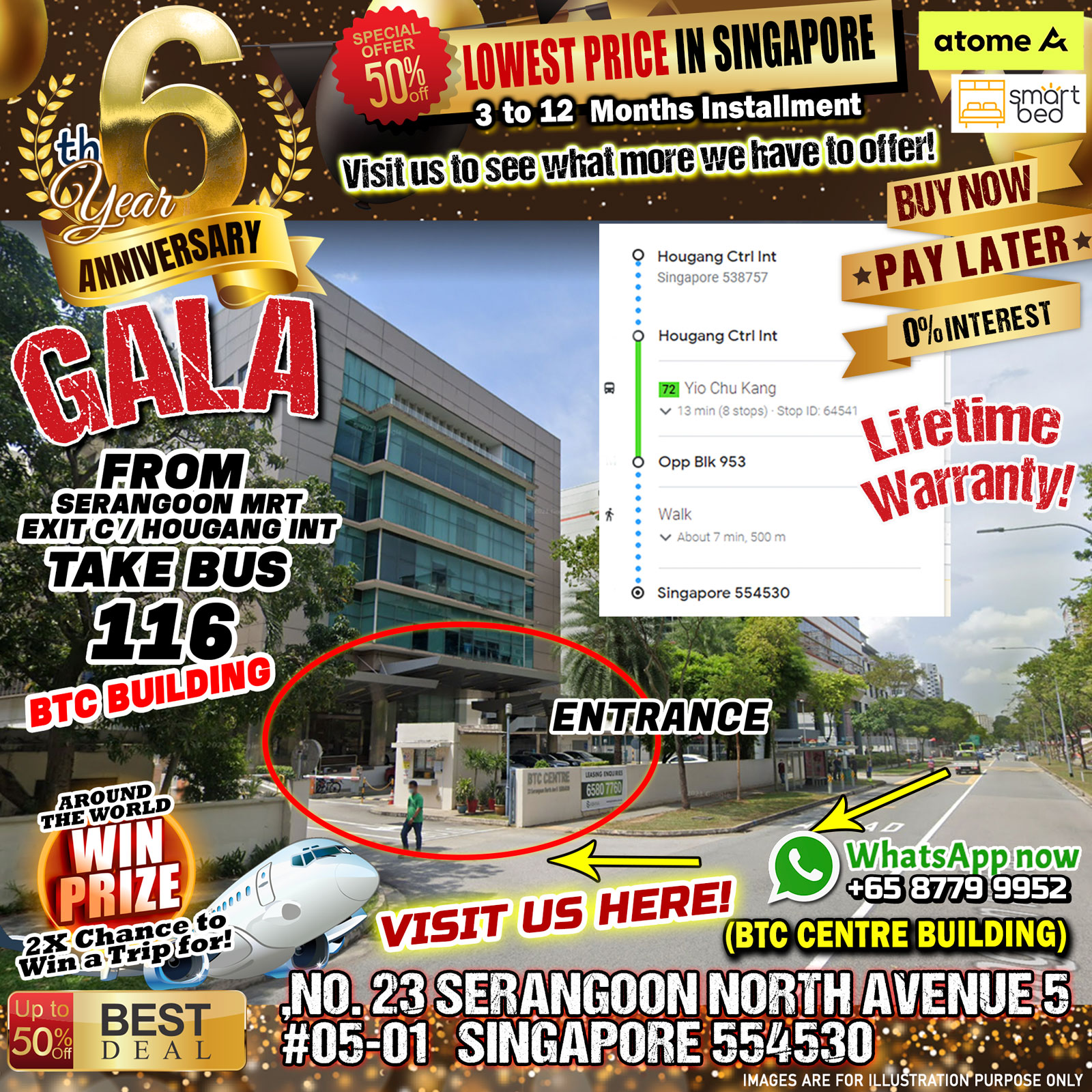 North Central Showroom Address: No. 23 Serangoon North Avenue 5, #05-01, Singapore 554530 (BTC Centre Building)
Contact: PM on Facebook or call 8779 9952
Opening Hours: 11 am – 9 pm (Monday till Sunday, including Public Holiday)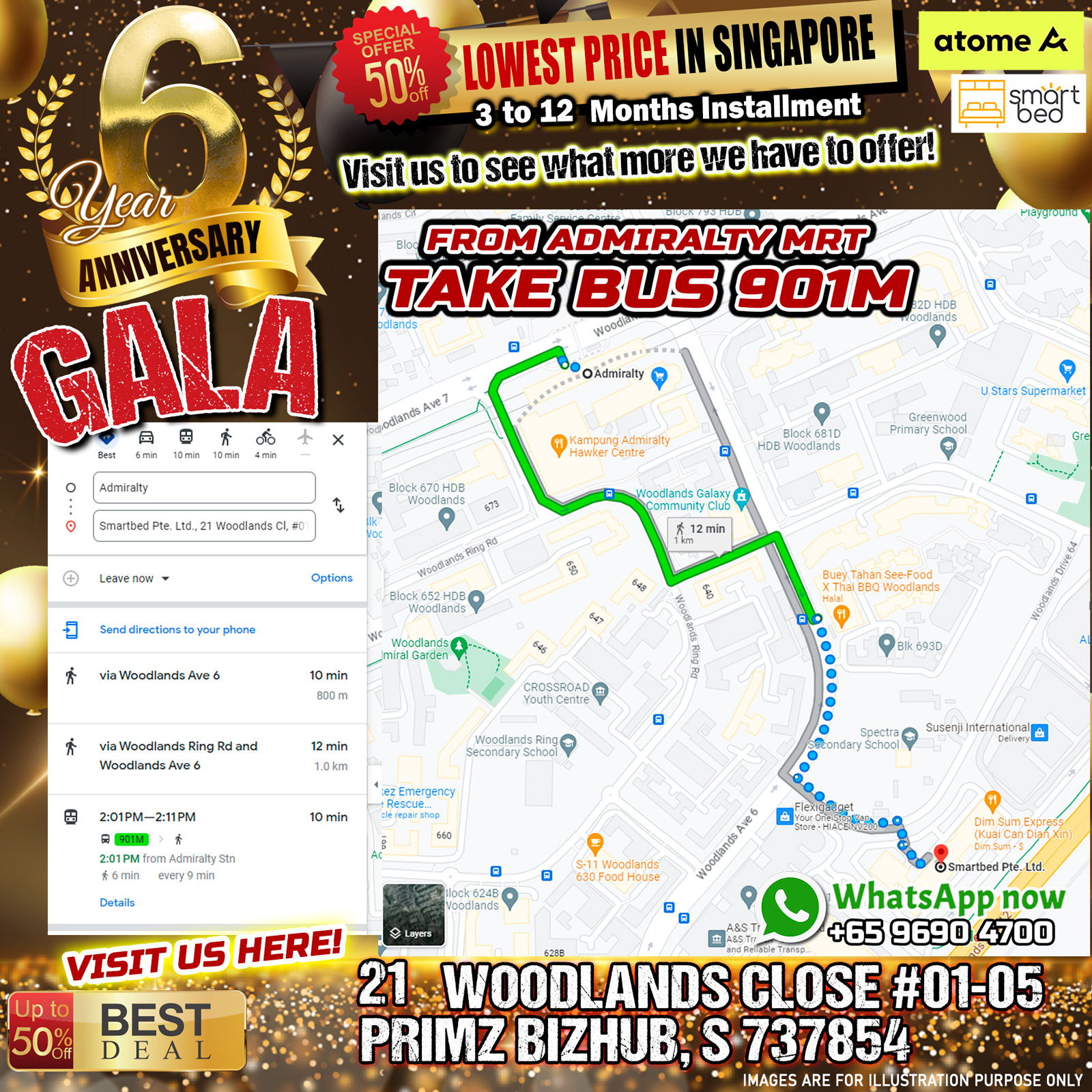 North Showroom Address: 21 Woodlands Close #01-05 Primz Bizhub, Singapore 737854
Contact: PM on Facebook or call 9690 4700
Opening Hours: 11:30 am – 7:30 pm (Monday till Sunday, including Public Holiday)
Happy hunting!
This article was first published on Goody Feed and written in collaboration with Smartbed.