Stress and depression can kill.
That is what a Malaysia Facebook user, Natalie Khoo, wants to share with the world in her tribute Facebook post to her brother who took his own life.
Stress & Depression
Brian Khoo Yew Jin, born in 1992, was a senior analyst in a global company.
Weeks before his unfortunate passing on 14 Oct 2020, he was stressed, although the family believes that there's more behind the triggering of his depression than simply work stress.
The Covid-19 pandemic had a tremendous effect on his brother who adored having physical and social interactions with his friends.
Unfortunately, the family didn't know what he was going through.
Mental Health Is Important
Reeling with the death of her brother, Khoo said that while she understood the importance of mental health, she had never experienced it personally until now.
Calling out to people who might be suffering from similar circumstances, she asks for them to reach out for help.
"There is no shame in asking for help."
In fact, she even offered her listening ear if you have no one else to turn to.
"Please Tell Someone, even if you think they're busy or don't care or you don't want to burden them with your pain"
Reach Out To Loved Ones
But her advice, it seems, isn't just for people who are facing issues. There are things that we can do for our loved ones as well.
She rallied for people to show concern to people in their lives, whether it be family members, friends or even those who you've not been in contact with for quite some time.
Just a "How are you" message would be good, too.
"Show them that they're not alone."
And if you feel out of your depth, bridge them to someone who can help.
Meanwhile, "educate yourself" on how you can help.
Close Siblings
In her Facebook post, you can see that the siblings are close, having grown up in the same church and schools.
They went adventuring together, including paragliding, sailing and cliff jumping.
---
Advertisements
---
You can view her heartfelt tribute in full below:
Here are the individual images she posted about her brother's passing: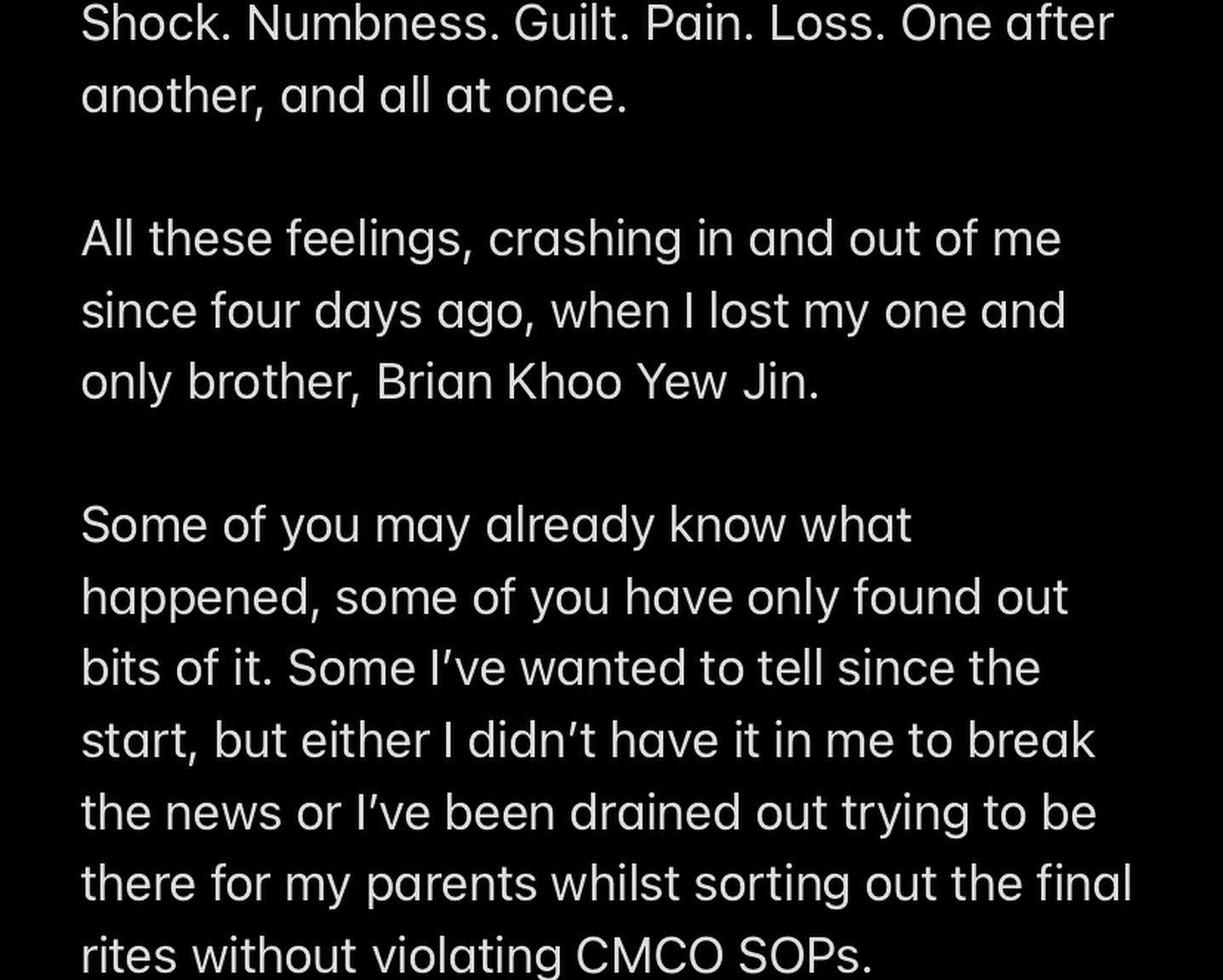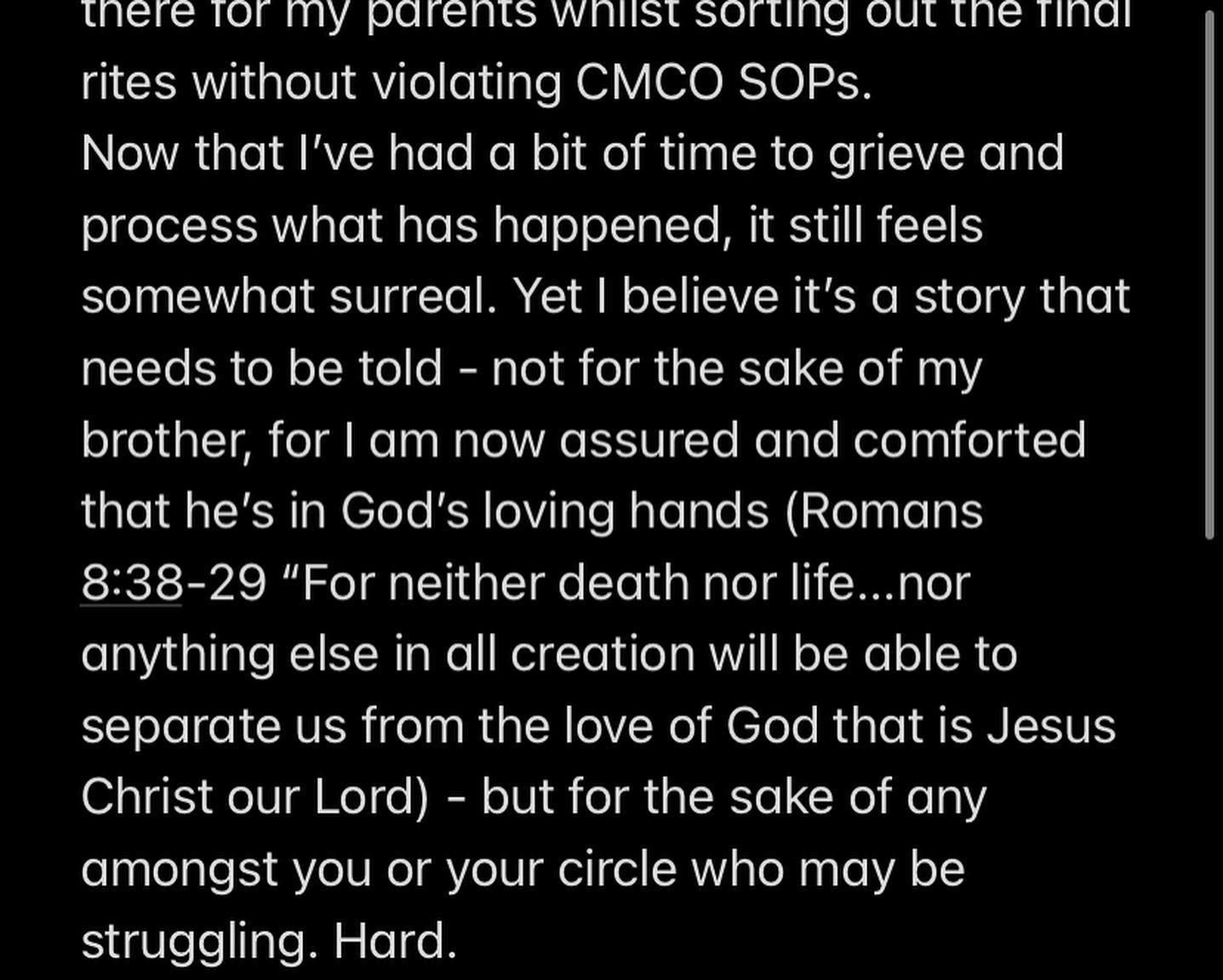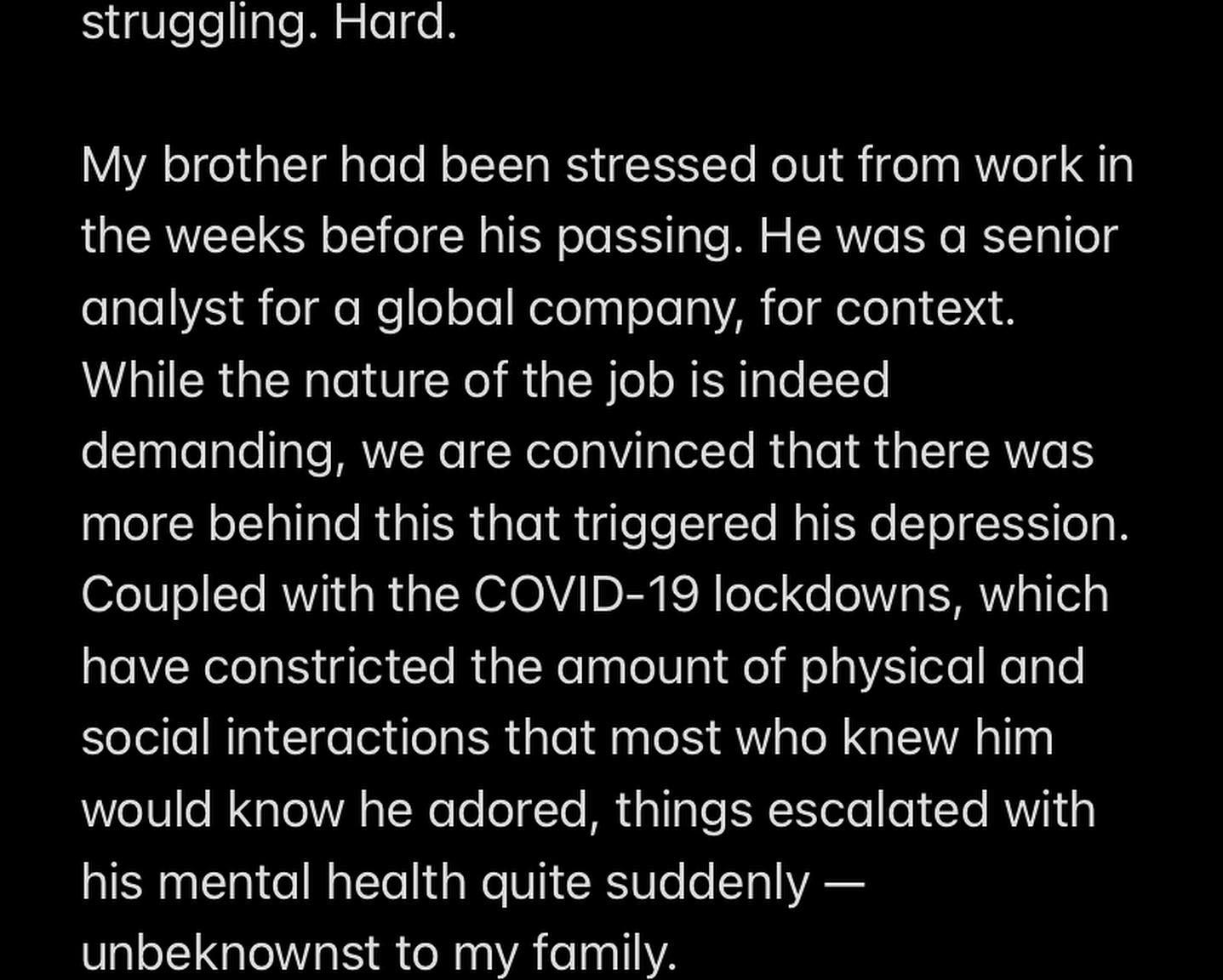 ---
Advertisements
---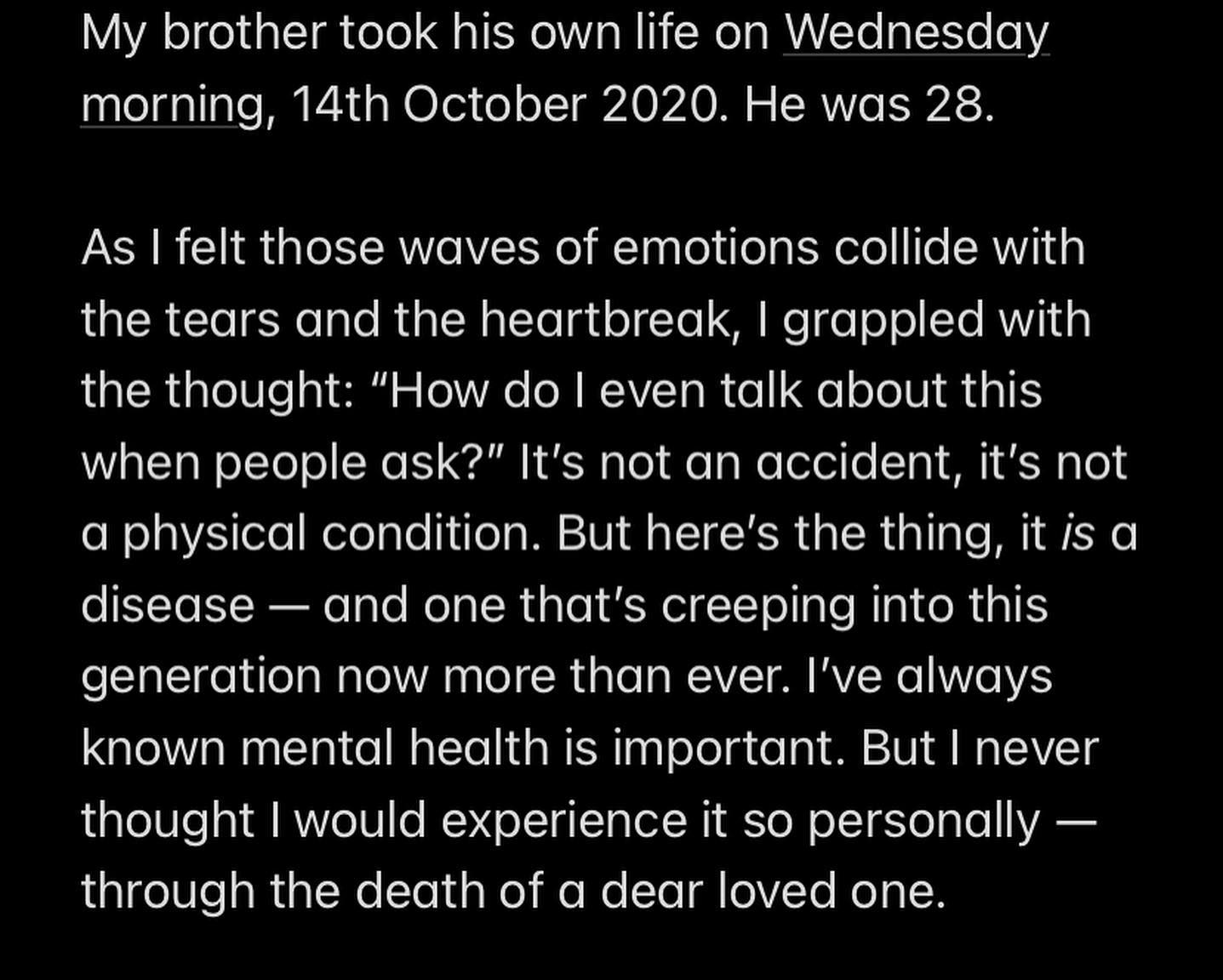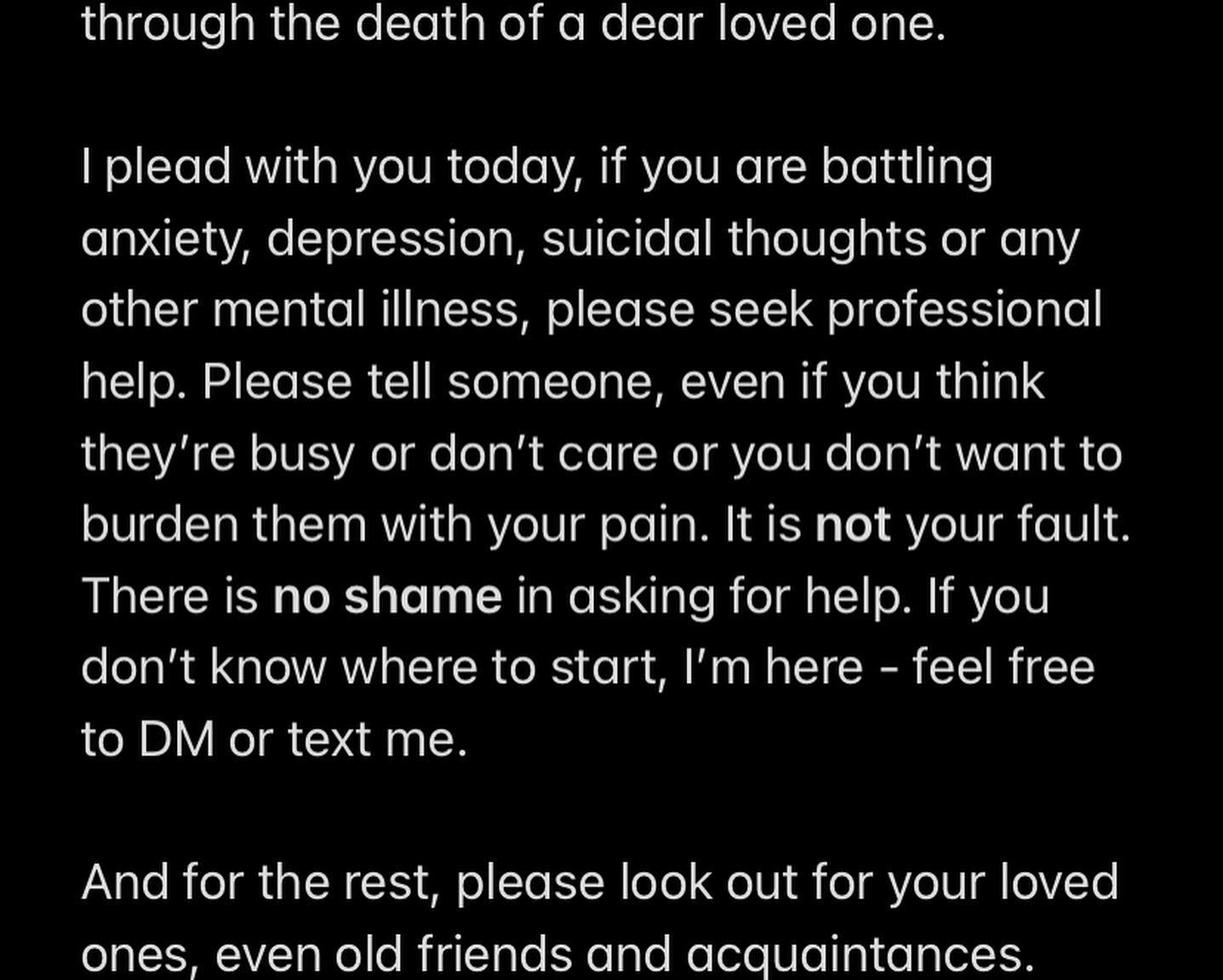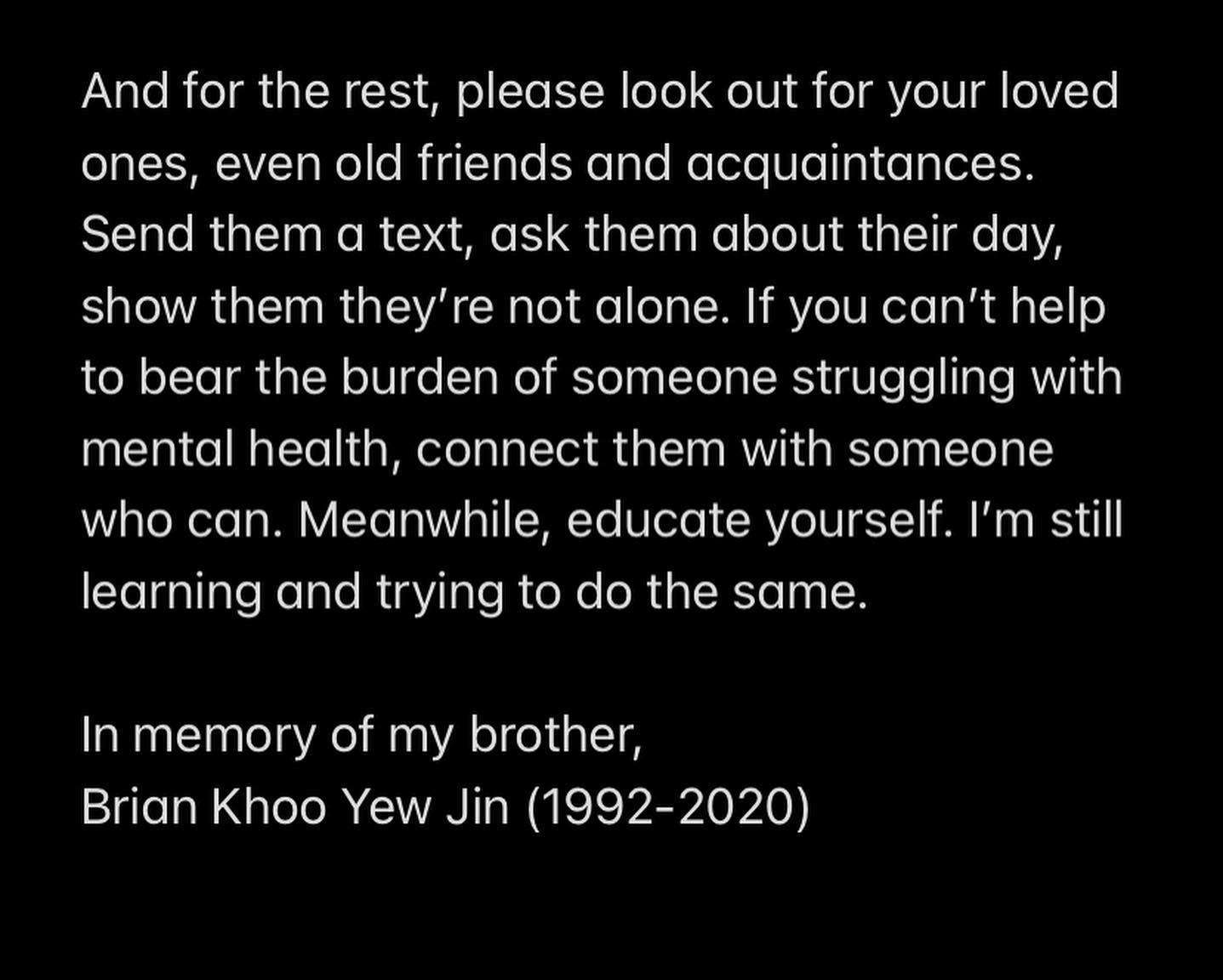 Professional Helplines Available
Like what Natalie Khoo said, having mental issues isn't a sign of weakness, nor is it weak to ask for help.
Just like a cough or any other physical illnesses, sometimes, you just need professional help to recover from it.
---
Advertisements
---
If you are feeling helpless in your own situation or just need some help to get back up, here are a few hotlines that you might want to call for help:
Samaritans of Singapore: 1800-221 4444
Singapore Association for Mental Health (SAMH): 1800 283 7019
Emergency Helpline (IMH): 6389 2222
Silver Ribbon Singapore (6385-3714)
National Care Hotline: 6202-6868
You can view more hotlines here.